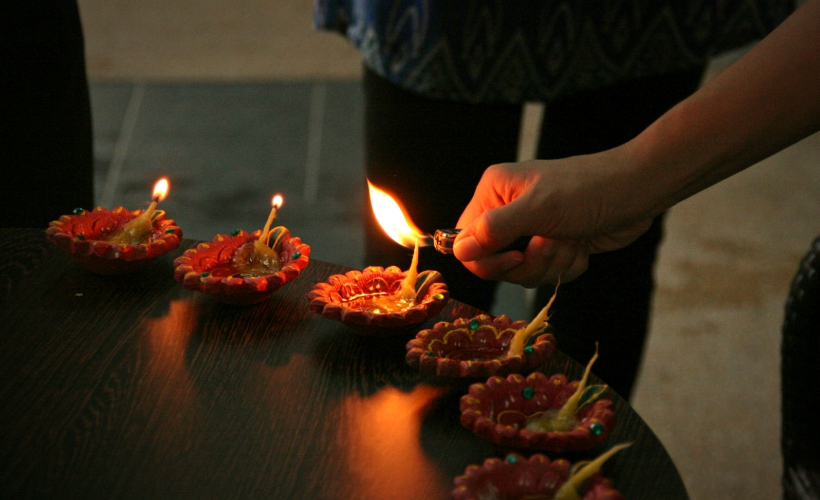 Diwali is to India what Christmas is to the West – sparkling lights, noisy fireworks, gift exchanges, gathering of friends and families and the coming alive of cities and communities. Commemorating the victorious return of Lord Rama to his kingdom after defeating the demon Ravana, Diwali is celebrated by Indians around the world and each country has its own way of marking the occasion, birthing unique rituals and customs that are a delight for any tourist to observe or experience. No matter where you find yourself at on this auspicious day, get ready to catch some sparkle!
Note: Diwali falls on either 18 or 19 October, depending on the country. In Malaysia, it is marked by a public holiday on 18 October 2017.
India
Diwali, meaning a 'row of lights', is the biggest festival in India and celebrated over a period of five days, which happen to be notoriously slow for getting any work done! The heavy socialising can begin up to a month before the actual event.
A curious phenomenon is taash, or the playing of a card game called teen patti, a three-card version of poker. Legend has it that people waited all night to welcome Lord Rama back from his exile and played games to help them stay awake, which has evolved into mostly harmless gambling in many homes across India.
Traditionally though, the festival begins with the thorough cleaning of homes because it is believed that Lakshmi, the goddess of prosperity, does not visit homes to bless them if they aren't sparkly clean. Homes are decorated with lit earthen lamps called diyas, rangolis (floral arrangements), garlands of flowers and strings of lights throughout the five days.
The first day is Dhanteras, an auspicious time to buy precious metal or appliances, the second day is Choti Diwali (translated as 'small Diwali') and the third day is the main celebration with prayers at home, new clothes and often, firecrackers. You may want to stay away from congested areas to stay safe from firecrackers. Then, the fourth day marks the beginning of the new year, when people worship their instruments and machinery while the fifth day, Bhai Duj, is when sisters honour their brothers.
In Amritsar, the Golden Temple looks especially spectacular with thousands of fairy lights. Meanwhile in Varanasi, there is a special Ganga aarti (prayer) on the banks of the holy river, while in Goa, a dramatisation of the defeat of the demon king is followed by an even more festive night of partying. While rituals and traditions may differ as you move from one city to another, the essence remains the same: That of a warm festival with an extremely contagious celebratory spirit.
Nepal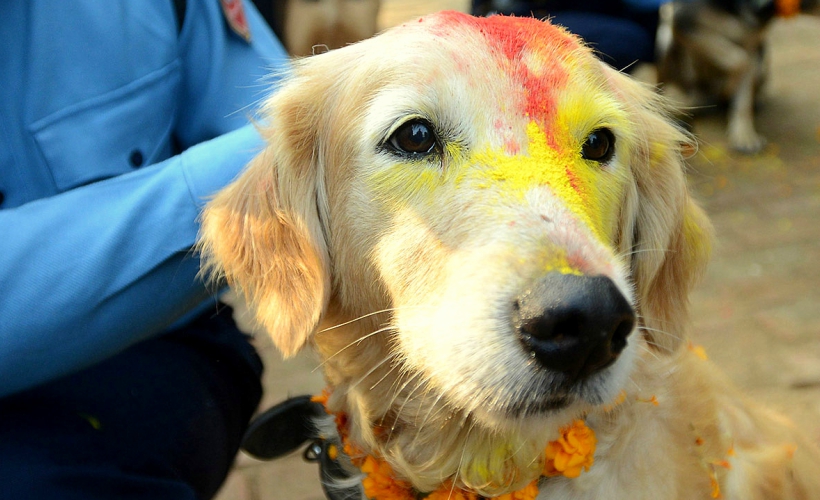 The festival is also celebrated over a period of five days in Nepal, where it is known as Tihar. But what sets their celebration apart from its Indian cousin is the practice of honouring various animals. On the first day of Diwali, food is served to crows, believed to be a way to ward off misfortunes. The second day is dedicated to dogs, with worshippers applying a vermillion paste or tika to the animals' foreheads and showering them with food and garlands. Cows and oxen are worshipped on the third and fourth day respectively, much in the same way that dogs are.
Finally, Bhai Tikka is celebrated on the fifth day. Similar to Bhai Duj celebrations in India, sisters celebrate sibling love by placing the tika on their brothers' foreheads and performing aarti for them. Brothers, on the other hand, shower their sisters with gifts and blessings.
Mauritius
While a secular state, more than 60 per cent of Mauritius is made up of Hindus of Indian origin. Hence, Diwali is celebrated with great enthusiasm and is declared a public holiday every year. Homes across the island are cleaned and decorated, oil lamps are lit, sweets are prepared, firecrackers are set off and blessings are sought from Goddess Lakshmi. The best place to witness this celebration in its full gusto is Triolet – Mauritius's biggest city that's nestled in the north.
At night, head to the beach to watch fireworks light up the sky. Make sure to try some gateau patate, a dish made with sweet potatoes and coconut, which is a treat that's unique to the celebrations in Mauritius. Diwali just isn't complete without it.
Fiji
Considered more of a celebratory festival than a religious one, Diwali is celebrated by all communities in Fiji and not just by the Hindus. In fact, Fijians take pride in saying that their Diwali celebrations surpass those of the ones in India! It's not just about traditional rituals for them, but also about performances, parties and general merriment. Because the standard attire of people in Fiji is generally casual and comfortable, the change to festive traditional Indian wear is a marked departure and works as the harbinger of Diwali's arrival. Even non-Hindus dress up in traditional Indian clothes, which serves as another mark of unity and inclusion on the happy island.
Singapore
The best place to witness Diwali celebrations in Singapore is in Little India. Serangoon Road is lit up with gigantic lights and lanterns, and beautiful rangolis in lotus and peacock designs welcome you into the homes of residents. A special Diwali market is set up on Campbell Lane, where visitors can indulge in delicious vegetarian eats and shop for sarees or gifts. It's a great idea to visit one of Singapore's oldest temples, the Sri Veeramakaliamman, to witness special pujas.
Malaysia
Diwali is a national public holiday in Malaysia and if you're in Kuala Lumpur, you'll want to head to Masjid India and Little India in either Brickfields or Klang. As the festival beckons, the already colourful streets and shops in the main shopping areas take on an even more festive atmosphere, with displays practically spilling out onto the five-foot ways and pavements.
In Malaysia, whenever a major festival rolls around, the practice of 'open house' comes into play. This is a unique custom whereby people open up their homes to welcome everyone to join their celebrations. Festive delights will be served, usually buffet style, and there may be performances of traditional dances too. Open houses are also held on large scales by state and federal governments, as well as by private corporations for their staff and clients.
To witness a special Diwali puja, visit the Sri Kandaswamy temple in Brickfields or the Sri Mahamariamman temple in Petaling Street (Chinatown). Be mindful of the clothes you wear to these areas; dress appropriately.
Bali, Indonesia
While Diwali is celebrated in other parts of the world by Indian-origin citizens settled down in their respective new countries, Bali sees Diwali celebrated by native Indonesian Hindus. They tend to have a somewhat calmer celebration, though nonetheless festive and welcoming. A tradition that's unique to the Balinese during Diwali is the celebration of the husband-wife bond, which starts with specific rituals and ends with husbands presenting gifts to their wives – a good way as any to celebrate a festival!
19071, 18778, 16091