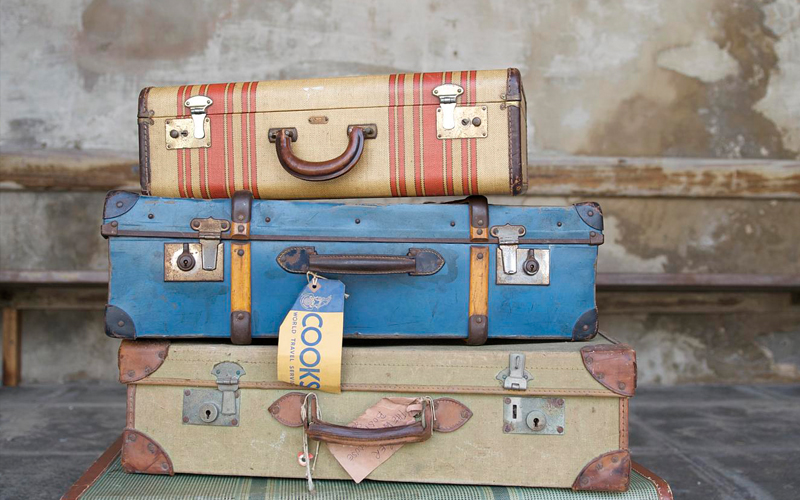 Luggage options abound in Bangkok; you can find anything and everything if you just know where to look. Whether you're looking for a larger bag to fit all the souvenirs you've picked up or are seeking a stylish carry-on bag for an impromptu overnight side trip, Bangkok has luggage options for every budget.
Bargain bags
Big C and Tesco Lotus are Thailand's two primary large retail supermarkets, selling everything from groceries and home goods to hardware and cheap clothing. They both have a small selection of value luggage and travel bags. There's a Big C within walking distance of BTS Chit Lom (Exit 6), and a Tesco Lotus Supercentre directly connected to BTS On Nut (Exit 2).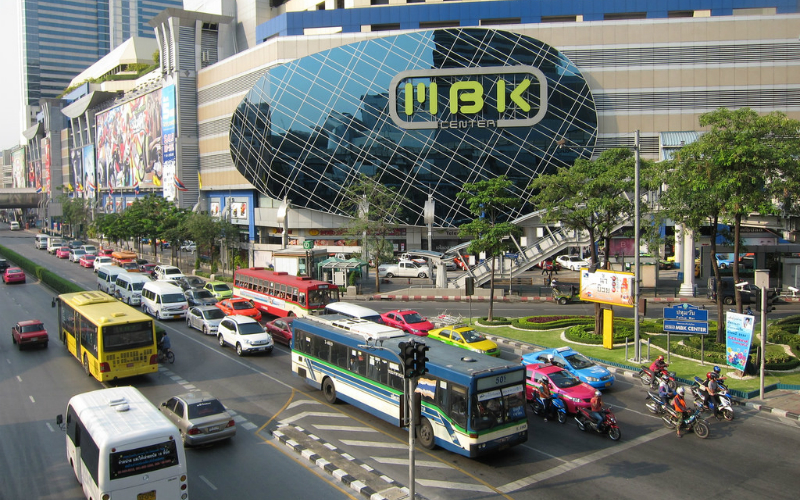 MBK Centre is Bangkok's premier electronics, souvenir, and budget luggage shopping mall. Located directly adjacent to BTS National Stadium (Exit 4), its seven storeys are home to thousands of stalls, stands and shops, with fashion, beauty, electronics, luggage, and furniture shops spread out between all levels.
Word to the wise: Eat a filling lunch, grab a coffee (or Redbull), wear comfortable shoes, and block out an hour in your schedule before heading into the MBK Centre abyss. It can be very overwhelming for a first-time visitor so be prepared to spend a lot of time comparing goods and prices amongst the hundreds of stalls.
Big C 97/11 Rachadamri Road, Lumpini, Pratumwan | Opens: 9AM – 11PM daily
Tesco Lotus 1710 Sukhumvit Road, Phra Khanong, Klong Teoi | Opens: 9AM – 12AM daily
MBK Centre 444 Phaya Thai R., Pathumwan | Opens: 10AM – 10PM daily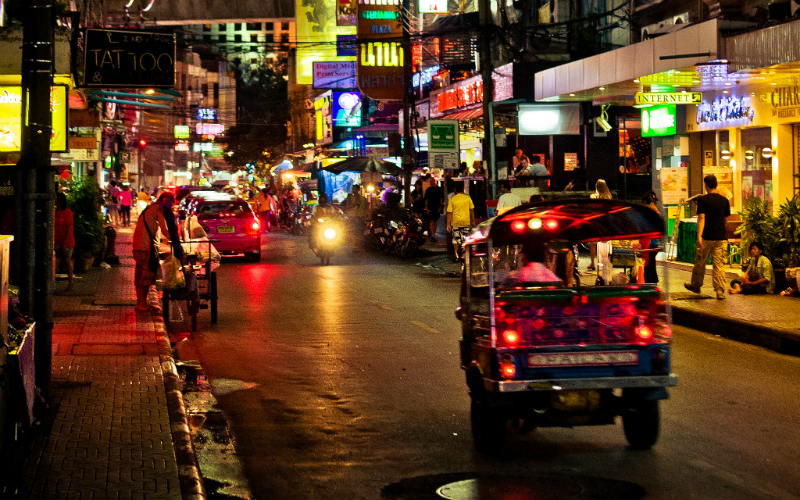 Street stalls and shops selling knock-off luggage and bags line dozens of sois (alleys or side roads that connect to the main road) along Sukhumvit Road. Especially popular are a few storefronts around the BTS Nana station. There's one shop located directly on the corner of Sukhumvit Soi 4; take Exit 2 at BTS Nana and walk north along Sukhumvit to reach Soi 4. You'll see a few other stores on the opposite side of the road as well.
Shopping tip: Don't forget to haggle when shopping bargain luggage options! Street stalls and markets like MBK always start at a higher than normal price. It is often considered rude to state what price you want, rather you should start by asking if they can do a discount and let them save face by making the first offer. Haggling in Thailand isn't as extreme as other countries so make sure to be calm, friendly and polite the entire time to get the best deal. When in doubt, you can always get a discount when buying more than one item at a time so maybe take the chance to stock up.
Quality carriers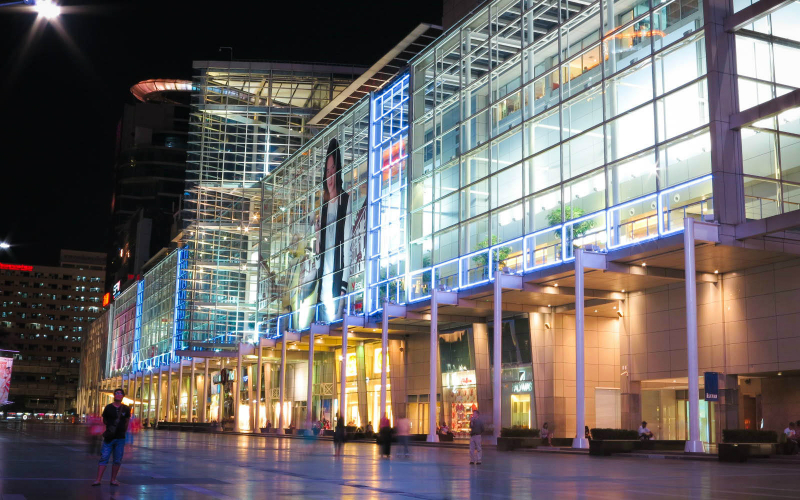 Head to any downtown mall, like Central World (BTS Chit Lom exit 6) or Central Chidlom (BTS Chit Lom exit 5) for luggage brands from around the world. Both Central World and Central Chidlom have a multi-storey department store (referred to as 'Central' or 'Robinson') with large travel luggage and accessory departments. There's also a standalone Robinson Sukhumvit Department Store (BTS Asok exit 5) that has a good selection of travel bags and accessories.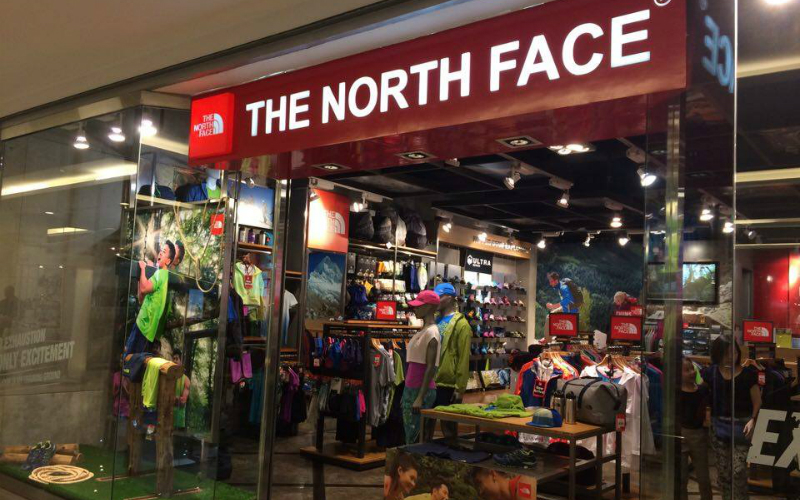 Inside Central World, you'll also find a Universal Traveller luggage store on the forth floor, near the row of banks and internet/data service companies. On the third floor there's a genuine North Face shop. Zen, a multi-story department store accessible from both the Skywalk from BTS Chidlom or BTS Siam and accessible from Central World at every level, offers a large luggage and bag selection, with suitcases from Samsonite, Delsey, Thule, Eminent, Polo World, Roncato and others.
Shopping tip: Every June-August, Bangkok's top malls host the Amazing Thailand Grand Sale, where discounts on brand name items can go up to 80% off. Check out the Tourist Authority of Thailand's website for 2016's dates and details.
Central World 999/9 Rama I Road, Pathumwan
Zen Department Store 4, 4.5 Rajdamri Road, Pratumwan
Central Chidlom 1027 Ploenchit Road, Lumpini, Pratumwan
Robinson Sukhumvit 259 Sukhumvit Road, N Klong Toei, Wattana
All these malls open 10AM – 10PM daily
Luggage repair
Just as travelling can wear you down, your luggage may also suffer damage in transit. If you're not ready to part with it yet but need to get some parts fixed, here are two options.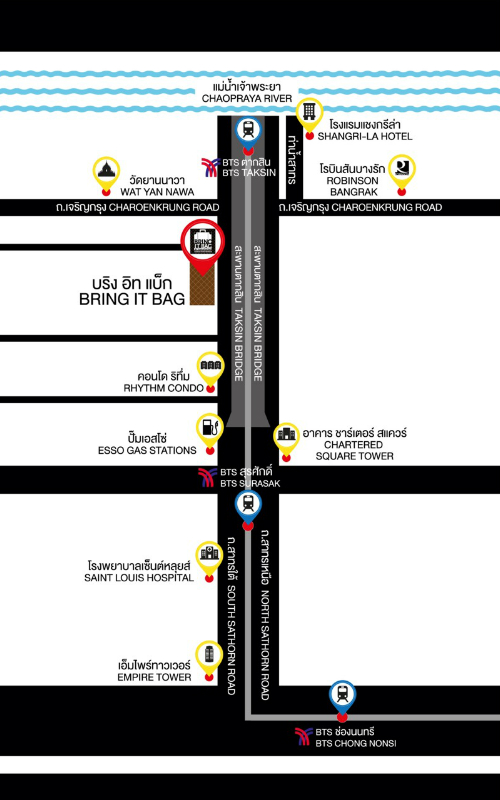 Bring it Bag is an incredibly popular bag repair service that offers great customer service and a quick bag turnaround. They're so well-known that you often have to wait a week or two before they'll accept your bag. Call ahead to get an email address to which you can send photos for them to assess the cost of the repairs.
Where: Intersection of Charoenkrung Road and South Sathorn Road, near BTS Sapan Thaksin (see map for details) | Opens: 10AM – 5PM daily | Tel: +66 02 212 8742
Mr. Bag Fix can repair any type of luggage, bag, purse, shoe, or leather good. Give them a call to get an email address to which you can send photos of your damaged luggage. They'll assess the cost, let you know how long it will take, and invite you to drop off the bag at either their head office or one of their many department store locations.
Where:114 Pattanakarn Soi 29, Pattanakarn Road, Suanluang | Opens: 10AM – 5PM | Tel: +66 81 492 5396 or +66 02 717 1849

Read Next: