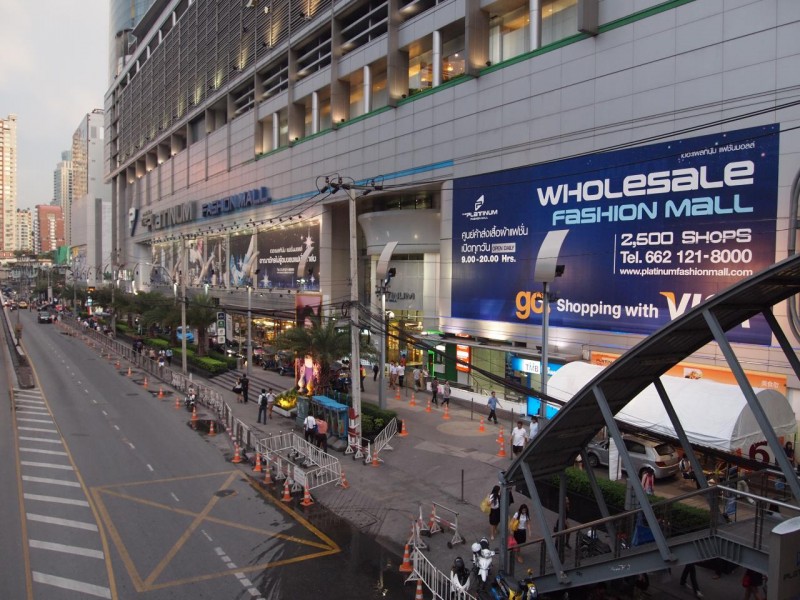 Shopping and Bangkok are practically synonyms. Travellers from all over the world come to Thailand for cheap knickknacks, high-end luxury fashion, home décor, and much, much more. Platinum Fashion Mall is one of the best places to buy inexpensive fashion products, especially if you're a vendor looking to purchase in bulk. As a visitor to Bangkok, you can take advantage of the deep discounts available if you're willing to squeeze between other shoppers in the tight halls of the maze that makes up Platinum and don't need to try anything on before taking it home.
When She Travels the World's post on Platinum Fashion Mall not only gives you all the tips for getting to and around the mall, she also posts photos and prices of the (many) (wonderful) things she bought. Even better, she doesn't limit her post to the inner maze but also includes photos of her lunch and the great "loot" she got from the stalls on the street outside of the mall.
Some of her best advice and purchases included:
How to go Platinum mall?

Platinum Fashion Mall is located in the middle of Pratunam. The nearest BTS is probably Chidlom, 1 km distance, took me about 20 mins.

If you are looking for one stop shopping for cheap clothes, Platinum mall is the place you should visit. It is filled with many small shops selling mostly women clothing and accessories. Guys clothing only available at zone 1 & zone 2 4th floor.

How to shop in Platinum mall?

Most of the time, shop owner will tell you 2 different price, 1 piece xxx Baht and wholesale xxx Baht. Wholesale price is the price when you buy 2 or more pieces from the same shop and that will save you about 20% lower per piece (in general). Most of the time mix and match different design is allowed in the same shop.

Trying is almost not possible in most shops, not even after you have made your payment. If the size doesn't fit you, you can always go back and exchange but no refund. There is fitting room in zone 1 & zone 2 ladies toilet.

Every shop sell different thing, they are all unique each shop. If you see something nice, don't hesitate and think that you can find it somewhere or you may not find it again.

Some shops accept credit card but 3% admin charge applies. It's best to pay by cash. If you don't feel like carrying too much Thai Baht, you can always exchange your home country currency at money changer outside of Platinum mall. There are at least 3 money changers (open on Sunday too) outside this mall.

What did I buy from Platinum mall?

Both shorts = 390 baht / both heels = 700 – 900 baht (I can't remember)

…

Platinum mall opens every day from 9am to 8pm, however most shops open after 10am or 11am and most of them close at 6:30pm. Wear comfortable and try to get there early to avoid afternoon crowd. This mall will packed with students in the afternoon.

The walkway outside of Platinum transform into a shopping street after 7pm. It worth a visit. I bought 3 bottles of aroma oil and a pair of sandal from there.
To see more outfits, with the cost break downs included, check out the full article below.
Read full article:
Weekend Bangkok Getaway – shopping at Platinum Fashion Mall
Reposted from: When She Travels the World
Picture credit: When She Travels the World

More from Zafigo
Getting around Bangkok: BTS, tuk tuks, taxis and more
50 new reasons to love Bangkok

Get all the latest travel updates from Zafigo. Follow us: