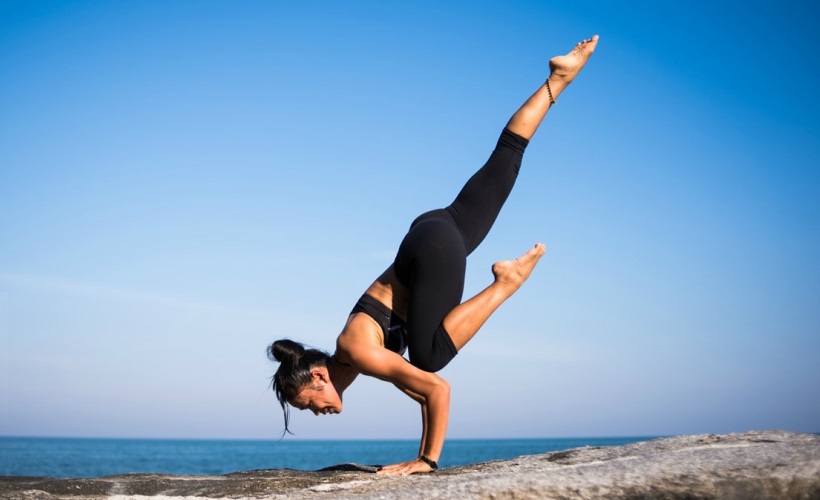 We don't know about you, but the recently-concluded SEA Games has certainly sparked a fire within us to get into fine physical form. These 8 workouts may not win you gold or get you that podium finish but they will get you into tip-top shape!
Flip, tumble, and turn cartwheels
Think you've missed the boat because you didn't pick up gymnastics as a child? Total Gym Club is giving Simone Biles-aspirants that second chance with their Adult Gymnastics class. No prior experience is necessary, although practitioners of yoga, Pilates or dance may find that they have a bit of a headstart thanks to their flexibility and body awareness. Still, don't expect it to be easy. Classes are kept small (no more than 15 students) and held once a week, lasting 90 minutes each session.
Where to go Total Gym Club A-G-05, Block A, Menara Prima, Jalan PJU 1/39, Dataran Prima, Petaling Jaya, Selangor
Tel 012 289 0105
Fees MYR160 per month
Spin city
Indoor cycling, or spinning, has long been a fixture at fitness centres, where it's among the most popular cardiovascular exercises that's loved for its fat-burning properties. How do you improve on that? By adding strength and resistance training elements to make it a more complete and intensive workout. Classes usually last 45-50 minutes and involve a combination of high-intensity interval training, upper body toning, and core strengthening. Upbeat music and disco-inspired lighting is part of the package at some studios, to create a high-energy mood throughout. You will feel the burn.
Where to go Flycycle Verve Shops, 6-1A Floor, Jalan Kiara 5, Mont Kiara, Kuala Lumpur
Tel 03-6206 2082
Fees MYR60 for two classes for first-timers; packages available
Where else Aloha Cycle Club Lot K-0-8B, Ground Floor, Dorchester Service Apartment, Plaza Damas, 60 Jalan Sri Hartamas 1, Kuala Lumpur
Tel 03-6201 1834/011 1242 8649
Fees MYR60 for two classes for first-timers; packages available
Where else Hiit2fit A4-UG1-08 Publika, 1 Jalan Dutamas 1, Kuala Lumpur
Tel 012-987 7224
Fees MYR70 for a one-week trial
Hoop, hoop, hooray!
Swinging and rolling a hula hoop around seems like child's play, until you realise how much of your core is engaged and that it essentially works your whole body. But the fun factor is high as well, making for a light-hearted yet fairly intense workout. There are no specific classes in Malaysia but Mishie Hoops, Head Play Professional aka founder of The Hula Hoop Institute, occasionally holds classes in Kuala Lumpur when she's back visiting family. You can start by watching free tutorials on their website, sign up for private Skype lessons with Mishie, or join her annual Hula Hoop Retreat.
Barre none
What do ballet and Pilates have in common? Both focus on core strength and work a lot of the small, inner muscles. When you combine the two and up the tempo with some cardio, you get a super workout that strengthens and tones (think long and lean) while enhancing flexibility and balance. Barre fitness, named after the stationary handrail used in ballet and that features in most of the moves, also incorporates the use of workout props like hand weights, balls, sticks, and straps. Be prepared for shaky legs and a sore core after your first class.
Where to go Urban Spring Pilates 57-1 Jalan Bangkung, Bukit Bandaraya, Bangsar, Kuala Lumpur
Tel 03-2095 3998
Fees MYR90.10 per class, first trial at half price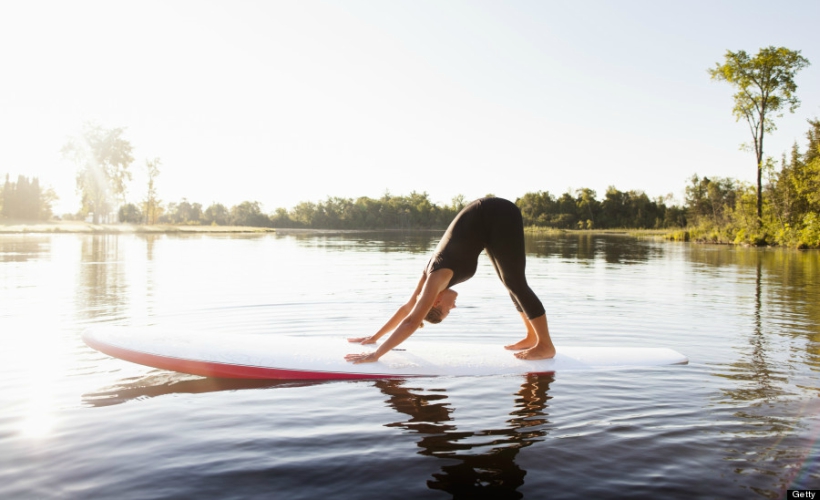 Surf's up, Zen out
Taking yoga to a whole new level are OXBOLD's Stand Up Paddle Yoga classes (or SUP Yoga). It's challenging enough balancing in warrior pose in a regular yoga class, but working your way through a series of asanas while balancing a board on the water will give your core a workout unlike any other. Though a bit of a drive out of Kuala Lumpur, the trip to Putrajaya Maritime is well worth it as SUP Yoga is a truly unique practice. There are group classes and private lessons available for beginners, but even seasoned yogis will find this quite an interesting experience. Note that being able to swim is a prerequisite for joining.
Where to go OXBOLD Putrajaya Maritime Centre, 1, Jalan P5/5, Presint 5, Putrajaya
Tel 019 663 8336
Fees MYR150 per person for a group class; MYR190 for a private class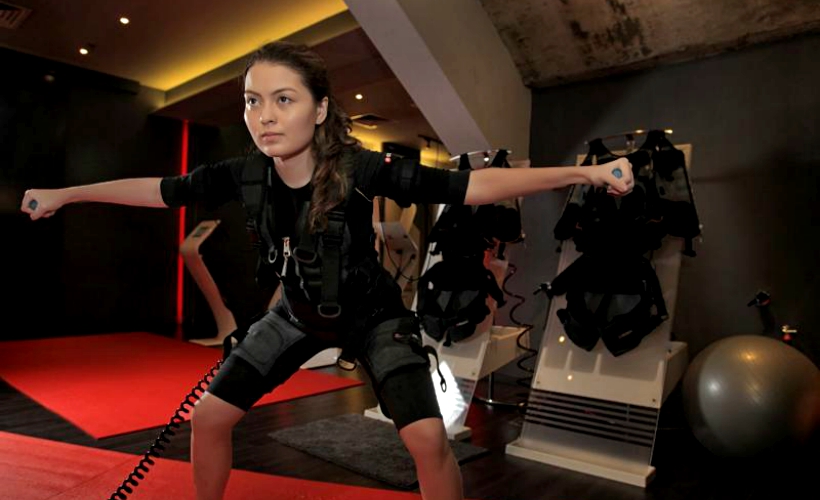 On impulse
You can quite literally zap away the pounds with a few rounds of Electronic Muscle Stimulation (EMS) at Impulse Studio. You put on a form-fitting bodysuit hooked up to electrodes, which sends electrical impulses that control muscle action. It works is by reproducing the body's natural and voluntary muscle contractions while you perform a series of exercises like lunges, squats and burpees. The kicker is that the impulse is so intense, a mere 20-minute workout is equivalent to nearly four hours of regular fitness training.
Where to go Impulse Studio has three outlets in Kuala Lumpur; find details at their website
Fees MYR999 for 10 sessions (first-timers only)
Jumping Jills
Getting lean and mean can be fun! A plaything from our childhood days, trampolines offer a host of fitness benefits to both adults and children. It works the heart, making it a great cardio-based exercise, while boosting your metabolism to help burn off calories. The trampolines help absorb the impact that jumping may have on the knees so it's suitable for those who are overweight or have weak joints.
Where to go Jumping Malaysia 50-3, Jalan Jalil 1, The Earth, Bukit Jalil, Kuala Lumpur
Tel +6012 699 1512
Fees First-time trial at MYR30; packages start from MYR150 for four classes
HIIt Me Up
Touted the most efficient way to burn fat and lose weight, High Intensity Interval Training (HIIT) is enjoying a wave of popularity, with classes available across fitness centres in Kuala Lumpur. Firestation Fit is among the most popular. They offer a variety of sessions such as Strike (a boxing-themed HIIT class described as 'Fight Club meets nightclub'), Stride (their all-in-one total body signature workout that involves weights, running and core conditioning) and Ride (indoor cycling). Classes last no more than 45 minutes and are conducted in small groups and at the end of each session, you will be rewarded with fresh juices and scented cold towels.
Where to go Firestation Fit has two studios in Kuala Lumpur; see their website for details
Fees First-time trial at MYR30 and thereafter, MYR75 per session. Packages are available.