A PR maven by day, managing lifestyle accounts, and a major gym bunny after hours, it's little surprise that Kuala Lumpur-based Natasha Loo is also a fitness influencer on Instagram. She documents her passion for fitness and her workouts consists mainly of a mix of strength and conditioning training at Revelation Republic and CrossFit at Fuel Athletics. But she also takes it easy with a bit of yoga. "Doing those two kinds of workouts really tightens up the muscles; so to stretch and improve mobility I occasionally do yoga on weekends," she says.
If you're wondering how often Natasha works out to keep in tip top shape, it's a whopping five to six times weekly. Even when she travels, Natasha makes it a point to squeeze in a little workout. In fact, she sometimes travels just to exercise!
"I was recently in Bangkok for holiday turned into a mini fitcation," she muses. "I visited two boutique gyms – BASE and The Edge gyms. I like to try different gyms and I love the vibe of new places and to experience different workouts and what each of these places have to offer."
But what exactly is a 'fitcation'?
Well, a fitcation is a pun and joining of the words 'fitness' and 'vacation'. It's a modern moniker representing a growing travel trend, as more and more people venture far and wide for health-, wellness- or workout-related holidays.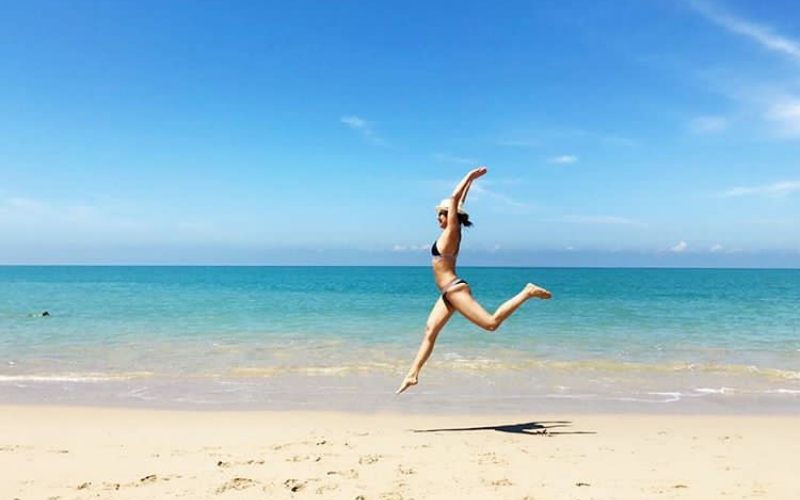 These days, fitness brands host influencers on fitcations, like the one Natasha attended last year with Lululemon. "Last year I went on a trip to Borabudur with Lululemon. That holiday was a really great, fulfilling experience for the mind and body." Naturally, being a Canadian brand famous for producing some of the most comfortable yoga pants ever, Lululemon made it a yoga-fueled escape with Eion Finn, a renowned yogi and surfer in Canada. "We had yoga sessions with Eoin Finn who opened our eyes to such a spiritual yoga which I have never done before. We also did self-development sessions. I definitely learned a lot about myself," recalls Natasha.
For anyone still skeptical about having to travel just to work out, it does have its appeal. "Even though workouts wherever you go are similar, every place offers something unique – like a different vibe or interesting people to meet. Sometimes being in a different environment and out of my comfort zone motivates me," says Natasha. And for Natasha, her best fitcation memory is definitely her Lululemon one, because not only were they filled with sweat sessions, but also room for personal growth. It's like a gift that keeps on giving.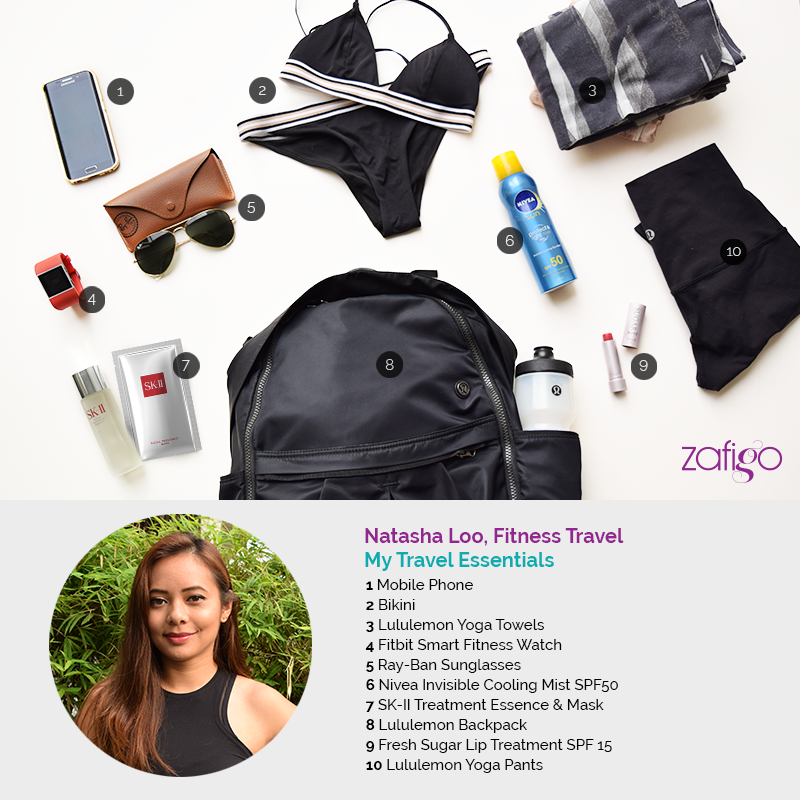 1. Mobile phone – How else can I snap and share amazing photos on any fitcation or holiday? My phone comes with me everywhere! The beauty of social media is that your family and friends get to 'follow' you on your trip too.
2. Bikini – Life's a beach! And everything's always better in a bikini. Swimming is a good way to keep active too. It's a low impact workout, so it's especially good if you have certain injuries.
3. Lululemon yoga mat towel – These towels soak up the sweat when I hit the mat and also improve grip. They double up as a beach towel too.
4. Fitbit Smart Fitness Watch – It didn't happen unless you track it. Of course, it's also a great all-in-one for measuring sleep, tracking calories burned and so on. How can anyone go on fitcation without a fitness tracker?
5. Ray-Ban sunglasses – Form meets function here. Sunnies protect your eyes from the sun and is also a stylish accessory!
6. Nivea Invisible Cooling Mist SPF 50 – My beauty secret and necessity is sunblock. Don't get burned! I like this one because it doesn't leave any whitish residue and really does feel cool on the skin.
7. SK-II Facial Treatment Essence and Mask – Never neglect your skincare routine. If I'm packing light, these are my two must-haves. They keep my skin hydrated in any kind of weather condition.
8. Lululemon Backpack – Versatile, just the right size and waterproof. Big enough to carry your necessities for a fitcation, travelling or hiking.
9. Fresh Sugar Lip Treatment SPF 15 – A must-have in my bag at all times! This has a tint to it too, so I'm always camera ready even while I work out.
10. Lululemon Wunder Under – Black yoga pants or tights are an absolute essential. Besides being necessary to workout in, they do double duty as casual wear.