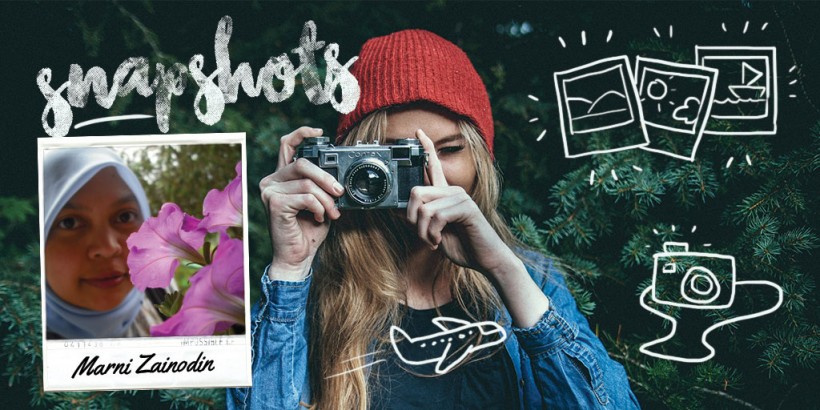 Indonesia is one of my favourite destinations and I have had the chance to visit several parts of the country in the last few years, from cities where macet (traffic congestion) is an everyday occurrence to languid towns and bucolic countryside. These sketches represent some of my best travel memories in Semarang and Magelang.
Breakfast on the streets
The typical Indonesian breakfast is soto ayam and while in Semarang, this was what I started my day with every morning. This stall at Jln Kepodong in Old Semarang operated in front of an old Dutch colonial building. What excited me the most were the colourful ingredients he had in the banana leaf-lined baskets. Everything looked and smelled so authentic. I enjoyed watching my breakfast being freshly prepared and then tucking into the steaming bowl of noodles on the spot.
Art in architecture
In most parts of Indonesia, you can observe traces of her colonial past in the architecture. I always found the buildings to be very interesting, not only for their history and heritage, but aesthetically as well – you can see details that fuse Eastern with Western styles. I was drawn to this particular building because of the relief above the door on the extreme right. It appeared to be a barong, a lion-like creature that features popularly in Balinese mythology.
Fight or flight
Cock fighting is illegal here and games often get raided by the police, but that hasn't stopped local enthusiasts from pursuing it as it's practically a tradition to them. The roosters are very well groomed, fed, and bathed regularly. Their feathers may be modified as part of their 'showmanship'. The fights are not gruesome as owners are careful not to let their champion get badly harmed, but are still exciting to watch.
A fight begins with a stare down, each waiting for the other to start first. They seem to have an unspoken code; when the roosters get into the ring, they try not to kill each other. You definitely won't see blood, though some may end up with a few feathers out of place. The roosters would flap a wing, jump around, maybe do a little kick or show off their feet (which are their most lethal part), or pump up their chest from time to time as if to say, "Are you talking to me, punk?!".
It's mostly men who patronise this rooster market, whether as a spectator, gambler, or coach. Most of the fights take place at alleys or in between empty buildings, and it's best not to venture there alone. Go with a friend and look for roosters resting inside bamboo 'suites' like these and you'll know that you've found a rooster fighting arena.
Retro respite
I loved walking around the Kota Lama (old city) area of Semarang. There are beautiful churches, antique sellers at the par, and an art gallery nearby. This SPIEGEL Bar & Bistro (Jalan Letnan Jenderal Suprapto No. 34, Kota Lama, Semarang Utara, Tj. Mas, Semarang Utara, Kota Semarang, Jawa Tengah) is a spot I recommend for great food and vibe.
Unchanged with time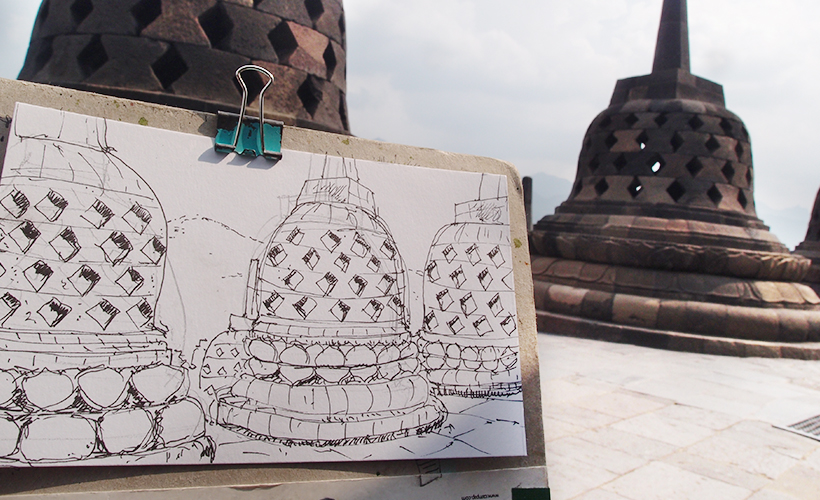 I wish I had the exact words, or even a poem, to reflect my feelings when visiting Borobudur, one of the largest Buddhist temples in the world. I saw some tourists doing yoga while others sat and meditated to absorb its energy and aura. Me? I did what I knew best – sketch. Religious sites are built to serve specific purposes and whatever that may be, are always driven by the purest of intention. That is why, I believe, these sacred spots remain timeless… it's humans who change over time.
Purity and clarity
As it's a sacred place, once we were inside the temple, we were not allowed to bring colour to paint our sketches. We could only use pencils, charcoals, or pens. I made this sketch of the stupas, thinking that I would colour it later but then I changed my mind – for a place that's so pure, I felt it best to leave it as it was.
Snapshots is our photo essay section, where we ask readers to share a curation of their favourite images to tell the story of their city or a destination they have travelled to. We welcome contributions from readers; if you have a photo story to share, email [email protected] and indicate 'Snapshots' in the subject line. Published submissions will receive a token sum from us.