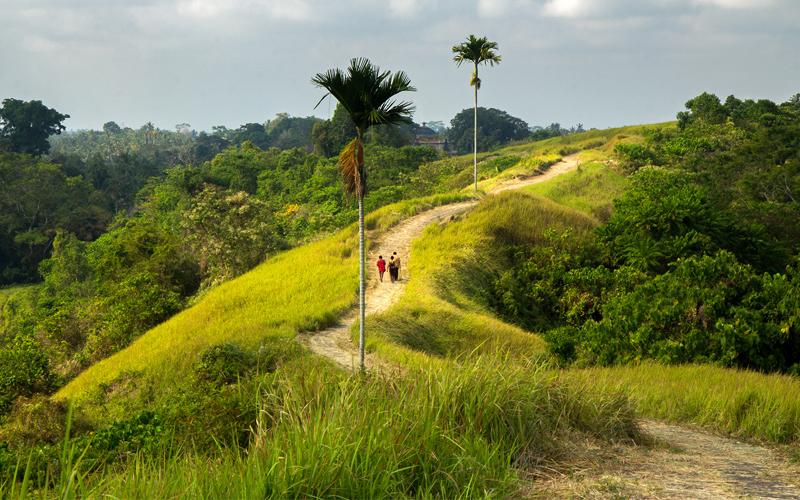 Ifell deeply in love with Ubud on my maiden trip to Bali 10 years ago. Since then, I have returned many times as a solo traveller, making Ubud my home away from home. I never get bored with it; it's blessed with abundant nature and beauty teeming with traditional arts and culture, and filled with friendly people. And I never feel unsafe wandering around by myself.
It's true that Ubud is not the same today as it was 10 years ago. As tourism continues to flourish, it brings with it more development, traffic and crowds. Add to that the impact of best-selling memoir-turned-blockbuster Eat, Pray, Love and Ubud has transformed from a sleepy village into a thriving township. But it has not lost its charm.
Each time I visit, I discover new hidden gems tucked away in the nooks and corners. I've explored the town on foot and on bike, had retail therapy at specialty shops, savoured different cuisines, visited museums, galleries and the art colonies. I've wandered into paddy fields, been pampered and rejuvenated at different spas, mingled with the locals, and called many quaint Balinese accommodations home.
If you're visiting Ubud as a solo female traveller, these are my recommendations on places to see and eat, and things to do.
As nature intended
Ubud is surrounded by lush paddy fields while its backyard surprises with small streets that sometimes lead to vast open spaces.
Dine in the middle of paddy fields
Tucked in the midst of paddy fields, Sari Organik restaurant is only a short 800m walk from the main road. The surrounding rice terraces provide an incredible paranoma and create a serene ambience while you dine on a wide range of organic vegetarian and gluten-free options, using produce from their own farm that's adjacent to the restaurant.
Hike the Campuhan Ridge
A well-known nature trek around the town centre of Ubud, the Campuhan Ridge Walk trail offers a pristine outback escape. A short walk takes you into Campuhan Valley, lined by dense tropical foliage and enveloped in cool, fresh air. Treat your senses to gorgeous hillside vistas and scenic rolling paddy fields.
Feast on views of rice terraces
Located on the north, about 20 minutes' drive from town, Tegallalang is famous for its breathtaking views of rice terraces on the hill banks, ornamented by coconut trees. Tuck into a hot meal or enjoy a cup of coffee or tea while resting your eyes on the soothing sight. You may also get to watch farmers irrigating the fields.
Be entertained by wild monkeys
You don't have to be fond of monkeys to visit the Monkey Forest, a green oasis in the heart of town. Take a breather while strolling under tall rain forest canopies and look over to the river gorges below. The mischievous monkeys that call this home will provide some comic relief.
Embrace local culture and traditions
A trip to Ubud is not complete without visiting at least a museum or art gallery. Shopping at the art colonies in the suburbs also gives you a glimpse into the world of Balinese arts and crafts.
Enter the world of Bali's Dali
An institution in Ubud, Blanco Renaissance Museum was the house and studio of the late flamboyant Philippine-born maestro, Don Antonio Blanco. It houses his paintings, collages and poetry, as well as lithographic artworks of his famous subject, nude Balinese women. If his art is not your cup of tea, you might admire the regal and grand interior architecture of the house instead and relax among the large manicured gardens.
Immerse in Balinese art
Neka Art Museum houses the most comprehensive Balinese art collection. Opened in 1976 by Balinese art lover Wayan Suteja Neka, the museum houses a growing collection of classical paintings and sculptures, which are displayed at six different Balinese-style pavilions.
Get some healing, or have your future read
Faith healing is an occupation that is particular to the Balinese, and most of the island's healers (also known as medicine man or woman) work out of his or her own modest homes. No doubt the island's most well known medicine man is Ketut Liyer, made famous by Eat, Pray, Love. Well into his 90s now, his fortune telling service commands quite a steep fee but if you just want to take a fan photo, his residence (Jalan Raya Pengosekan, Br. Pengosekan Kaja Mas, Ubud Tel +62 361 974092) is open to tourists and he is happy to pose with visitors.
Cook up a storm
Held at restaurants or in private homes, Balinese cooking classes are usually kept intimate, with between 6 and 12 participants. You will start with a visit to Ubud morning market to get familiar with classic Balinese ingredients and raw herbs. With the help and instructions of a local chef, you will then learn to cook a number of Balinese dishes and end the day with a feast.
Surrender your senses
Ubud is a haven for relaxation, with spas that run the gamut from small, budget centres to luxurious establishments at 5-star resorts. The signature is, of course, the Balinese massage that features slow, gentle strokes. Most of the spas are reasonably priced, staffed by well-trained therapists, and have pleasant ambience. These are my best spa experiences in Ubud (listed from lowest to highest price points).
Sang Spa offers good value-for-money massages and treatments.
Karsa Spa sits in a paddy field and is currently ranked at the top of TripAdvisor's list of Bali spas.
Tamarind Spa, Murni's House is a cosy traditional spa, where I enjoyed the best Balinese massages ever.
Bali Botanica Day Spa is set amidst a soothing garden setting.
Spa at Maya gets top marks for amazing ambience, overlooking gorges and a river.
Attend a local event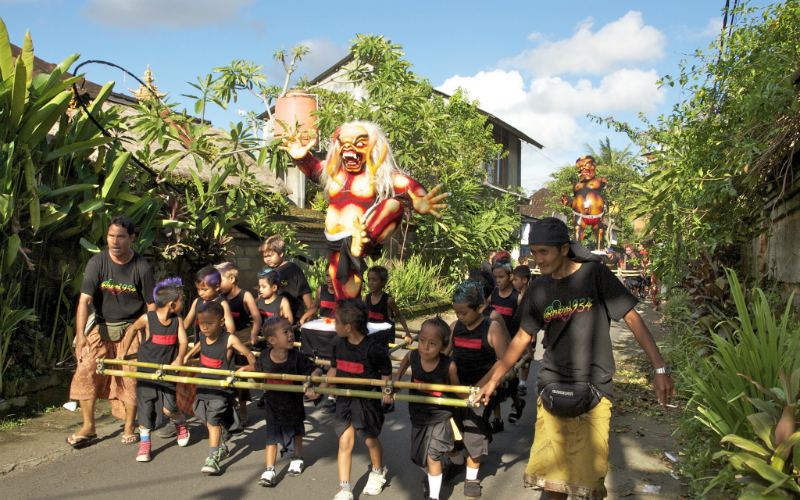 If you want to experience Ubud in a unique way, here are some festivals that are worth being part of at least once in your life.
Observing a day of silence
It's a fascinating experience be in Ubud on Nyepi during the Balinese New Year. It is marked by a day of silence that is preceded by a day of exorcism or purification. On this day, Bali totally `shuts down' for 24 hours; all shops, restaurants, hotels and even the airport will close. On the eve of Nyepi, Balinese carry huge the Ogoh Ogoh, a statue of scary-looking creatures, on a bamboo grid and throng the streets accompanied by gamelan music and noises. They then congregate at a large football field where the Ogoh Ogoh will be burned.
The date of Nyepi is decided by the Hindu Balinese saka calendar and the next Nyepi day will fall on March 27, 2017.
Write time, write place
Held over four days each year, the Ubud Writers and Readers Festival (UWRF) (is South East Asia's largest and most renowned cultural and literary event. It's a platform that brings together Indonesian and international writers for conversations, connections, to share extraordinary stories and amplify voices in addressing global issues and ideas. The 13th UWRF will be held 26 – 30 October, 2016 with the theme Tvat Tvam Asi or 'I am you, you are me'.
Get into the spirit
A celebration of yoga, dance and music that merges Eastern and Western cultures over a five-day period, the annual Bali Spirit Festival typically features more than 100 workshops, performances and dance concerts. Every year, it attracts a global audience of over 6,500 people. The next Bali Spirit Festival will be held from March 19-26, 2017 in Ubud.
Find your home sweet home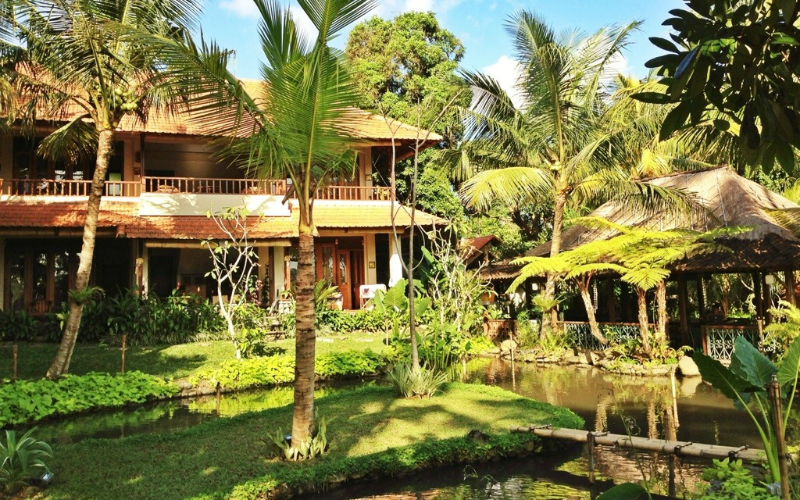 In Ubud, you're spoilt for choice, with accommodations that range from budget homestays to reputable resorts. I usually choose quaint Balinese-style hotels and guesthouses, and these are my five favourites:
Alam Shanti is Balinese hospitality at its finest. It consists of individual houses with spacious rooms with open verandahs and terraces. It's located at a more rural part of Ubud town but is easily accessible.
Green Field Hotel & Restaurant is one of the older yet still popular options in Ubud. Surrounded by paddy fields, rooms are dressed in Balinese accents and there are two swimming pools.
The Samara is serene, stylish and boasts of country chic. It comprises six well-appointed villas and views of the paddy fields. It is not accessible by car but the hotel staff will pick you and your luggage up on motorbikes. The hotel is a short walk from town centre.
Omah Apik is a charming and rustic B&B located in Pejang Village, just 15 mintues east of Ubud town. It is set amongst the rice fields in the foothills of Tampaksiring, and offers 11 guests rooms overlooking coconut trees, flowering shrubs and a herb plantation.
Hati Padi Cottages at Tanah Cinta Village If you want a true escapade in a quaint and quiet place, this is ideal as it's set deep within plantations and paddy fields. The different colour-themed villas, surrounding a large pool, take you back to the basics with open-air bathrooms and non-air conditioned rooms.
Gastronomical Ubud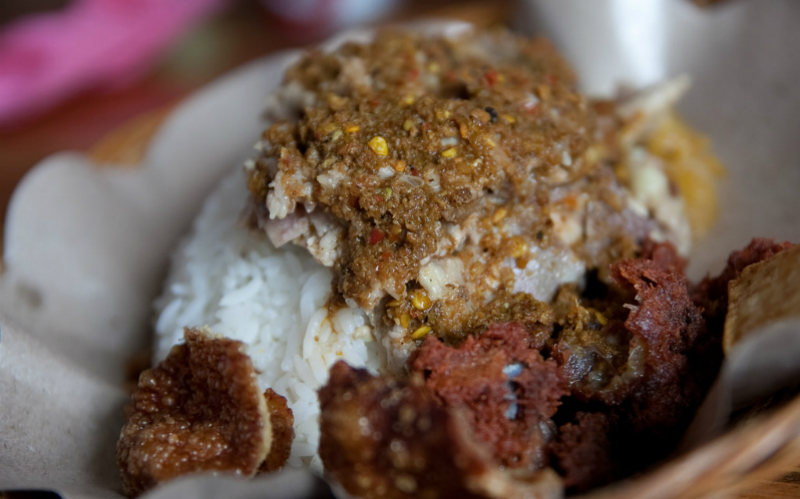 Ubud is certainly not short on delectable eats; besides the many local Balinese and Indonesian restaurants, there is a wide variety of restaurants and cafés. From steaks to fusion cuisine and raw food, your options are endless. Good coffee is never too far away either.
For authentic Balinese
Start with Babi Guling Ibu Oka (Jalan Suweta, opposite Monkey Forest Tel +62 361 976345 Opens 11:00-19:00), famous for roasted suckling with rice, vegetables and spicy condiments.
Savour skewered and pulled chicken with rice and a fiery sambal at Nasi Ayam Kedewatan Ibu Mangku (Jalan Raya Kedewatan No.18 Tel +62 361 974795 Opens 9:00-22:00).
Crowd favourite Bebek Bengil – Dirty Duck has been drawing the crowds for years now with its crispy skin duck and open-air pavilion seating.
Putu's Wild Ginger serves tasty home-cooked traditional Balinese dishes. Try their mixed salad dressed in vinegar, lemon, mustard and spices, and ayam goring (fried chicken) cooked in special sauces.
For Western classics
Naughty Nuri's Warung and Grill's signature BBQ ribs are to die for!
Savour slow food, fine dining style at Locavore. Go for their exquisite 5-course (or 7-course if you can stomach it) meal.
Organic and natural food specialist Clear Café serves my favourite homemade nachos. I also love their seared pepper tuna steak with wasabi mashed potatoes, best enjoyed with fresh juices and smoothies.
Spice by Chris Salans dishes up fresh, fusion cuisine at its finest. I enjoyed the baked salt-cured white fish with kemangi (basil) and kenari (walnuts) crust, and beef brisket with kluwek (a type of nut used in Javanese cooking) broth and lots of herbs.
For coffee
For your morning cuppa or a mid-afternoon perk, these four cafes will satisfy with their aromatic beans and blends: Seniman Coffee Studio, Anomali Coffee, Freak Coffee and KAFE.

Read Next: