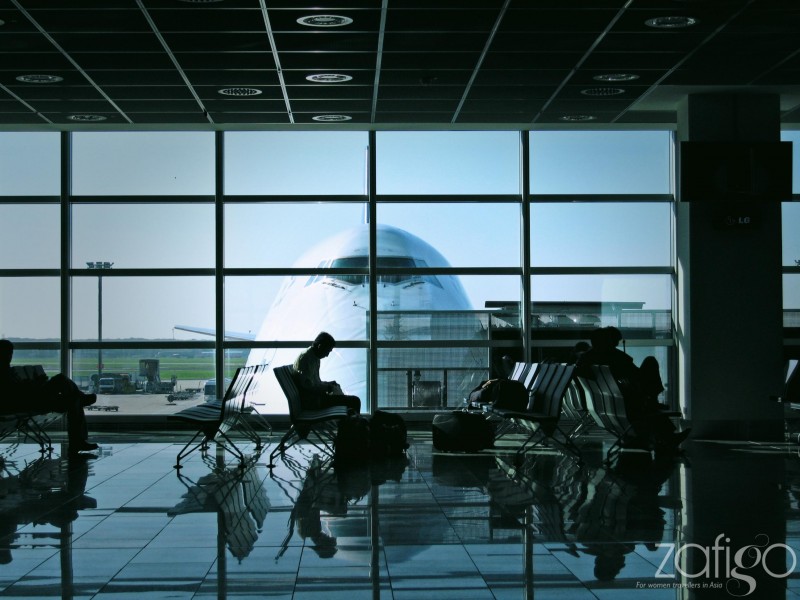 From the airport
From the KL International Airport, you're spoiled for options to get to Kuala Lumpur. You could queue up for a taxi or simply take the high-speed ERL train that will take you right to KL Sentral station within the heart of KL.
Be sure to avoid taxi touts at the airport. Take only taxis or rental cars from the official counters of KLIA and KLIA2. Taxi touts are notorious for overcharging and have even been known for assaulting passengers, deviating from assigned routes and basically live off taking advantage of unknowing new visitors to the country. Touts can be aggressive, they will call to you and in some cases try and follow you, attempting to wheedle you into getting into their cabs. Do not engage with them and simply walk away as briskly as you can.
For a cheaper, scenic route, you could instead opt for an airport bus. Almost a third of the price of an ERL ticket but it'll take you a longer time to reach the city.
The low-cost terminal KLIA2 has shuttle bus services as well, some running from KL Sentral station though a newer option is the KLIA2 bus that takes you to Paradigm Mall in Petaling Jaya.
Getting around
Walking
KL is not a pedestrian-friendly city. The pavements are too narrow and there is very little shade. Crossing the streets can be a terrifying prospect even at zebra crossings as Malaysian drivers are known to be impatient. Stick to the overhead bridges if you can.
To get around the city, you might be best served by combining the various modes of public transport.
Bicycling
Cycling in KL is not for the faint of heart. At present time, dedicated bicycle lanes do exist, but cyclists still have to practice extra caution as cars readily encroach into the bicycle lanes, and sometimes even stop and wait there, blocking what should essentially be a hassle-free commute.
However, on the first and third Sunday of every month, people in the city can enjoy a car-free morning in the city between 7AM and 9AM, as the city council closes roads for people to cycle, run, skateboard, or simply enjoy a morning walk.
Hiring a car
Unless you are planning to take a trip out of town, hiring a car to drive around the city is not recommended. While not quite as chaotic as Jakarta or Bangkok, Kuala Lumpur traffic can be overwhelming for newcomers. You would be better off taking a combination of rail and taxis to get from one point to the other.
Weekly car rentals at Kuala Lumpur airport or within the city are also available, with prices depending on the model of car hired. Be advised that car rental prices can range from RM150 a day for a minimum of two to three days rental or RM55 daily if you chose to rent for a month. Weekly rentals are also available, with prices depending on the model of car hired. On a side note, Malaysians also drive on the left side of the road.
General tips
Street signs and directions in English are fairly common and if you need help, most passersby or shop-owners will be glad to give you directions. If you drive, be prepared to deal with the awkward placement of road signs which might mean missing a turning or two because a sign was poorly placed or in some cases, gone missing.
Do note that trains and buses stop operating after midnight and during that time, taxis will levy a hefty surcharge.
Public transport safety tips
Buses and trains have a better safety record than taxis for women travellers, but you must remain vigilant for pickpockets or purse snatchers. Avoid wearing gold chains as they are also a popular target for thieves and keep an eye on your bags at all times.
Stay especially alert after hours. Buses and trains do not run past midnight so you will have to depend on taxis or private cars. In that case, using a taxi-booking app might be safer as it would be easier to track your journeys and get prior information on who your driver is.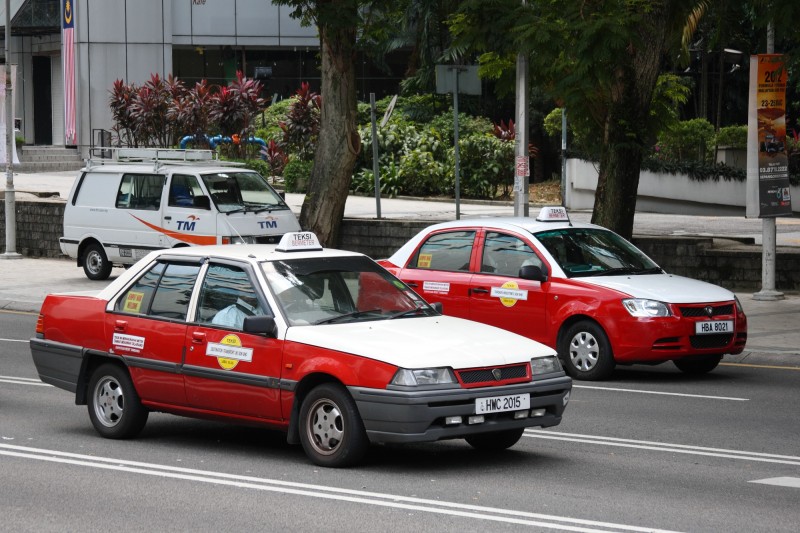 Getting around by taxi
Taxis in Malaysia have a bad reputation – for good reason. Malaysian taxi drivers are known for being rude, refusing to follow the meter and there have been cases of drivers taking their fares to shady parts of town to either extort or assault their passengers. Thus it is advised not to flag down taxi drivers by the roadside if you are a woman travelling alone and instead call or book a taxi via the phone or through an app.
The cheapest taxi is the common budget taxi, followed by the more expensive executive taxis that are easily identifiable by their blue paint.
Avoid asking the hotel to call you a cab as it is common for hotel concierges or staff to strike a deal with drivers to give them preference for a cut. You will end up paying far more than if you had booked one yourself.
Taxi companies
Public Cab (03-62592020) – also allows online booking on its website.
Sunlight (1300-800-222)
Comfort Radio Taxi (03-80242727)
Supercab ( 03-20953399)
Mesra Cab (03-40430659)
UpTown Ace SuperCab (03-9283-2333)
Taxi booking apps
One way to circumvent the hassle and annoyance of calling multiple cab companies is booking one via an app. As the taxis are all registered under the app, it is also a safer way of getting a cab as the app will also display such details as the driver, license plate and mobile number.
Grab: Currently the most popular taxi booking app in Malaysia, it works by allowing you to select your current location, your destination and the type of taxi you want. Then it's a matter of waiting for a taxi. If none of the taxis are biting, try adding a tip as incentive.
Download: AppStore, Google Play Store
EzCab: An alternative cab app that does not have an iOS version, unfortunately. It also has less options than MyTeksi but is a good alternative if you can't seem to get a cab on the other app.
Download: Google Play Store
Private car booking apps
Uber: Currently the craze of the public transport scene, allowing you to book private drivers. Uber has two flavours: Uber Black and UberX, the latter being the more budget-friendly service. Uber charges significantly more than a taxi, however, but that is offset by the perks of a more comfortable ride and (what is perceived to be) a safer experience.
Download: AppStore, Google Play Store
Grabcar: Another service by MyTeksi, you don't need a separate app for this option. Just choose Grabcar from the taxi selection from the MyTeksi app itself.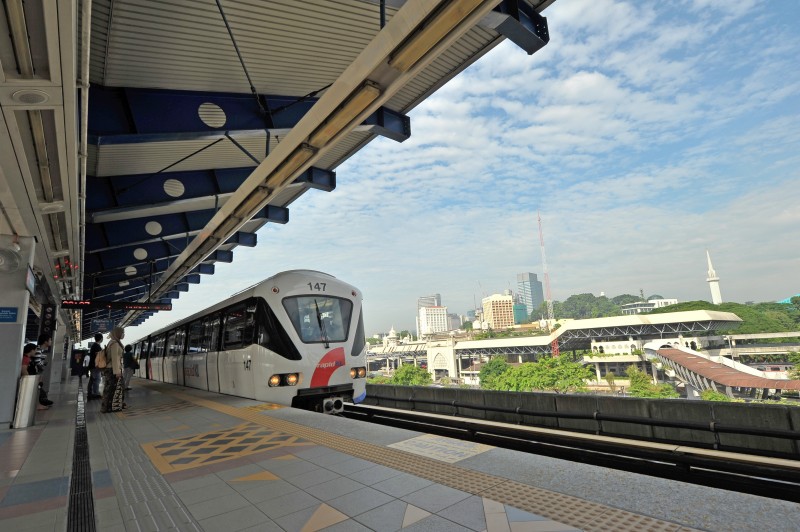 Taking the train
In Malaysia, taking the train can be a confusing affair. If you mean a railway train for longer-distance travelling, that would mean taking a train from a Keretapi Tanah Melayu (KTM) station. KTM also has a separate train just for commuting, called the Kommuter. Avoid taking the Kommuter except when there are no options. The service is beset by problems that include aging, poorly-maintained carriages, being constantly behind schedule and being terminally overcrowded.
Thankfully there are other options. MyRapid took over both the Putra and the Star train lines and also the Monorail, a short, electric rail service that only operates within the vicinity of Kuala Lumpur itself. Putra and Star have routes that take them to the Klang Valley, Ampang, Cheras and to locations in the neighbouring state of Selangor.
The MyRapid website is a good source for train routes and even has a handy travel planner that will help you estimate how much it will take you to get to your destination. For the most part, trains are the most convenient and not too expensive means to get around Kuala Lumpur. While buses are cheaper, their unpredictable timings and poor safety records make trains a far more attractive option.
Purchase a MyRapid card if you plan to use MyRapid's services extensively as the stored value card can be used to pay for buses, trains and even MyRapid parking fees. Sadly the card cannot be returned for a refund unlike Singapore's MRT cards so just consider it a keepsake of your journey and try not to load too much credit on it as you won't get it back.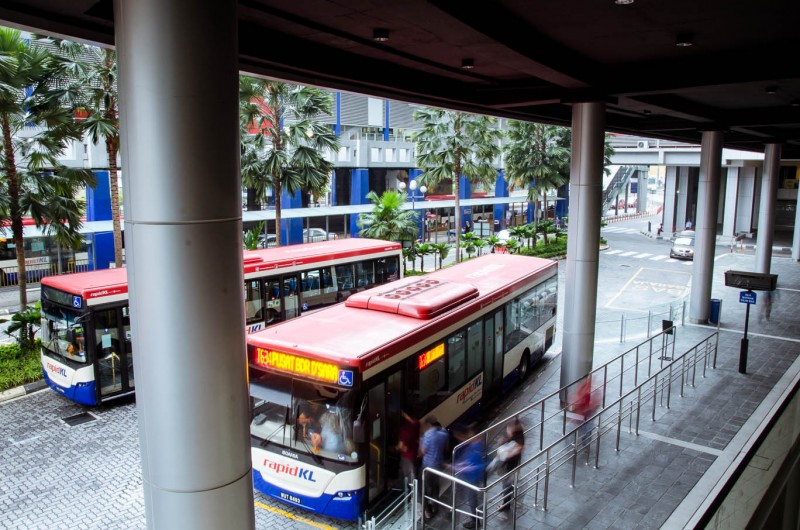 By Bus
MyRapid also has bus services that service Kuala Lumpur and the Klang Valley with fares that usually hover around the RM2 mark.
Besides MyRapid buses, there are other smaller bus operators. Sadly their schedules aren't as easy to procure and you can usually gauge where a bus is going by the sign in front of the windscreen or by asking the drivers.
Bus terminals such as the ones at KL Sentral also host services for buses that go to Genting or to the KLIA and KLIA2 airports.
A comprehensive list of bus services to locations outside of Kuala Lumpur can be found at JourneyMalaysia.
Common scams
Beware strangers suddenly coming up to you and offering various services. It could be a ploy to lure you somewhere more secluded where you would be an easy target.
A common inner city ploy is someone pointing to money or other items you supposedly dropped in a bid to distract you long enough for an accomplice to snatch your bag.
If someone asks to borrow your mobile phone, make excuses and pocket it quickly before it gets snatched by the asker. The borrower is more likely to take your phone and not come back.
Places of Interest
The range of attractions in Kuala Lumpur makes the city a truly exciting tourist destination to explore. Here are just some places to visit in the city: