I
don't use taxis much in KL. I have a driver who takes me everywhere so efficiently that I rarely need to look to see where he takes me. As a result, on the days when he's off work, I don't know how to drive myself anywhere.
Thus, it was that over the long Eid holidays I found myself having to get to a TV studio for an interview on my own. I thought of Waze-ing myself there, or cajoling my long-suffering husband to drive me. And then it hit me that I had a possible stress-free solution: I could call on one of these new-fangled taxi services, GrabCar!
A few calls and then all was arranged. Mr. Azmi would pick up the next morning at 9, to deliver me to the studio by 10.
Just before 9 AM, a black saloon car showed up at my door. Although I had already been alerted he was there by my household help, Azmi still called me to let me know he was ready and waiting for me. When I came out I found a neatly-dressed man in a jacket, looking more like an executive about to get in his car.
The morning then proceeded very smoothly. The car was neat and clean with some water bottles in the seat pocket in front of me, which I was uncertain was meant for my use. I should have asked, of course. And the trip I had anticipated would take me at least 40 minutes in fact took only 25, thanks to the light holiday traffic. Azmi did use Waze but unlike me, he trusted the system and got there with no hesitation.
After my stint at the studio, he was there again to take me home. But not before starting the car again and driving around the block in order to cool the car so that I didn't have to get into a sweltering car. How thoughtful!
The journey home didn't take much longer than the journey out but we had a nice long conversation about taxis and taxi drivers on the way. Azmi turned out to be an articulate man with his own opinions on many things. For one thing, he thought we should go back to having single sex schools because it would allow girls to be educated in peace on how they are equal. (Hmmm.. just a thought, does GrabCar also take care to match drivers with their passengers? Like not giving feminist clients male chauvinist drivers??) It was an idea to ponder, even if impractical in this day and age.
By the time we got home, Azmi had somewhat allayed my concerns regarding these new taxi systems. I'm happy to have an alternate driver for the day but I rather feel I have to audition them all in order to know which would suit me best, especially in the conversation department.
But as they say, there's nothing quite like a taxi, or in this case, a GrabCar driver, to provide you with a barometer on current issues.


GrabCar is offering Zafigo readers RM10 off your first GrabCar ride.
It's easy. All you have to do, is enter the following promotion code when you book one.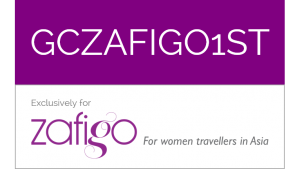 Here's how:
1. Download (if you haven't already) and launch the MyTeksi app on your mobile phone
2. Key-in your Pick-up and Drop-off locations, select  'GrabCar' in the menu below the screen, and tap 'Next'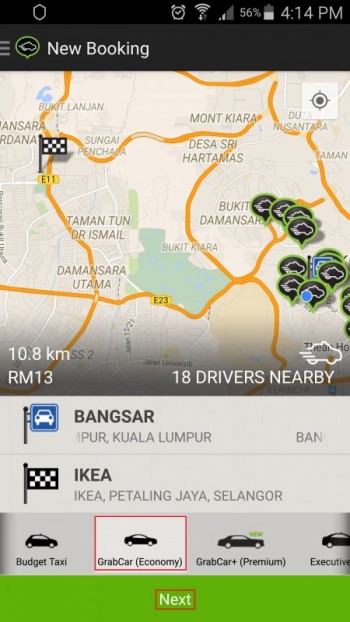 3. Enter the Zafigo promotion code GCZAFIGO1ST and tap 'Confirm Booking'
 4. 
That's it! Wait for your GrabCar and enjoy the ride.
GrabCar & GrabCar+ (Premium) is an app-based car with driver service offered by MyTeksi. Read more about GrabCar here. 
More from Zafigo:
Book like a pro: 15 tips for a better MyTeksi experience
Taking taxis in KL: Tips to staying safe
Get all the latest travel updates from Zafigo. Follow us on Facebook, Twitter, and Instagram.