Come 19 April 2016, women around the United States would be deleting Uber for a new ride-share app called Chariot for Women.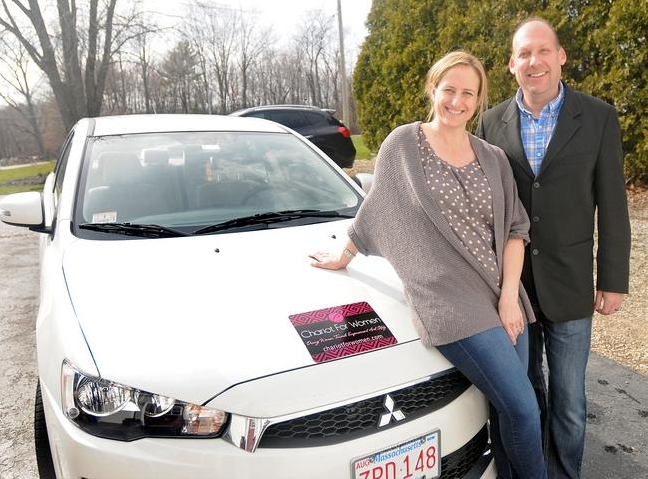 Chariot for Women drills into the untapped market rideshare companies like Uber, Grab, or Lyft had been missing out on – women. The premise for Chariot for Women is simple: "Driven by women. Exclusively for women." The Massachusettes-based company is providing women-only rideshare experience to help women ride safer.
Why Chariot for Women is a Big Deal
Although existing rideshare companies like Uber pride itself on safety, there have been many cases that prove otherwise. In March 2016, BuzzFeed News published Uber's internal data on rapes and sexual assaults lodged via Uber's customer service system. Screenshots provided by a former Uber customer service representative showed that a search query for "sexual assault" returned 6,160 Uber customer support tickets while a search for "rape" returns 5,827 individual tickets (BuzzFeed News questioned whether the numbers were accurate).
Closer to home, SAYS.com shared accounts of women passengers receiving unsolicited text messages from their Uber driver long after they had been dropped off.
It is not only women passengers who feel threatened by their drivers, women rideshare drivers had also reported feeling unsafe driving especially in the late hours of the night. According to Chariot for Women's research, most women rideshare drivers only drive during the day. "It shocked me all the stories of women just getting hit on all the time," founder Micheal Pelletz told The Washington Post.
How it Started
It was after one "terrifying night" picking up an unstable 20-something man that led former Uber driver Micheal Pelletz to conceptualised Chariot for Women. After ferrying over 850 passengers, Micheal had his first unsafe ride. The young man stumbled into Pelletz car, incoherently babbling behind his rolled eyes. He became so agitated that Pelletz felt the need to alert the police.
That incident left a deep impression on Pelletz. "What if I were a woman? How would a woman handle that situation, especially when I was so nervous myself?"
"How many times did he pick up college girls at 2AM or 3AM?" Chariot's website says. "How many times did he watch as they spilled out of Boston clubs and into the wrong rideshare car?… 3AM in Boston is a candy store for predators." Pelletz has two daughters and the thought of his girls doing this hit him like a knife to the chest. His fatherly instinct kicked in and Chariot for Women was born. 
How it Works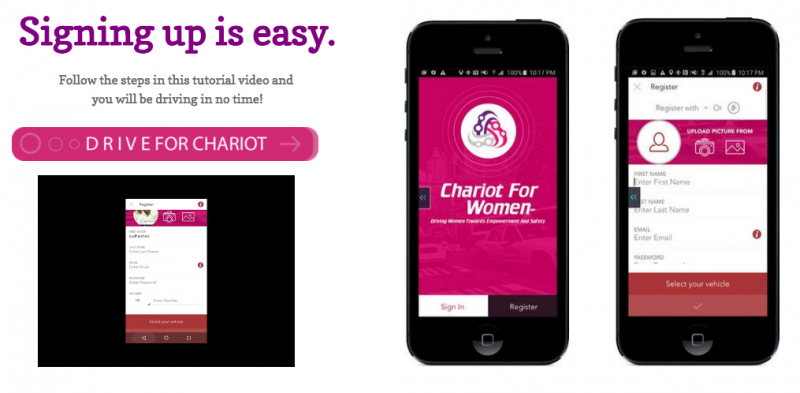 Designed with both women passengers and drivers in mind, the app is built to make women feel as safe as possible. Chariot for Women is similar to Uber in some aspects. Every driver will undergo a thorough background check before she is allowed to drive for the company. Passengers will also get to see the GPS location of the driver, the driver's photo, the car make and license plate number upon requesting for the ride. However, only women passengers and boys under 13 years old are allowed to request for a ride. Every time the chariot arrives, a woman will be behind the wheel. On top of that, the passenger and driver will be sent a safe word as a form of verifying each other. If the driver doesn't know the correct safe word, the passenger knows not to get into the car and look for the correct vehicle.
For women travellers, Chariot for Women means confidence moving about a new city and peace of mind when exploring the city's nightlife. Knowing that a fellow woman is behind the wheel also means not having to worry as much about being taken for a ride or questioning the driver's intention. It means finally having a transportation system that gives us the fundamental safety and security that we deserve.
For now, the Chariot for Women is only based in the United States. We can't wait for it to be launched in our city and big cities around the world soon.
H/T: Dose

Cover image credit: Robert-Rouse Baker/Flickr
Update: Chariot for Women has rebranded to Safr

Read Next:
| | | |
| --- | --- | --- |
| | | |
| | A Tale Of Two Taxis: The Scariest Taxi Ride Of This Girl's Life | |
Get all the latest travel stories from Zafigo. Follow us on Facebook and Twitter.