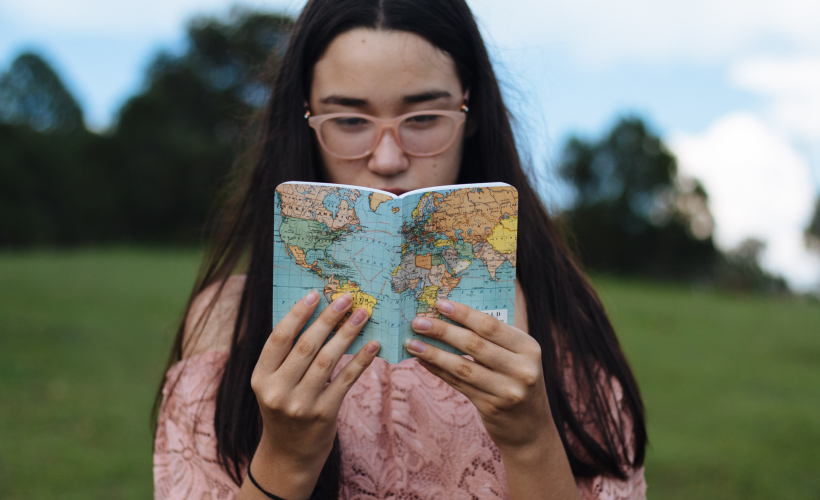 ome days, you just think to yourself, "That's it. I'm done. I'm going far, far away and never coming back." Some days, you might even get a bit ball-sy and book that weekend staycation you've been thinking about. Or a week-long island trip. Or a month-long unpaid hiatus from work.
But then reality kicks in and you just go back to the daily grind again.
Now, if you've wondered 'what if' more than once but let the fear of the unknown hold you back, these panels happening at ZafigoX 2018 from 9-11 November at The Gardens Hotel Kuala Lumpur will open your mind to a host of new possibilities.
Age, Responsibilities & Expectations: Should These Things Stop You From Travelling
10 November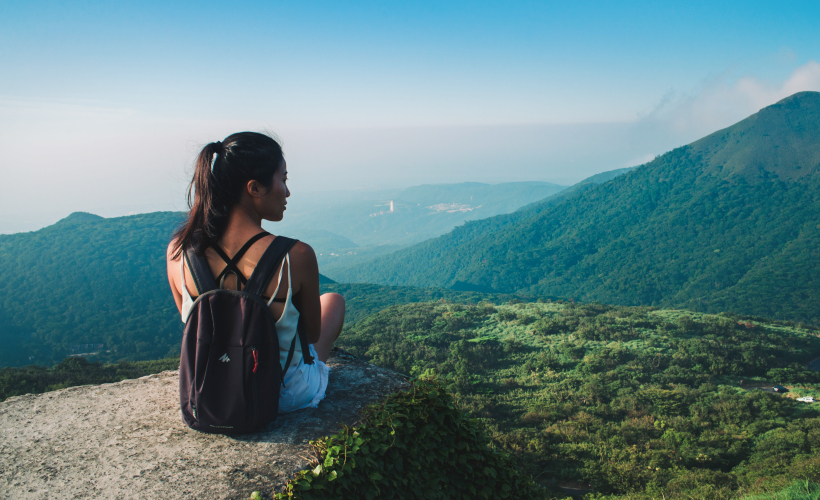 Women are travelling more than ever in the 21st century. And not only are they kicking it solo, they are getting more adventurous too. This is evidenced by the burgeoning markets that are glamping, women-only tours, women mountaineering clubs, and the list goes on.
There's no denying that female travel trends have been on the rise thanks to mainstream media's increase in portrayal of women. This is most prominently seen following the release of memoir turned movie Wild where a woman set out to tackle the Pacific Crest Trail. Within a year of the film's release, traffic to the trail's website doubled and nearly 1,000 more people attempted the hike compared to the year before. While travel is almost exclusively seen as a millennial's game, is that a valid reason not to travel? Are there actually any reasons not to travel? We dive into a discussion about age, responsibilities and expectations from travel today to answer the question.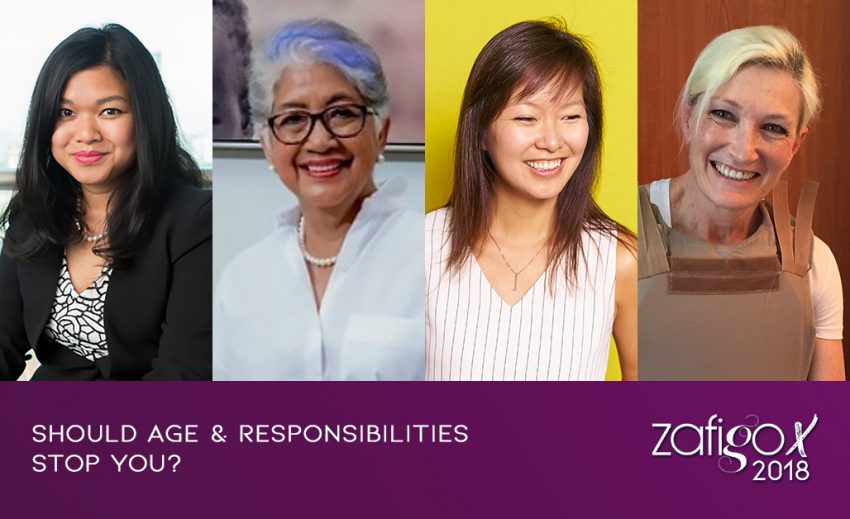 Moderator:
Khairun Nisa Nabidi
A consultant for high-profile clients now, you wouldn't believe that Khairun Nisa once took a four-year sabbatical to live abroad, travel, study and raise her kids. To mark the end of that chapter of her life, she packed up her three- and five-year olds and crossed 11 international borders and 8 time zones over 30 days on land, to start all over again.
Panellist:
Adrienne Lee
Aconsultant for Tourism Cares, Adrienne has lead programs in socioeconomic and community-development spaces over the last 10 years and on all seven continents. Adrienne believes travel can be used for wealth distribution, to drive gender equality, and a tool to alleviate poverty remote places.
Beverly Asha Roach
During 14 years of living in diverse conflict zones from Kabul to Darfur, Bev's work was to keep the organisations she worked with safe. She started Brazilian Jiu Jitsu at 52, and is now a certified self-defence instructor and teaches security programs.
Hermandari Kartowisastro
Hermandari, or Ibu Ndari, is a photographer, activist, and world traveller. At 67, she picked up an interest in photography, and went on to become a professional photographer. To date, she has travelled to over 60 countries and is showing no signs of stopping.
Overcoming Fear & Trauma To Travel
11 November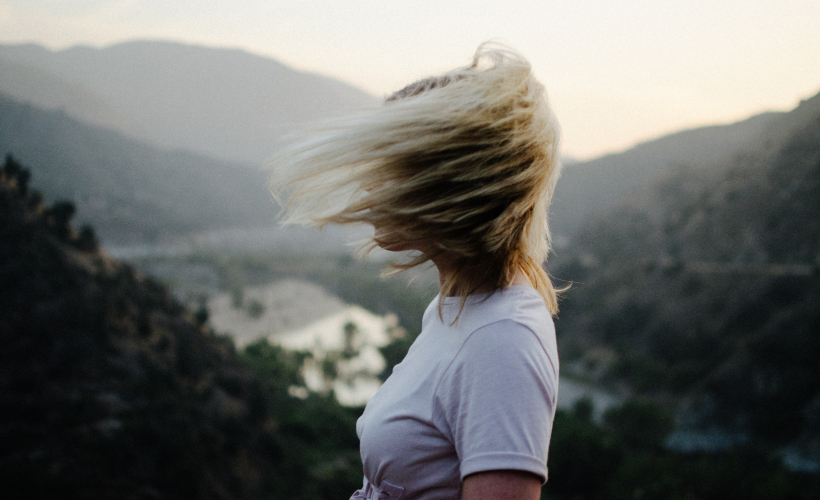 Lakshmi Puri, deputy executive director of UN Women, the international agency devoted to gender equality and empowering women said, "It is a woman's right to free movement, to travel, to explore, to enjoy public spaces, to ride public transportation without experiencing the fear of violence."
And yet, the #MeToo movement spawned hundreds and thousands of comments and posts from the sister hashtag #GLTMeToo in the closed women travel group, Girls LOVE Travel. The problem is clearly a universal one, and one that transcends location despite media conglomerates like Thomson Reuters and Forbes annually listing "Most Dangerous Places For Women Travellers". While fear may hold you back, these women learned that it doesn't necessarily always keep you safe. Sit in on the panel discussing how they have overcome their traumas of travel in the past, and how you can use fear to your advantage when travelling.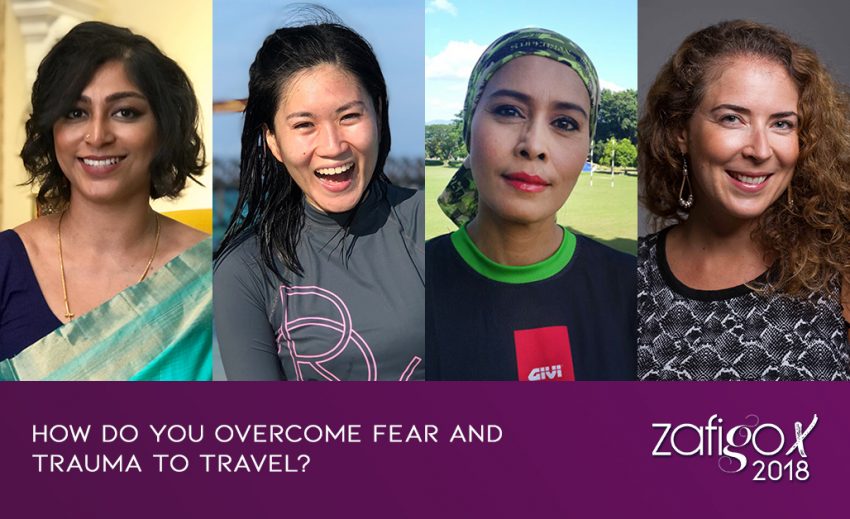 Moderator:
Sumitra Selvaraj
News anchor, writer, producer and director of current affairs programmes, Sumitra is currently an Executive Producer at Maxman Studios where she helms a number of talk shows both in front of and behind the camera.
Panellists:
Anita Yusof
Anita picked up riding six years ago and has literally journeyed across the world on her motorbike since then. The ride, which she named 'Global Dream Ride', spanned 65,369km in 40 countries across four continents in 370 days.
Claire McFarlane
A rape survivor herself, Claire is on a mission to run over 3,500 kilometres of beach across 230 countries. By sharing her personal story and peaceful outreach, Claire is fast becoming a voice of hope and inspiration to many.
Mei Mei Chu
Mei Mei runs a travel blog where she shares intimate and honest stories from the experiences of a woman travelling solo. She hopes to inspire women and encourage them to seek their own adventures with her candid confessions of being on the road while female.
Women Travellers: Balancing Life, Career & Travel
11 November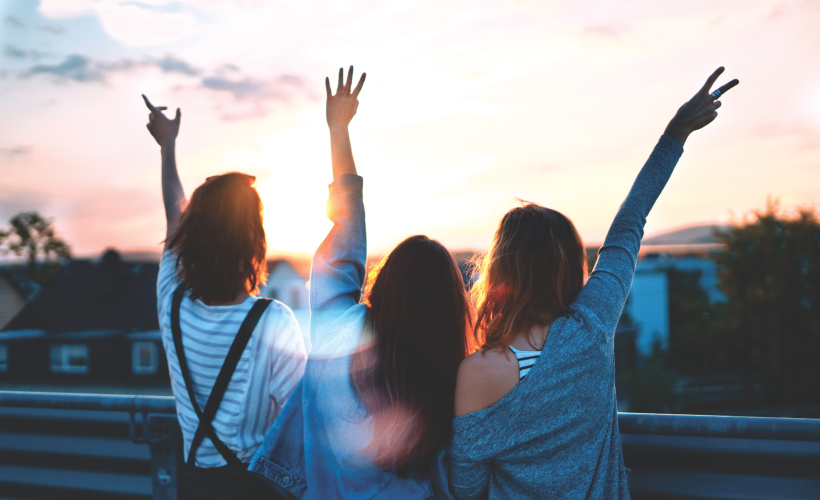 Even the bravest have their Achilles heel. For many women, finding the time to travel while juggling relationships and a full-time job to pay for said travels. For many others, as Dr. Catheryn Khoo-Lattimore points out in her talk last year, the societal pressures we feel to be good daughters, good wives, good mothers, and good daughter-in-laws (all at the same time) is problematic drags us down as there is an unspoken assumption that we have to take care of everything and everyone even when on vacation.
So how does one manage a family, friends, a career, finances, and still live young wild and free? We bring in ladies from various walks of life to talk about these challenges and how they tackle them head on.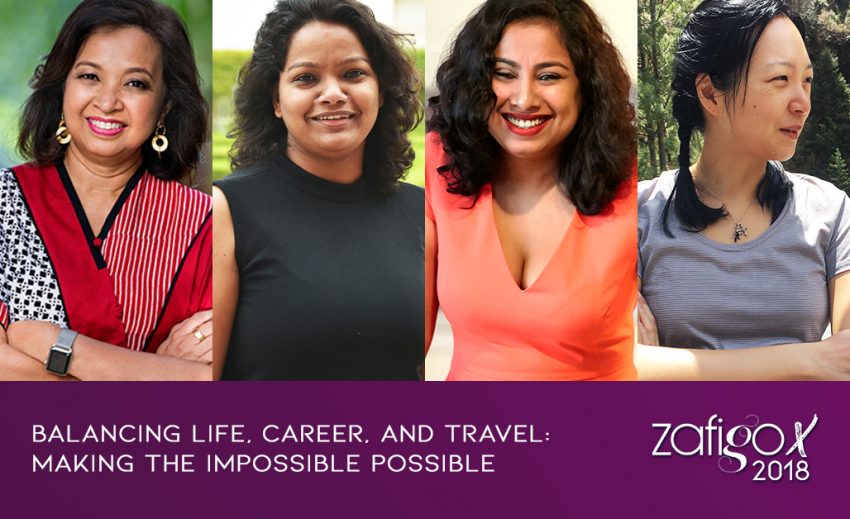 Moderator:
Marina Mahathir
Founder of Zafigo, Marina is a writer and activist whose passion for women's rights has been a constant thread throughout her working life. She is an HIV/AIDS activist, and has also co-produced a TV programme for young women called 3R – Respect, Relax & Respond, to educate young ladies about their rights and options in life.
Panellists:
Seema Viswanathan
Editor-in-chief for several major publications in Malaysia, Seema has worked in the high-paced industry for 20 years. She has also travelled the world extensively as a journalist, trying new foods, exploring historical sites, and seeing a country's natural wonders.
Gabrielle Tan-Helfman
Gabrielle loves travelling and has a travel bucket list that is slowly, but surely, being ticking off whilst she balances motherhood, family, and a career.
Himadri Garg
Himadri of Ghoomophiro Sisters is a traveller, photographer, and digital marketer who pens her travel musings at www.ghoomophiro.com. While most people has told her time and again that travelling as a woman is unsafe, she has steadily explored India for over eight years.
To sit in on these panels as well as other talks and workshops at ZafigoX 2018, buy your three-day, all-access pass here.
 Get all the latest travel stories from Zafigo. Follow us on Facebook, Twitter, and Instagram.