Manal al-Sharif needs no introduction, rising to notoriety in 2011 for being arrested and jailed for driving while female in Saudi Arabia, her home. Outside of her home, her plight sparked outrage, successfully shining a spotlight on the lack of women's rights in the country.
Manal kicked off her ZafigoX talk with a recollection of the day she was arrested; "It was 2:00 a.m. when the secret police came to my house in Saudi Arabia to arrest me. The crime in the interrogation? Driving while female and inciting other women to drive. I was sent to jail for for the crime of driving while female for nine days. There was international outcry to release me and my father had to go to our king himself to ask for a pardon for me to be released from jail for the crime of driving."
Curious to know what it all culminates to? Get acquainted with Manal's story here;
Denied a basic human right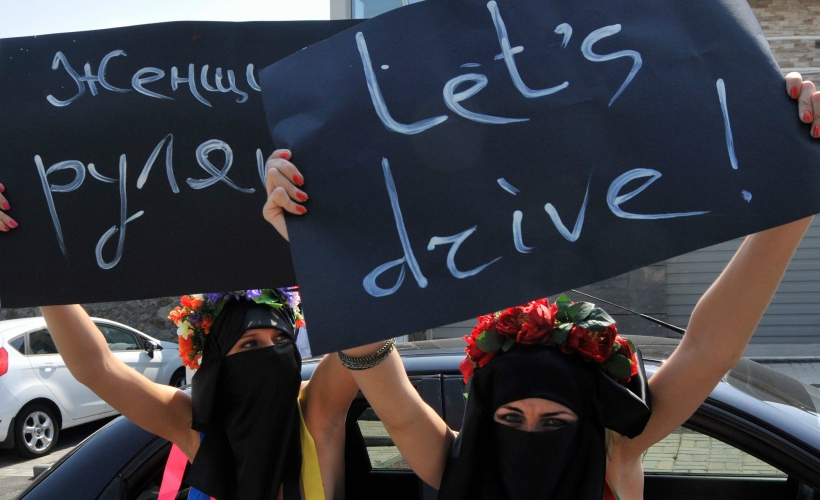 "Driving is a basic human right," Manal declares, arguing that it is a right stated in the International Declaration of Human Rights; a simple act of getting from point A to point B. "But that basic human right is a crime in our country when women exercise it," she said.
What really drove the point home for Manal, is the wide variety of reactions both locally and internationally while she was imprisoned; "When I was in jail, the world called me a hero. My country went into a frenzy, the media called me disrespectful, the imams used the Friday sermons to call me a woman who wants to corrupt the society, one imam called me a whore. Another scholar asked them to lash me in public for defying the ban on women driving. The people themselves were divided, quietly, and some were totally against the act. The majority was silent."
Limited exposure
Manal asserts that she never out set to be an activist. "I actually grew up a fundamentalist Muslim. I used to wear niqab and I used to burn my own brother's music cassettes because I was told in school that music is haram. I remember the first song I listened to. It's interesting, you'll remember your firsts when you're an adult. It was Show Me The Meaning of Being Lonely by The Backstreet Boys. I still remember every word in that song. Especially when it says, Is this the feeling I want to live with."
"When I was a fundamentalist Muslim, that was the feeling I lived with. Being an extremist really isolates you. The only thing I really did in an act of rebellion while growing up was finding myself a job at a very young age in a country that frowns upon women working with men. I graduated in Computer Science and I joined the National Oil Company as an Information Security Specialist; I was the first in my country."
The rebel inside
Upon hitting the three decade mark, Manal recounts developing a more subversive side; "When I was 30, I started rebellious actions. I got my driver's license at that age in the United States, and when I was there, I went skydiving to celebrate my thirtieth birthday."
Every birthday after that, Manal says, she's tried to do something rebellious and new, "So the next year, I bought a ticket and I flew alone to Puerto Rico from Saudi Arabia, a journey that took me 36 hours."
Two years later, at the age of 32, Manal decided to drive a car in the city of Khobar and post a video about it on YouTube. "That video got 700,000 views that day. It was the most viewed video not just in Saudi Arabia but around the world. Saudi's understood what was going on in that video, the world didn't."
Systematic oppression
Manal goes on about her home country; "Has anyone asked why women can't drive in Saudi Arabia? You never wondered? There was a study, giving us the reasons why women are not driving in Saudi Arabia. This study came in 2011 in Saudi Arabia, by a professor who claims it is based on a study done by UNESCO. It was presented to an elected council appointed by the king." According to her, the study states; "The percentage of adultery, rape, divorce, and illegitimate children in societies in which women drive, is higher than in societies in which women don't drive."
She elaborates that while the study sounds like a government propaganda machine, it's not. "It's part of a larger system that uses interpretation of the Sharia law, the Islamic law, to make women inferior and in need of protection from a man. Even when it is the fault of the man, women always hold responsibility for that fault." If you need further evidence, you needn't look far, as it is something so ingrained in society that Al-Sharif can easily quote Arabic sayings that support it.
One resounding example; "A man endures his faults, but a woman's fault costs her family its honour."
A disrespectful woman
Dubbed a disrespectful woman back home where she campaigns for women's rights, Manal was bullish in response, "I will not respect a law which does not respect me. If challenging injustice laws is disrespectful, I am proud to be disrespectful. I will continue to be disrespectful until the first Saudi driver's license is issued to a woman, until guardianship is abolished in my country, only then am I a full citizen, equal to men."
Shortly before ending her talk, Manal imparts some simple yet moving advice; "Challenge the status quo and trust your guts. Because when it feels wrong, it's because it's wrong, not because you are wrong. Yes, it will hurt, but at the end, when all is done, it will be so beautiful and so worth it for standing for something you believe in."
"To all you disrespectful women here, keep changing the world."
---
Saudi Arabia announced in late September that it would allow women to drive, ending a longstanding policy that is seen by many as a symbol of female oppression in the ultraconservative kingdom. The change, which will take effect in June 2018, was announced via a royal decree.
---
About the Speaker
Manal al-Sharif, Author & Columnist
Manal, one of TIME Magazine's 100 most influential people in the world, is a prominent voice advocating for women's rights and empowerment in the Muslim and the Arab world. In 2011, Manal started the #Women2Drive campaign, to challenge the ban on women driving in her country. She was arrested and imprisoned for 'driving while female'. Released on the condition that she never drives again on Saudi lands, never to speak about it or do any interviews, she continued campaigning for #Women2Drive and #IAmMyOwnGuardian to end male guardianship in her country. She started #Faraj, to help domestic helpers leave jail and #IAmLama that resulted in codifying the first anti-domestic violence law in Saudi. For her activism, she won the first Vaclav Havel award for Creative Dissent.