Bali is truly a special place, and for a place that holds many special memories for me, I have not explored enough of it. In fact, I have never even been to the small neighbouring islands like Nusa Penida, Nusa Lembongan, and Nusa Ceningan, but I plan to in the near future.
My recent visit to Bali saw me calling Seminyak home for 10 days, which went by in the blink of an eye. After spending four years apart from this favourite place, I was happy to see that even though the pandemic hit it hard, with borders opening up, it's more bustling than ever.
And what do you know? My trip involved a lot of food, but I did other things too.
1. Checked out the beach club scene
Not short of beach clubs, you may have heard of Ku De Ta, Potato Head, and Finn's, but having been to most of them, we decided to drive a little further down south of Bali.
Tropical Temptation Beach Club was everything we expected and more! Nestled on Melasti Beach; this trendy beachfront area was where we enjoyed food, drinks, some time in the sun… And each other's company.
2. Spent the day at Waterbom Bali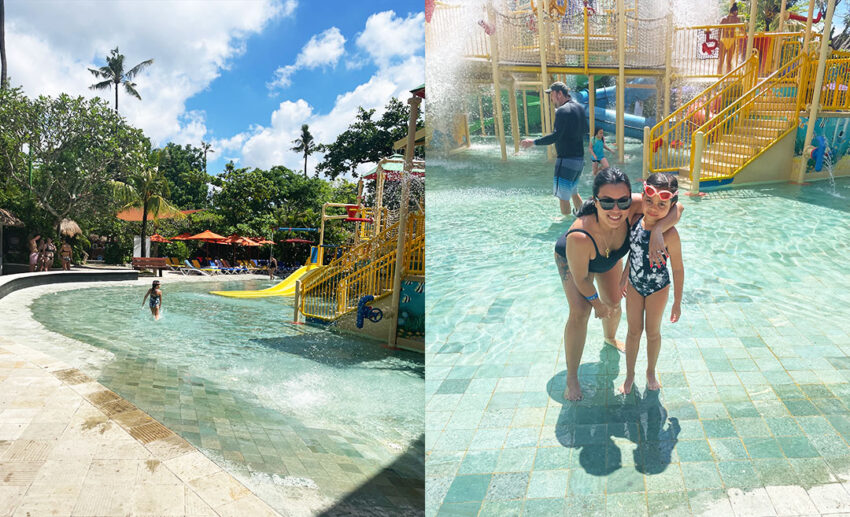 Going on vacation with children meant we had to do kid-friendly things, and so off we went to Waterbom Bali, which was one of the best activities we could have done. Catering to all sorts of thrill-seekers (from mild to extreme), both little ones and adults had a great time.
I highly recommend pre-booking a gazebo if you're travelling in a big group, as it comes with extra perks like your own safe to keep personal belongings, towels, and space away from the crowd to enjoy food and drinks for you to refuel on.
3. A night at FED
One of the highlights of my trip to Bali was celebrating my mother-in-law's birthday. While we spent the day as a family frolicking in the sun, come sundown, we took our family's tastebuds on a culinary journey at FED. This set-course restaurant is located in Seminyak and is open only three days a week, so be sure to make a booking if you're planning to visit.
Being a foodie, I was blown away by every single dish served; there were six in total. While each one exceeded any expectations I had, the two that will forever be etched in my heart are their spring chicken served with leek and tarragon sauce and FED's cavatelli with edamame.
4. Practised my eye for art
On one of the nights, when the kids were in bed and with their nana (grandmother) and aunty, my husband and I would walk the streets of Seminyak. We checked out shops that sold handcrafted goods, ice cream bars, and art galleries. Something I highly suggest everyone to do.
I found some pieces I fell in love with, all done by local artists, but I didn't have the chance to bring any home. Next time!
5. Went on a pilgrimage to Made's Warung
The Bali food scene is thriving! You can find just about anything you want, and they're all excellent. But one of my favourites is none other than Made's Warung. Serving affordable and a variety of cuisine, each visit to Bali would only be complete if I had their Nasi Campur Special at least twice! This massive plate of Indonesian goodness consists of at least three types of vegetables, meat, and other additions that will blow any foodie off their seat!
6. Frolicked on the beach
We spent some of our days chilling by the beach, and while it's busy, Seminyak beach was actually the best for those with kids. You can rent sunbeds for IDR 100,000 (approximately RM30) for the day and just let the kids roam free to build sandcastles.
The bigger kids can indulge in boogie boarding or surfing if they're up for it. I took the opportunity to catch up on some reading, and it's one of my most relaxing moments in Bali.
7. Spent time at our villa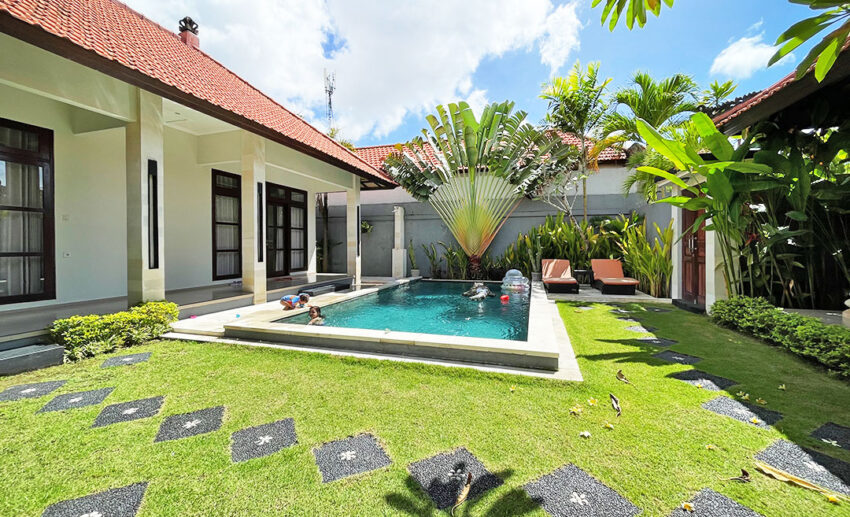 Why spend so much on a villa if you're not going to utilise it, right? Our three-bed and bath villa came with an amazing pool we spent a lot of time in. The villa also had an open plan, which was wonderful for the kids to run around at, and the location was perfect! Not too close to the busyness of Seminyak but located strategically near restaurants, cafes, and even mini-marts!
*All images by author.