Travellers from all over the world are showing an increasing interest in seeking out regional and ethnic specialities from the places they visit. As the number of people interested in food continues to rise, Singapore has adopted a more progressive and creative approach to its culinary scene.
If your love language is food, check out the fourth and final episode of the Singapore Tourism Board's 4-part video series of Chic in The City where Malaysian TV host and influencer Amanda Chaang samples a few of the country's distinctive local fast food and beverage brands.
Tastes of the tropics that pay respect to the cuisines of Southeast Asia
Those vacationers with a penchant for sweets can always count on ice cream as a dessert option. The founder of Birds of Paradise, which specialises in botanical and natural flavours like pandan, lemongrass, and chrysanthemum, Edwin Lim, was introduced to Amanda in the first episode of Chic in the City. Birds of Paradise reinterprets gelato by adding Southeast Asian flavours and ingredients like basil and blue ginger. Yum!
Peranakan-inspired treats
Amanda continued her exploration of the leafy lanes of Joo Chiat with a visit to Kim Choo Kueh Chang, another Birds of Paradise outpost where Amanda had a conversation with Edmond Wong, the director and third-generation company owner of Kim Choo Kueh Chang, popularly known as Kueh Chang and famous for its rice dumplings.
Kim Choo not only serves authentic Peranakan cuisine, but she also oversees the Singapore Visitor Centre, where visitors may purchase for authentic Peranakan clothing, take guided tours of the neighbourhood, and participate in hands-on workshops to learn about the area's history and culture. There is a tonne of interesting places to discover, and this small neighbourhood is essentially a miniature version of Singapore. 
Visitors to Kim Choo can pick up traditional cookies and the shop's namesake kueh chang to take back as souvenirs.
Packaged food and drink options in Singapore are many and include more than just Birds of Paradise and Kim Choo Kueh Chang. In case you're planning a vacation to Singapore and looking for some souvenirs to bring back to your loved ones, here are some of the best foods to pick up during your stay.
1. Golden Duck
When you visit Singapore, you must try Golden Duck, a local favourite. Golden Duck is a local brand that's been around since 2015, and was made popular because of its delicious salted egg yolk treats. Golden Duck has evolved to add Singaporean flavours like chilli crab and tempura seaweed varieties after much experimenting.
2. IRVINS
If you're looking for a snack in Singapore, you'll be hard-pressed to find anything more addictive than IRVINS salted egg fish skin. IRVINS offers travellers a means to take some and more of Singaporean food home with them. Since they're cooked with all-natural ingredients to retain as much of the delicious restaurant flavour as possible, it's no surprise that a full packet may be devoured in as little as five minutes.
3. Violet Oon
From hand-crafted pineapple tarts to jams prepared with fresh tropical fruit to traditional cookies and snacks inspired by well-loved Peranakan staples, Violet Oon's collection may be enjoyed in the comfort of your own home or gifted to friends and family anywhere in the world.
4. Janice Wong
Janice Wong, a local award-winning pastry chef, creates works of edible art that are sure to impress. Each item is a unique manifestation of the young chef's vision, from the colourful mochi to the miniature chocolates with artistic streaks (some of which look like Lego bricks). Dazzle your taste senses with some of the newest regional flavours, like kopi, mango curry, chilli padi, and ginger flower.
Visitors to Singapore can stop by Janice Wong's flagship store in Paragon, or her second location in Raffles City to pick up a sweet piece of art. The Janice Wong Singapore Restaurant is located within the National Museum, and its desserts are the perfect way to round off a day of cultural exploration.
5. Mala Mala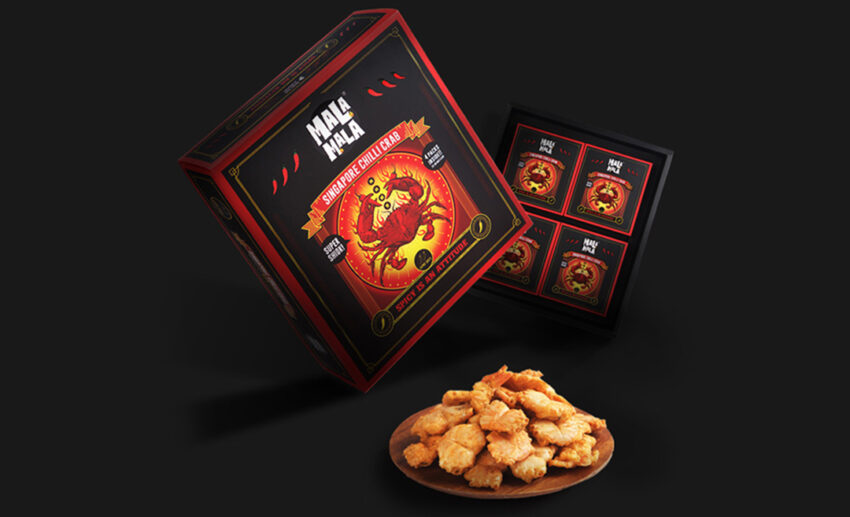 The Singaporean team behind Mala Mala set out to give age-old practises a modern update when they launched their first domestic mala brand. Mala Mala is available in mild, medium, and hot varieties, so you can evaluate how much heat you can handle. Spicy shrimp and scallop bits, and mala-infused chilli crab appetisers will heat up your taste buds.