Yes, you read the title correctly. We're here to tell you why the tiny town of Bangi in Selangor should be your next nearby escape. Don't you feel there are times when you need a quick getaway but don't want to travel too far or spend time visiting the same place? Enter, Bangi… Nestled between Nilai and Kajang, Bangi is a small suburb with plenty to do. Don't believe us? Read on.
Discover and enjoy Bangi
Depending on how much free time you've got, you can fill up your itinerary to the brim. Here are some suggestions of fun activities.
1. Ride and slide at Bangi Wonderland
Escape the hot weather by cooling off at this waterpark with 14 rides and slides. Bangi Wonderland will have your adrenaline rushing with fun-filled rides like the Anaconda Trail, Magic Funnel, and more. If something more easygoing is what you're after, float away in the Meander River. Entry is only RM35, a steal for a day filled with non-stop fun.
Price: From RM35 per person
Address: No. 2 Persiaran Bangi Avenue, Bangi Avenue, 43000 Kajang
Contact: +6019 682 7174



2. Show off your golfing skills at Danau Golf Club
Not into waterparks? If you're looking to practice your best swing, Bangi has the Danau Golf Club. Perfect for those in search of tee-time. This differently-abled-friendly golf club offers memberships and one-time entry, which is priced at RM115 for 18 holes!
Address: Universiti Kebangsaan Malaysia, 43600 UKM Bangi
Contact: +603 8925 3030



3. Moms can take a break at Bondahaven
Bondahaven is a breastfeeding specialist and maternal care provider that provides lactation consultancy, pregnancy massages, and postnatal services to its mama or mama-to-be customers. Established by Dr Nur 'Atiqah, a medical doctor and lactation counsellor, this facility hopes to help pregnant women and mothers find inner peace and balance to promote a healthy family.
Address: No 2-3 3rd Floor, Jln Puteri 2A/2, Bandar Puteri Bangi, 43000 Kajang
Contact: +603 8912 2221



Shop the day away
No city getaway is complete without having done some damage to our wallets. Bangi may not have ginormous shopping malls like Kuala Lumpur, but there are plenty of places to shop at! It's an especially great place to shop if you're looking for modern traditional clothes, modest wear, or even bridal outfits.
1. Leeyanarahman
Chock full of modern modest wear, this store has something for both men and women! We particularly love their stylish takes on the modest way to wear the classic shirt dress. Oh, and their prints are to-die-for!
Opening hours: Monday to Friday, 10:30am to 6:30 pm; Weekends, 10:30am to 8:30pm
Address: 1-23, Jln Medan Pusat Bandar 7, Seksyen 9, 43650 Bandar Baru Bangi
Contact: +6018 9614055


2. Bella Ammara
Specialising in telekungs (prayer garment for Muslim women) Bella Ammara has them in myriad pastels or even delicately trimmed with lovely embroidery. They're super soft to the touch too!
Opening hours: Monday to Friday, 11am to 7pm; Weekends, 10:30am to 6:30pm
Address: Ground Floor, No 3A-53-01 Jalan Medan Pusat Bandar 8A, Seksyen 9, 43650 Bandar Baru Bangi



3. Sugarscarf
Consider this an affordable luxury. Using only high-quality materials in the prettiest of prints, Sugarscarf will leave you spoilt for choice when it comes to their scarves.
Opening hours: Monday to Friday, 10am to 7pm; Weekends, 10am to 8pm
Address: Jalan Medan Pusat Bandar 8A, Seksyen 9, 43650 Bandar Baru Bangi



Eat to your heart's content
Ah yes, food! We're not truly Malaysian if we don't have food on our minds 24/7. From Western to Asian, Bangi has a plethora of food joints that will leave your stomach feeling satisfied.
1. Japanese cuisine: Miyagi
Transport yourself to Japan by visiting Miyagi, the Japanese restaurant locally famous for its sashimi. If you are looking for a set meal, a tempura set will be the best choice. Their sushi and maki rolls seem to be a favourite amongst the locals too. Come with a big group to try and share everything on their menu.
Address: No 2A, Jalan Medan PBI, Seksyen 9, Bandar Baru Bangi, 43650 Bangi, Selangor
Contact: +603 8912 6760

2. Western/Asian cuisine: Red Card
More commonly favoured for their Western dishes, Red Card's burnt cheesecake seems to be a crowd favourite. But make your way there quick because it often sells out fast! Give their waffles and pasta dishes a try too.
Address: 17 & 18 Jalan Medan Pusat Bandar 4A, Seksyen 9, 43650 Bandar Baru Bangi, Selangor
Contact: +6011 3765 2664


3. Western cuisine: Little White Cafe
Resembling a quaint white English cottage, Little White Cafe serves up simple yet delicious Western dishes. Known around the area as a nice little date spot, you can order a romantic dinner set with a starter, main dish, and delicious dessert to end. There are, of course, a la carte options too.
Address: 13-G-1 Jalan Medan Pusat Bandar 4A, Seksyen 9, 43650 Bandar Baru Bangi
Contact: +603 8211 5369


4. Western cuisine: Denali & Pinnacles The Wanderer's Cafe
With its open space concept and bohemian style rooftop, Denali & Pinnacles The Wanderer's Cafe is worth visiting if you're into cafes. Order some of their delectable sandwiches and coffee, and chill out as the live band serves up some tunes!
Address: Lot 1-4 Pusat Perniagaan Seksyen 3, off Jalan 3/70, Seksyen 3, 43650 Bandar Baru Bangi
Contact: +603 8912 5936


5. Malay cuisine: Ana Ikan Bakar Petai
Seafood lovers, rejoice! Make sure to try Ana Ikan Bakar Petai while in Bangi. This open space restaurant often sees its tables fully occupied by patrons at dinner time. So, be sure to call ahead, and of course, the ikan bakar petai (grilled fish with stinky beans) is an absolute must.
Address: Lot 29991 Persiaran Kemajuan, (next to Balai Bomba Bangi), 43650 Bandar Baru Bangi
Contact: +6019 217 7668



6. Malay cuisine: Sup Urat Keting
This restaurant-like food court is famous for its unique dish called Sup Urat Keting (cow's vein soup). If you're into exotic dishes robust with flavour, this is right up your alley!
Address: Jalan 7/7a, Seksyen 7 Bandar Baru Bangi, 43000 Bandar Baru Bangi
Contact: +6012 379 0818

7. Korean cuisine: Eid Authentic
It seems as though Bangi truly is a food haven. With so many cuisines available, Korean is no exception. Owned by Korean-Muslims, Yu Hyon Woo and Nan Narae, Eid Authentic gives its customers an authentic Korean food experience but keeps it completely halal!
Address: 8-19-01 Jalan Medan Pb 7A, Seksyen 9, 43650 Bandar Baru Bangi
Contact: +6017 310 3227


8. Western cuisine: Jahhet Fine Meat
Jahhet Fine Meat is all about the food quality and no-fuss decor. Meat lovers can dig into juicy steaks, and we must shout about their affordable Wagyu! Devour this great cut of beef at just RM108 per 100 grams without worrying about burning a hole through your wallet. If you're not in the mood to wait, they accept pre-orders!
Address: E-G-09 Street mall Bangi Gateway, Jalan GE, Bangi Gateway, Seksyen 15, 43650 Bandar Baru Bangi
Contact: +6017 337 7637


9. Indian cuisine: Restoran Roti Puri
Since its opening, Restoran Roti Puri has had the locals talking. All good things, of course! Come here for the freshest puri (deep-fried bread), and take home some frozen ones too so you can whip one up whenever the craving kicks in!
Address: No. 14A Jalan 3/70, Seksyen 3 Bandar Baru Bangi, 43650 Bandar Baru Bangi, Selangor
Contact: +6012 628 1520

Where to stay
Now that we're done tempting you with some Bangi highlights, you can't go all the way there without booking a place to stay. Here are some properties worth considering.
1. Lantana Villa
Lantana Villa has a private pool and makes a perfect accommodation choice for those with a big family or group of friends. This modern-looking stay can comfortably fit 11 people and even has a hot tub!
Address: NO.1 PT30629, Jalan Golf, Bangi Golf Resort 43650 Bandar Baru Bangi



2. Bangi Resort Hotel
Bangi Resort Hotel will have you feeling like you're at a famous beachside respite. Unlike most hotels located in cities, this one isn't surrounded by tall buildings. Instead, landscaped greenery and the azure pool water will be your view for your stay. There's also golf course access for those that can't part with their clubs!
Address: Off Persiaran Bandar, Bangi Golf Club, 43650 Bandar Baru Bangi
Contact: +603 8210 2222



3. Timber Oasis Lot 118
Timber Oasis Lot 118 is all about being environmentally friendly – here, mostly natural lights are used, thanks to the glass pane windows. There's good airflow that you'll never really need the air conditioning! This property has eight rooms available, but only two guests are allowed per room at each booking.
Address: Location provided after booking

4. Kajang Private Pool By Vale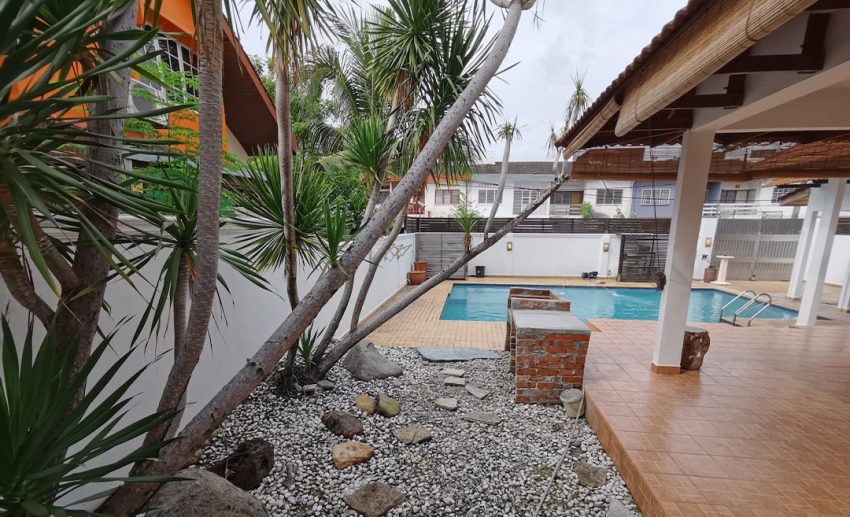 Another homestay with a private pool is the Kajang Private Pool by Vale. With five bedrooms, the house can accommodate up to 16 guests. This is a simple villa with air conditioning that can comfortably house all your loved ones under one roof – this is a fuss-free choice if you're just in Bangi for the weekend.
Address: Location provided after booking

5. D'Clara Guesthouse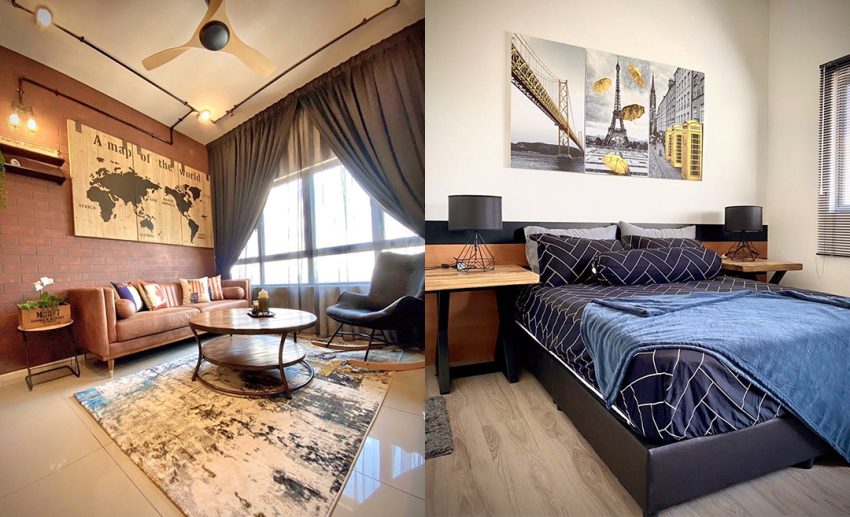 Located in central Bangi, one serviced apartment that caught our attention is D'Clara Guesthouse. Though it's tiny compared to the rest of the accommodations on the list, it's worth booking if you're in a small group.
Address: Jalan Pusat Bandar 2, Seksyen 9, 43650 Bangi, Selangor
Contact: +6017 352 8483