Living in the digital era, sending regular mail can sometimes seem outlandish, and the process of sending a physical postcard is like having a mini adventure — from choosing the perfect one to writing your heartfelt message, signing off and putting a stamp on it, then journeying to the post office or your nearest post box to send it out into the world.
What if we told you that there are post boxes hidden in the sea, at some of Malaysia's diving paradises? Yes! We mean literally sending postcards while you are under the sea. (Cue The Little Mermaid's 'Under the Sea'). Let's dive into four of Malaysia's underwater postboxes!
1. Mataking Island, Sabah
The first underwater postbox in Malaysia is mounted on the front of a cargo shipwreck wheel called Mataking 1. This 40-foot-long cargo ship was sunk in 2006 by the Mataking Island Resort as part of their conservation programme and was once an old wooden cargo ship used for the resort in the early days. The shipwreck has since become an artificial reef teeming with marine life. At 20 metres deep, it is now an attraction for experienced scuba divers who journey to Mataking to explore the other 30 dive sites around the island.
There is a gift shop in Mataking Island Resort where you can buy postcards and waterproof postal bags. However, take note that Mataking is a private island, so only guests of Mataking Island Resort can access the gift shop. If you want to send underwater postcards, you will need to check with your diving operators in advance, as you will require a different application for entering the resort's premises.
2. Layang-Layang Island, Sabah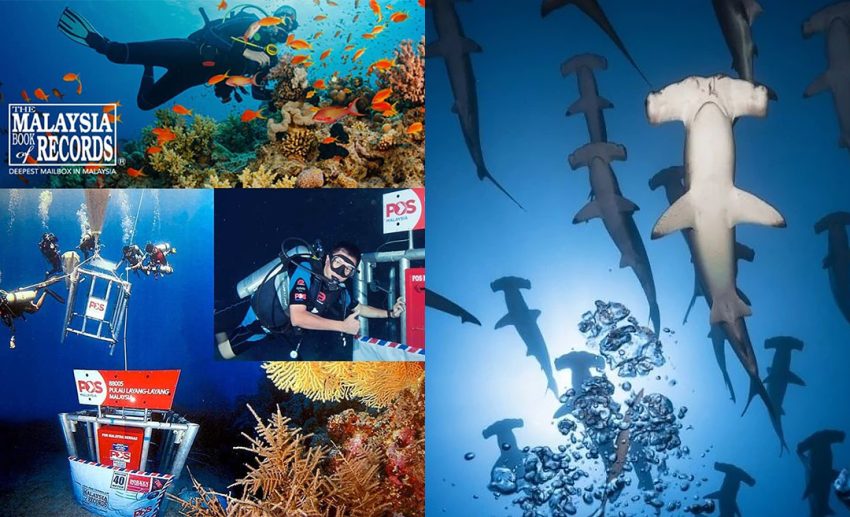 Recorded in the Malaysia Book of Records as the deepest underwater postbox of Malaysia, at 40 metres below sea level, this one is for the books. Layang-Layang Dive Resort is the only resort on Layang-Layang Island and has a fully-equipped dive centre. The island is one of the best dive destinations in the country too, incredibly famed for hammerhead shark sightings.
Existing since 2015, scuba divers can purchase their waterproof postcards made of synthetic paper at the resort and drop them into the underwater postbox. The special postcards are stamped with a unique hammerhead shark postmark — the signature sea creature of the island — with an additional Malaysia Book of Records sigil on the card.
If you're interested in both of these dive sites in Sabah, you will need to be a certified Advanced Scuba Diver, which will allow you to dive beyond 18 metres (or 60 feet). The depth limit for basic divers is 18 metres.
3. Redang Island, Terengganu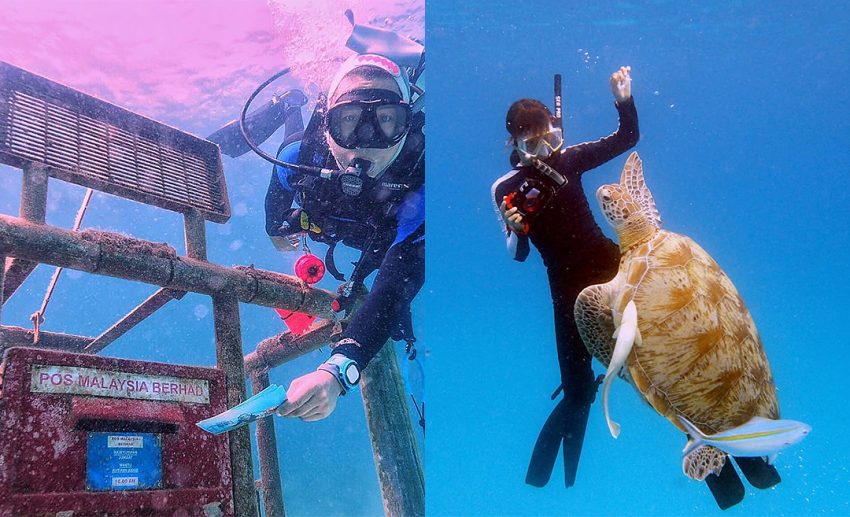 Swim with whale sharks and turtles while you dive into the crystal-clear waters of Redang Island! While this underwater postbox is not as deep as the other two in Sabah, it's still advisable for you to take on this little adventure with the guidance of experienced divers.
You can take discovery scuba diving packages from the islands' resorts — Laguna Redang Island Resort or Redang Beach Resort. Remember not to touch any of the sea creatures that you meet! We're sure you wouldn't like to be disturbed as well when you're enjoying yourself in the sea.
4. Mensirip Island, Johor
This 9-metre-deep underwater postbox is also recorded in the Malaysian Book of Records as the first underwater Royal Postbox in Malaysia! It's part of the Kembara Jelajah Pulau Mersing 2016 project, led by the Sultan of Johor himself, HRH Sultan Ibrahim, to promote postal tourism and nature conservation.
Located off Mersing, Johor, the island is uninhabited and free of man-made structures. Privately owned by the Sultan of Johor, Mensirip has been given Marine Park Status and boasts abundant sea life. A few years ago, an artificial reef was also added by the Sultan of Johor himself, who has a keen interest in nature conservation. Visitors usually take an island-hopping tour from Rawa Island, though you'll require prior permission for any activity on Mensirip island.