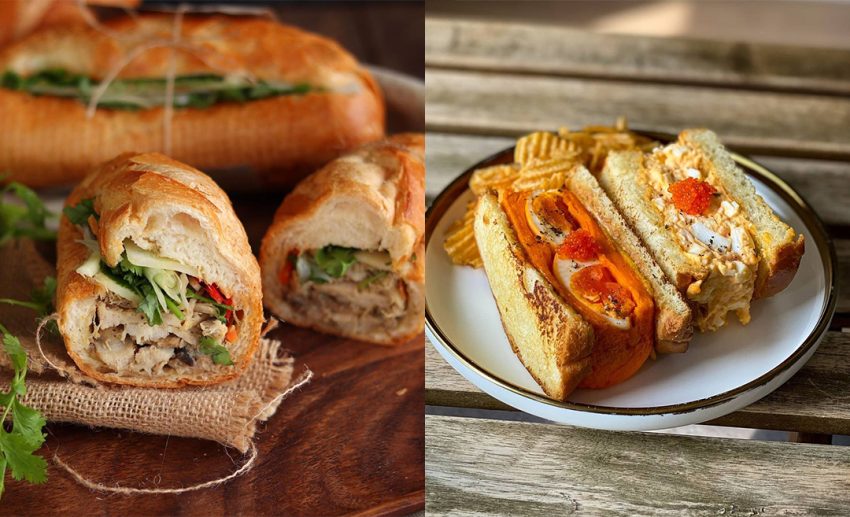 Subscribe to our new

Telegram

channel for the latest updates.



Did you know that today officially marks the highly underrated National Sandwich Day? This snack (or meal, depending on your appetite and culture) was apparently invented by the man it was named after — John Montagu, the 4th Earl of Sandwich. While it may seem absurd to dedicate an entire day to it, the sandwich universe is actually quite expansive, considering the many ways it has been interpreted and reinvented throughout the globe.
From France's croque monsieur (grilled cheese and ham sandwich) to Spain's bocadillo (baguettes with various cold cuts), feel free to let your taste buds take a trip around the world, one bite at a time.
In any case, you've just been handed a great excuse to munch on your favourite variation of this beloved carb-loaded pick-me-up or try something new altogether. Although Gordon Ramsay's iconic 'Idiot Sandwich' is sadly amiss from our list, we've still managed to compile 10 other internationally famous sandwiches along with the cafes and restaurants in and around KL to order them from:
Croque monsieur/madame: France
Get it at: LOKL Coffee, Jalan Tun HS Lee
Much like the one Captain Holt made for Kevin (which garnered a satisfying seal of approval from gastronome Charles Boyle) in Brooklyn 99, the simple yet fancy-termed croque monsieur is a classic French snack that supposedly appeared during the 1910s.
Literally translated as 'Crunch Sir', this ham and cheese sandwich is smeared in rich butter before baking with an extra helping of gruyere and parmesan cheese sprinkled on top. Better yet, some eateries even incorporate the creamy béchamel sauce inside the sandwich. Similarly, the sister version, known as croque madame, only differs because it has an added ingredient of a fried egg placed on top.
Bánh mì: Vietnam
Get it at: Pho King, Petaling Jaya
Stepping onto the street foodie scene of 1950s Saigon is the one and only bánh mì (toasted baguettes with chicken and pickled vegetables). Thanks to the successful import of fluffy-yet-crunchy baguettes, this submarine-style sandwich is the quintessential example of French-Vietnamese cuisine done right.
Split lengthwise, this sandwich is typically packed with a mighty punch of pork, pâté (meat turned to paste), red chilli, cucumber, as well as pickled veggies (with carrots as a must-have).
Italian meatball sub: New York City, USA
Get it at: Huckleberry Food & Fare, Bukit Damansara
In the realm of hearty sandwiches, is there anything more 'Italian' (uttered with fiery passion and the accompanying ma che vuoi or 'what do you want hand' gesture) than the Italian Meatball Sub? We don't think so. As a staple seen across all New York delis, this sumptuous fare sprung to life at the hands of Italian-American immigrants during the early 20th century. Think chunky homemade beef or chicken meatballs smothered in sweet marinara sauce and multiple gooey kinds of cheese — mozzarella, in particular — tucked in between a cloud-like baguette. Perfetto!
Smørrebrød: Denmark/Norway
Get it at: Meet & Dine, Kajang
Did you know that the crowd-pleasing concept of the open-faced sandwich that took the world by storm was actually made famous by the Danes (with the Norwegians sharing the glory behind the scenes)? A simple dish, it uses traditionally buttered sourdough rye bread as its foundation, then topped with an assortment of meats such as cold cuts, pickled herrings, and smoked salmon. The complementary toppings usually include a melange of ingredients like sliced cheese, cucumber, tomato, boiled eggs, carrot, and red onion before rémoulade (cold mayonnaise-based sauce ) is drizzled over it.
Avocado toast: Australia
Get it at: Red Bean Bag, Publika
Speaking of open-faced sandwiches, perhaps the most popular of them all is the wholesome avocado toast that conquered every beauty/health guru's 'Get Ready With Me: Morning Routine' YouTube video back in the early 2010s. Originally sprouted in Australia in 1993, this is simplicity at its finest, as the avocado spread can simply be eaten with just a sprinkle of salt and pepper.
However, this sandwich has been interpreted and reinvented countless times to include extra spices, condiments, and toppings. If you're in search of indulgence, look forward to cracking open one of the ultra-popular choices served on top: runny Eggs Benedict.
Philly steak sandwich: Philadelphia, USA
Get it at: Jim's Cheezsteak, Ara Damansara
If The Fresh Prince of Bel Airs were to have a favourite sandwich, it would be none other than the Philly cheesesteak. Invented in the 1930s by Pat and Harry Olivieri, this sandwich essentially consists of thinly-sliced rib-eye steak (or any different cut of beef) that is topped with ooey-gooey American and Provolone cheese, as well as sautéed onions, before it's stuffed into a classic Italian roll.
Trivia: Philadelphians are one of a few states in America that refer to the word sandwich as 'hoagie'.
Bocadillo: Spain
Get it at: El Toro Loco K, Cormar Suites
Over at the birthplace of the renowned paella (Spanish rice dish), the humble bocadillo (baguettes with various cold cuts) reigns supreme as the go-to sandwich of the Spaniards. Also referred to as bocata, this is another all-day snack that tends to employ the baguette as the choice of bread.
Considering several varieties have been popularised depending on the region, expect common fillings such as chorizo, cold cuts, tuna, or jamón (serrano ham) along with slices of tomato and red peppers occasionally slotted in. Other favourites include egg, seafood, and even vegetarian versions.
Tamago sando: Japan
Get it at: Omulab, Petaling Jaya
You've heard of the classic egg salad sandwich, but have you tried the Japanese version of it known as tamago sando? Apart from the apparent similarity in using the exact poultry in question as the main ingredient, the main difference lies in the type of bread.
Bite into buttery hard-boiled or soft-boiled eggs, black pepper, Kewpie mayonnaise, and an extra dash of cream wrapped in between two slices of cloud-like milk bread known as shokupan. The creaminess of this sandwich bars none, thanks to the specific type of mayo that constitutes rice vinegar and egg yolks alone instead of the usual whole eggs. Suffice to say, this must be what heaven tastes like.
BLT: Britain
Get it at: Antipodean Cafe, Bangsar
Bacon. Lettuce. Tomatoes. Who would have thought that the rustic BLT that's become synonymous with America may have actually had its origin tale spun from its classy cousin across the Atlantic Ocean? Although this sandwich boomed in the States after WWII due to the mass availability of the starring vegetables in supermarkets, it supposedly first appeared in British cookbooks in the late 1920s.
As mentioned earlier, all that is needed to create this classic are those three key ingredients, along with mayonnaise and two slices of toasted bread. Over the years, there have been many experimentations derived from the original to include extra toppings and condiments such as avocado, cheese, fried egg, chilli butter, and even soft shell crab! Nevertheless, the original prototype remains in the hearts and stomachs of many.
Bonus
Grilled cheese sandwich: The entire USA
Get it at: Dough and Dolce, Taman Tun Dr Ismail
Suppose there's one tried-and-true sandwich adored throughout all households in America. In that case, it's undoubtedly the grilled cheese sandwich. Although the original concept of this cheesy sandwich has been in existence since ancient times, it arguably gained momentum in America during the 1920s, when inexpensive processed cheese skyrocketed in popularity.
It's easy to see why this is a go-to midnight snack as all that's needed are two slices of bread, butter or margarine, and tons of the obvious: cheese! Try going for Monterey Jack and Cheddar for that extra creamy, melt-in-your-mouth factor. Better yet, eat it with a bowl of hearty tomato soup to step up the flavour profile.
Follow Zafigo on Instagram, Facebook, and Twitter. Sign up for our bi-weekly newsletter and get your dose of travel tales, tips, updates, and inspiration to fuel your next adventure!