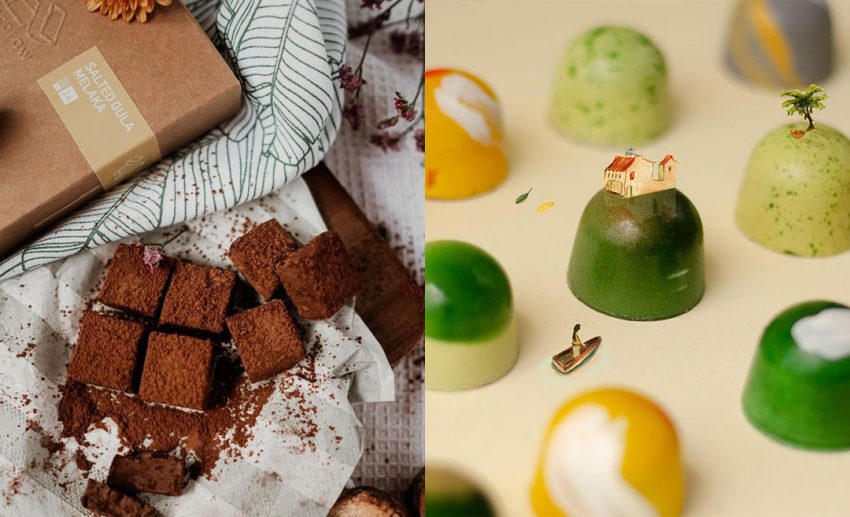 Subscribe to our new

Telegram

channel for the latest updates.



Contrary to popular belief, not everyone is a fan of chocolate and not all chocolate tastes the same! You'll know the statement about the latter being true if you're a passionate chocolate lover. And since you're reading this, we're going to assume that you are.
But when you think of artisanal chocolate brands, what usually comes to mind are European names. Or perhaps even some famous chocolate makers in Vietnam or Japan for something closer to home. So, it may come as a surprise to know that Malaysia has its fair share of artisanal chocolatiers, all of whom have mastered the art of creating premium chocolates using locally and ethically sourced cacao.
We love that these brands are shining a light on our native confectionary scene. So, if you haven't already, check out these connoisseurs of chocolate!
Chocolate Concierge
In Malaysia's world of single-origin artisan chocolates, Chocolate Concierge has turned itself into a household name with creamy and high-quality confectionery. They specialise in crafting chocolate from cocoa beans grown in the wilderness by the Orang Asli (indigenous people in Malaysia), such as the Semai and Temiar communities.
Their signature chocolate bars are very on-trend, as they capture the unique taste profiles native to the region. Craving for something quirkier? Go for their seasonal bonbons, with soft fillings that come in both classic or full-blown Malaysian flavours, such as Sweet Laksa (a sour savoury noodle made sweet), Cendol (shaved ice topped with palm sugar and coconut milk), Teh Tarik (milk tea), and Onde-Onde (rice balls coated in coconut shavings with palm sugar filling)!
Benns Ethicoa
If Malaysia were to have its very own version of Willy Wonka chocolate, Benns Ethicoa would be it. Established in 1973, the chocolate maker has its own factory, and a charming little cafe in Cheras. Their bean-to-bar concept aims to raise the standards in terms of sustainable and ethical chocolate making. The company works directly with local farmers across Southeast Asia — Malaysia, Vietnam, the Philippines, and Thailand.
As you would imagine, their premium chocolate concoctions also come in as many forms — cacao nibs, bonbons, chocolate bars, cacao tea, and drinking chocolate — in case you need a unique gift for a chocolate addict.
Love18C
At Love18C, melt-in-your-mouth chocolate ganache is always on the menu. Their velvety-smooth creations are made with premium Belgian and French chocolates, so we won't blame you for having an extra piece, or more. Their First Love collection — sets of flavours like green tea, lychee rose milk chocolate, and peanut butter chocolate, to name a few — will have even the most experienced chocoholics marvel with delight. Purists can enjoy the 70% Bitter-Sweet Dark Chocolate.
Still, you can take it up a notch with their distinctively local infusions, including Musang King Durian (type of Durian known for its combination of bitter and sweet flavours), Jobbie peanut butter, Lychee Rose, and Bentong ginger (a kind of ginger found in Pahang, Malaysia).
Seniman Kokoa
It's all about single-origin dark chocolates at this bean-to-bar chocolate company. Sourced directly from local farms, Seniman Kakao's cacao beans are grounded and roasted in-house, with as little sugar as possible, making it less sinful for those watching their calorie intake! Their delectable chocolate offerings are pocket-sized and beautifully infused with either chilli cardamom cinnamon, cranberry and almond, or coffee. You can find their dark chocolate bars in several cafes throughout Kuala Lumpur.
Buy Seniman Kokoa on Shopee
Cocoraw
Fans of Japanese nama-style (mixture of melted cacao and fresh cream) chocolates will go head-over-heel over this homegrown brand. Cocoraw was formed with a simple vision: To produce handmade chocolates at accessible prices for all to enjoy.
You can expect their namesake truffles — made with 70% Belgian dark chocolates — to be bittersweet and rich, with an intense aftertaste. But why stop there? Their unique concoctions of Teh Tarik and Salted Gula Melaka (palm sugar) celebrate our Malaysian-ness in the form of delicious chocolates — and we're thankful for that!
Cocova
If you have a habit of snacking, why not have something delicious but also healthy? Cocova is all about making 100% natural, single-origin cocoa-filled nibbles. Their chocolate buttons can be turned into indulgent baked goodies, melted into hot chocolate, or snacked on their own. Quench your thirst with their signature cold-steeped chocolate drinks, or switch your peanut butter spread with Cocova's insatiable chocolate spread.
Jaws & Claws Chocolate
Next time you head to Sabah, keep your eyes (and taste buds) peeled for Jaw & Claws Chocolate. The award-winning artisanal chocolate maker turns direct-trade Borneo cacao into beautiful bean-to-bar chocolates. Small in packaging but robust in flavour, their line-up features imaginative seasonal flavours. sink your teeth into the popular onde-onde and strawberry with hojicha (Japanese green tea). Don't forget to check out their best-seller: the Single Estate Series bars, which is made up of 70% dark chocolate.
Neil's Artisan Chocolates
Did you know that the tiny state of Melaka has cocoa farms too? New in the game, but certainly here to stay, Neil's Artisan Chocolates crafts their chocolate bars using only two ingredients: cocoa obtained directly from local farms and organic brown sugar. Their signature Malacca Moonshine contains 72% dark chocolate with a fruity note and lingering malt finish will leave any taste buds feeling delighted. Both this and the Chocolate 65 Bar can be found on the My Naturi Shopee page.
Buy Neil's Artisan Chocolates on Shopee
47720, 41229, 41217
Follow Zafigo on Instagram, Facebook, and Twitter. Sign up for our bi-weekly newsletter and get your dose of travel tales, tips, updates, and inspiration to fuel your next adventure!