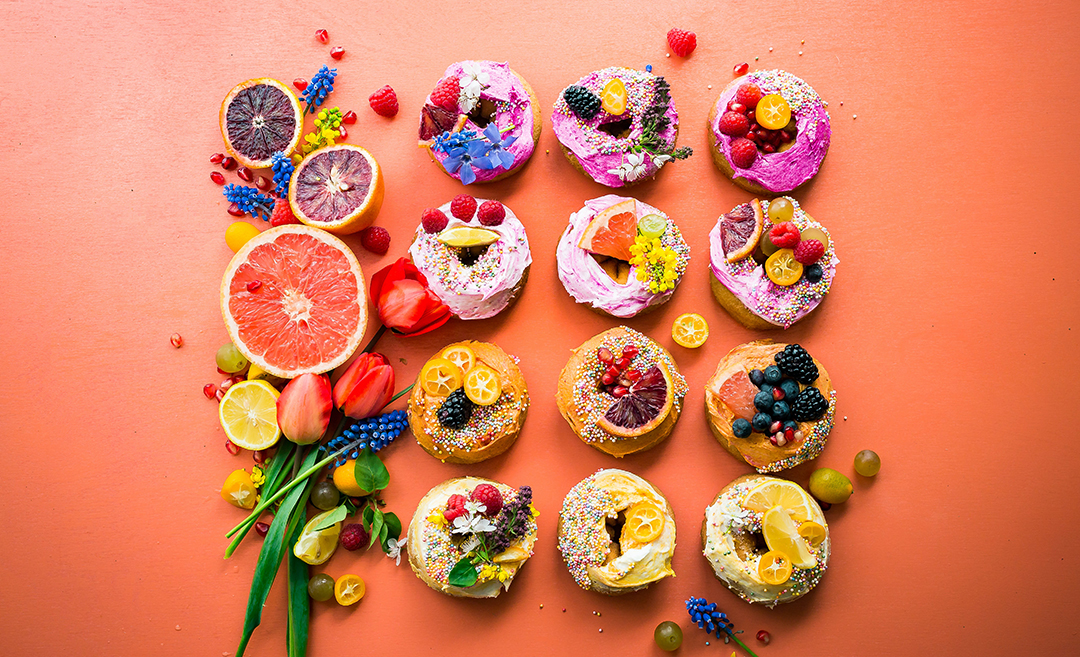 Subscribe to our new

Telegram

channel for the latest updates.
There's always room for dessert, is there not? It's a common lament, and one that this article will help you satisfy. So why not treat your family – or your guests – to a sweet ending they won't soon forget? The best part is that by following one of these five recipes, you won't be breaking a sweat at all since they're no-bake concoctions. So step away from the oven and towards the fridge.
Classic English trifle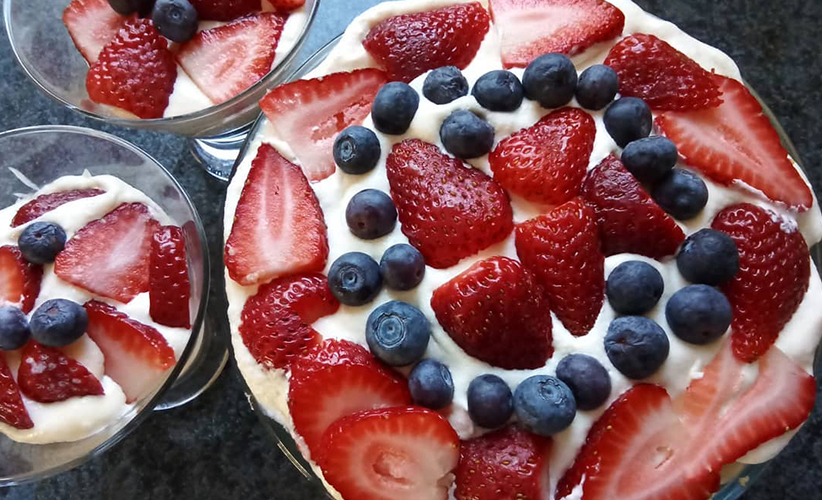 The classic English trifle dates as far back to the 1500s and comes in many shapes and forms. You can even replace the fruits used and flavours to suit your liking. For instance, replace the fruit cocktail with a tropical one and top it with chopped lychees and pineapples and you have yourself a tropical rendition. What's most important is that you have a beautiful custard (which you can also flavour if you like), a delicate sponge, and stunning layers.
Ingredients
1 box raspberry jelly
1 packet tiramisu fingers
2 large tins S&W fruit cocktail
1 packet Bird's custard powder
2 litres whipping cream (Anchor)
1 litre milk
4-6 tbsp caster sugar
Vanilla paste to taste
1 box blueberries
1 box strawberries
Instructions
First, lay out your tiramisu fingers, covering the base of your container or trifle bowl. Any container will do as long as the bottom is flat. Then, drain the fruit cocktail and once the syrup falls away, pour the fruit into your trifle bowl. Be sure not to use too much fruit so that you have space for your custard and whipped cream. Next, make your jelly by following the recipe on the packet, pour it into dessert and then leave in the fridge to set.
Now, to make the custard. Pour one litre of cream, one litre of milk, and four to six spoons of caster sugar in a pot over a low fire. Then, take eight to 10 spoons of custard powder in a separate bowl with some of the milk from the pot to mix. Add vanilla paste to the mix. Heat up milk and cream until just before boiling point. Pour hot milk into bowl with custard mix while stirring, and then put that in another pot and mix until thick. Don't pour all the milk mix in, so that you can adjust your custard's thickness. Keep the fire low and slow; and don't stop stirring! Pour custard directly into trifle and put back in fridge.
The trifle will take several hours to set (to be safe, leave it overnight), so do this final step not too long before you're going to serve the trifle. Take a litre of your whipping cream, add vanilla paste and caster sugar to taste, and whip until you get soft peaks (be careful not to split your cream by whisking too long or too hard). Add a thick layer of this whipped cream to your trifle and top/decorate it with the blueberries and strawberries. Enjoy.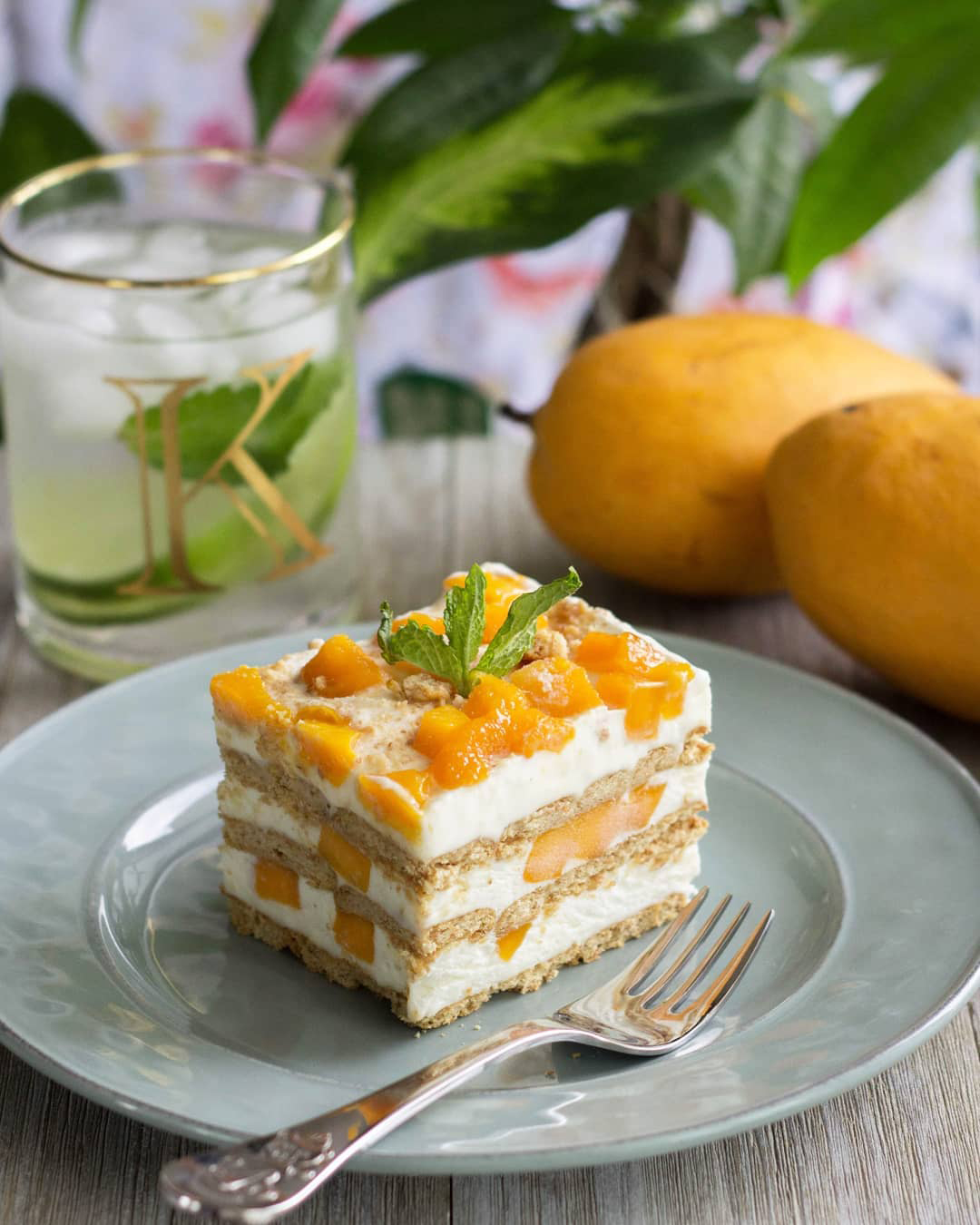 Filipino mango float
Now, here's a super easy dessert that reminds me of my younger days. Texture-wise, it's as if a mango cake and ice cream had a love child to bring you this delectable and fruity, ice cold treat. Of course, you can opt to serve it slightly thawed, but with the weather we've been having, a frozen delight is a welcome respite from the heat.
If mangoes aren't your jam, you could always swap them out for other fruits like bananas or strawberries. Speaking of which, if you can't get your hands on carabao mangoes like the original Cebuana recipe calls for, any ripe mango will do (as long as it's sweet).
Ingredients
1 packet graham crackers, crushed
2 cups heavy cream (Emborg)
1 can condensed milk
3 carabao mangoes, diced
Vanilla extract
Instructions
Combine the cream, condensed milk, and half a teaspoon of vanilla extract in a large bowl and whisk it until it doubles in volume. This should take about four to five minutes. Then, take this cream and spread a thin layer over an eight-inch baking dish or servingware of your choice – flat bottom works best. Then, take half a cup of your crushed graham crackers and form another layer. Next, spread a third of your diced mangoes over the top. Repeat these layers another two times, ending with a topping of mangoes. You should have nine layers in total. Pop in the freezer for at least eight hours and it's ready to serve.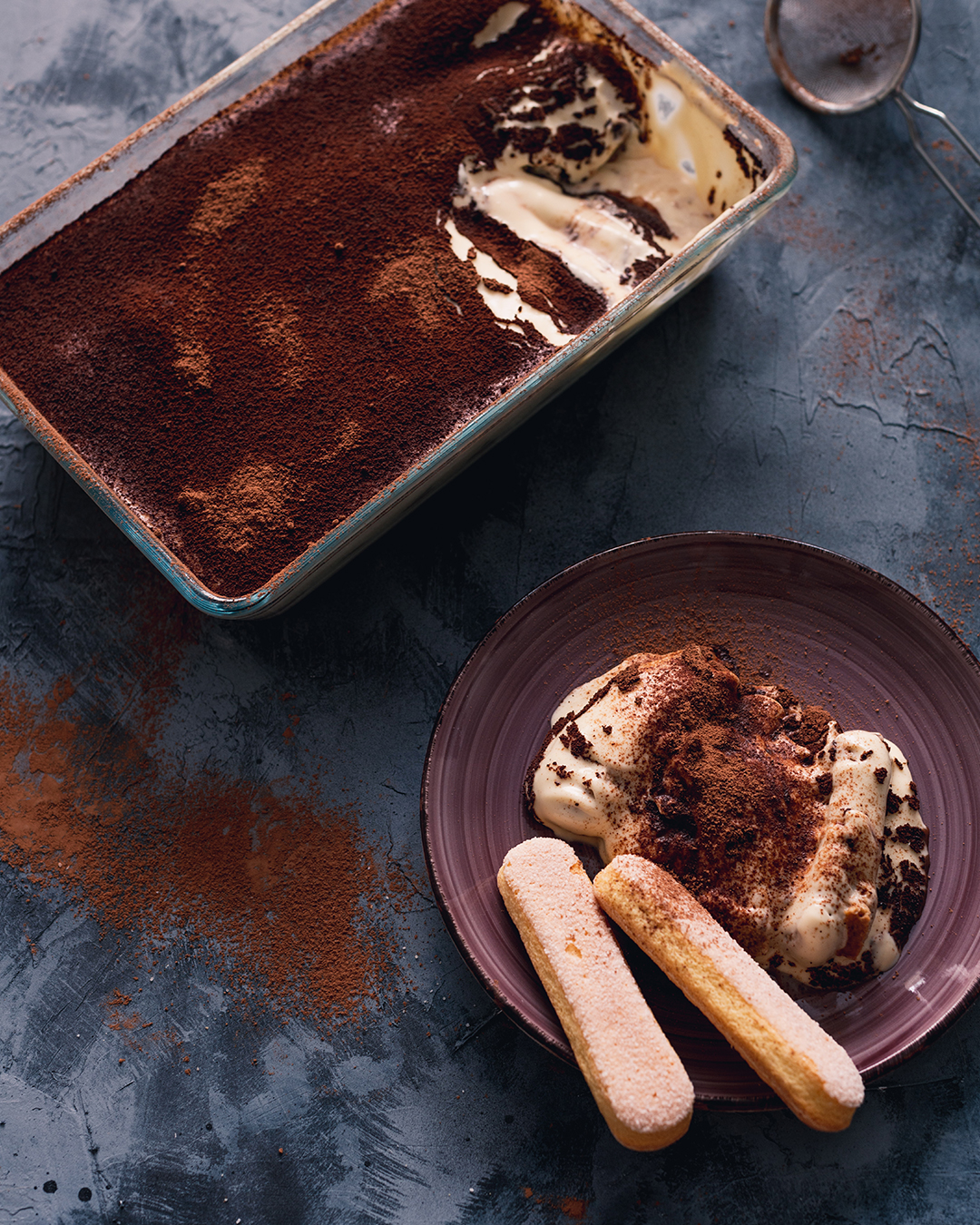 Italian chocolate tiramisu
Admittedly, this is far removed from a classic tiramisu recipe – what with the fact that there's no coffee or booze in it. Purists might not even call it a tiramisu. Or Italian. What this chocolate-fuelled alternative does have going for it, however, is that it's kid-friendly and halal too. Of course, we can promise you that it's also absolutely delicious. So much so that you may not even miss the coffee and liqueur.
Ingredients
Chocolate custard
¼ cup white sugar
1.5 tablespoons corn starch (add more if you like)
½ cup milk
½ cup heavy cream
¼ cup dark chocolate chopped (OR ¼ cup chocolate chips)
2 egg yolks
1 tablespoon butter
½ teaspoon vanilla extract
Chocolate tiramisu
1 packet tiramisu fingers
4 cups hot chocolate cooled
2 teaspoons vanilla extract
1 cup heavy cream
16 oz mascarpone
2 tablespoons white sugar divided
½ cup chocolate curls (or a dusting of cocoa powder)
Instructions
First things first: Make your chocolate custard. In a small saucepan over medium heat, whisk together your sugar, corn starch (you can add more if you prefer a thicker consistency, but don't go overboard), milk, heavy cream, and chopped chocolate. Keep stirring until it begins to bubble and thicken. Then, pour in a little of the heated chocolate mixture into a bowl with the egg yolks and beat rapidly for a few seconds, then pour the entire mixture back into the saucepan with the chocolate. Whisk together constantly and cook for another one to two minutes. Kill the fire, and stir in butter and vanilla until melted. Pour into a glass bowl to cool completely in the refrigerator.
While your custard cools, mix the vanilla extract into your hot chocolate. Then, dip the tiramisu fingers into this mix one at a time, and arrange a layer of these fingers in a serving dish (or 9×9 pan) to form a bottom layer. If you find that the fingers don't 'fit' the serving dish, break them in half before dipping them to create your desired size/shape. In another bowl, beat together the heavy cream and sugar until it forms stiff peaks, then fold in the mascarpone (you can use cream cheese as an alternative – texture and flavour will differ slightly, but not so much that it ruins the recipe).
Fold half of the cheese mix over the layer of lady fingers. Create another layer of lady fingers over the cheese layer. Top this layer with the chocolate custard. Create a final layer of lady fingers and top it with the remaining mascarpone mix. Allow to set in the fridge for at least two hours before serving. Oh, and don't forget to dust the tiramisu with those chocolate curls or some cocoa powder when you do.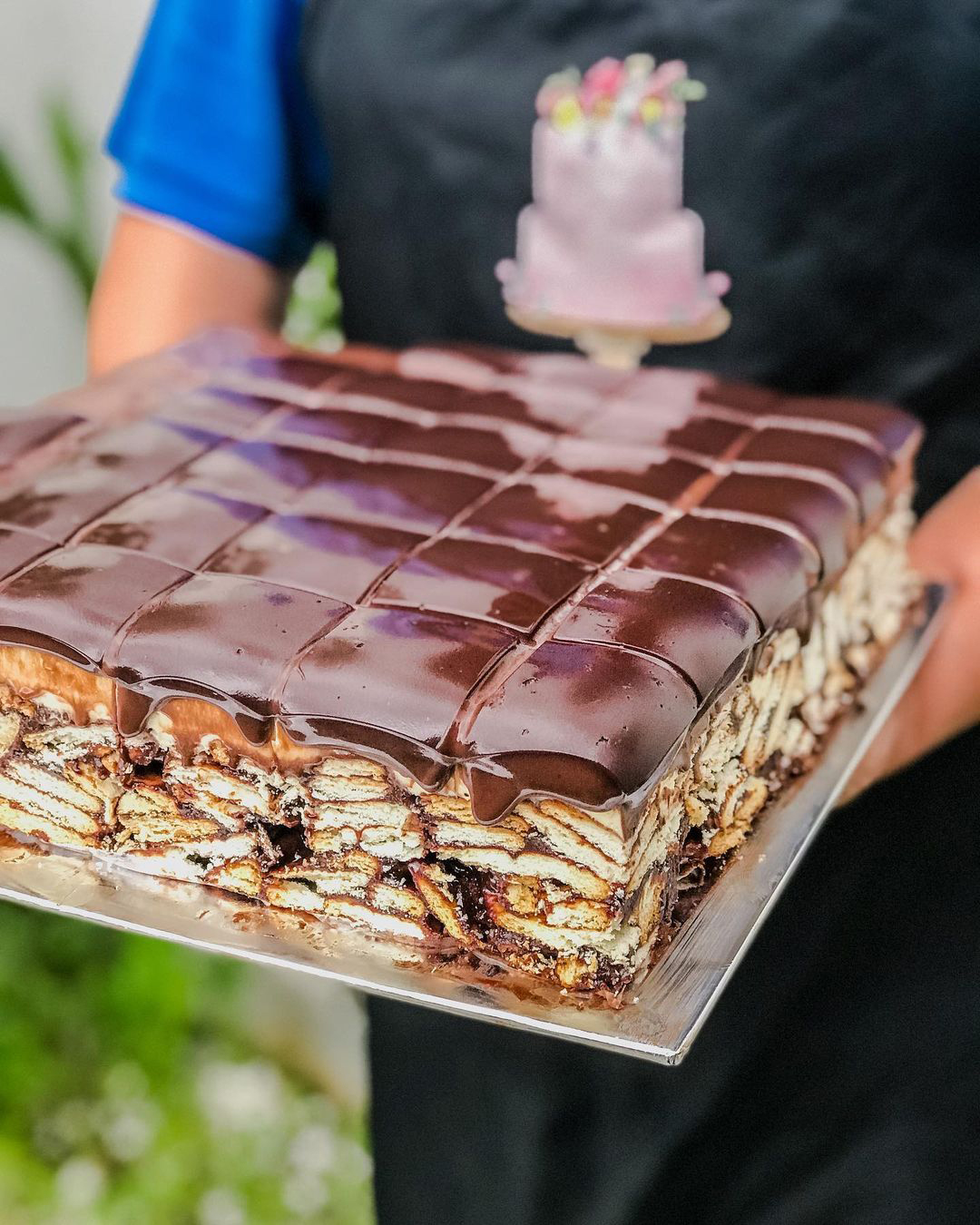 Malaysian kek batik
A staple at Hari Raya open houses, it's common to see the cooks of the household hunched over the stove, melting down the chocolate while the children of the coop break Marie biscuits apart while making this beautiful cake the night before a Raya open house. Filled with many layers, when sliced into, this refrigerator cake features a lovely chocolate-y pattern reminiscent of waxy batik outlines before they're coloured in. It's also incredibly fast and easy to make, and while more traditional recipes call for chocolate milk powder (or even Milo), you can always opt to elevate your kek batik by using fine chocolate, such as Valrhona, that cooks beautifully.
Ingredients
1 can condensed milk
1 ¾ cups chopped chocolate or powder
2/3 cup unsalted butter
4 eggs
1 tablespoon vanilla extract
300 grams Marie biscuit, broken into small pieces
Instructions
First, prepare a cake pan (whatever shape will do) and grease it well with butter or a cooking spray. Next, melt your unsalted butter in a saucepan over medium heat and mix in the condensed milk chocolate/powder while stirring well. Add in the eggs and stir continuously as it thickens. Once your mixture thickens, add in the vanilla extract and mix it well. Now, put in the crushed biscuits and carefully mix it all up, taking care not to further crush the biscuits. Pour the mixture straight into your greased cake pan and flatten the top, leave to cool, for an hour, and refrigerate overnight. Enjoy!
*Note: If you prefer 'neat' layers, alternate between pouring the chocolate mix and laying down milk-dipped biscuit bits into your cake pan until it's finished.
Filipino buko salad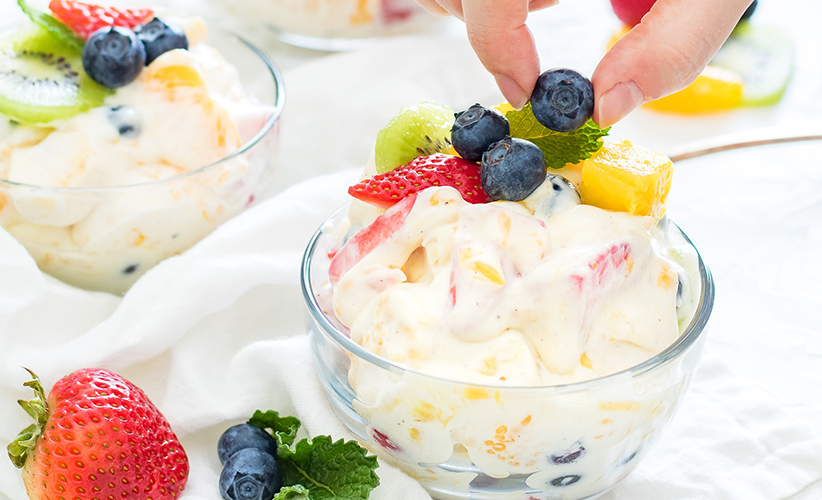 The perfect dessert for warm weather! When in the Philippines, this Pinoy take on the fruit salad featuring buko (young coconut flesh) is a must at birthday parties, Christmas celebrations, or any family gathering for that matter. Of course, you'll find many iterations of this ultra-simple and quick dessert, as individuals have their personal preferences as to how much or which fruits they enjoy and every family has its own recipe (here's mine).
So, feel free to follow the instructions, but don't be afraid to mix things up as you like. In terms of fruit rations, a lot of it is agak-agak (estimated), as with many Asian recipes, so really, go ahead and experiment, just be sure to keep things as fresh as it is creamy.
Ingredients
1 can fruit cocktail
1 can tropical fruit mix
1 can pineapple and lychee in syrup
1 can peaches, diced
1 can nata de coco
1 jar macapuno (coconut sport) or shredded buko
1 can palm fruit
1 block cheddar cheese, cubed (tiny)
1 can condensed milk
1 can evaporated milk
*Note: Swap out whatever fruits you don't like for more of what you do like.
Instructions
Drain the canned fruits, nata de coco, coconut, palm fruit and place all of them into a massive serving bowl. Keep the syrups/juices to one side. Add in the cheese to the bowl w the fruits. Next, start adding 2/3 of the evaporated milk and 1/3 of the condensed milk and toss it all up like you would a salad. Taste test and add more condensed milk should you want things sweeter, or if you need more liquid, add more evaporated milk. Also, use a bit of the juices that came from the tins to round off the flavours nicely (add to taste). As for the syrups, use that for your party cocktail or mocktail. Waste not, want not!
Follow Zafigo on Instagram, Facebook, and Twitter. Sign up to our bi-weekly newsletter and get your dose of travel tales, tips, updates, and inspiration to fuel your next adventure!