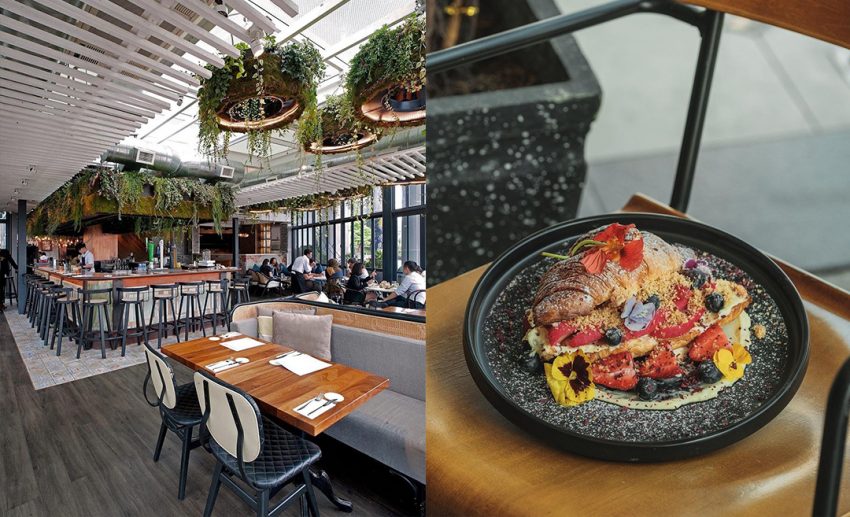 Subscribe to our new

Telegram

channel for the latest updates.
Whether it's with your bffs or beloved partner, is there anything better than enjoying a slow brunch date on a relaxing weekend? With dining-in now allowed for the fully vaccinated, there's no better way to enjoy a day off. Incorporating the best of both meals, a brunch date or ladies brunch is certainly our favourite part of the week — regardless if it's accompanied by artisanal brewed coffee or unconventional cocktail concoctions.
From matcha ravioli to pancake tacos, we've compiled a list of nine ultra trendy Kuala Lumpur (KL) cafes with intriguing and often unusual menu items for you to dig into. Don't worry, we've added some that serve an afternoon tipple too:
Kopenhagen Coffee
At Kopenhagen Coffee, expect nothing less than simple yet robust flavours executed perfectly with the complementary sleek, minimalist interior favoured in Denmark. Tuck into their primarily Nordic-inspired menu with Danish specialties such as the Kongens Krebinetter that features breaded beef patties with remoulade sauce and their version of a gourmet hotdog. Who knew the Danes adored this classic street food? Additionally, you can opt for their pick-and-mix all-day breakfast menu for a more comprehensive gastronomic experience.
Urban Daybreak
Jumping off the foundation of a traditional Aussie brekkie, Penang-originated Urban Daybreak dives deep into creating wholesome meals with a twist. From the pork bolognese sandwich seasoned with Indian spices to the succulent duck sausage breakfast set with mint pea purée, we can't stop salivating.
Of course, the sweet endings are just as delectable. Aside from sweet options like waffles and cinnamon toasts, the brand new Continental Croissant with stuffed spiced poached pear, mixed berries, butter crumble and vanilla mascarpone is undoubtedly to-die-for! Feel free to wash it down with a glass of yoghurt smoothie or raw juice blend.
The Farm
As the name may have already alluded to the practice of an inviting farm-to-table approach, The Farm is geared towards incorporating their own freshly-grown and harvested earthy ingredients into their hearty menu (and directly sourcing extras from local farmers and vendors).
Packing a mighty punch in flavour is the irresistible rendang brisket ragù. Don't forget to end your brunch date with the indulgent honeycomb cassata. Sticking to their ode to keeping things fresh and au naturel, expect to be cocooned amongst fresh greenery inside this gorgeous glasshouse restaurant.
LOKL Coffee
Friendly neighbourhood joint LOKL Coffee isn't only dedicated to brewing satisfying cups of joe, but also mouth-watering weekend brunches filled with classics from across the world map.
From France's truffle croque madame to America's southern fried chicken, prepare to leave with your tummies full and smiles all around. Similarly, their newly-invented cured salmon English muffin looks too darn good to eat (but we shall certainly gobble it up). There's also a weekly flavour rotation of gelato to cleanse your palate. Simple yet flavourful, what's not to love?
Yellow Brick Road
If ever in doubt, go for the Yellow Brick Road's oat-coated challah bread served with spiced apple, almond coconut crumble, caramel kaya sauce and vanilla ice cream. Although one can never go wrong with other items from the all-day brunch menu, do also give their specialty pancake tacos a go. Yes, you read that correctly. Instead of taco shells, filling ingredients like unagi tempura and chicken katsu are sandwiched between pancakes.
On a similar note, 'regular' savoury and sweet pancakes are served too. We particularly enjoy the popular Peter Pandan (pandan-infused pancakes with caramelised fresh jackfruit and gula Melaka sauce).
Birch
From shakshukas to burritos, all the way to Thai fish burgers and sambal linguine, Birch has got all your quintessential brunch needs covered. What's more, fret not over picky eaters as there's a wide array of varied treats to appease everyone.
If you're looking to satisfy your sweet tooth, order their sinfully splendid brûlée French toast with vanilla ice cream or skillet ricotta hotcake topped with citrus mascarpone.
Operating within a spacious greenhouse, the atmosphere still possesses a sense of intimacy that has never been more appealing. Did we mention that there's a selection of wine available too?
Wildflowers
Whipping up a flavoursome blend of trendy yet flavoursome fusion dishes to satisfy your taste buds amid lush greenery and an enchanting ebony backdrop is Wildflowers. Peruse their luxurious brunch menu and order the tauchu truffle mushroom toast, spicy Sichuan crab omelette, and Wagyu donburi with house-made kombu sauce.
While custom cocktails are available for order, do sip on some of their locally-inspired cocktail concoctions. Favourites include the cheekily-monikered Jungle Jack Sparrow(pandan rum, campari, gula Melaka, lime, and pineapple) and the historically-influenced Mr Brooke (tuak, jasmine gin, elderflower liqueur, lavender syrup, and lemon). Cheers!
Wizards at Tribeca
No visit to Wizards at Tribeca is complete without tasting their scrumptious burger-looking baos stuffed with deep-fried unagi or smoked duck breast. Additionally, the equally Insta-worthy matcha ravioli is certainly an unconventional yet intriguing pasta option.
Nevertheless, it must be said that their specialty brunch offers are just as good — we simply can't get enough of the Mediterranean baked eggs set. Apart from an impressive selection of refined baked goods, do check out their cocktails aptly referred to as 'Potent Potions'.
The Hungry Tapir
Stepping straight out of a Wes Andersen film, The Hungry Tapir exudes impossible-to-resist tropical vibes with splashes of vivid pink hues and verdant greenery potted around every corner. With a recently revamped plant-based menu teeming with cultural fusion dishes, order some of their hot ticket items: Rainbow Brekkie Bagel topped with slow pulled jackfruit, Nangka Pancakes, and Pumpkin Tortillas. Better yet, pair them with some bubbly or unusual cocktails like the Elderflower Paloma or Guapa Bebidas.
[zf_post_boxes widget_hide_desc="true" num_post="3″ post_id="46051, 45835, 46412″]