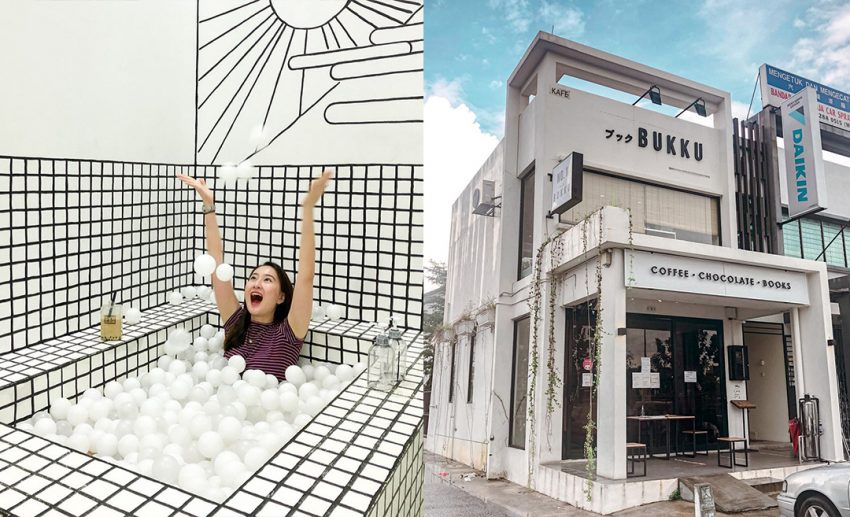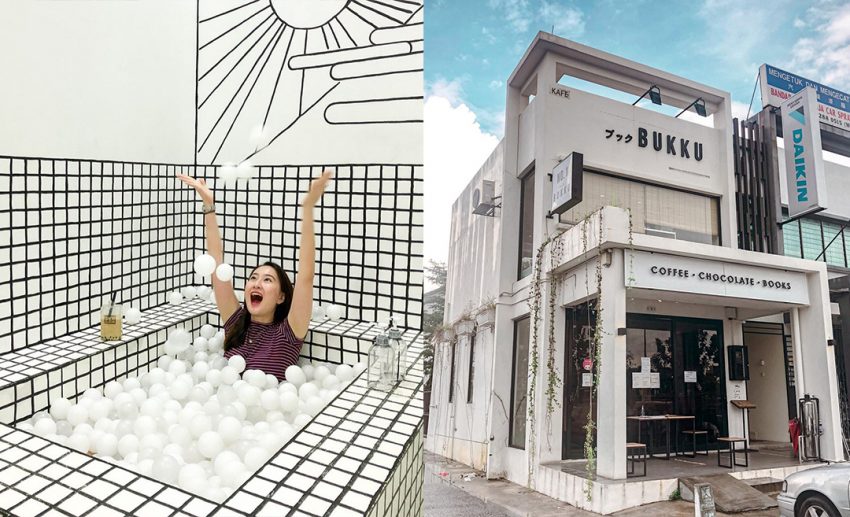 Subscribe to our new

Telegram

channel for the latest updates.
Do you ever have a hard time finding nice cafés in your area with good coffee and food? we certainly do sometimes. And since we all (in KL and Selangor) haven't been out in a while, when we finally do break free, we want to make sure our trip out is worth it. So, pretty places only, please!
If you're like us and wouldn't mind going the extra mile just to quench an aching thirst with good coffee and cake in a beautiful setting, then these places are for you. Who knows? They might even be right in your neighbourhood. Just remember to stay safe and stick to SOPs!
1. Bukku Café, Klang
Located in Bukit Raja, Klang, is this minimalist cafe. Bukku Café, whose name is inspired by the Japanese word for book, displays a stunning variety of books for you to choose from. Believe me when I say that it's quite possibly the cosiest café you'll ever visit. It's perfect for when you need to escape the city and have a peaceful reading session over some good coffee and appetising food. Their Salted Egg Yolk Croissant and Lemongrass Chicken Rice are the best choices for when your stomach starts growl between pages.
2. La Fleur X Uniqorn, Sunway Geo Avenue
Calling for fans of the colour pink and daydreamers of magical unicorn lands! La Fleur X Uniqorn is just for you. For the rest of you, when you hear pink and unicorns, you might feel a little unenthusiastic. But we can promise a quick trip here won't be disappointing — you can tell by the throngs that once lined up to get in!
The café is unique with its all-pink concept, which is totally adorbs and perfect for you and your friends to take a bucketload of pictures. What makes the time you spend here more enjoyable is the coffee art activities available where you get to decorate your coffee however you like. Sounds fun, doesn't it?
3. 2D Bubble Tea Cafe, Subang Jaya
Another very peculiar setup, but one that'll surely pique your interest. This comic-inspired cafe has a 2D setup and is located right at the heart of Subang Jaya. Besides the signature interiors, 2D Bubble Tea Cafe's signature drink is the second customer magnet.
The all-time favourite bubble tea comes in a variety of flavours — think brown sugar coupled with milk tea, coffee, or black tea. If bubble tea isn't your jam, then give their smoothies a go. Whatever you end up trying, just be ready to get barraged by people asking about the place when you've it uploaded on your Instagram.
4. Little Salty Cafe, Ampang
Next on the list is for people who are looking to sip on coffee while relishing in a spectacular view of KL city's skyline. It's the unique location of Little Salty Café right at the border of KL but perched up on Bukit Ampang, that lets you enjoy this view, but we're here for the decor too.
Replete with neon signages and other trendy furnishings, you'll get your Instagram shot for sure. Furthermore, the mouth-watering menu it serves is a must-try, especially their Dark Heaven Waffle that's heavenly indeed.
5. The Teddy Cafe & Restaurant, Petaling Jaya
Yes, you read that right. It's a teddy bear-themed café right in Petaling Jaya — a perfect place to bring the kids (or anyone into cutesy things). But, let's face it. We all have an inner child and it's totally understandable if you sometimes feel like letting her have a little fun. This is the place to unleash her! T
The Teddy Cafe & Restaurant is decorated with literal hundreds of teddy bears of different kinds and sizes. Even the presentation of your desserts and drinks are adorably imbued with teddies. Every corner you turn your head to sits a teddy bear, but not so much so that it irritates you. It's just full of the joys of childhood.