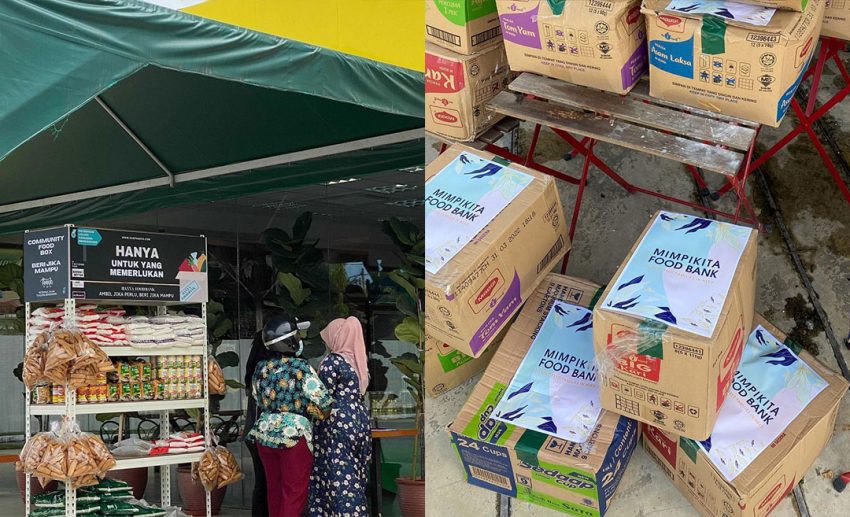 Subscribe to our new 

Telegram

 channel for the latest updates.
When the white flags were raised, some people tried to bring them down immediately. Some even joked that it wasn't the right coloured flag to raise. But Malaysians aren't shaken easily. They showed up, offered help, and did honest work for their community. And are continuing to do just that. Here are seven initiatives to remind you that #KitaJagaKita.
Something for the kids
View this post on Instagram
Jenn Low of Wanderlust + Co is collaborating with Noko Malaysia to send 'Happy Bags' that are packed with toys, fun activity packs, snacks, and personal care items for children. You can donate four bags for just RM100 here, and you can add a note to send some cheer their way too!  
Hair-raising goodness

 
View this post on Instagram
Sena, a local haircare brand, has sent out over 100 care packages to families in need. In true #kitajagakita fashion, the brand got in touch with these families via their social DMs and even WhatsApp. What was more impressive is that there were just as many messages from members of the community who wanted to help them help others. Goodness abounds amongst Malaysians. 
It's always sunny in Sandakan
View this post on Instagram
It goes without saying that the travel and tourism industry is among the worst-hit due to this pandemic. While many hotels are facing dwindling business prospects or even closure, what's amazing with the Sabah Hotel in Sandakan is that they're still doing their bit to help their community. Every Friday, the Sabah Hotel pulls together 100 care kits consisting of rice, salt, sugar, cooking oil, instant noodles, and biscuits to be distributed to those in need. What a selfless and meaningful initiative!
Dream a dream
View this post on Instagram
These days, Mimpikita is more than beautifully-draped baju kurungs in dreamy pastels. The Kita Girls have set up the Mimpikita Food Bank that allows you to purchase a box of food supplies at just RM50. Set up in partnership with Serai Group (of Jibby Chow and Serai, amongst others) and Pertubuhan Kesihatan Kebajikan Umum Malaysia, over 350 boxes have been distributed so far. Of course, you can purchase as many boxes as you please through their site, and it makes helping that much easier. 
You can bank on Hanya
View this post on Instagram
A few weeks ago, fashion label, Hanya, partnered with Eco Brown and Jati Signature to set up a food bank in Kedah to share essentials. They restock it up to three times a week, and their customers have offered to lend a hand too. You can buy a box of essentials for the food bank (it includes items such as rice, flour, canned food, milk, biscuit, salt, sugar, cooking oil, and instant noodles) for just RM50. And to take it a step further, for every box sold, Hanya will match it with another. 
Not so fowl, after all
View this post on Instagram
Not only do they serve buttermilk fried chicken burgers to salivate over, Fowlboys have also teamed up with Aitch Coffee Roasters to set up a food bank in Mutiara Damansara for those in need until 23 July. They stocked the usual essentials, and may continue to operate the food bank in the future. Stay tuned for updates via the brand's Instagram.
No one butter than you
View this post on Instagram
The Butter Pantry KL has been giving out free meals from their outlet and are also on kitajaga.co to send daily essentials like face masks, diapers, and milk powder for infants and children. If you'd like to contribute or help with any of the efforts being made, you can reach out to the team (information in this post).
44687, 44557, 44625