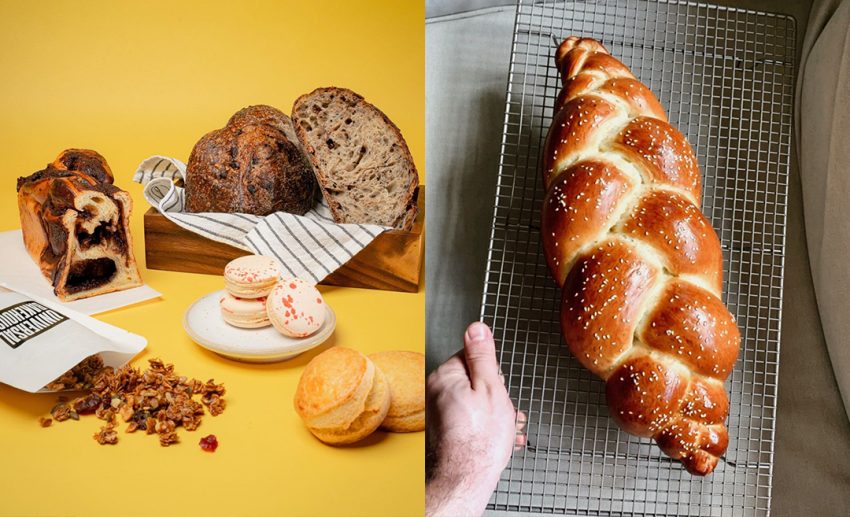 Subscribe to our new 

Telegram

 channel for the latest updates.
Raise your hand if bread brings you joy. If you raised both hands like I did, then you're going to love this list. With the lockdown in place, we've been unable to see our loved ones and go to our favourite artisanal bakeries. Thankfully though, the places we've listed brings all of loaf's joys to you (okay, not the best pun, but you get it).
View this post on Instagram
From freshly-baked baguettes to Guinness-toasted seed sourdough to challah, Peet Bakery will not disappoint. They've got the classics that you love and they taste amazing too. Place your orders via DM. 
View this post on Instagram
Universal Bakehouse will make all of your bread dreams come true. Serving a variety of sourdough (from apple, seeded, cranberry, and walnut), pastries (cream puffs, cake, and gluten-free options too!), there's even a bevy of beverages to complement your bun of choice. A trip to the store just to marvel at its signage is worth it. Pre-order here. 
View this post on Instagram
Calling all bagel lovers! Sunshine Bakery has over 10 homemade bagel options for you to choose from. Enjoy flavours like garlic, pumpkin seed, onion, jalapeno cheddar, chocolate chip, and more. Browse through the menu on their Instagram Highlights. 
View this post on Instagram
Croisserie's menu is extensive, so you'll be spoiled for choice. Do you get the beef bacon and mushroom quiche, or kouign amann, or the pain au chocolat, or… you get the idea. If you have a craving for pastries, they're going to satisfy it. Orders must be made at least a day in advance. 
View this post on Instagram
If you're looking for sourdough, croissants, or muffins – or would like them all packed nicely in a box for you or your loved ones, Broom Artisan Bakery puts a fine option together. Its Simply Simple Box includes seven of its best-sellers (a plain croissant, almond croissant, pain au chocolat, raisin wheel, dark chocolate walnut cookie, banana crumb muffin, and coconut macaroons) and is the perfect thing to treat yourself to.  
View this post on Instagram
Having gluten-free and vegan options are so important, and WheatFree For You prioritises that. All of its bread are free from gluten, sugar, preservatives, additives, corn, and soy. On its menu currently are burger buns, sourdough, bagels, wraps, pizza crusts, and heaps of other baked goods. Orders have to be made at least three days in advance as they bake according to orders. A sure fire way to be assured of freshness!
View this post on Instagram
Imagine starting your day with bread filled with cinnamon sugar and a light cream cheese glaze to go with your iced coffee. It's possible with Rise By G. On the menu are bread loaves (that serve between one to three people), bread rings (perfect for eight to 10 people), cardamom buns, focaccia, and cookies! 
44557, 44525, 44487