[vc_column_text]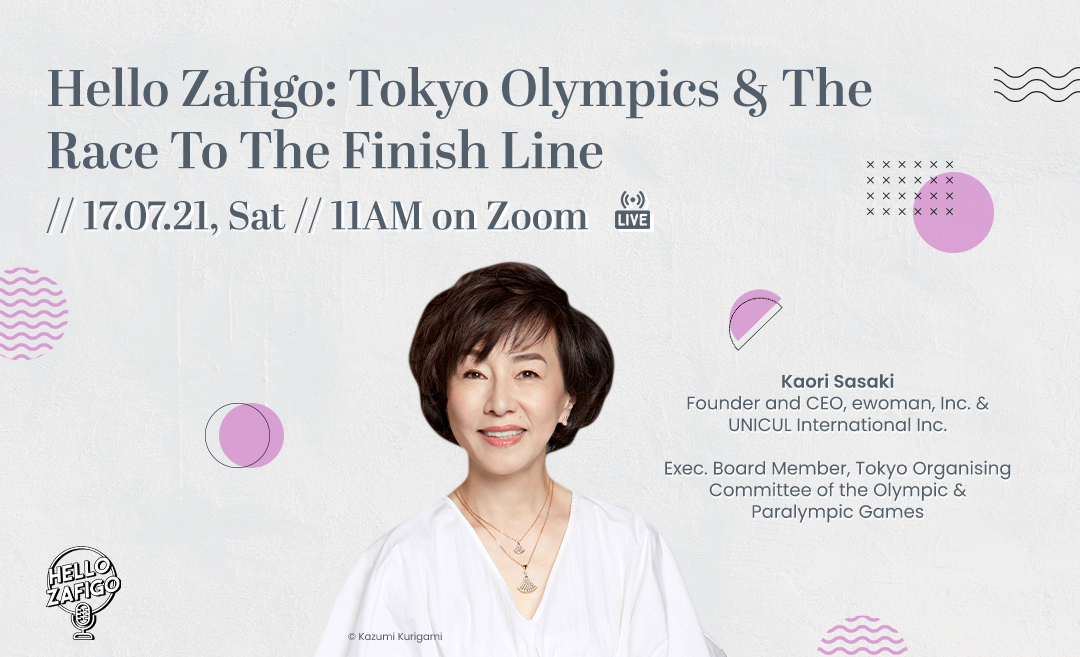 [button url="https://bit.ly/304hz" size="medium" value="SIGN UP NOW" color="#89c44c"]
A year ago, the pandemic forced Japan to delay the Summer Olympics and Paralympics. Now, keeping to its original name, the 2020 Tokyo Olympics is set to take place from 23 July until 8 August 2021. But with that comes a variety of concerns from athletes, health organisations, and the general public. What's being done to ensure that it does not cause another outbreak? The Tokyo Organising Committee has said that preparations are underway, and that they are determined to host a safe and secure event.
On 17 July (Saturday) at 11am (GMT+8), Marina Mahathir speaks to Kaori Sasaki, who is part of the Tokyo Organising Committee, about all things Olympics. They will also chat about Ms Sasaki's experience as a TV reporter and how this allowed her to travel the world.
About Kaori Sasaki
[/vc_column_text][vc_single_image image="44360″ img_size="250×250″ alignment="center" style="vc_box_shadow_border_circle"][vc_column_text]
www.ewoman.jp  | www.unicul.com
[/vc_column_text][vc_column_text]Kaori Sasaki is a well-known diversity expert, best-selling author, and sought-after commentator who appears regularly in the Japanese media. She's also a former news reporter of News Station (Japan's highest-rated nightly news programme) and anchored the CBS programme 60 Minutes in Tokyo. Her years as a correspondent gave her the opportunity to travel to over 25 countries, covering human rights and other international topics.
Ms. Sasaki has also been long considered an internet pioneer, having founded the first portal for women in Japan in 1996 – ewoman, Inc. She also established UNICUL International, Inc. – communications consultancy offering executive media training and translation and interpretation in 70 languages. In addition, she has produced and chaired the International Conference for Women in Business, Japan's largest diversity conference.[/vc_column_text][vc_column_text]Apart from her many other roles and titles, Ms Sasaki is also currently an Executive Board Member on the Tokyo Organising Committee of the Olympic and Paralympic Games, working with a dedicated team to ensure the upcoming games is a safe and secure experience for all involved.[/vc_column_text][vc_column_text]
Tokyo Olympics & The Race To The Finish Line
will be hosted on Zoom for FREE. Details of the web session are as follows:
DATE
Saturday, 17 July 2021
TIME
11AM, Kuala Lumpur (GMT+8)
12PM, Tokyo (GMT+9)
DURATION
60 minutes

Sign up for the session on Zoom here:
[button url="https://bit.ly/304hz" size="medium" value="SIGN UP NOW" color="#89c44c"]
Please note that:
If this is the first time you're using Zoom, you'll need to have the app downloaded on your device. Download it here.
Each session is limited to 100 participants. If you are directed to a Waiting Room and are not admitted within 5 minutes, it means that the session is full. You can only join the session if another participant leaves. You can choose to either wait there for a spot to open up, or head over to our Facebook page where the session will be hosted live as well.

Providing us your email via Zoom automatically adds you to our mailing list. Privacy protection rules apply.
Stay up-to-date on this and future sessions of Hello Zafigo by following us on Facebook and/or Instagram.
All past sessions are available for viewing at hellozafigo.com.
[zf_post_boxes widget_hide_desc="true" num_post="3″ post_id="44370, 43254, 44441″][/vc_column_text][/vc_column][/vc_row]