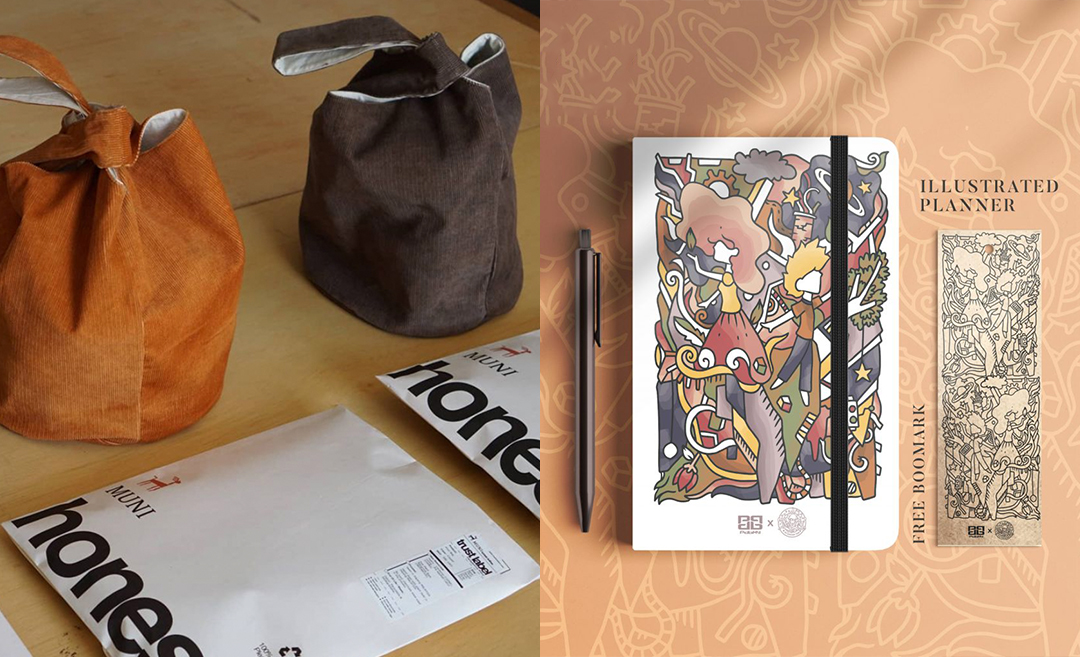 Subscribe to our new 
Telegram
 channel for the latest updates.
Let's be honest, we're not all cut from the same Greta Thunberg cloth, but there comes a time in everyone's life, when we become a little more aware of what and how we consume. More so now in the midst of a climate change crisis and the pandemic, the act of binning the right waste into the categorical recycling bin is simply no longer enough. There's no denying that the world is in need of some serious TLC, and while sometimes it might seem like a monumental solo feat in making any difference, it's time to lift the proverbial wool from over our eyes and see the growing landfills.
So, if you've started feeling the guilt when using plastic bags, or a twist of disgust when you see someone throw trash out of a moving vehicle, then congratulations, you've arrived at Sustainable Street. Take a pause, and turn right at the traffic light towards more eco-conscious decisions. Don't fret just yet, we're not suggesting anything drastic. You don't need to reduce yourself to showering once a week and you certainly don't have to start composting in your backyard or dress in hemp and carry totes (although there are some pretty swanky ones mentioned in this article). There's a balance to be struck, and we're here to show you six brands that'll help you make a difference, one little carbon footprint at a time.
1. Coqoon: Consciously handcrafted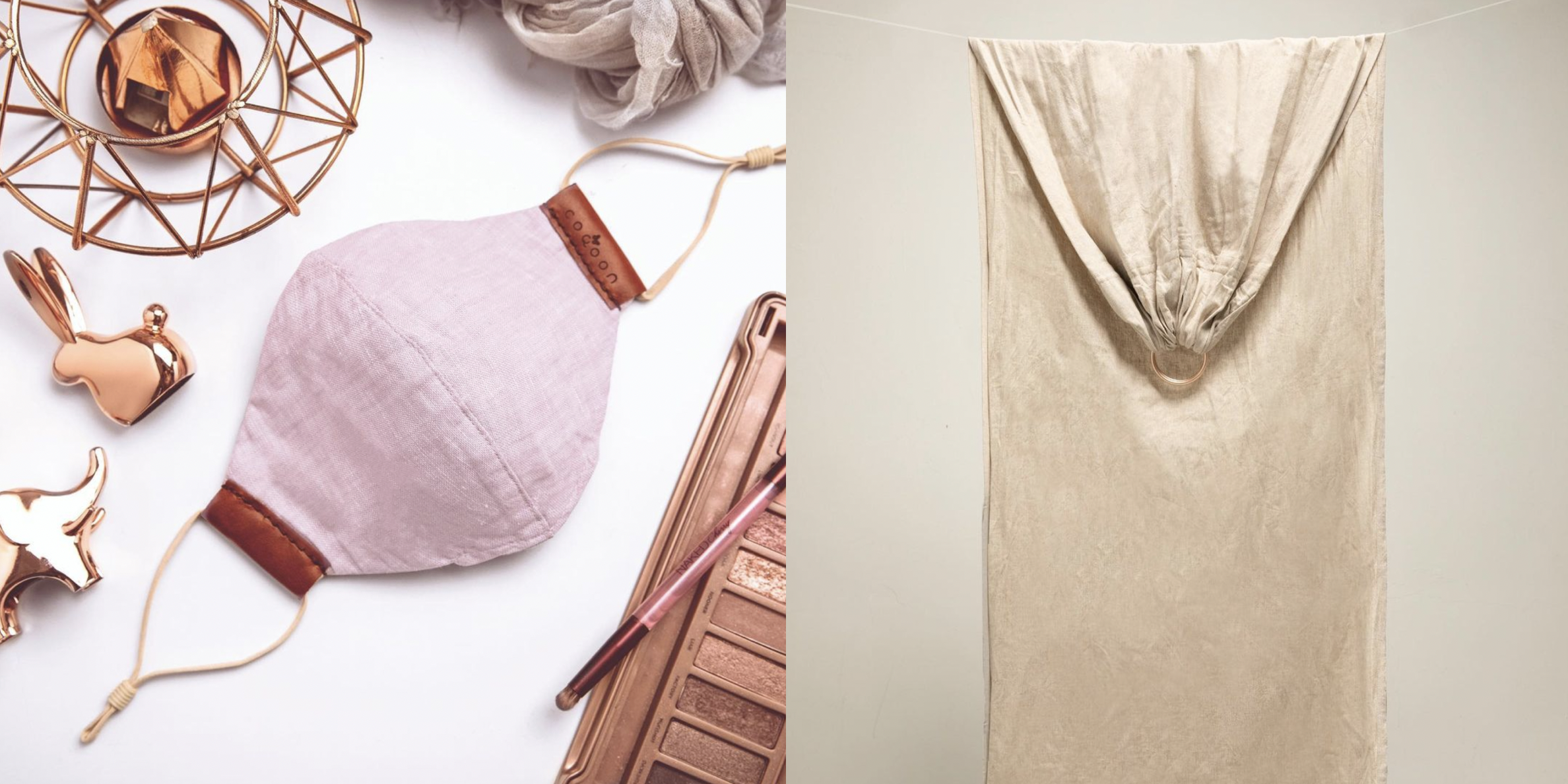 Masks may not be fashion accessories, but in this new normal, they've become an essential and part of our everyday wardrobe. According to The Star news publication, 10 million single-use face masks are being discarded daily in Malaysia alone. Needless to say, it's high time we consider reducing our contribution to landfills by using more sustainable options. Coqoon is a homegrown female-owned brand that offers more than just pretty face masks. Their stylish handcrafted linen masks are made of 100% natural, biodegradable, and recyclable materials. The pure linen is non-allergenic and has a natural ability to reduce inflammation and the leather strap goes behind the ear loop on the back of the head to securely and comfortably fit the mask to your face. 
They have also started selling bespoke baby slings with the same quality materials, fully customisable from fabric, ring colour, to name personalisations. It makes for a perfect gift for new moms! Speaking of which, the brand hires mostly single mothers and stay-at-home moms to help provide an income through seamstress work. With Coqoon, you're rooting for both mothers and nature!

2. Palmy: Turning waste into wants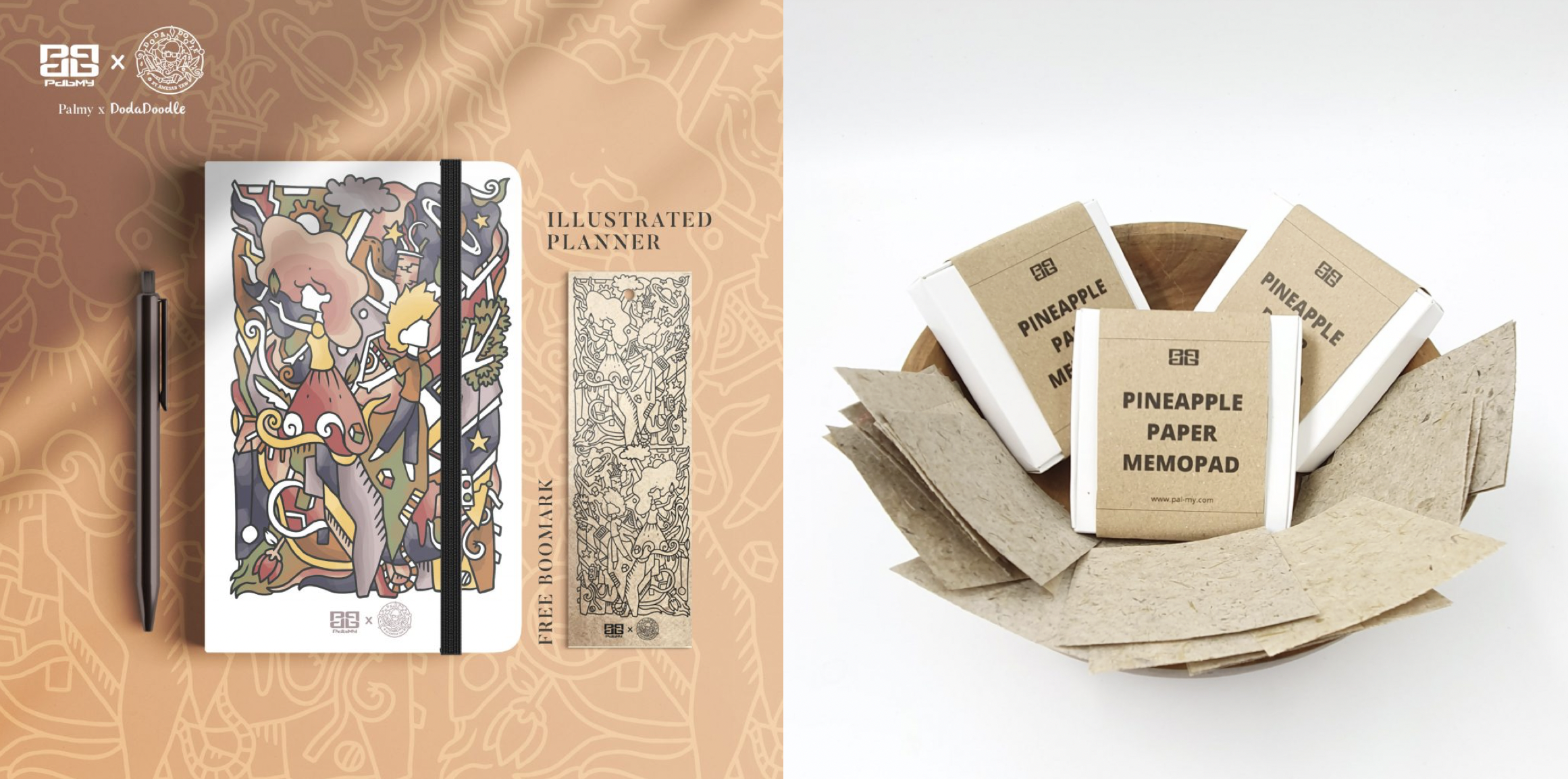 Turning agricultural waste into beautifully handcrafted paper and textile goods made from pineapple leaves, banana, stems, and bamboo shoots, this award-winning Malaysian brand is all about making a lasting impact. Cultivated from the passion to save the environment, the social enterprise aims to prevent the open burning of waste and reduce forest logging while providing jobs to help local farmers.
Palmy takes their 'local' approach very seriously to reduce carbon footprints and ensure a greener supply chain. Hence, they don't outsource many raw materials. In fact, they believe it's wasteful, not just agriculturally but culturally, to not celebrate the multitude of resources Malaysia has to offer. Since the pandemic, they've expanded to cater from products like eco batik printing and Malaysian traditional games to other premium eco products such as metal straws and mesh bags. They even have a Pineapple Paper Making Kit. Helping mother nature is truly in the palm of your hands with Palmy!


3. Muni: Tropical dye apparel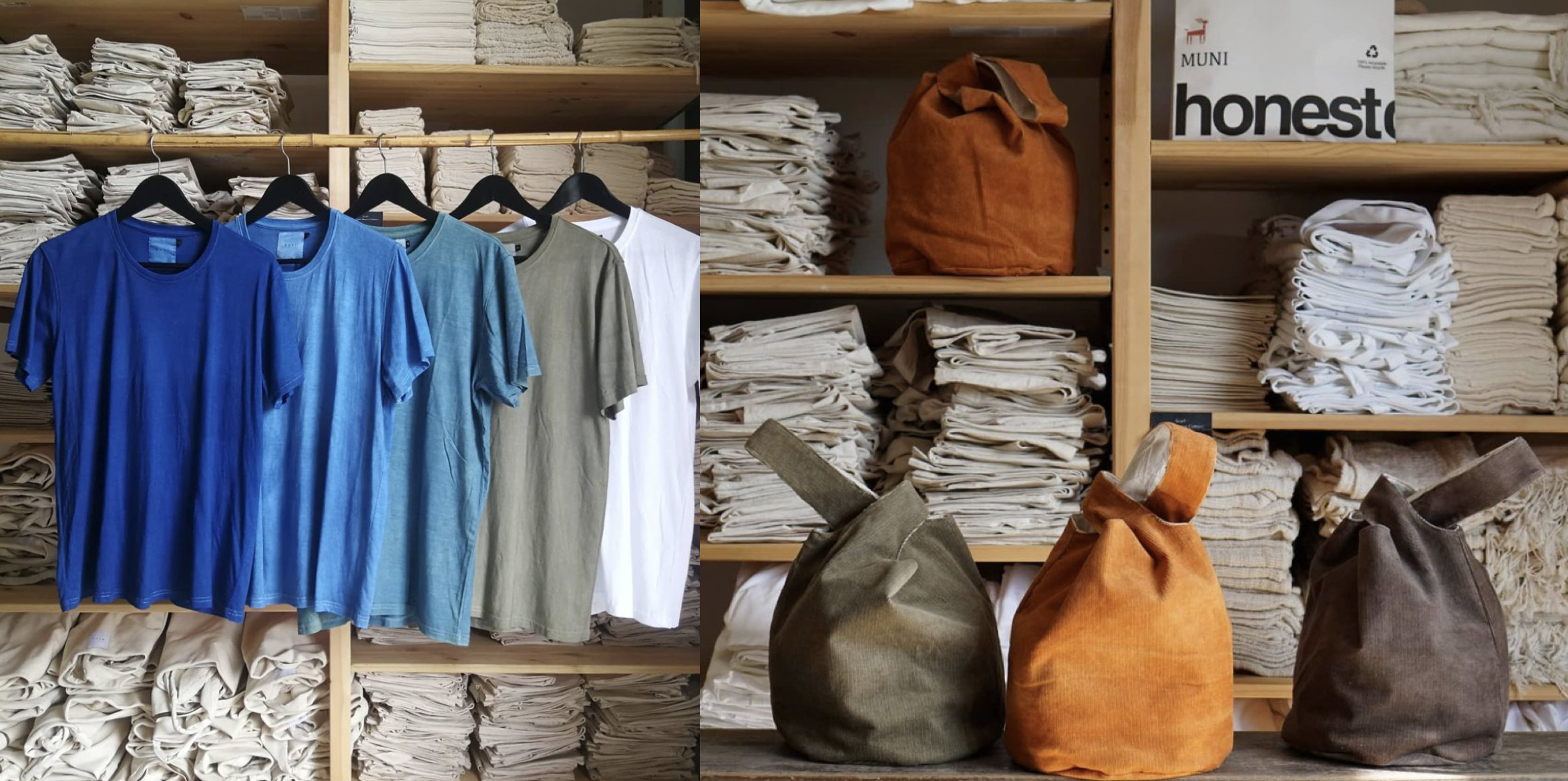 Fabric waste and textile chemicals have been polluting lands and rivers around the world for decades. According to the Intergovernmental Panel on Climate Change, textile production and dyeing consume around 1.5 trillion litres of water annually and are responsible for harmful textile waste and chemicals being dumped into surrounding waterways. Slow fashion is the only way to tackle this global problem and supporting brands like Muni is a good start. Most of their products are designed, hand-sewn, and hand-dyed in Sepang, using natural dyes from raw plant extracts, void of any toxic chemicals.
Available in an array of calming nature-toned scarfs, pouches, shirts and totes, their range of products are available online and at hotels, such as The Datai Langkawi, The Ritz-Carlton and Anantara Desaru Coast. If you're looking to slip into comfortable and relaxed casual wear that won't harm the environment, you can put your money on Muni.


4. The Minimal Skin: Mindfully-made natural skincare
You might be surprised to learn that the beauty industry has a huge impact on the Earth's environment. Just from the packaging of your shampoo or your moisturiser, eye creams and facial masks, these seemingly harmless everyday products contribute to the destruction of coral reefs with tiny microplastics that end up in the food we eat. What's even more alarming is that it's predicted that the beauty industry contributes to 120 billion units of packaging a year!
Thankfully, there are artisanal beauty brands like The Minimal Skin, a skincare brand that ticks all of our boxes. Vegan friendly? Check. Cruelty-free? Double-check. Recyclable packaging? Triple check! While the range of products is not extensive, the handful of mindfully-made offerings uses natural and minimal ingredients that are gentle and lightweight on the skin. Not only will it treat your skin kindly, but it'll also treat mother nature with equal sensitivity too. Win-win! Check check!


5. Raecare: On a mission to provide healthier homes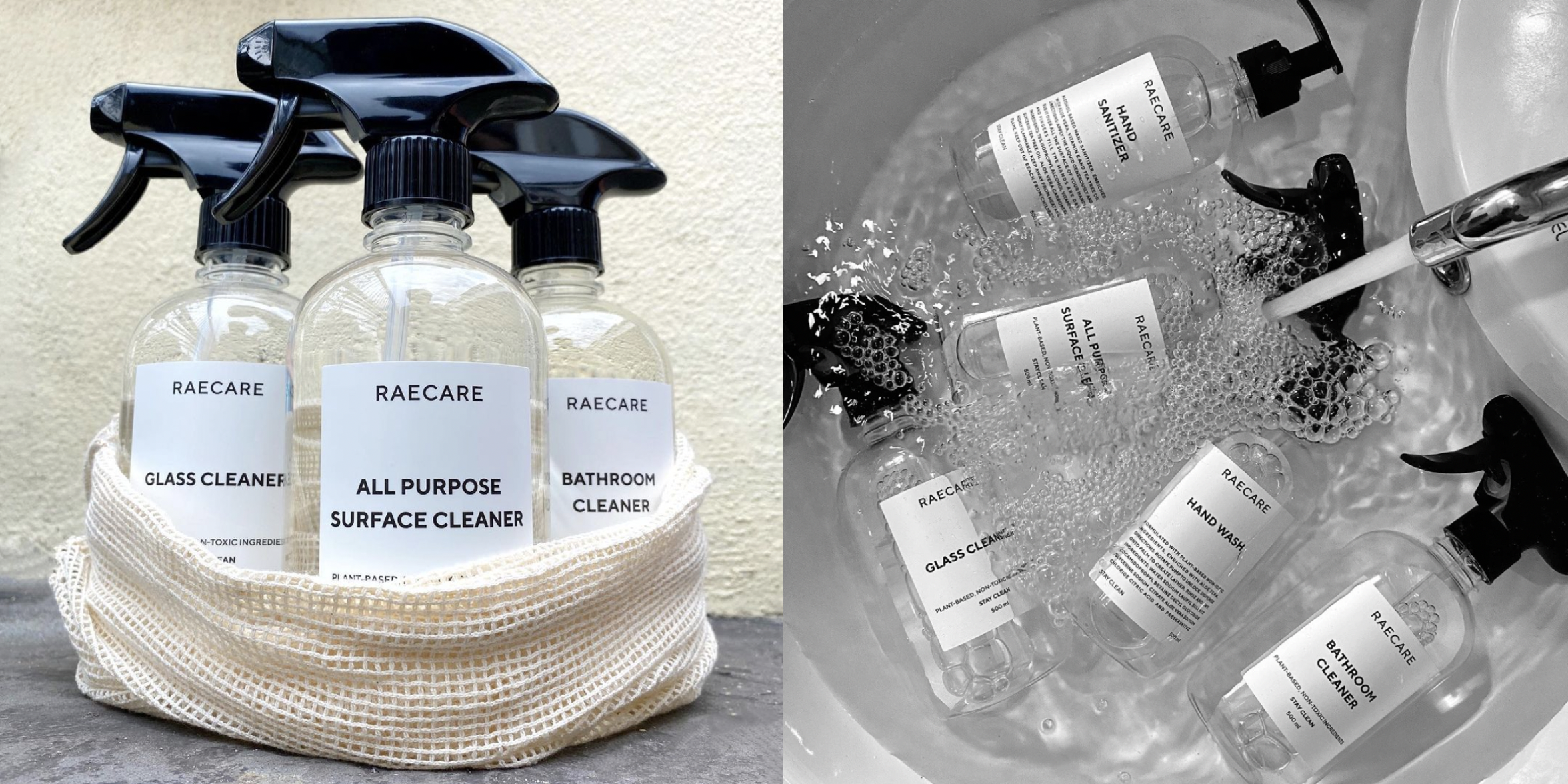 Your home's your sanctuary, even more so now with the pandemic. Most of us avoid going out and spend most of our time WFH. As important as it is to be mindful of what we put into our body, it's equally important to consider the cleaners we use at home. Raecare is one of the classiest-looking, locally-made natural home cleaners in the market, providing all-purpose surface cleaners, dishwashing liquids, hand washes, and more.
The small home-grown brand started out in Malaysia during the pandemic, offering toxic-free plant-based cleaners with the intention to create a movement towards a greener and cleaner planet. This is a great alternative for people suffering from allergies, eczema, and sensitive skin. The minimalist and clean packaging is biodegradable, while their formulas contain minimal preservatives, aren't tested on animals, and uses scented essential oils like lavender, grapefruit, and mandarin in place of fragrances. Dare we say it's clean enough to eat off the floor!


6. Hello Natural Co: Award-winning natural deodorants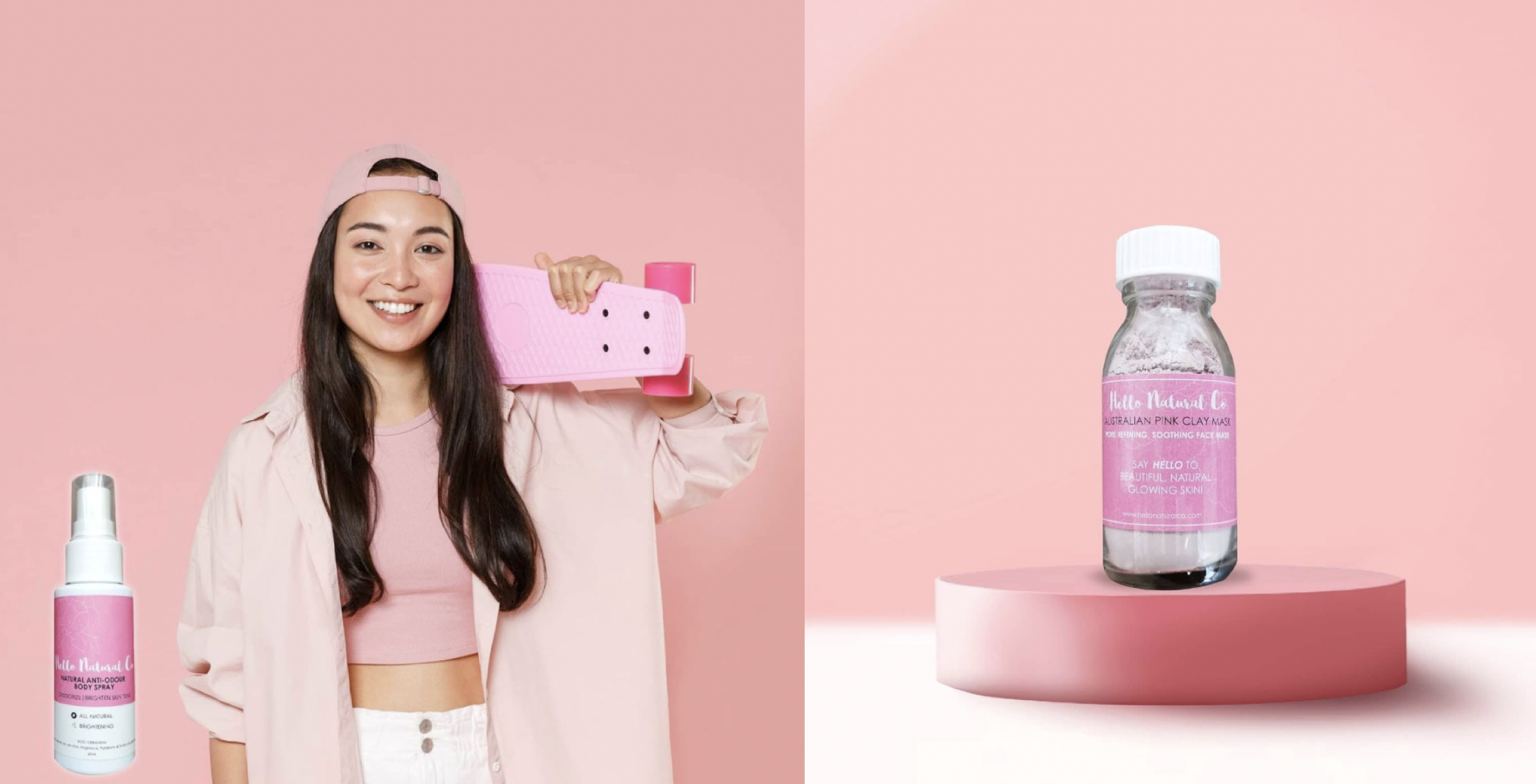 Did you know that most commercial deodorants contain many harmful or toxic ingredients? Thankfully, there are better options these days, such as Hello Natural Co – an award-winning natural deodorant made right here in Malaysia! Their high-performance natural deodorant is breathable on the skin and eliminates odour-causing bacteria using only pure, natural ingredients. It's also free from alcohol (an ingredient that causes underarm darkening) and is safe for sensitive skin, pregnant ladies, and breastfeeding mums.
They also have other products like natural anti-odour body sprays, pink clay masks, shampoo bars, and dry shower deodorant powder. Perfect for women and men with an active on-the-go lifestyle!