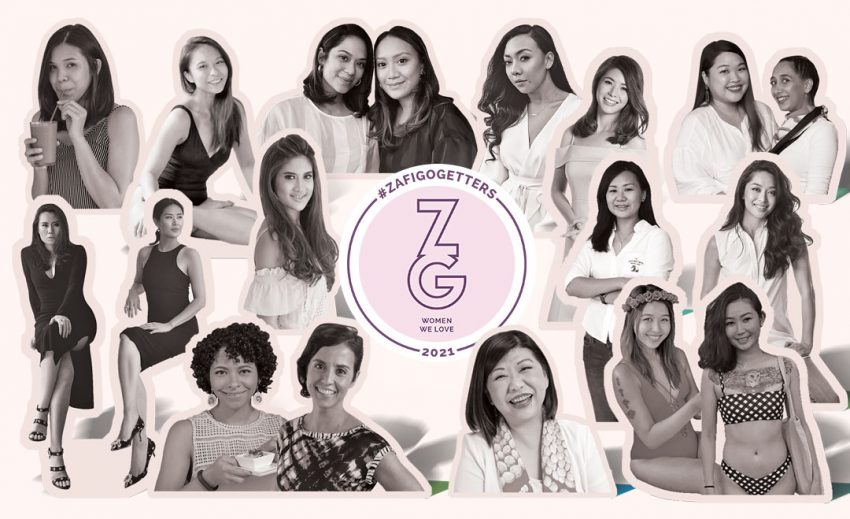 We're on Telegram now too! Subscribe to our channel for the latest updates.
In an unprecedented time that has taken down huge industries, and numerous businesses big and small along with it, we wanted to continue empowering women while promoting and supporting Malaysian-based businesses.
At the Zafigo HQ, we sat down and scoured the internet for local women-led brands and businesses that are pushing forward despite the challenges. We found 13 inspiring brands that lead in fashion, beauty, F&B, fitness, and wellness – but we weren't only interested in the products; we wanted to get to know the driving forces behind them, and shout them out to the world. 
These women who embody resilience, relentlessly chase their dreams, and follow their passion are what we'd like to call the Zafigo-getters. The Zafigo-getters behind each and every one of these 13 local brands have all proven that not only are they thriving and succeeding during a challenging time, but they are also inspiring others while doing it.
Over the next few weeks, we'll be telling you all about these homegrown brands and the incredible women behind them. We'd also like to encourage you to indulge in a little holiday shopping to show that you too #SapotLokal. To make it all the more special, Zafigo readers get 5% (sometimes more with selected brands) off their total bill. 
Remember to enter the promo code ZG05 at checkout on their respective websites to enjoy all these offers available from 1 December 2020 to 31 January 2021!
Read on to learn more about the 13 Zafigo-getters!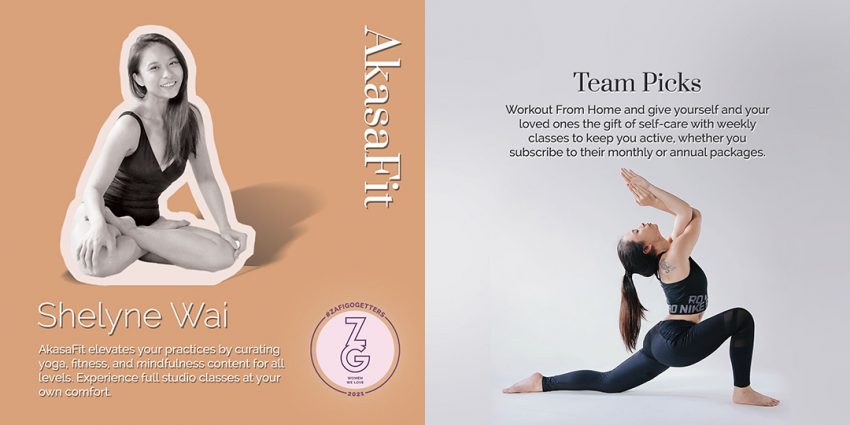 What began as Yogaspace, a pop-up yoga class in and around the Klang Valley, soon transformed into Space Studio, a specially-designed yoga studio that combines the benefits of yoga and light therapy. Shortly after Space Studio launched, COVID-19 kicked in, and Malaysia went into lockdown.
Being unable to leave home and gather in communal spaces forced the birth of AkasaFit. This yoga and wellness website founded by Shelyne Wai helps yogis maintain their practice while staying safe and socially distanced in the comforts of their homes.
Up your
asana
game with AkasaFit! Zafigo readers get 5% off when you use
ZG05
to purchase a package on the website. Promo code is valid storewide. Visit
www.akasafit.com
to sign up now.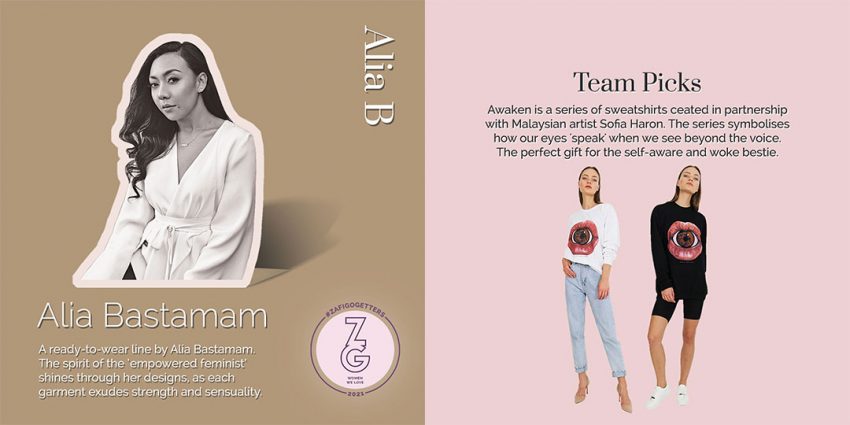 Malaysian fashionistas are no strangers to the gorgeous creations of Alia Bastamam. Since 2010, the designer has made a name for herself with the luxurious and breathtaking work of her atelier and bridal lines. In 2013, Alia launched Alia B., a diffusion line to give Malaysians trendy, ready-to-wear fashion that was affordable.
Not compromising on style and quality, Alia B. has continued making waves with two well-received collaborations – two shoe collections with Yoke & Theam, and two sold-out bag collections with Sometime By Asian Designers.
To own your very own Alia B. original design, and give to charity while you'

re at it, visit www.alia-b.com. Zafigo readers get an exclusive 5% off the Awaken Sweatshirt (a special collaboration with Sofia Haron in conjunction with Breast Cancer Awareness month) when you use ZG05 at checkout.
Cosmeceutical (a portmanteau of 'cosmetic' and 'pharmaceutical') skincare is the way forward, and Malaysian brand B&B Labs is paving that path to cleaner, clearer, and healthier skin. Founder Ruby Siah and her son Julius Lim are dedicated to helping both women and men break free from problem skin using Asian biodiversity and beauty technology. 
"We have been doing research on Asian ingredients for many years. The region is so diverse and rich in natural resources and there are so many age-old remedies that our ancestors used which worked. B&B Labs is a fully Asian brand with a cosmeceutical skincare line that uses 46 active ingredients we discovered," said Julius in an interview with The Edge.
The list of very-familiar Asian ingredients in B&B Labs skincare includes mangosteen, durian, bamboo, bird's nest, natto (Japanese fermented soybeans), white jelly mushroom, lingzhi, and yuzu.
Face 2021 with the complexion of your dreams! Get 5% off storewide when you use the promo code

ZG05 at checkout on www.bb-labs.com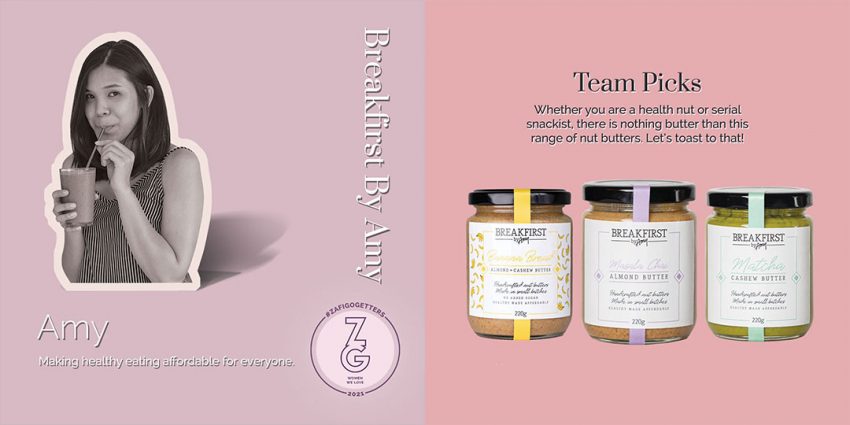 Breakfast is the most important meal of the day for everybody, and Amelia Lee, or Amy as she likes to be known, is probably the biggest supporter of a hearty, healthy, and wholesome start to the day. Breakfirst by Amy gives you healthier options of your favourite breakfast spreads so that you're able to enjoy your first meal of the day without foregoing flavour or nutrition.
Amy's nut butters – that include peanut, pumpkin seed, black sesame, cashew, and three varieties of almond butter – are made with quality ingredients, organic where necessary, and include zero fillers or preservatives. They're also free from refined sugar, contain no added oils, and are always made less sweet.
Spread the joys of a deliciously healthy breakfast when you purchase these nut butters from Breakfirst by Amy at

www.breakfirstbyamy.com. Get a storewide discount of 5% when you use ZG05 at checkout.
A mother knows best, and this is how Claire Organics came to be. Founder Louise Chu found herself wanting a natural, healthy, and chemical-free bath routine for her newborn daughter. She learned how to make her own bar soaps using breast milk. Soon after, she started sharing these handmade soaps along and other home remedies with her friends under the brand name Claire, after her baby girl.
Since then, Claire has expanded from soaps to feature lip balms, essential oils, face and body care products, hair care, mommy care, baby care, perfume, and also a line for men. All products are handcrafted using only pure, natural, and 100% chemical-free ingredients.
Get 5% off storewide when you use

ZG05

on 

www.claire.my

 to get that all-natural glow up

.
Sabahans Hannah Bhatt and Rufina Tan are here to tell you that combining hard work with passion and dedication will take you wherever you want to go. With a love for fashion, swimming, and the ocean, Hannah and Rufina came up with La Bumba in 2018, a cute and fresh (not to mention incredibly affordable!) swimwear line that caters to women of all sizes.
Their fun and flirty bathing suits – one-piece, two-piece, and maternity options available – encourage women to feel comfortable, confident, and sexy in their own skin, while adding some fashion and flair to their beach getaway.
Which comes first, the vacation plans or the bathing suit? Get your La Bumba bathers at 5% off when you enter

ZG05 at checkout on www.labumbaswim.com. Pssst! You

'

ll also receive a mystery gift worth up to RM25 when you use this promo code. This discount is not applicable to items from the Do Good Project collection, and collaboration with Just For Her Beauty Lab, and Nerida. 
Inspired by busy mothers who juggle busy and unpredictable schedules, Sasha and Aina (both mothers themselves) wanted to create adaptable clothing that made it joyful and effortless for mothers to dress up. At the start of the pandemic, Lulla got the push it needed to give both women and men the quality everyday pieces they needed to be comfortable while still looking professional when working from home.
Lulla offers easy-to-wear everyday garments without stinging on quality and style. Luxurious fabrics and classic silhouettes with contemporary twists make up the brand's seven-piece Debut Collection.
Want to live it up in Lulla? Get 5% off storewide when you use

ZG05 on www.lulla.co.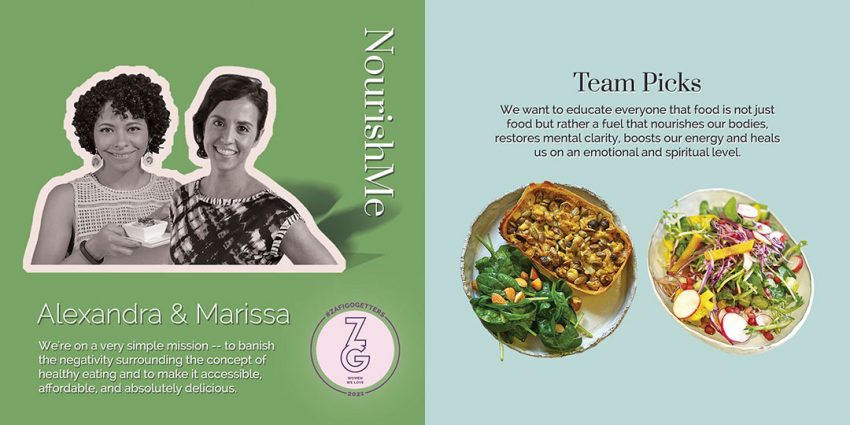 Alexandra Prabaharan and Marissa Parry are all about making balanced living and healthy, plant-based eating delicious, accessible, and (most importantly) affordable for the masses. Enter Nourish Me: a healthy meal service that offers daily meal delivery (mainly vegetarian with a few meat options), family-sized meals that can be refrigerated and frozen (vegetarian and kid-friendly), as well as the Plant Power Cleanse, a seven-day plant-based meal plan to reset and rejuvenate your body. The women believe that a predominantly plant-based diet (even just one plant-based meal a day) can boost your health and wellbeing exponentially.
Start your plant-based journey with

www.nourishme.asia and get 5% off storewide when you use ZG05 at checkout.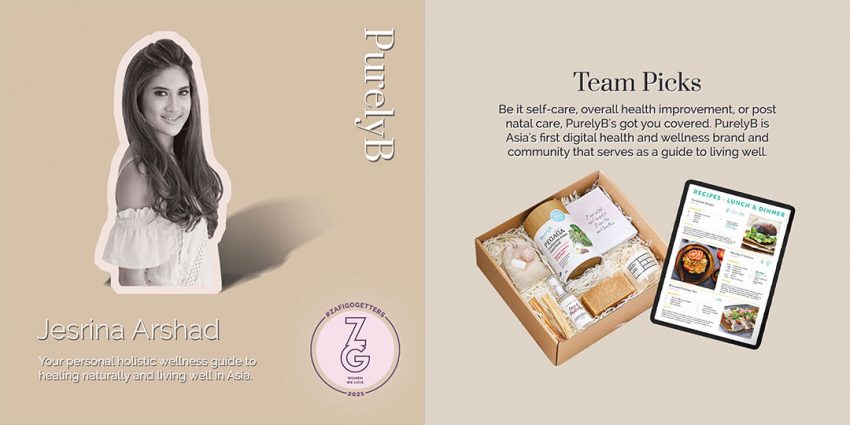 Founded by Jesrina Arshad and Stephanie Looi, PurelyB promotes a holistic approach to health that includes nourishment and the healing and strengthening of physical, mental, and spiritual wellbeing through natural remedies and techniques. The PurelyB website features articles and videos on fitness, health, wellness, parenting, sexual health, and recipes that you can try at home. 
You can also purchase Bach Flower Remedy tinctures, overnight oats, and the PurelyB best-selling superfood blend, Pegaga by PurelyB. This blend is said to improve digestion and detoxification, strengthen immunity, promote skin repair, and reduce signs of ageing. The brand employs female farmers around Southeast Asia who grow, harvest, and produce the herbs needed for PurelyB's products. This in turn helps create jobs and entrepreneurship opportunities for these women.
Do some good for your mind, body, and spirit while improving the livelihoods of marginalised communities in Southeast Asia when you shop at

www.purelyb.com. Use ZG05 at checkout to get 5% off the Self-Care and Wellness Kit, Holistic Care Package, and Post-natal Recovery Kit* (available from January 2021 onwards).
Beauty routines can be time- and product-consuming, so when a brand like Skinfuel Beauty comes along with something that does everything we need while saving us time, product, and money, we're all for it! Founded by Sarah Kajani and Fyra Hisham, Skinfuel Beauty currently features one star product – the Squeaky Clean Double Cleansing Pads – which is all the cleanser you need.
The textured cotton pads in the jar are soaked with marula, almond, and olive oils, geranium essential oil, and vitamin E. These oils are some of the best in the world with their antioxidant, anti-ageing, anti-inflammation, hydrating, and scar- and pigmentation-reducing properties. 
One wipe immediately removes dirt, pollution, debris, and makeup while mildly exfoliating the skin. When you wet your face, the oil emulsifies into a cleanser that doubles up the cleansing duty. The Squeaky Clean Double Cleansing Pads are Malaysia's first three-in-one, travel-friendly, and halal double-cleansing pad. We've given it a go for ourselves, and it's awesome!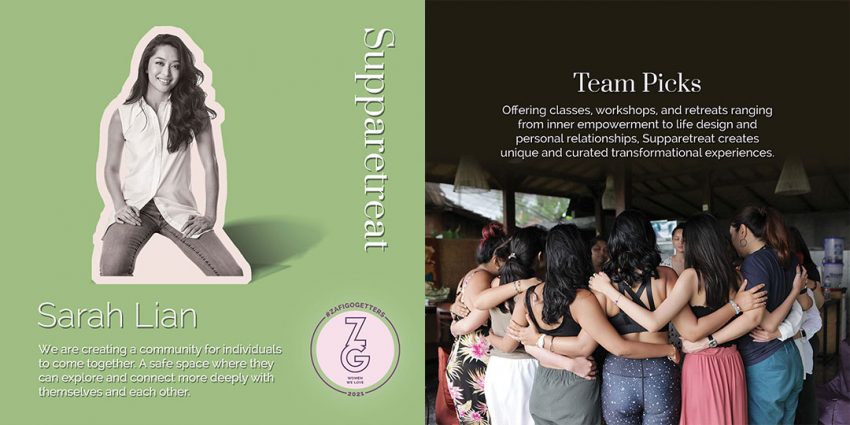 Co-founded by actress and TV host Sarah Lian, Supparetreat is a community for women to connect with themselves and each other. With help from various transformational coaches, specialists, healers, wellness experts, and neuro-linguistics programming practitioners, women can learn to create their own paths and move forward in their lives.
Supparetreat creates specially-curated transformational experiences that can range from an afternoon workshop to a weekend retreat to discuss topics that cover inner empowerment and life design, as well as intimacy and relationships.
Become a better, more-empowered you with Supparetreat today. Sign up for your very own retreat at

www.supparetreat.com and get 10% off with ZG05 at checkout.
Sodas have always been made out to be the bad guys, but now, The Tapping Tapir has come along to clean up their rep. Co-founded by Tee Reei Toh, Victor Tee, and Ivan Lee, The Tapping Tapir has crafted deliciously refreshing sparkling fruit sodas using real fruit juices, spices, and herbs.
The exotic ingredients used in each of the sodas – Hibiscus & Lime, Pineapple & Calamansi, Guava & Lemongrass, and Lemonade & Lengkuas to name a few – are all 100% natural and sourced from Malaysian farmers. Their concoctions also contain zero artificial colourings, flavourings, and preservatives. 
Jewellery lovers unite! VLT (pronounced 'vault') is the new brand in town to go to for exquisite, wearable pieces of art that encourage you to express your style and self. Founded by sisters Leonie and Liane Ng who have a voracious passion for jewellery design, VLT features pieces that are unique and handcrafted using luxurious materials like 14-karat and 18-karat solid gold. 
Even though each piece of jewellery is distinctive, their versatility makes them easy to pull off, regardless of the wearer's style and aesthetic. Besides already buying what's in their available collections, you are also able to create custom and bespoke jewellery for that added personal touch.
Get 5% off of the sparkling VLT Essentia Collection when you enter

ZG05 at the checkout on www.vltjewelry.com
Follow Zafigo on Instagram, Facebook, and Twitter. Sign up to our bi-weekly newsletter and get your dose of travel tales, tips, updates, and inspiration to fuel your next adventure!