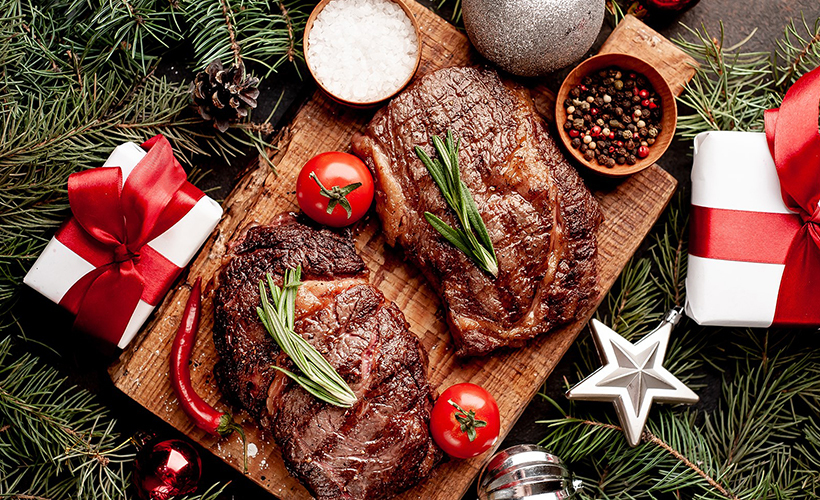 We're on Telegram now too! Subscribe to our channel for the latest updates.
After all the bumps and curveballs thrown by 2020 (here's looking at you, COVID-19), it's more than due time to splurge on celebrating the holidays with great food and equally great company in a magnificent setting. And nothing screams elegance and luxury quite like fine dining, especially at these lavish hotel restaurants.
Forgo the buffet and pamper yourself and loved ones with four- to 12-course meals packed with the finest, rarest ingredients cooked to perfection. Better yet, these menus are here to be indulged in for a limited time, as they've been specially curated for Christmas Eve and Day alone, instead of the entire festive month – how lavish is that?
So, dress to the nines and pop on over to these seven hotels to wine and dine:
The RuMa Hotel and Residences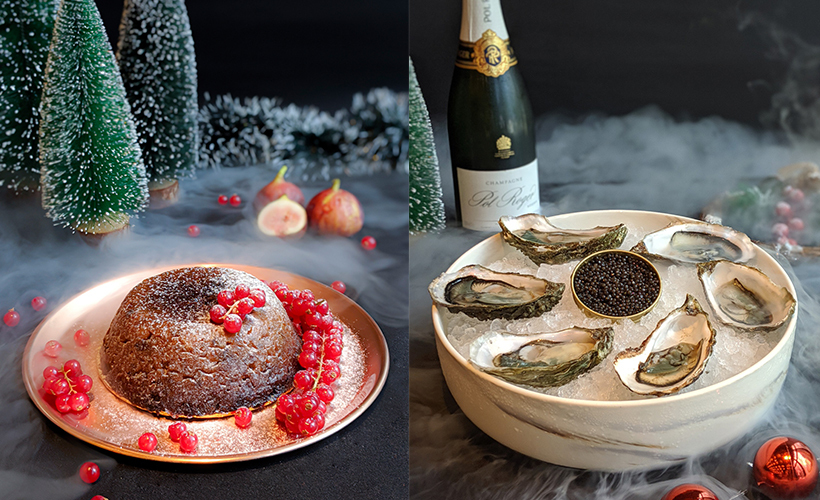 In need of a quick celebration with decadent offerings up for grabs both day or night? Head over to ATAS Modern Malaysian Eatery at The RuMa Hotel and Residences to satiate your palate with their Christmas Eve and Day Set Dinner.
Offering a mouth-watering four-course meal (excluding optional indulgent snacks such as sea urchin and Oyster Rockefeller), don't hesitate to dive head first into their foie gras torchon and caviar to start. For mains, choose between gobbling up either roast turkey or sea bass accompanied by delectable side dishes like hazelnut butter pomme puree before inhaling a decadent Christmas pudding with honeycomb ice cream.
Did we mention that each course is paired with distinct wines to amp up the gastronomic experience, if so desired?
If you're up for it, go big or go home with their Great Christmas Day Brunch jam-packed with charcuterie and chilled seafood along with a grand selection of fine red and white meats that are slow-roasted to perfection (we've set our sights on the black angus beef and tiger prawns). Also, prepare to be astounded by their impressive live nitrogen ice cream station!
Take a glimpse at their menu for more details and prices of their additional wine pairing sets.
The Christmas Eve and Day Set Dinner
Price: RM288 per person; RM458 per person including wine pairing
Time: 6pm to 10pm
The Great Christmas Day Brunch
Price: RM395 per person; extra charges for additional wine pairing
Time: 12pm to 3:30pm
Website | Instagram | Facebook
Sofitel Kuala Lumpur Damansara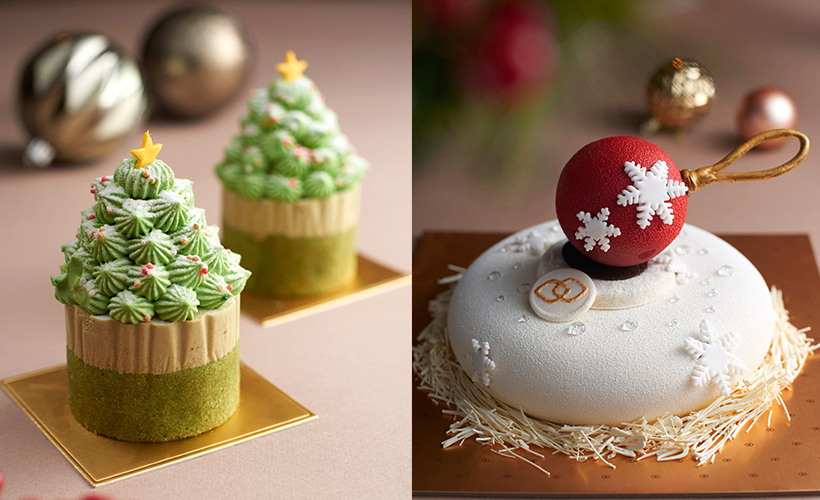 As travel to Europe is still off-limits, it's time to 'vivre à la Française' a little closer to home. Tucked away within the calming suburbs of Damansara is the chic poolside eatery known as Nizza Restaurant, that's recently popped up within the Sofitel Kuala Lumpur Damansara. Embodying the sleek-yet-warm vibes of the French-Mediterranean region, their new 'Sparkling Christmas' menu under the 'Art de Noel' theme promises to deliver merriment and pleasantly full stomachs amongst your loved ones.
Indulge in a festive five-course menu this Christmas Eve and Day, that includes an unforgettable serving of a seven-hour slow-cooked lamb tortellini, green pea soup with tiger prawns and caviar, Christmas filled turkey roll, or dried fruit-coated lamb loin. Also, let's not forget about the white chocolate Christmas log or 'buche de noel' on offer to end any meal with a bang.
Price: RM268 nett per person; RM338 nett per person (inclusive of a glass of Mumm Champagne)
Time: 6pm to 11pm
Website | Instagram | Facebook
New World Petaling Jaya Hotel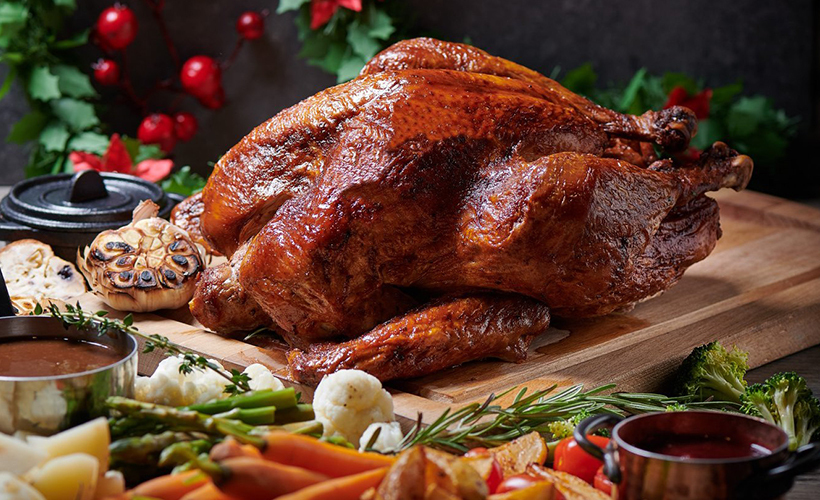 Scale to new heights this season with a bird's eye view of the Klang Valley's majestic skyline over at the stunning rooftop venue of PJ's Bar & Grill, located at the New World Petaling Jaya Hotel. Relish in the finest delicacies concocted for their five-course Christmas Eve and Day Menu – such as Hokkaido scallops and chestnut cream soup – before stuffing your face with either the Christmas roast turkey served with Brussels sprouts, pumpkin puree, and cranberry jus or the French-based angus grain-fed tenderloin that comes with confit shallot, truffle parsnip puree, potato fondant, and morel jus.
Last but not least, satisfy your sweet tooth with a Christmas-themed petit fours and pudding nestled in mulled wine reduction, crispy almonds, and salted caramel. Bonus point: This menu is also available for takeaway if you're keen on enjoying the festivities in your private abode.
Price for both: RM168 nett per person; RM268 nett per person (with wine pairing)
Time for both: 7pm to 10:30pm
Website | Instagram | Facebook
Banyan Tree Kuala Lumpur
Soar high and fine dine over at the Banyan Tree Kuala Lumpur's Horizon Grill. Situated on a rooftop terrace offering a spectacular panoramic view of the capital, appease your taste buds with the Christmas gourmet menu meticulously crafted by Chef Daniel Wong and his brigade de cuisine. On the eve, diners get to enjoy a five-course meal that includes Kaluga Queen caviar, Korean abalone, foie gras, and their must-have wagyu A5 sirloin that's cooked over a Santa Maria grill.
Finish off with their black tea chocolate pine nut dessert as the proverbial 'cherry on top' and you're all set. Additionally, you can come back the next day to kick start the Yuletide festivities bright and early – minus the fuss – with their extended breakfast set that encompasses an assortment of dishes served on a live carving trolley. Here's the full menu.
Christmas Eve Dinner
Price: RM588 nett per person (add on RM475 net per bottle of Veuve Clicquot)
Time: 6pm to 11pm
Christmas Day Dinner
Price: RM148 nett per person (additional charges for specific bottomless beverages)
Time: 7am to 3pm
Website | Instagram | Facebook
Mandarin Oriental, Kuala Lumpur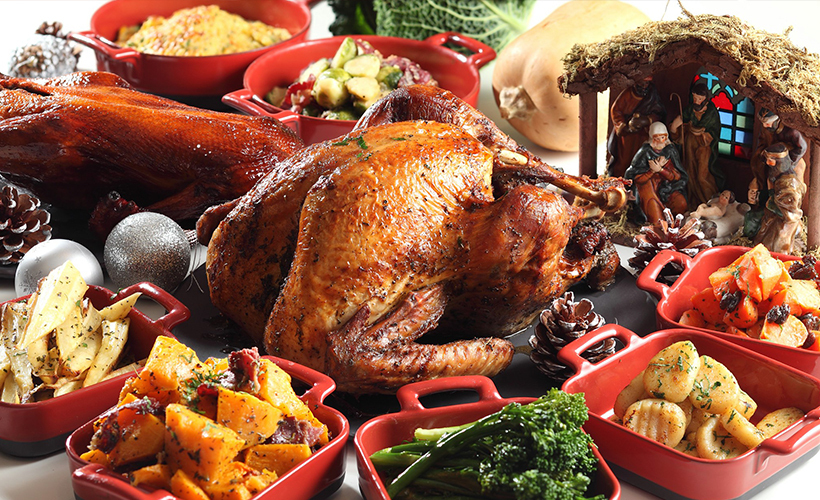 With gastronomical mastermind, Luigi Stinga at the helm of the Mandarin Grill kitchen comes an exquisite Italy-centric culinary journey that awaits you. Kick off the joyous eve of Christmas with their six-course dinner comprising sumptuous and indulgent meats such as lobster, red mullet (the fish, not the 80's hair-do), hare-stuffed ravioli, sea bass, and duck served with their flavoursome sides – all in that order.
Once you're done with the mains, cleanse your palate with some homemade panettone with vanilla sauce. If you'd rather save your appetite for the following day, then feast on their five-course dinner which is similar to their Eve menu sans the homemade ravioli with hare. Check out the full menu here.
Christmas Eve Dinner
Price: RM558 nett per person (add on RM198 net per person for wine pairing)
Christmas Day Dinner
Price: RM448 nett per person (add on RM175 net per person for wine pairing)
Website | Instagram | Facebook
Le Meridien Kuala Lumpur
Over at Le Meridien Kuala Lumpur, preparations have long begun to ensure the 'long live the party' mantra – or as the French say, "Vive La Fête" – rings true this festive season. And they've managed to translate this onto the festive menus of three of their in-house restaurants.
Christmas Eve Dinner at Favola
With the ambition of reflecting Favola's Renaissance Christmas fairy tale theme into their Christmas Eve menu, Chef Domenico has led the creation of a four-course menu incorporating succulent treats such as roasted octopus tentacles, smoked beef carpaccio, and quail tortellini along with carrot-walnut cake filled with a refreshing pineapple compote and vanilla mascarpone gelato.
Price: RM388 nett per person/RM 428 nett per person with a glass of Prosecco
Christmas Eve Dinner at Prime
As for all you meat fanatics, make a stop at steakhouse restaurant Prime to dig into the meat-focused four-course menu by Chef Ramiro Moya that includes brulee of duck liver parfait to start you off into mains like grain-fed black angus ribeye and crispy skin lemon sole. End the meal with flavours of white chocolate, passion fruit, and almond to complete the feast.
Price: RM458 per person/RM 498 nett per person with a glass of champagne
Christmas Eve Dinner at Gastro Sentral
On the other hand, if you'd like to dine in a more casual setting akin to a contemporary take on a classic English resto-pub with a hint of European flair while still experiencing the finesse of a three-course meal, then Gastro Sentral is your best bet. From miso seared salmon and beef striploin gratin to good old fashioned steamed plum pudding – what's not to love?
Price: RM 208 nett per person
Feel free to check out the full dishes offered by all three restaurants here.
Website | Instagram | Facebook
Hilton Kuala Lumpur
If you're not in the mood to whip up a feast early on Christmas Day itself, spare yourself the trouble and drive over to Graze at the Hilton Kuala Lumpur to gobble down their mighty impressive 'Tis The Season To Be Jolly' 12-course brunch menu. Travel down nostalgia lane with their rustic menu packed with the ultimate comfort foods to please the whole family.
Ranging from epicurean delights to hearty dishes, take your pick of lobster mornay, smoked turkey roulade, slow-roasted beef eye fillet, spiced lamb rack, as well as a mix of seafood selections like lime finger caviar, herb-crusted baked salmon, and freshly-shucked Irish Tragheanna oyster. Apart from a medley of eye-catching desserts, there's also a cheese platter thrown in with fruits, nuts, and crackers.
Check out their whole menu for more details.
Price: RM 268 nett per person for food only (extra charges for beverages).
Website | Instagram | Facebook
Get all the latest travel stories from Zafigo. Follow us on Facebook, Twitter, and Instagram.
[zf_post_boxes widget_hide_desc="true" num_post="3″ post_id="40201, 40054, 39980″]