We're on Telegram now too! Subscribe to our channel for the latest updates.
Okay, we know that we're just barely into December, but it's never too early to start thinking about what you'll be serving this year, right? Whether you're hosting for Christmas or the new year, these festive foods, we've pulled together a list of purveyors of delectable dishes and desserts that you can either get takeaway from or arrange to be delivered to you. 
So stay in and let the Christmas buffet come to you and your family in the safety and comfort of your home. Or, heck, order something for someone else and spread some of that holiday cheer. Wishing you peas, love, and joy this holiday season. Have olive-ly Christmas and happy prepping!
MIND OVER PLATTER
Grazing plates and mixed platters are perfect for keeping the munchies at bay while having a tipple. And you needn't limit yourself to just cheese and ham (although why wouldn't you want cheese and ham?). Check out these pretty-looking and pretty delicious trays of food that'll have something for everyone. 
Jo + Ko – For charcuterie boards
View this post on Instagram
Choice cold cuts and bite-y cheeses are perfectly paired with fruits and crackers in Jo + Ko's charcuterie boards. There are quite a few to choose from, so take browse through their social media feeds for one that'll suit your fancy.
 

Platter People – For dessert platters
View this post on Instagram
If sweets are more your thing, then Platter People will have you covered! From chocolate-coated pretzels and Ferrero Rocher, to mixed berries, chocolate balls, and mint sticks, their dessert platters are heaven for anyone with a sweet tooth. We suggest ordering a savoury platter and one of these dessert boxes. You could say they are… mint to be. 
Splatter – For Mediterranean mezze platters
View this post on Instagram
Perfect as an alternative to serving guests appetisers, the Mediterranean Mezze from Splatter is a selection of small appetisers that features the flavours of refugee chefs from countries like Syria, Palestine, and Afghanistan. You'll get to sink your teeth into a creamy hummus trio, savoury chutneys, fluffy naans, and much more in this vibrant, multi-cultural platter that's been made possible through a limited-time partnership with the good people of Picha Eats. Place your orders soon!
Instagram | Facebook | Website
Keju by Carmen – For cheese boards
View this post on Instagram
If a classic cheese board on festive steroids is what you're after, then look no farther than Keju by Carmen. For this Christmas season, they're offering customers a platter that doubles up as a centrepiece for your holiday spread. And if that isn't enough, it lights up with the incandescence of Christmas cheer! 
Of course, it's what's on the inside that counts, and in this platter, you'll find a delectable and well-balanced mix of cheeses (brie, gouda, cheddar), a selection of berries, seedless grapes, pomegranate, dried fruit, a bite of chocolate, and even a jar of honey. 
Instagram | Facebook | Website
COOKIES FOR SANTA
… or for yourself. Whether you've been naughty or nice, putting out some cookies is somewhat of a Christmas must. And if you're tired of offering standard, run-of-the-mill cookies and biscuits, these bite-sized treats are the way to go.  
Chewie by Mei – For brookies

 
View this post on Instagram
Get extra brownie points from Santa by putting out these brookies. A hybrid of brownies and cookies, this fudgey dessert is made with Callebaut dark callets (70.5 per cent) and thus best enjoyed with a (super large) helping of cream. It's rich, decadent, flavourful, chewy – all the wonderful things you'd imagine a marriage between two desserts would be like. Trust us when we say that they're extremely addictive. 
Gookeey – For stuffed cookies

 
View this post on Instagram
There's no need to compromise on gooeyness and chewiness when you have a Gookeey. These oozy, gooey cookies come in five flavours and even feature some unique local spins – like the pandan with salted gula melaka filling. Another unique creation is the miso white chocolate macadamia that perfectly combines sweet with savoury. For all you purists, opt for one of the classic flavours instead: triple chocolate, red velvet, or classic chocolate chip. 
Butter Belly – For cookie cake
View this post on Instagram
Is it a cookie? Is it a cake? It's both! Butter Belly has translated the art and science of cookie baking into a whole new dessert iteration – the cookie cake. Crunchy on the outside, chewy on the inside, and evenly-baked all around, these beautiful and highly-photogenic desserts are worth every calorie. Our only advice – unless you're into crazy sweet flavours, dust off the sugar geodes before enjoying the cookie cake. A glass of milk makes the perfect accompaniment too. 
CAKES AND BAKES
From themed cakes to mince pies, we've got you covered when it comes to Christmas cakes and bakes. Because what's a party without cake and what's Christmas without an insane amount of desserts and sweets?
Shaun Teo – For cake pops

 
View this post on Instagram
Bite-sized cakes on a stick? Yes, please! Cake pops take on the aesthetically-pleasing form of a cake with the functionality of a popsicle. And Shaun Teo makes amongst the best, most delectable cakes in the biz (we've tried loads, so we're sure of it) that are equally as beautiful. His attention to perfection is also what makes Shaun Teo famous for his custom cakes, and this Christmas, the same levels of flawlessness is translated onto these pastel-themed Christmas cake pops – down to the most minute detail. 
Instagram | Facebook | Website
Baked in Chelsea – For IG-worthy cakes
View this post on Instagram
Rich, IG-worthy, and ultra-luxe, you can always count on Baked in Chelsea for scrumptious classic cake options, layered to tasty perfection. It's just bloody good cake made with excellent ingredients like Valrhona chocolate. 
Our favourites are without a doubt The Mango (buttermilk vanilla cake layered with cream cheese frosting and topped with whipped cream and heaps of sweet mangoes) and The Caramelo (chocolate cake layers stuffed and topped with dark chocolate ganache and a heavy-handed sprinkle of crushed candied walnuts, pecans, and macadamias. Finally, drizzled with dark caramel and a pinch of sea salt). 
Five & Two Fine Foods – For boozy fruitcakes

 
View this post on Instagram
The boozy fruitcake is probably the most important kind of Christmas cake there is. Harbingers of Christmas cheer for centuries, a rum-, brandy-, or whiskey-soaked fruitcake is the way to go when it comes to this classic dessert. For Five & Two Fine Foods, their traditional Rum & Raisin Christmas Fruitcake is more alcohol-soaked fruits than cake batter (merely the glue that binds it together), and we're certainly not complaining. 
Instagram | Facebook | Website
Kenny Hills Bakers – For stollen bread and mince pies
View this post on Instagram
Thinking of having a Christmas breakfast or brunch? Then Kenny Hills Bakers is the way to go! While, yes, they're known for their Danish pastries, breads, and mains, don't discount their sweet festive treats. The two musts for a festive brunch spread is their mince pie and stollen bread (an excellent pairing with your cheese or charcuterie board). Do also check out their crunchy-yet-fluffy cruffins too. 
Instagram | Facebook | Website
The Sweet Society – For bundt and loaf cakes
View this post on Instagram
Nothing screams tea time more than bundt and loaf cakes. With flavour pairings such as coffee and cardamom or pineapple with star anise, The Sweet Society's tea time treats are both complex and intricately-balanced. Do also give their Tropic Hummingbird cake a go – fresh pineapple, bananas, and coconut with cinnamon, ginger, and cardamom. As Willy Wonka would say, it's srcumdiddlyumptious! View their menu here. 
BOAST A ROAST
Whether turkey, chicken, beef, or lamb, no festive spread is complete without a roast of some sort. Ideal for lunch or dinner, don't sweat the leftovers because you can always have it for breakfast the next day (roast beef sandwich, anyone?). There are no foul fowls on this list only delectable, perfectly-roasted meats!
Shangri-La Kuala Lumpur – For Christmas turkey
This year, the Shangri-La Kuala Lumpur is dubbing their enormous offering of Christmas sweet and savoury treats 'A North Pole Wonderland'. The Christmas collection sees classic hits such as yule logs and gingerbread houses, but you'll also be able to bring home an entire bird. Turkey, that is. 
Your options are between a medium or large roasted turkey or a bird with the works – chestnut and raisin stuffing, giblet gravy, cranberry chutney, festive vegetables, braised red cabbage, and roasted new potatoes. View their delectable Christmas menu here. 
Instagram | Facebook | Website
Grand Hyatt Kuala Lumpur – For roast chicken

 
The great thing about the Grand Hyatt Kuala Lumpur is that they have an online store where you can shop their wide array of gourmet bounty and arrange for the best time and date for the feast to be brought straight to you. We're eyeing a particularly beautiful roast chicken hot off their rotisserie. 
Instagram | Facebook | Website
The Magnificent Fish & Chips Bar – For English roasts

 
While they've got a special Christmas turkey on offer, if you want a classic roast of organic chicken, pastured lamb, or grain-fed beef instead, then The Magnificent Fish & Chips Bar is still the way to go. After all, not everyone's into turkey and that's okay. Their classic roasts come with a side of vegetables and – in typical British fashion – a Yorkshire pudding! 
Instagram | Facebook | Website
Butcher's Block – For beef wellington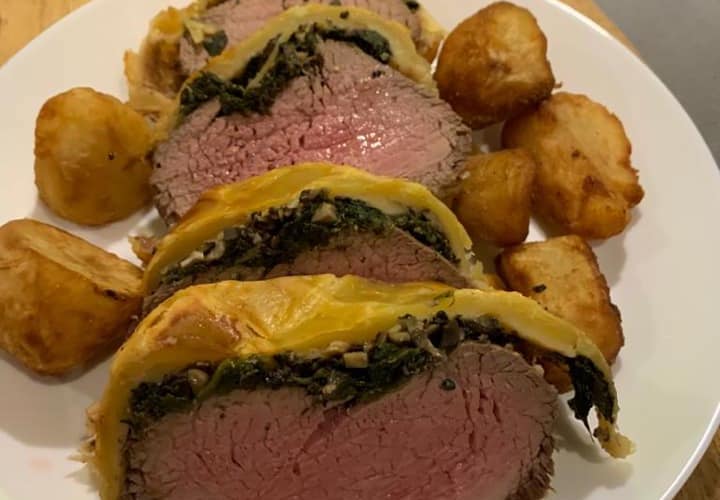 Finally, Butcher's Block is having a special takeaway promotion featuring some really choice cuts of meat. For instance, the Beef Wellington uses grass-fed tenderloin and chopped spinach and mushrooms all lovingly wrapped in a tasty puff pastry. You could also opt for the French Lamb Rack that's oven-roasted with rosemary and garlic. Of course, there's Spatchcock Turkey too, and theirs is glazed with a pomegranate reduction – yum! But serious meatatarians will appreciate the Wagyu Tomahawk MB4/5 that's been marinated with homemade roasted spices before being chargrilled to juicy perfection. 
All items on their seasonal roasts menu comes with a sweet turnip mince chicken muffin, roasted potatoes, garlic Brussels sprouts, baby carrots, red onions, cauliflower, braised red cabbage, and rosemary gravy. View their menu of Christmas and new year roasts here. 
*BONUS*
The RuMa Hotel and Residences – For those with itchy feet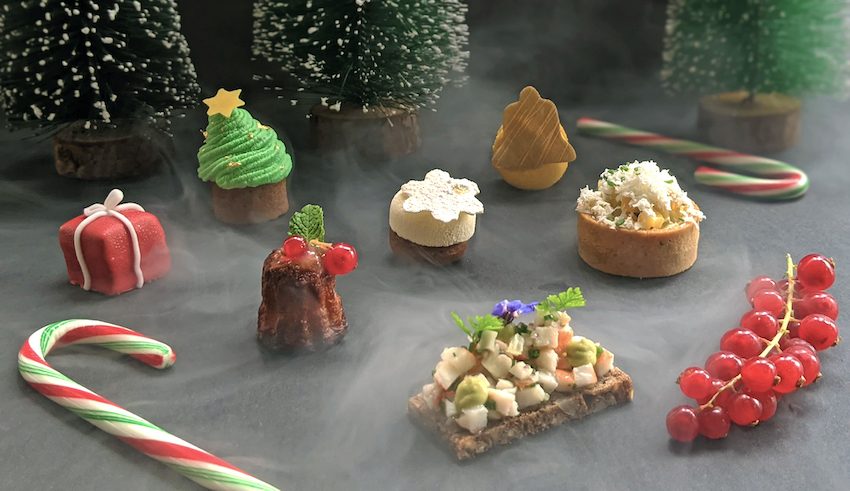 If you feel you've been cooped up at home and need to dash into the city for a quick celebration, The RuMa Hotel and Residences has some choice picks – a Christmas Afternoon Tea at The Library, Christmas Dinner at Atas Modern Malaysian Eatery, the Great Christmas Day Brunch at Atas, and the Atas New Year's Eve Set Dinner. View their e-brochure for more details. 
For us, we'll be indulging in the merriment with their hi-tea that sees bite-sized, Christmas-themed pastries delighting the palate. We're talking smoked turkey with cranberry and rye, christollen macarons, and raspberry and pistachio pound cake. It's definitely worth the trip and the calories!
Instagram | Facebook | Website
Follow Zafigo on Instagram, Facebook, and Twitter. Sign up to our bi-weekly newsletter and get your dose of travel tales, tips, updates, and inspiration to fuel your next adventure! 
[zf_post_boxes widget_hide_desc="true" num_post="3″ post_id="39081, 39727, 39583″]