For over 14 years, Zaza was a hotel chef in Syria, his country of birth and where he had lived all his life. When the civil war began in 2011, his life was turned upside down. He fled to Malaysia with his family and they are now living here as refugees. For all his culinary skills, however, Zaza struggled to put food on the table as job opportunities for refugees are scarce – until he became a part of Picha Project, that is. The Kuala Lumpur-based social enterprise provides food delivery and catering services with an unusual premise: All the dishes are prepared by refugee families.
Just over a year old, Picha Project was founded by Suzanne Ling, Lee Swee Lin and Lim Yuet Kim, former college mates at UCSI University where each had pursued a different course – psychology, account and finance, and music, respectively. But they had one thing in common: All three were volunteer teachers at a refugee school in Cheras. In college, they had initiated awareness and fundraising events in aid of refugees, and created a platform called Hands of Hope Malaysia for their fellow students who wished to volunteer at the school.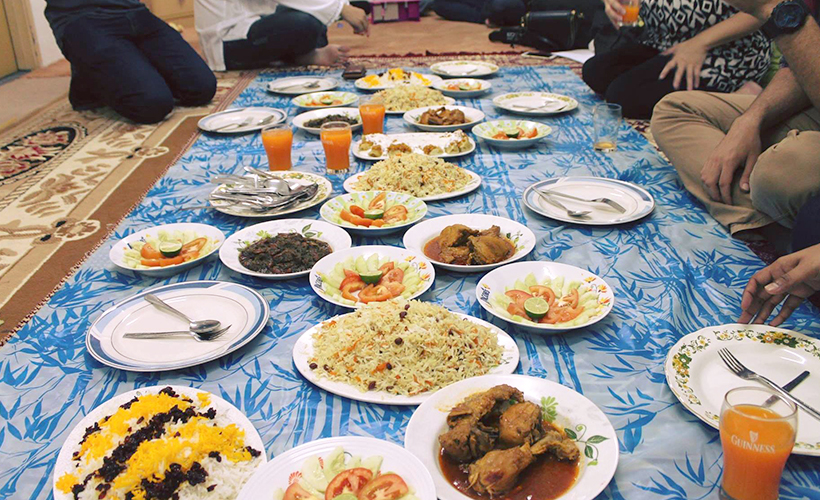 As the trio came to understand the challenges and issues faced by these marginalised communities, they also realised a pressing problem. "Students were dropping out of school on a regular basis, we're talking one to two students per week," Suzanne reveals. "We went to their homes and spoke to their families, and found that they were struggling to pay the fees." The school is funded by the refugees themselves, and teachers receive no pay. Students are charged MYR50 per month. That, on top of having to pay for their house rental (between MYR650-RM1,000 a month), does take its toll on the families' already limited finances. The children have no choice but to stop schooling.
Kim came up with the idea of helping the families earn an income through the most basic of human needs: Food. The families cook for themselves regularly anyway, so why not turn that into a livelihood? "To me, Picha Project means families get help, it means love, inclusiveness in a different way, and is also symbolic of world peace," says Kim.
Since taking their first orders in January 2016, the Picha stable has grown from one Myanmarese family – whose son, Pita (pronounced Pi-cha), inspired the project's name – to nine, including those from Syria, Iraq, Afghanistan, and Palestine. Proceeds are split 50:50 with the families and to date, Picha has generated over MYR154,000 for them, from 25,000 meals sold.
Impressive results indeed, and the impact goes beyond numbers. For the families, Picha Project is a lifeline as in most cases, it's their only source of income. For the three founders, it's taken a life on its own. When they put the idea together, Swee Lin and Kim were several months into their first jobs after graduation, whereas Suzanne was about to complete her degree. Each had her own ambition, and Picha was something they did on the side. "We didn't set out to run a food business," Suzanne admits. "We just wanted to support the cause."
That changed when they were accepted into the MaGIC Accelerator Program, which involved 16 intensive weeks of comprehensive training and came with a MYR30,000 grant as well as mentor sessions with leaders in the local social enterprise arena.
"We had classes three times a week and had to achieve milestones we set for ourselves. By the end of the four months, our project had to be up and running," says Suzanne, who had just graduated at the time. The three of them had to decide if they were willing to commit to it full-time. For Swee Lin and Kim, that meant quitting their jobs to devote themselves to Picha Project. "MaGIC was our turning point."
Their decision wasn't met without resistance. "My parents were shocked when I first told them," Suzanne recalls. "They questioned why I wanted to go into the food business, having graduated with a degree in clinical psychology. But after a few months, they came around and have since been very supportive, even pitching in to help at times." Swee Lin had it a little easier, as her parents have always been open to her trying different things. "Although, ultimately of course they hope that I will get a more stable job!"
Picha has been running full steam ahead since, delivering lunch boxes seven days a week and taking on catering jobs in between. The trio found perfect synergy by pooling their individual talents together: Swee Lin handles finance and human resource; Suzanne oversees marketing and communications; Kim takes on the role of CEO and drives the overall direction while pursuing a career a guitarist and composer. They have interns to help manage orders that come in through their website, Facebook page, and WhatsApp, and canvas for new customers.
When an order comes in, the Picha team will inform the relevant families who will then shop for the necessary ingredients. The cooking is done at the families' respective homes, on the day itself for utmost freshness, and they try their best to time it perfectly so that customers receive the food hot. For deliveries, they work with another start-up that provides runner service.
It sounds fairly straightforward but the fact that every order involves several parties is a challenge in itself. All it takes is one slip-up and the entire chain gets disrupted. There have been cases of runners being late or even not showing up to collect the food, for example, or cooks falling behind schedule, resulting in food reaching customers late and the inevitable complaints.
"A lot of the problems tend to crop up at the last minute, but we have to react immediately," says Swee Lin while Suzanne chimes in: "We're set up as a business, so we must keep things professional. We don't want people to order from us out of sympathy. At the end of the day, it's the food that needs to sell." It can be tiring, Swee Lin adds, and mentally and emotionally draining. "Some days," Suzanne admits, "I ask myself why do I want to do this… then I remind myself that it's all about the cause."
Even their cause, which was about helping the refugee families help themselves, has evolved into something more. Each of the team members look after several of the families, checking in and communicating with them regularly, and not just about food orders.
"When we started, we said we are a business and not an NGO. But over time, we realised that if the families have problems, it will affect the business," says Suzanne.They have thus taken it upon themselves, as personal endeavours rather than company responsibility, to assist the families in every way they need. "We have built a close relationship with the families, they know they can come to us," says Swee Lin.
Problems can range from family matters to marital problems and medical issues. For the latter, the team usually crowdfunds to finance medicine and treatments. "We believe in the power of the community. We can't always afford to foot the bills, but we can go out and talk to the people we meet. Everyone has different strengths; to create an impact, we all need to come together," Suzanne emphasises.
Once every few months, they organise outings or short excursions to bring all the families together for a fun time. Sometimes, they get invited to events – such as movie screenings, a campus tour of Monash University for the children, and a visit to Aquaria KLCC organised by Hong Leong Islamic Bank under their CSR programme. "The families work very hard, but they also know to play hard! They have requested for a trip to Port Dickson next," Swee Lin reveals.
Often, generous Samaritans offer monetary contributions in support of the cause or tell the girls to give themselves a treat. Their plan is to set up a foundation that will act as an emergency loan for the families. Also in the pipeline is a range of on-shelf food products.
For now, the three young and determined founders are focused on expanding their customer base so that they can bring more families on board. Their target is to increase sales from their current average of MYR35,000-40,000 by about 30 percent.
This, being their second year, is crunch time for Picha Project. "As we've learned, three years is the grace period for a social enterprise. If you can make it that far, you can last the distance. The challenge is to be sustainable," says Suzanne. "This year is the toughest – it's make or break. We have a lot of decisions to make," Swee Lin elaborates.
From a simple idea to support refugee families to a unique business that puts food on so many tables, Picha Project has come a long way within a very short time. If they make it past the grace period, Kim's ultimate goal is this: "To bring Picha Project to countries that will benefit from this business model."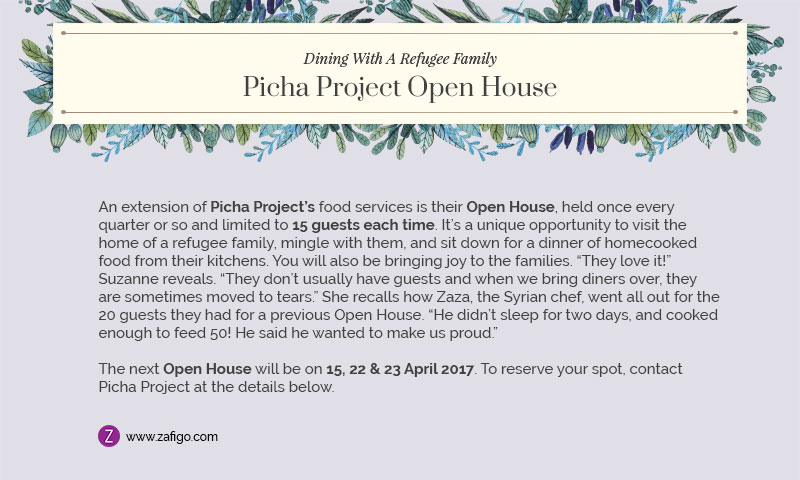 Find more information on Picha Project here, and follow them on Facebook or Instagram. Orders must be placed at least two days in advance online or by phone/WhatsApp (012 679 4353 / 017 612 5029) Note: At least 5 orders from one kitchen and minimum total of MYR100
Women of Zafigo are inspirational changemakers creating positive impact through their work in local communities and beyond. Have a Woman/Women of Zafigo to nominate? Email us at editor@zafigo.com.
14450,15869,15532