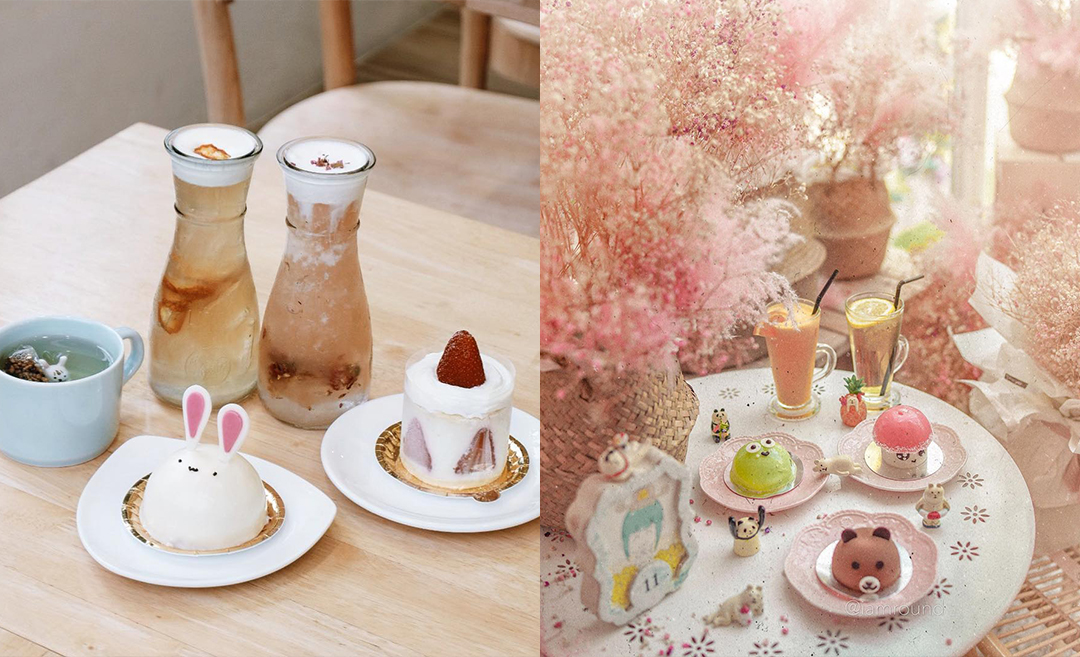 Subscribe to our new 

Telegram

 channel for the latest updates.
Who says Kuala Lumpur is the only ever-growing hub for the hippest, Instagram-worthy cafes around the block? Instead of heading to the usual go-to's around the bustling capital city for your sweet tooth and photography needs, travel up north to Ipoh to discover some of the most jaw-dropping and eye-catching coffee joints around. From amorous to eerie with whimsical in between, there's something for everyone to sink their teeth into – after snapping away for the Gram', of course.
Without further ado, here are seven of the trendiest cafe spots in Ipoh to check out:
Petit Mary Patisserie
View this post on Instagram
View this post on Instagram
Considering romantic escapades to Europe have been made impossible for the foreseeable future, why not step into the magnificent floral boutique of Petit Mary Patisserie located in Jalan Langsat to experience a taste of a delightful afternoon in Paris. 
With tiffany blue and eggshell white hues colouring the exterior walls, combined with the curves and swirls made popular in French architecture, every facet of this cafe is perfect for Instagram. On top of that, the high ceiling, as well as the abundant pastel pink flowers arranged around the windowsill area, creates an extra dash of extravagance – what's not to love?
The Happy 8
View this post on Instagram
View this post on Instagram
If the amalgamation of bucolic and refined seem inconceivable to your imagination, prepare to be astounded by the magnificent indoor wilderness of The Happy 8 situated in Market Street. Think upscale lodging vibes done right. You'll be bale to feast your eyes on the most considered details adorning every inch of this establishment at every turn – from the printed wallpapers featuring leafy trees and flocks of birds to accented wood furnishings, horse installations, and oddly-shaped aquariums. 
Speaking of feasting, with the added sweet aroma of freshly baked goods and finely brewed coffee wafting in the air, the woodsy-yet-eclectic ambience is complete! Side note: This place doubles as a retreat so feel free to stay overnight if you're not up for an immediate drive home.
Asow Eatery Station
View this post on Instagram
View this post on Instagram
Vibrant flowers. Leafy vines. Flourishing plants. These are just some of the evergreen beauties that await you behind the clear glass windows of the greenhouse sheltering the Asow Eatery Station. Located along Jalan Tambun Baru, this cafe-within-a-nursery offers tranquillity and stunning photographs to those who visit her. With the skylight and walls of the cafe itself lined with huge glass panes to resemble a glasshouse, you're guaranteed an ample amount of natural sunlight to capture the best shots possible. As the proverbial cherry on top, the additional greenery planted everywhere further enhances the soothing nature-themed cafe.
Platform 9 & 1/2 Café
View this post on Instagram
View this post on Instagram
In desperate need to escape the Muggle realm? Located along Ipoh's historical Concubine Lane, take a trip to the incipiently abandoned lot ravaged by overgrown moss that's been magically transfigured into the bewitching, rustic wonder known as the Platform 9 & 1/2 Café (or Platf9rm Coffee & Brew Cafe). 
Along with the signature classic Butterbrew as their version of the renowned Butterbeer and Butterbeer ice cream, the magic reminiscent of Universal's Wizarding World of Harry Potter continues with an assortment of activities to delight local Potterheads, such as offering photo opportunities with familiar backgrounds. Notably, the baggage trolley scene off platform 9 and ¾ – equipped with a Hogwarts wardrobe from each House to complete the experience. 
Just Say Cafe
View this post on Instagram
View this post on Instagram
Prepare to be transported into the alluring eeriness of the dark forbidden forest, courtesy of Just Say Cafe that's located right along Jalan Lau Ek Ching. Flourishing with verdant greenery and blossoming flora, this spot takes you down a dark path with skull-embellished aesthetics ranging from the decorative lights and vases to serving glasses. When the sun goes down, the ethereal vibes are elevated with the help of luminous hanging lights. 
Sip on the black sesame latte before munching on charcoal burnt cheesecake to complete the dark elegant aesthetic. If you're feeling adventurous, go for the Russian roulette quadruple serving of unexpected latte flavours chosen by the barista. All after snapping some killer shots for the 'Gram, of course. 
Chakori
View this post on Instagram
View this post on Instagram
Looking for eye-catching desserts? Mark this as your next go-to spot for icy cold confectioneries. Situated on Jalan Market is Chakori, the minimalist dessert cafe designed with bright neon signs and large glass windows exuding vintage-urban warehouse vibes. Undeniably ideal for the Gram'. Although specialising in cold servings of psychedelic sugariness in the form of gelatos and sorbets, many have flocked over to try out fan favourites such as the charcoal waffles and matcha (green tea) lattes too. 
Purple Moon Lover
View this post on Instagram
View this post on Instagram
With the melding of Sweden and Japan comes the conception of Purple Moon Lover – a charming garden cafe situated along Jalan Lee Kwee Foh in Taman Canning. Encapsulating the clean, spacious architectural concept favoured by the Nordic crowd together with the pastel tones and quirky decorations affiliated with the Japanese, Purple Moon Lover has a calming atmosphere that doesn't skimp out on style. 
Apart from the floor-to-ceiling glass windows and oddly-angled roofing, the zen-inducing garden equipped with its own fountain and an enormous shelf filled with manga tends to be the main attraction for unforgettable Instagram shots. Also, did we mention how adorable their teddy bear- and bunny-inspired desserts are? They're as delectable as they are cute. 
Follow Zafigo on Instagram, Facebook, and Twitter. Sign up to our bi-weekly newsletter and get your dose of travel tales, tips, updates, and inspiration to fuel your next adventure!