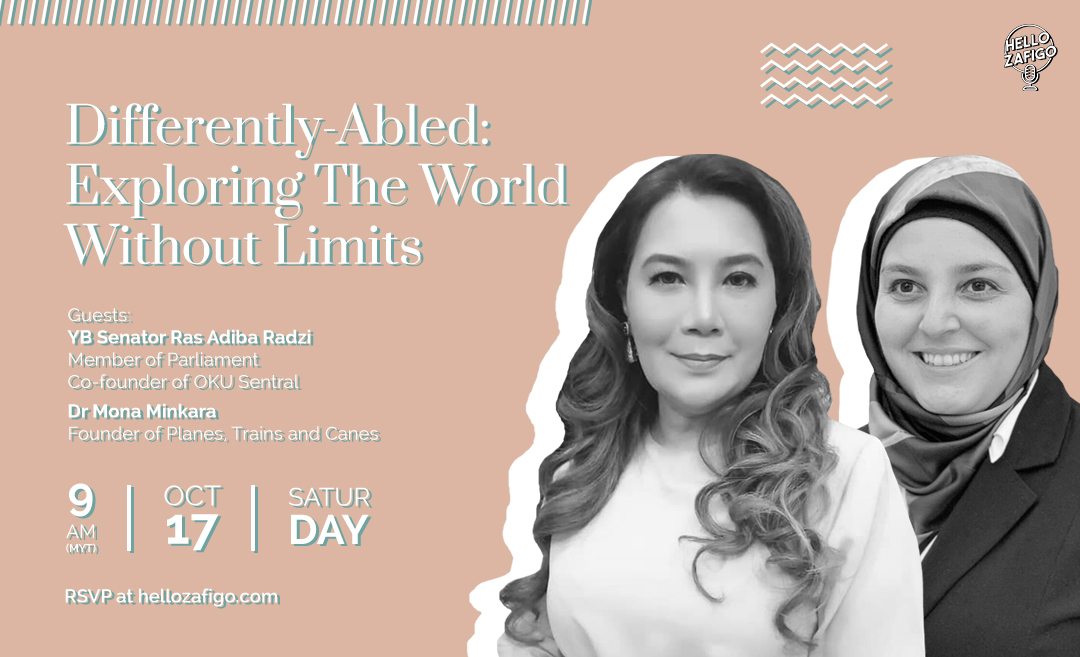 This 
Hello Zafigo session has concluded but you can read about it, watch it on YouTube, or listen to the podcast here.
To the majority of us, travel can be a liberating experience. Meeting new people, exploring new places, and experiencing new cultures aren't things that anyone is or should be excluded from. But travelling does pose a unique challenge for people who are differently-abled, in the preparation and planning department as well as the actual journey itself. This, however, shouldn't be a reason to not go forth and explore, at least not in this day and age when accessible travel is becoming more popular (though a lot still needs to be improved).
But it's more than just accessibility. Choosing to travel as a person with disabilities takes a lot of courage and determination, and that's exactly what the guests of this upcoming Hello Zafigo panel have plenty of.
Happening 17th October at 3pm (GMT +8), Marina Mahathir speaks to veteran newscaster and national para-athlete, Y.B. Senator Ras Adiba Radzi, and visually-impaired Assistant Professor of Bioengineering and scientist, Dr Mona Minkara, on the topic 'Differently-Abled: Exploring The World Without Limits'.
Born without limits
View this post on Instagram
Ras Adiba needs no introduction. A well-respected figure in the broadcasting profession, she has over 34 years of experience in the world of media, newsgathering, and communication. She's also a disability rights activist and is one of the leading voices for Persons with Disabilities (PwD) or Orang Kurang Upaya (OKU) in Malaysia.
Ras wasn't born disabled, but several ill-fated incidents led to her being paralysed from the waist down. First, in 1995, she was involved in an accident where another vehicle hit hers from behind. The impact of the crash caused her to be thrown through the windscreen. Then, in 2001, she was attacked during an attempted car robbery. The ordeal of both events severely injured her spine.
Though she's been through much trauma, Ras made a decision to change her outlook on life and continuously strives to overcome her limitations. An avid sportsperson, she represented Malaysia in several multi-sport events in the swimming, badminton, and air rifle shooting categories, most notably in the 2015 ASEAN Para Games for sharpshooting. She's also actively involved in non-competitive sports such as parachuting, scuba diving, and motorsports. In 2003, she stunned the nation by breaking the Malaysia Book of Records for a long-distance wheelchair marathon. It spanned a distance of 490 kilometres from Johor Bahru to Kuala Lumpur.
Outside of sports, Ras uses her position to fight for the rights of fellow PwDs/OKUs. She set up Persatuan OKU Sentral, a non-governmental organisation that aims to empower the disabled community by assisting them in pursuing their education, career, and other areas. She also formed Persatuan Menembak Para Malaysia to strengthen and produce a stellar sharpshooting team of para-athletes for the country.
For her contribution to the country, she was bestowed with the prestigious award of Tokoh SriKandi Negara in 2014. On 5th May 2020, she was called to represent the disabled in the Upper House of the Parliament of Malaysia.
Vision is greater than sight
Our other guest is definitely not short of achievements herself. Joining us from Boston, Massachusetts is Dr Mona Minkara, an Assistant Professor of Bioengineering at Northeastern University. Born in Maryland to Lebanese immigrant parents, she was diagnosed with macular degeneration and cone-rod dystrophy at the age of seven and eventually lost her sight. One of the specialists attending to her at the time told her mother that it wouldn't be worth spending a single penny on her education.
In defiance, her family supported her through school. While learning was tough at times, towards the end of high school, Mona realised something about her own potential – that it was different from what society expects from a blind individual – and began taking advanced classes and surprised everyone with her success. From there, she further realised that her blindness was not a dead-end for academic advancement. The idea that "Vision is more than sight" became the motivation for her career.
Though initially uncertain about which route she would follow, Mona found herself leaning towards science and ended up engaging in chemical research. To her, academia has always been more than a sphere of personal ambition. Success seems wasted if it's not achieved in a way that lifts others, and her goal is to carve a path for future blind scientists so that the unique skills and perspectives of the blind community are embraced by the scientific world.
Mona is also an adventurer and has dreamed of sharing her experiences travelling around the world as a blind person. In 2019, she made her way across five cities (Johannesburg, London, Istanbul, Singapore, and Tokyo) and three continents, and started the Planes, Trains and Canes YouTube series that documents her travels to show how a visually-impaired person can travel independently. Her videos have a focus on public transportation and highlight that while someone like herself will face certain challenges and issues when travelling, they aren't necessarily obstacles that should hinder them from exploring the world. She also hopes that her journey will inspire improvements in accessibility for the blind and visually-impaired.
During the panel, Ras and Mona will share a little more about the work they do and their achievements. They will also talk about their experiences travelling, the difficulties they've faced doing so, and share their thoughts on how they feel the travel and accessibility experience has changed for the better. Participants tuning in will also get a chance to ask these women any questions they may have during the open Q&A session.
Differently-Abled: Exploring The World Without Limits will be hosted on Zoom for FREE. Details of the web session are as follows:
DATE
Friday, 16 October (USA)
Saturday, 17 October (Malaysia)
TIME
9PM (EST)
9AM (GMT+8)
DURATION
60 to 90 minutes
Sign up for the session on Zoom here:
[button url="https://bit.ly/HZS02E03″ size="large" value="REGISTER NOW!" color="#94288e"]
Please note that:
If you are joining the panel via your mobile phone, you will be required to download Zoom. Download the Zoom app from the Google Play Store (Android) or App Store (iPhone).
The session is limited to 100 participants. After clicking the invitation link, if you are redirected to a Waiting Room, it means that the session is full. You can only join the session if another participant leaves.
To stay up-to-date on this and future sessions of Hello Zafigo, follow us on Facebook and/or Instagram.
Watch sessions from season 1 of Hello Zafigo at www.hellozafigo.com
Follow Zafigo on Instagram, Facebook, and Twitter. Sign up to our bi-weekly newsletter and get your dose of travel tales, tips, updates, and inspiration to fuel your next adventure! 
[zf_post_boxes widget_hide_desc="true" num_post="3″ post_id="13162, 33343, 27448″]