A charming island surrounded by clean white sand beaches, pristine turquoise waters, and over 100 other smaller islands and islets, Belitung is an unspoilt Indonesian paradise. Initially, just a local nature-based destination that (mostly resident) tourists visited for beach getaways, Belitung was relatively unknown to the rest of the world.
All that changed in the late 2000s when the island was used as the backdrop for the highest-grossing film in Indonesian box office history, Laskar Pelangi. Having won several local and international awards, in 2018, the film became the third most popular Indonesian film ever made by reaching a cinema audience of 4.6 million people. Laskar Pelangi is an adaptation of the namesake novel by Indonesian author, Andrea Hirata, based on his own childhood. 
Since the film was first released in 2008, Belitung has been growing in its popularity, especially among Asian travellers, with each year seeing an increase in visitors. Described by some as an alternative to Bali, Belitung is a great destination for film buffs and nature lovers, or those looking to just slow things down. 
About the film
Laskar Pelangi follows a group of schoolchildren and their two teachers. Set in the 1970s, the story starts on the first school day at a rundown elementary school in Lenggang Village that at first, struggles to enrol a minimum of 10 students to keep the school open. The schoolchildren, dubbed 'laskar pelangi' (the rainbow troops) by their teacher, Muslimah, are a crop of gifted young men and women with big dreams.
The movie is said to have put Belitung on many travellers' maps. It was praised for successfully capturing the beauty of friendship, the struggles of the island's marginalised communities, and its portrayal of humanity against the background of what was once one of Indonesia's richest islands (Belitung was one of the world's leading producers of tin in the 70s). Thanks to this film, Belitung is now often regarded as the 'Land of The Rainbow Troops'.
A lot of the locations featured in the film have become popular sites. Here are some highlights worth adding to your itinerary for your trip to Belitung: 
SD Muhammadiyah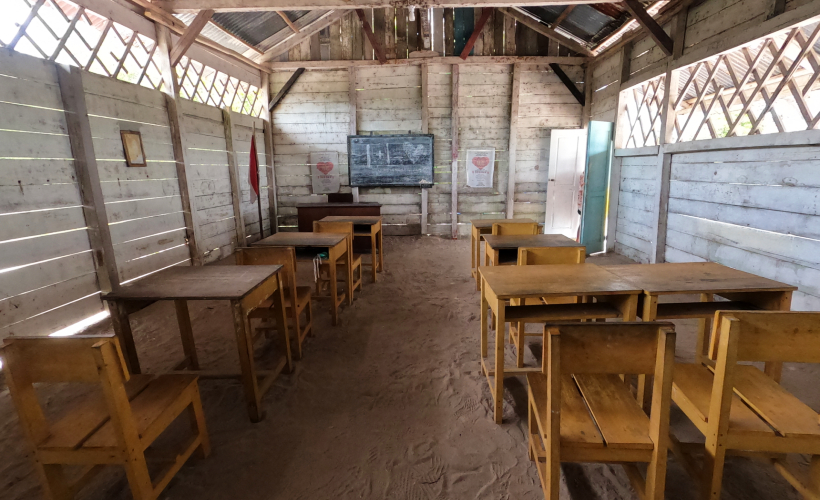 One of Laskar Pelangi's most iconic landmarks is Sekolah Dasar Muhammadiyah (Muhammadiyah Elementary School) where most of the film takes place. The school is one of the oldest Islamic schools in Belitung and Andrea himself was a pupil at this institution. Not too long after filming wrapped, SD Muhammadiyah was renovated, and is still used for teaching today. Because of the movie's popularity and tourists wanting to visit the rustic structure, Andrea decided to build a replica of the school in 2010 for this very purpose.
Gantung
A lot of the scenes outside the school were filmed in the small town of Gantung, which is home to the characters in the movie, as well as Andrea himself. One particular structure that caught my attention during the first few minutes of the film was Bendungan Pice (Pice Dam), which is also known as 'The Dam of the Dutch'. The dam was built in 1934 by Dutch architect, Sir Vance. 
Also shown in the film is Lenggang River that's home to several large crocodiles. In the film, Lintang, a smart kid who is so desperate for an education, crosses the reptile-infested river daily to get to school.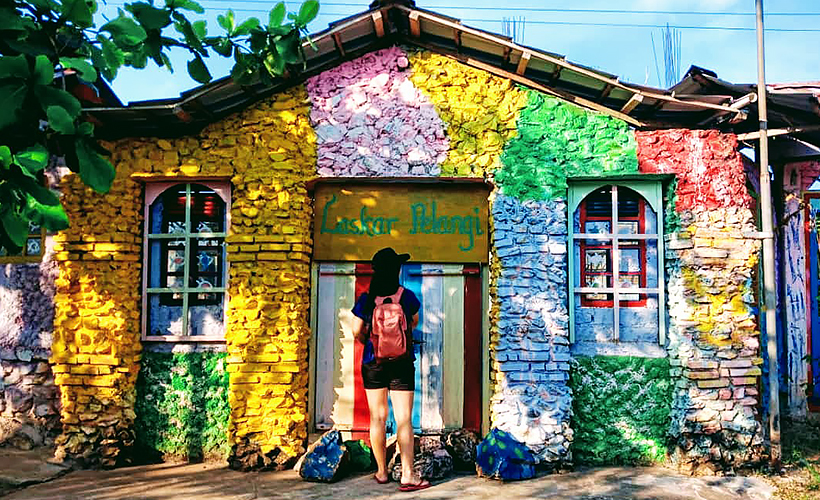 We're certain you don't need more convincing, but just in case, here are some more reasons why you should hop over to Belitung, Indonesia
Tanjung Tinggi Beach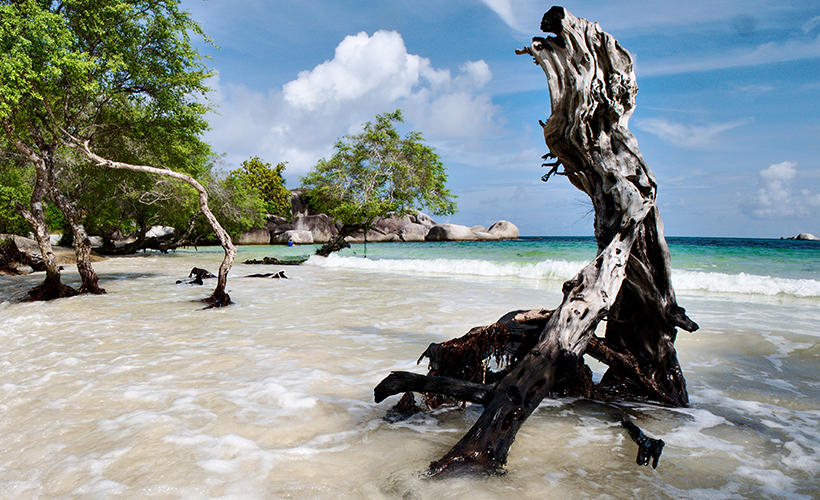 Also known as Laskar Pelangi Beach, the decades-old, giant granite stones that visitors can climb onto and enjoy the pretty views from are what makes this beach unique. In the past, this beach was a local port where fishermen would moor their boats. Unlike the other locations, Tanjung Tinggi Beach is actually located about an hour away from Gantung. 
Manggar
The 'town of 1,001 coffee shops', Manggar is the location of Toko Sinar Harapan – the little sundry store that young Ikal visits several times to see his crush, Aling, under the guise of buying chalk for his teacher. This row of wooden shops still stands, although it operates under a different name. If you do visit Manggar as part of a tour, the guide will make sure to pass these shops for photo ops.  
Manggar is also a great stop for coffee lovers. While there may not be 1,001 cafes as the nickname suggests, there are several coffee establishments worth stopping at for a cuppa and to take in the town's vibe. Belitung's residents' love of coffee stems from its days of colonisation, when the Dutch would import beans from other countries. 
Museum Kata Andrea Hirata
Said to be the first and only literature museum in Indonesia, this colourful, open-air landmark, as its name suggests, is fully dedicated to Andrea Hirata. More than just a place where you can get to know his work, including Laskar Pelangi, visitors also learn about his humble-yet-inspiring beginnings and other authors and artists who have inspired him throughout the years. The museum's vibrant decor and distinct layout also makes it a great location for photos and is one of Belitung's most Instagrammed spots. So be sure to have your shooting skills down pat.
Keeping the people of his hometown in mind, especially the younger generation, Andrea also built the museum to function as a free school. He comes around regularly to share his story with visiting students and to encourage them to speak and write in English.
Which of these locations would you add to your Belitung travel itinerary? 
Follow Zafigo on Instagram, Facebook, and Twitter. Sign up to our bi-weekly newsletter and get your dose of travel tales, tips, updates, and inspiration to fuel your next adventure!