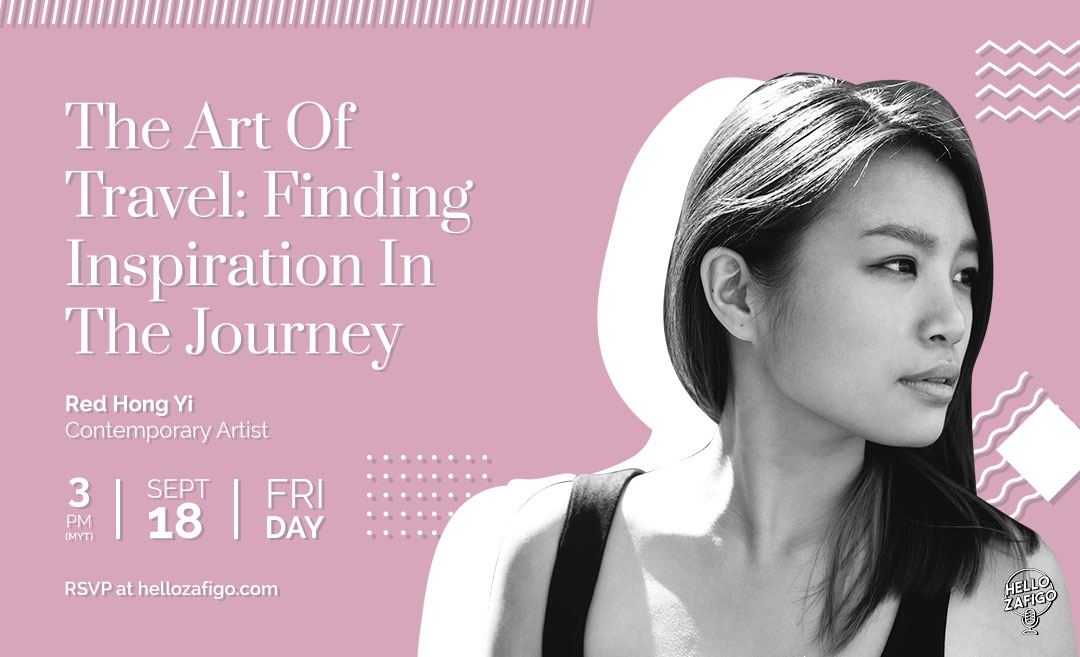 This 
Hello Zafigo session has concluded but you can read about it, watch it on YouTube, or listen to the podcast here.
After a two-month break, #teamZafigo is back with a brand new season of Hello Zafigo. Back in April, when the world went into lockdown, Hello Zafigo was launched as a way for us to stay in touch with our readers and vice versa. In place of bringing in inspirational people from across the globe to our shores for what would have been ZafigoX 2020, we connected with them instead via online conversations hosted by Zafigo founder, Marina Mahathir.
The first season featured guests like award-winning singer-songwriter, Yuna, international squash champion Datuk Nicol David, who is currently based in Colombia, AirAsia's head honcho, Tan Sri Tony Fernandes, Expedia's APAC Head of Communications, Lavinia Rajaram, and women's wellness coach Amanda Luukinen. In certain sessions, we also reconnected with several ZafigoX alumni – Sakia Haque, Xyza Cruz Bacani, Aisha Preece, Priscilla Patrick, and Mei Mei Chu.
This new season of Hello Zafigo will kick off with homegrown contemporary artist, Red Hong Yi in a conversation with Marina titled, The Art Of Travel: Finding Inspiration In The Journey. The session will once again take place over Zoom, this coming 18th September (Friday), at 3:00PM.
View this post on Instagram
For those unfamiliar with Red and her work, she is a Chinese-Malaysian artist who makes art that expresses her heritage and Chinese diasporic consciousness. Also known as "the artist who paints without a paintbrush", she creates mixed-media installations by reinterpreting everyday materials through the accumulation of objects. By combining traditional craftsmanship and digital technology, she creates work that examines perceptual habits and preconceptions on the chosen objects and subjects, and expresses themes of women and race.
Red studied at the University of Melbourne and her work has been exhibited at H Queens in Hong Kong, the Asian Art Museum in San Francisco, World Economic Forum in Davos, and Anchorage Museum in Alaska. Her art has been featured in publications such as The Wall Street Journal, TIME, and New York Times. Sotheby's Institute has named her one of the 11 Art World Entrepreneurs You Should Know 2018, and Tatler Magazine has named her one of Asia's Most Influential Voices in 2020.
One of Red's recent projects is a series titled I Am Not A Virus, which she started during the Movement Control Order (MCO) in response to the anti-Asian racism that intensified at the start of the COVID-19 pandemic. Her pieces utilise everyday materials that she finds in her pantry.
Apart from this, Red is currently working on her first solo exhibition titled Future Relics, which features a series of unique paintings using the iconography of Chinese classical art to express the themes of women, femininity, and female sensibility in the 21st century.
Travel has long been a favourite activity for artists as it brings about inspiration on different fronts. Seeing new places, meeting new people, and learning new things opens up a whole new world to them, and it's common for artists to use these influences and incorporate them into their work. Marina's chat with Red will touch on her creative process and personal influences, as well as how her own excursions, whether near or far, have impacted her art.
View this post on Instagram
Participants will also get a chance to ask Red questions they may have on the topic during the open Q&A session.
The Art Of Travel: Finding Inspiration In The Journey will be hosted on Zoom for FREE. Details of the web session are as follows:
DATE Friday, September 18, 2020
TIME 3PM Malaysia (GMT+8)
DURATION 60-90 minutes
Sign up for the session on Zoom here: bit.ly/HZs02e01
View this post on Instagram
Please note that:
If you are joining the panel via your mobile phone, you will be required to download Zoom. Download the Zoom app here: Google Play Store (Android), App Store (iPhone).
The session is limited to 100 participants. After clicking the invitation link, if you are redirected to a Waiting Room, it means that the session is full. You can only join the session if another participant leaves.
To stay up-to-date on this and future sessions of Hello Zafigo, follow us on Facebook and/or Instagram.
Watch sessions from season 1 of Hello Zafigo at www.hellozafigo.com
**Image of Red Hong Yi used in cover image was taken by www.davidyeow.com 
Follow Zafigo on Instagram, Facebook, and Twitter. Sign up to our bi-weekly newsletter and get your dose of travel tales, tips, updates, and inspiration to fuel your next adventure!