Pictures paint a thousand words, and these artists sure know it! We've pooled together the Instagram feeds of some of the country's coolest street artists to inspire you to cuti-cuti Malaysia (holiday around Malaysia), explore your own backyard, or rediscover your city. We're so excited to see some women coming to the fore too, in what was once mostly a man's game. Read on for a literal feast for the eyes. 
Subscribe to our new 

Telegram

 channel for the latest updates.
Take it to the streets
View this post on Instagram
Bright, vibrant, and sometimes whimsical, see Malaysia in a fantastical new way when you peruse through @heartpatrick's photo reel. From sunny days at Kuala Lumpur's (KL) Lake Gardens to jaw-dropping aerial shots of kayaks meandering along a river at The Kasturi, Patrick's feed is filled with ideas on how to spend your days or travel domestically. 
View this post on Instagram
Meanwhile, if you're more of a night owl, then @shafiqanaksaleh's feed certainly won't disappoint. Explore his feed for a voyeuristic peek at the heart of downtown KL; you'll likely find yourself seeing places you never knew existed or never thought could be so photogenic. Being a self-taught photographer, Shafiq began his hobby-turned-career using an iPod Touch. In just a few short years, he's honed his raw natural talent to the point of becoming one of the industry's best street photographers, with numerous big-name campaigns under his belt. 
A world of colour
View this post on Instagram
If you've been to KL Eco City, Tedboy at Atria Shopping Gallery, along Jalan Raja Chulan, or Shaftsbury Cyberjaya, chances are that you've already seen some of @syikinabdullah7's beautiful murals. Syikin is a law graduate-turned-muralist whose works transform our city's most mundane walls into vivid explosions of colour. What's most interesting is that Syikin doesn't have just one particular style – some of her work is hyperreal while the rest of it is abstract.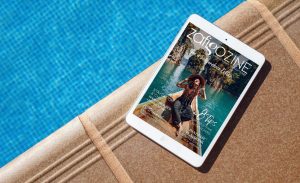 Download our second edition of ZafigoZine for FREE today!
In the #Independence Edition, we give you inspiration for domestic travel within Malaysia – whether you're
taking a road trip to a different state
 or
staycationing right where you are and more.
View this post on Instagram
While @nawwarshukriahali (better known as Bono Stellar) is mostly a fine artist, every once in a while, you'll see her work pop up at festivals. Nawwar's geometric and iridescent work has featured at Urbanscapes in 2018 and even as the backdrop to fashion shows and multiple music videos. As the world slowly opens back up, here's hoping we'll be seeing more of her unique work take centre stage so keep your eyes peeled the next time you're at a festival. 
Making a statement
View this post on Instagram
Malaysia definitely has its fair share of graffiti artists, evident with the wonderful artworks you can see around Bangsar and Jalan Petaling in KL or on the buildings that dot the riverbank in Melaka. While the urban art scene is teeming with local talent, in recent years, there's been one woman making a statement – @thablackcat. Based in Kuching, Sarawak, Dewi Miyo has lofty ambitions to turn her city into Borneo's centre for the arts and culture. And she's doing it one wall at a time. You'll find Dewi's work at Dennis Place in Kuching and along many once-empty walls around the city. 
Something'
s brewing
Once you're done traversing the city and country, you're going to need a nice, strong cuppa to unwind. Coffee culture in Malaysia is as big as the local tea culture, and here are two amazing Instagram accounts to prove it. 
View this post on Instagram
First up, you can get clued in on all the hippest coffee joints to hit in town courtesy of  @squarepad's Instagram. Of course, along with the coffee comes cakes, smores, and desserts galore styled in an aesthetically-pleasing fashion that will make any traveller want to wander right into these cafes. 
View this post on Instagram
Finally, @dearchar_ is a KL-based coffee addict who travels the world in search of a good cup of joe. While Charlene's feed is jam-packed with inspo for when you can travel internationally, you'll find beautiful local coffee haunts interspersed in between – so you can snap your #OOTD and the perfect coffee shot. What more could you ask for in a feed?
Follow Zafigo on Instagram, Facebook, and Twitter. Sign up to our bi-weekly newsletter and get your dose of travel tales, tips, updates, and inspiration to fuel your next adventure!