Absence does make the heart grow fonder and truly, home is where the heart is – just ask KhangNee You. Now based in Kuala Lumpur where she has worked full-time as an editor of various lifestyle and travel magazines before founding a creative startup, she grow up in a small town in Negeri Sembilan, about an hour from the capital city. "I didn't realise how much I appreciated my little hometown until my family and I moved to Kuala Lumpur in 2008," she reveals. "It was a place where everyone knew everyone, and I spent most of my time playing outdoors and cycling freely around the neighbourhood with my siblings."
KhangNee has channelled some of that carefree spirit into a character named Mogu, partly modelled after herself and that also showcases her other skill – pen illustrations. The self-taught artist brings Mogu to life through intricate sketches that are immortalised as postcards, taking her around the world and placing her at famous landmarks. Mogu will also be starring in an illustrated travel book set to be published next year.
Where is Mogu going next? We caught up with KhangNee ahead of her two-month road trip through Europe.
How and when did Mogu come about, and is she a representation of you as a traveller?
KhangNee: After completing a bicycle trip across Europe in 2013, I decided to bring the various sights, architectural landscapes and cultures I saw to life by illustrating them onto postcards. From there, I merged my individuality and lifestyle to create my own virtual character named Mogu. The girl with a large mushroom atop her head is named after the mushroom bob hairstyle I had when I was three years old.
Mogu is a projection of my inner child, a character narrating my life story; Mogu is who I am. We have so many rules to follow in our daily lives and restrictions that limit our creativity, so I wanted Mogu to have absolute freedom in doing everything.
Why did you choose pen/line drawing as your medium?
KN: As a minimalist, I like everything simple and neat. Black and white line drawing thus came naturally to me and maybe because it was the easiest form to start with, since I have no background in drawing. These clean lines are kind of therapeutic to look at when I draw. I recently started exploring colours, but I'm still not good at it.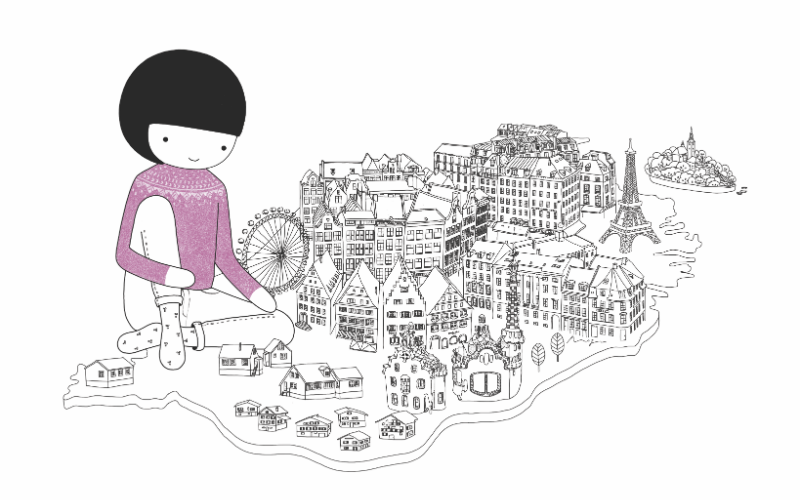 What's your creative process?
KN: Inspiration is everywhere, from a beautiful gothic cathedral to every single detail in our everyday life. When inspiration strikes, I just reach for my sketchbook, grab my pencil and draw to hold on tight to the inspiration. Just like writing, sketching can be done in a few minutes if you have a clear vision. Otherwise, it takes forever to complete. Inspiration or idea is simply a starting point, you have to begin drawing to know where you are heading to.
I work from home and mostly draw from photos that were taken on my trips, especially those of urban landscapes and architecture. As much as I would love to draw on location, I know I simply do not have the luxury of time to sit down with a piece of paper and draw while travelling.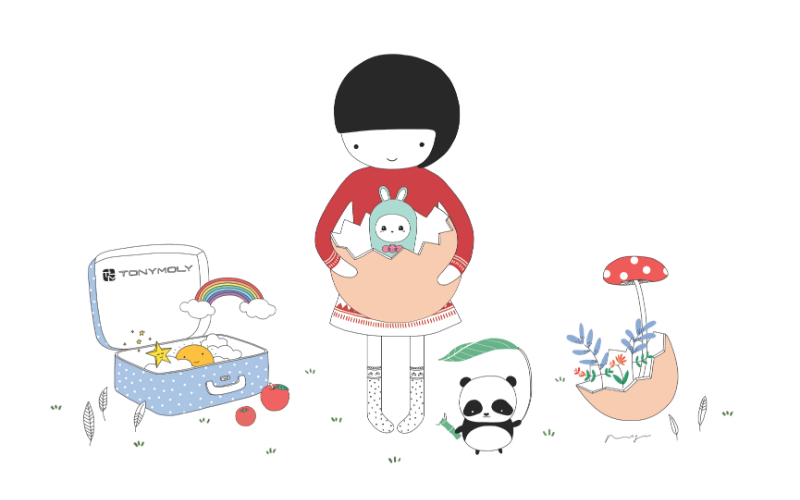 You also have a range of Mogu bags, is that a special collection?
KN: In celebration of local fashion label Upstairs in Style's first bag design, Dothey, I was invited by the founder Jean Thor to create a range of Mogu canvas tote bags featuring Dothey, Mogu and cities she loves. Available in 5 designs, you can buy Mogu canvas tote bags at their website.
How many countries have you/Mogu travelled to?
KN: I can't remember! But to name a few: Switzerland, Austria, Czech Republic, Italy, South Korea, China, Taiwan and Hong Kong.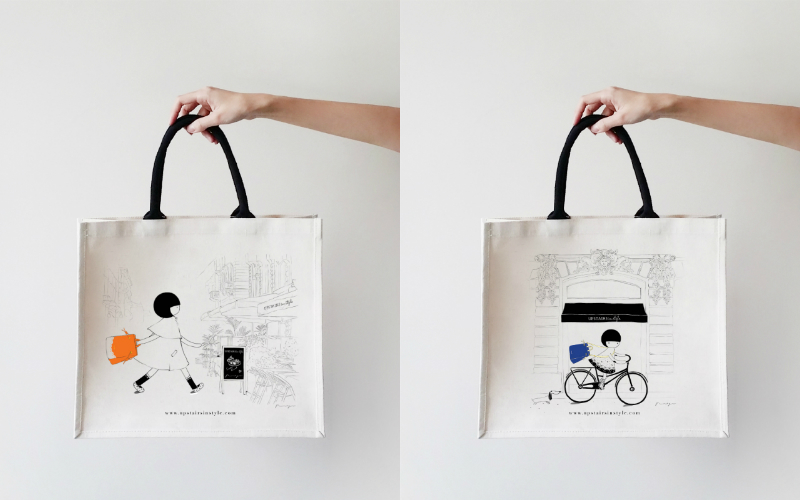 Of all the countries you have been to, which three do you always look forward to revisiting and why.
KN: Definitely Switzerland, Austria and Japan. One of the most livable countries in the world, Switzerland is beautifully surrounded by mountains and lakes. The country is split up into four different regions – German, French, Italian and Romansh – and is safe, peaceful and fun to explore.
Austria is known for its scenic beauty, cultural activities, musical heritage and green space. It has so much to offer and a single trip is never enough.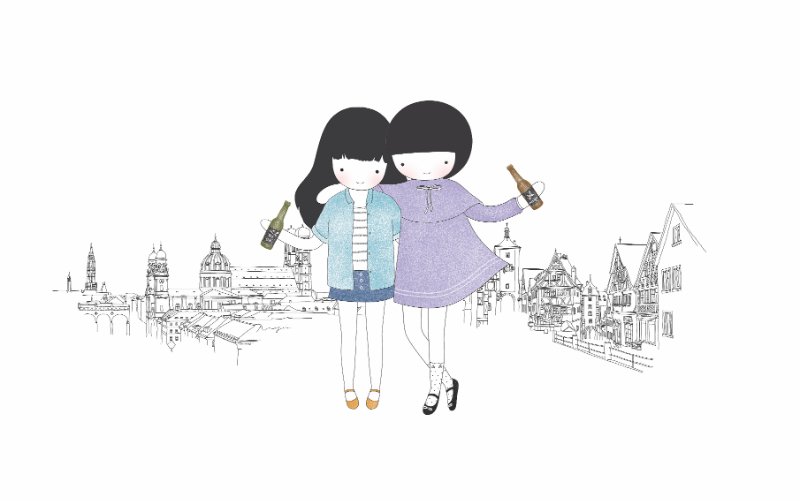 I have visited Japan twice, and Shirakawa-go is my favourite. The historic village is one of Japan's UNESCO World Heritage Sites and I can't wait to revisit its fairy tale-like world, and experience the picturesque harmony between the village and nature!
As a traveller, what kind of experiences do you seek?
KN: Somehow, I think I travel to know what I'm capable of doing. I love the feeling of being anonymous in a foreign land, where you let go of your past, ego, hate… and learn to be an independent, stronger and better person. To awaken in a foreign land is one of the greatest travel experiences I ever had.
The most valuable lessons that travelling has taught you:
KN: Don't be afraid to get lost, you never know what lies ahead. Nothing was planned in my career; I have never seen myself as in illustrator I just went with the flow and took everything that came to me. Now, I look at my career and I'm having more fun than I've ever had. I know that as long as I keep going, I'll see something beautiful.
Do you travel everywhere with your sketchbook?
KN: I always bring my sketchbook and travel journal with me when I travel. Drawing makes you see things clearer and tells you a lot of things you wouldn't even notice at a simple glance. A travel journal brings memories alive when you revisit the entries further down the road.
Where is Mogu going next?
KN: This month (September 2016), Mogu is embarking on a two-month long European road trip driving across France, Germany, Czech Republic, Austria, Slovenia, Italy, Switzerland, Spain, United Kingdom, Iceland, Netherlands, Denmark, and Sweden. I'll be documenting the journey in words, photographs and illustrations, and they will be featured in the illustrated travel book that will be published next year.
Two long months on the road in unfamiliar territories and taking a leap of faith into the unknown… it's no easy feat. However, at the end of the road trip are possibilities of stronger friendships; better understanding of oneself; exposure to new cultures, customs, and experiences; different and wider perspective towards life. There's a saying that if you don't risk anything, you risk even more.
When can we see more of Mogu?
KN: You can see all of Mogu's incarnations at her official website or follow her on Instagram and Facebook.

Read Next: