After losing a few years to COVID-19 and border controls, it's unsurprising that revenge travel has taken the world by storm. Though I would love to check off all the exotic destinations on my bucket list, this year, I felt it would be more rewarding to travel with my dear friends and catch up on lost time.
If COVID-19 has taught me anything, Zoom video calls and WhatsApp messages can never substitute the conversations, experiences, and laughter that face-to-face contact brings. On this note, one of my friends from my college days suggested that we meet up in Madeira, an autonomous region of Portugal closer to Africa than it is to continental Europe.
Having developed a decade-long friendship with the owner of a few hotels there, my friend has been visiting Madeira for years and highly recommended it as a destination different from our usual run-of-the-mill escapades.
A little research goes a long way
Prior to leaving, I did my research: comprising four islands in the North Atlantic Ocean, with a total area of 801 square kilometres, Madeira is the largest, with an area of 740 square kilometres. Created by a series of volcanic eruptions millions of years ago, it is now distinguished by lush and dramatic landscapes similar to Hawaii.
With a year-round mild and moderate subtropical climate, it is commonly known as the island of eternal spring, making it a popular tourist destination. However, many microclimates can be found at the different elevations caused by the striking geography. Of great importance that I will later learn is the humid, cooler north side of the island receives more than 2,000 millimetres of rainfall each year, compared to the drier, warmer south side, which receives about 500 millimetres.
With basic knowledge and great anticipation, I flew into the Cristiano Ronaldo International Airport (yes, the famous football player is from Madeira). Having arrived earlier, my friend mentioned that flights were cancelled a day before due to windy conditions and that her plane's landing made her nauseated, which turned out to be an understatement.
At first, I thought her ordeal was an anomaly; my landing while a bit bumpy, was nothing out of the ordinary. However, I found it strange that people clapped their hands and cheered upon the touchdown. Afterwards, I discovered that the airport was dubbed the ninth most dangerous in the world by the History Channel due to its short runway (2781 metres) and harsh winds and mountain waves caused by its location.
Pilots are required to undergo specific simulator training before being allowed to perform services to and from this airport. Talk about a dramatic start to this holiday!
Legendary landscapes
As I departed the airport, towards the capital of Funchal, located on the island's south coast, mountain ridges moulded by years of volcanic activity bordered one side of the road while the sparkling blue sea and white-crested waves flanked the other.
Houses precariously clung on the sides of the ridges, and meticulously carved out terraces growing with crops stood just inches away from the cliffs. I asked my driver how long it would take to get to my hotel; he said it used to take two hours, but now, thanks to a new highway completed in the early 2000s, it only takes 20 minutes.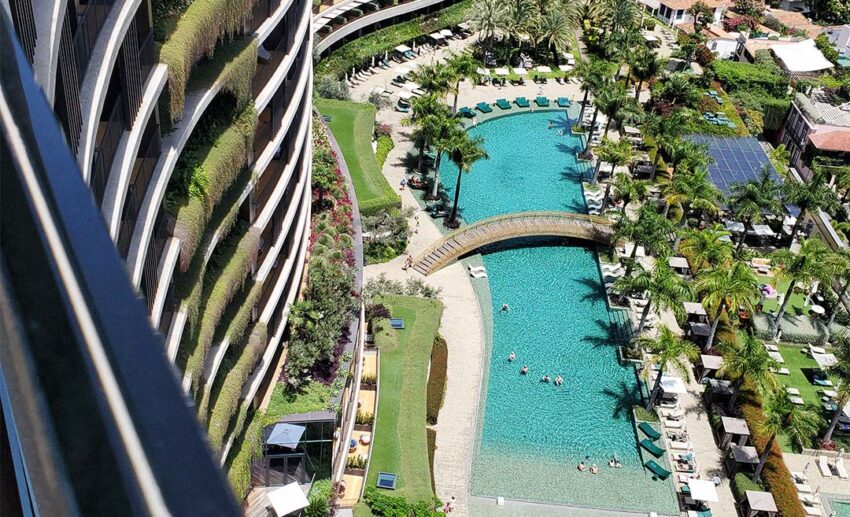 Before long, I arrived at the Savoy Palace; it is a mammoth of a hotel! Welcoming guests only since 2019, it has already become a member of the Leading Hotels of the World. With sleek modern rooms, multiple restaurants, facilities spanning its sister hotels in the area (Royal Savoy and Next), and the largest pool I've ever seen in Europe, it easily eclipses the competition.
An adventure like no other
The next day, to better explore the distinctive scenery of Madeira and entertain my liking for alternative transportation, my friend and I chose to embark on a 4×4 Jeep tour. From Funchal, we began our adventure at the charming old town of Lugar de Baixo before heading up Candelaria and to the off-road trails of Lombo do Mouro.
True to the guidebooks, the temperature dipped a few degrees Celsius as we climbed up the narrow dirt trails used by fire trucks, in case of forest fires. Exotic flowers and wild berries embellished the luscious greenery made pleasantly fragrant by the eucalyptus trees. It was not hard to imagine why hiking was one of the most popular activities on the island.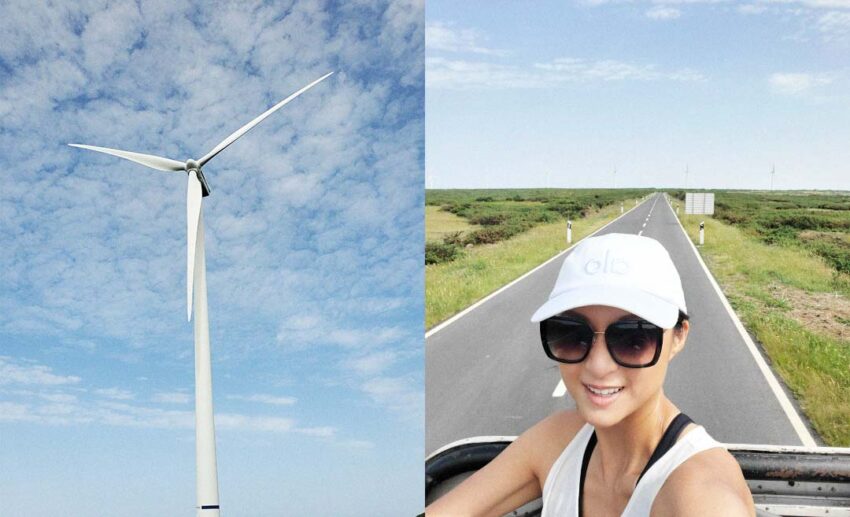 At the top, we arrived at Paul da Serra, a conspicuously extensive plateau with an altitude averaging about 1,500 metres. Installed with wind farms, we drove through a lengthy, undeviating road, passing by ginormous white turbines. I had never been so close to one before in my life! The guide told us that most of the wind energy produced on the island comes from here.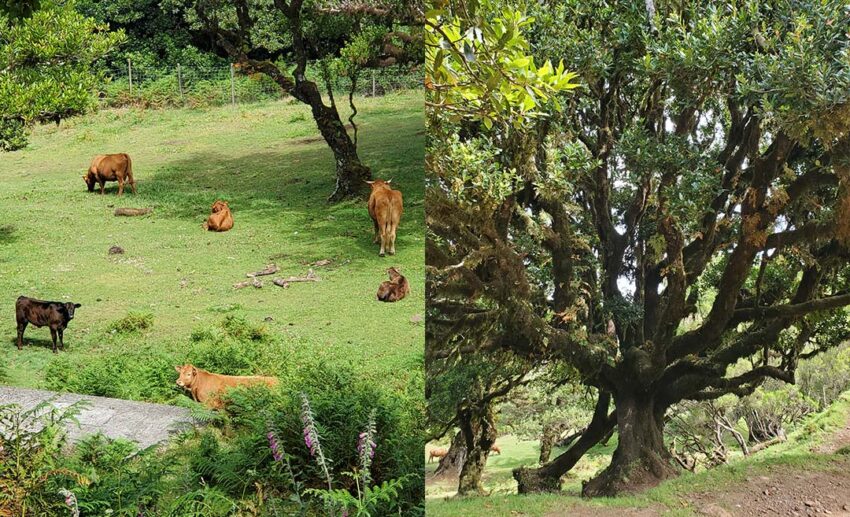 We finally made a pit stop at Fanal, where we quickly hiked through the UNESCO World Heritage Site of the Laurisilva forests. Between the twisted, chaotic branches of the century-old Ocotea Foetens trees, we strolled past wild cows grazing calmly on the slopes.
Introducing Levadas
When we started our descent to the saltwater pools of Porto Moniz, the black sand beaches of Seixal, and the waterfalls of Sao Vicente, I was introduced to the Levadas ––2000 kilometres of gently-sloped stone channels dating back to the 15th century; built to help transport rainwater from the north to the south for human consumption and agricultural use.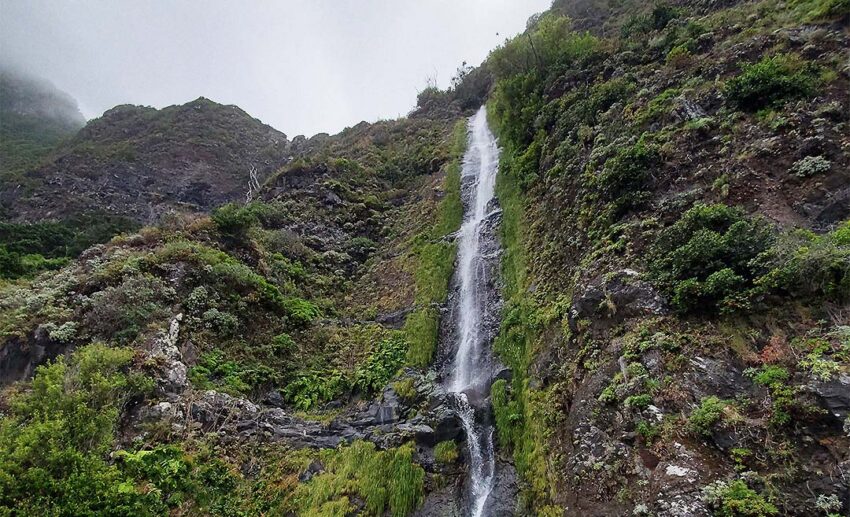 Indeed, right beside the roads, we saw big and small channels of running water. Our guide explained that only 30 years ago, they were drinking straight from these Levadas and that this unique water system still irrigates the whole island efficiently.
From this ancient network, crops of avocados, corn, papayas, courgettes, bananas, and more were grown on the ubiquitous clinging terraces and harvested three times a year! Not only that, it is now a crucial component of the island's renewable electricity production.
Taking renewable energy to the next level
An impressive 33% of electricity in Madeira comes from renewable energy sources and is expected to reach 50% in coming years. Water from the Levadas is carried to the Socorridos hydroelectric power station, providing year-round power. To ensure minimal wastage, water is stored through a 5.4-kilometre tunnel during off-peak times.
It is used not only to generate electricity during high-demand periods but also, after treatment, for human consumption and agriculture. An integrated wind power system supplements its water transportation framework.
This combination of ancient Levadas, modern wind power, and the ingenious use of stored water has propelled Madeira as a role model for innovative approaches to sustainable energy.
Small in size, big in impact
The guide further lauded the island's ocean conservationist efforts as if I was not dazzled enough. For instance, long lines, not nets, were used to catch fish to preserve the ecosystem, and an extraordinary six times was sewage filtered before being dumped into the ocean.
Despite my time in Madeira being only a passing moment, I was blown away by how such a small island can make such a meaningful contribution to our world.
In this day and age, when we're constantly sabotaged by record-breaking heat, Madeira does bring a powerful message to all of us: we can combat climate change and preserve our environment. What we do may seem tiny, but it can still pack a punch.
*All images courtesy of the author unless specified otherwise.