Longing for an escape but don't want to go far? Looking to have fun but not necessarily run around with the kids? Got a hankering to eat myriad cuisine but can't be bothered to visit places to do so? Well, you'll love this weekend of food, fun, and art at DoubleTree by Hilton Putrajaya Lakeside.
What's interesting about the hotel is that it was originally built to be a museum. So it only makes sense the sprawling property that's now the DoubleTree by Hilton Putrajaya Lakeside also proudly houses the DoubleTree Studio Residency. This programme, happening for a year in collaboration with Segaris Art Center, provides emerging young Malaysian artists with a place to grow, create, and shine.
And you, along with your family, can get involved!
The nitty gritty
For the next year, three promising local artists will reside at DoubleTree by Hilton Putrajaya Lakeside for four months each, providing them with a large dedicated studio space to work on their art. And every month, the hotel will host Seni Weekend with the artists, making the programme and residency a holistic experience for artists, hotels, and guests.
But ultimately, the aim of the programme is to foster young talent, offering the chosen resident artists a chance to showcase their artwork and receive valuable feedback from seasoned professionals in the art industry, paving the way for their future growth and success.
Which is also why the property is partnering with Segaris Art Center, a contemporary gallery for UiTM art graduates. This year, the three young creatives to look forward to at the property are Fadzril Fakaruddin, Haziq Syawal, and Syahmi Jamaluddin.
"The DoubleTree Studio Residency, a thrilling collaboration, promises to leave an indelible mark on the local art scene. Here, talented artists will weave the tapestry of the country's heritage through their art, offering a captivating glimpse into Malaysia's soul. Not only will it enrich our hotel's allure for international travellers, but it will also beckon them to savour an authentic Malaysian experience, where creativity and culture intertwine in perfect harmony," says Jamie Mead, Senior Director of Operations – South East Asia. How do they plan to do this? Through food and art.
On to the fun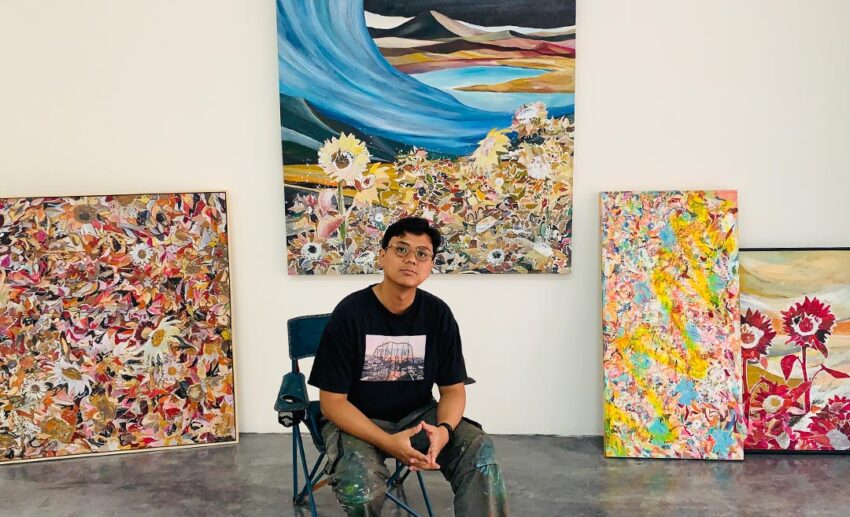 Happening once a month, we got to experience the first-ever Seni Weekend with contemporary artist Fadzril Fakaruddin, the first artist to take up residency at the hotel. After checking in, we're treated to hi-tea at The Koffee lounge as Fadzril comes to greet us and tell us a bit about himself, his art, and the programme.
Every Seni Weekend is thematic, as it turns out. And this weekend, we're in attendance; it's focused on the Family Experience. While we're excited for the delicious morsels in front of us, my daughter, who tags along is more excited for the first art session about to begin.
Each Seni Weekend will offer guests the option to attend two classes, and naturally, we go for both. The first one starts with a mini tour of the Studio Residency, located on the property's ground floor. It's always interesting to see an artist's workspace. I believe it to be deeply intimate, allowing you to almost get inside his mind.
Fadzril is patient and great with the kids who show up. Believe it or not, you needn't be an artist yourself to participate in the weekend workshops. They're designed to be fun and for all skill levels — and they are! Take it from someone whose artistic talent ends at drawing stick figures. This first class is a session of playing with colour and wraps up after an hour.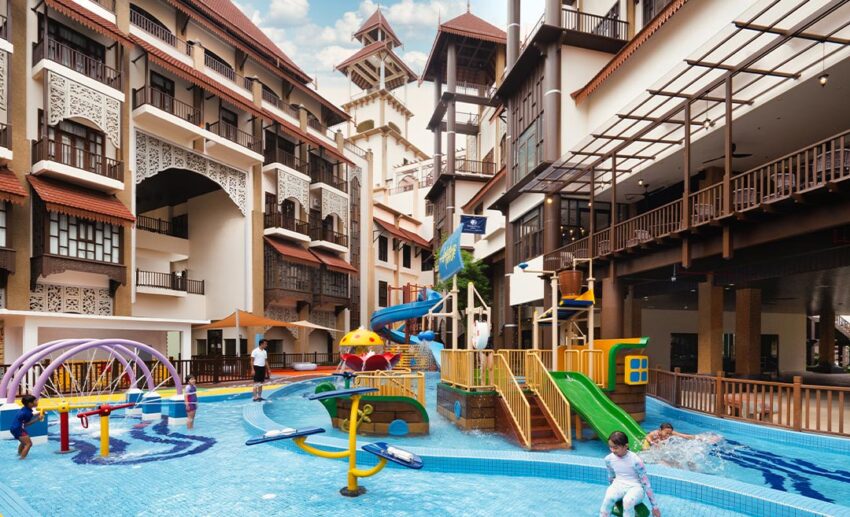 We then have the rest of the evening to enjoy the Splash Pool at the hotel before winding down to a sumptuous feast at Makan Kitchen that takes you on a gastronomic tour of Malaysia, a treat that's part of the Seni Weekend package. If you ever make it here for the feast, check out the Indian fare. Particularly the crab curry and briyani steamed to perfection within bamboo shoots.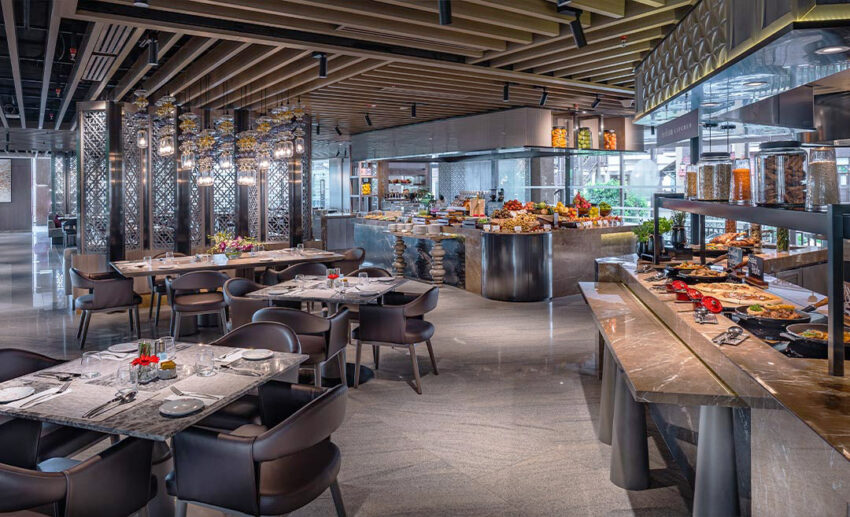 The next morning, after a buffet breakfast, we begin our day with (what else but) another swim in the amazing kids' pool. Then, we wangle a late check-out to relax before another sumptuous meal at Makan Kitchen before our afternoon art session. This lunch isn't as indulgent as dinner the night before, but it's still a hefty meal featuring many of the highlights that I happily dig into a second time. While I don't particularly favour buffets, the ones at Makan Kitchen have proven to be, well, really good.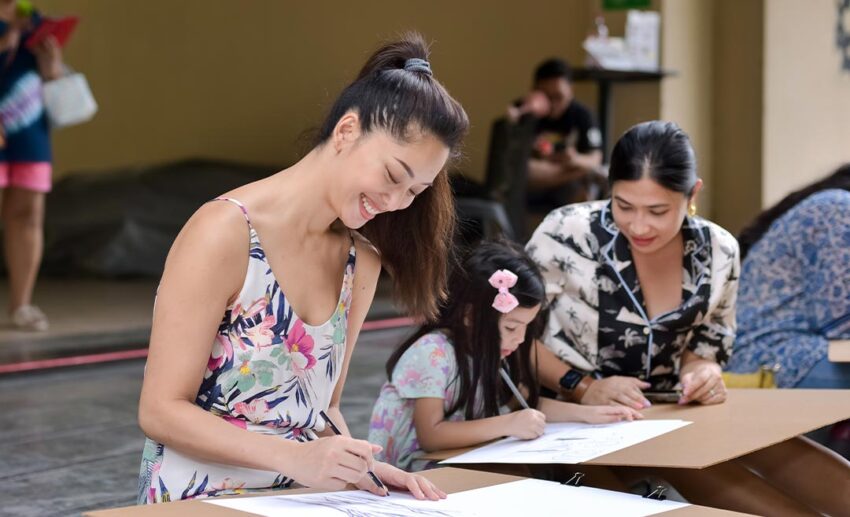 Moving on, the time comes for class. The little one can't contain her excitement as she happily shadows Abang Fadzril wherever he goes. A charcoal drawing session, this workshop focuses on sketching and exercising the imagination. Again, we first head to the Studio Residency to kick things off. Then, tasked to draw rocks, we get the hang of playing with different kinds of charcoal before we head outdoors. The outdoor bit to the interactive workshop is a blast! We're asked to draw whatever we see — be it bird, bee, or even worms — and our imaginations take flight. Sharing each other's creations amongst the participants was a joy. And that's the magic of art, isn't it? Creative expression can bring anyone together.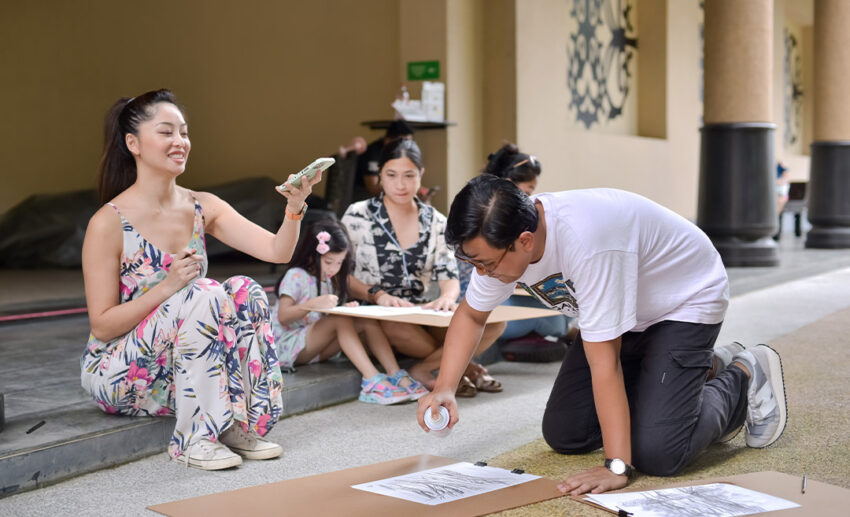 Sadly, all good things must come to an end, and the weekend ends with one more round of refreshments at The Koffee. But we look forward to seeing the outcome of these residencies. The product of each four-month residency will see it culminate with an exhibition and final Seni Weekend.
And now, I must go. My child is asking me to arrange for art classes for her. Consider the spark for art ignited!
Seni Weekend pricing details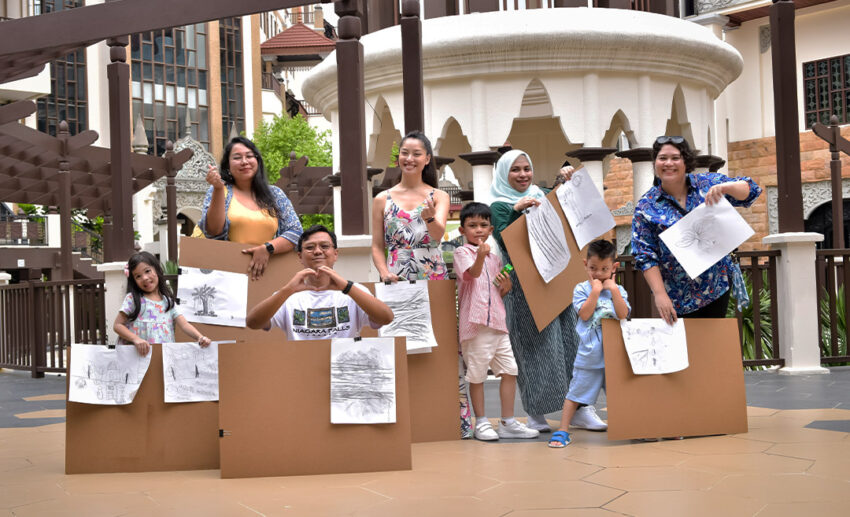 Saturday
RM180 nett per adult | RM130 nett per child
Refreshments at The Koffee
Interactive workshop
Dinner at Makan Kitchen
Sunday
RM130 nett per adult | RM80 nett per child
Weekend High-Tea Buffet at Makan Kitchen
Interactive workshop
Refreshments at The Koffee
Head over to DoubleTree by Hilton Putrajaya Lakeside's website for the full calendar of events happening for the next year.