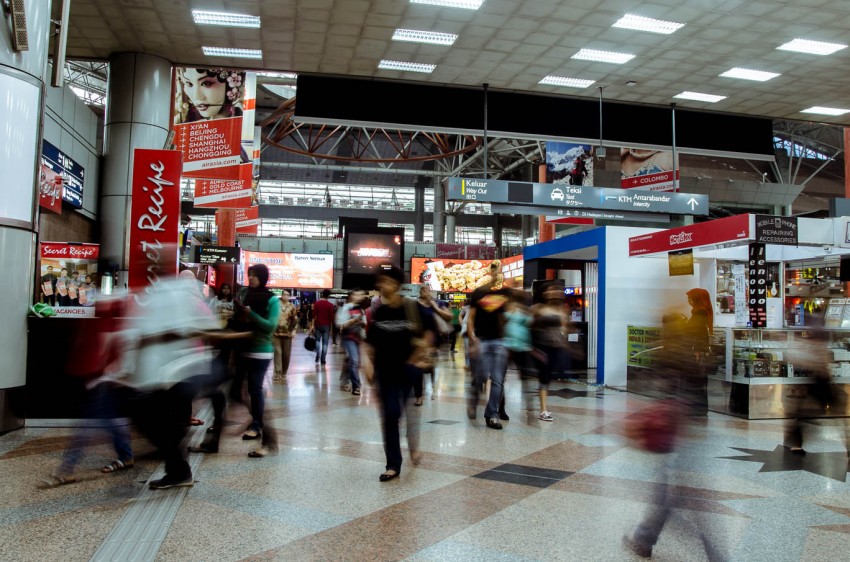 When you're travelling for work, easy access to the Internet is essential. How do you do that in Kuala Lumpur? Fortunately so long as you're in the city proper, getting connected is easy but staying connected requires a bit more savvy.
KL: Free Wi-Fi city
Malaysians like their free Wi-Fi. Most cafes and mid-to-high end eateries will have a hotspot for customers to use. Servers are very much used to the question: "What's your Wi-Fi password?" They are often too polite to tell you off for staying too long just to abuse the Wi-Fi, just so long as you purchase a decently-priced drink at least.
If you need to use the Wi-Fi longer than an hour, you're best served by finding the nearest popular coffee chain. Starbucks, Coffee Bean, San Francisco Coffee are reliable names that serve up Wi-Fi along with their drinks. Be advised that some connections need to you to sign-up for free, simple procedures that involve registering your email and a password.
Tip: If coffee is the eatery's specialty, Wi-Fi is definitely on the menu. Connections can be slow and congested if the establishment is full of other Internet-loving patrons.
Mobile prepaid
Malaysia has three primary telecommunication carriers, namely Maxis, DiGi and Celcom. The country has made prepaid registration mandatory so you will need to present your passport when you purchase a SIM. Celcom has a dedicated tourist plan, called Traveller SIM, while DiGi sells a Hello Malaysia Travel Pack that is essentially a prepaid starter kit that comes bundled with a SIM and minutes. Maxis seems to have discontinued its own prepaid tourist pack, instead promoting its preexisting Hotlink Prepaid kits.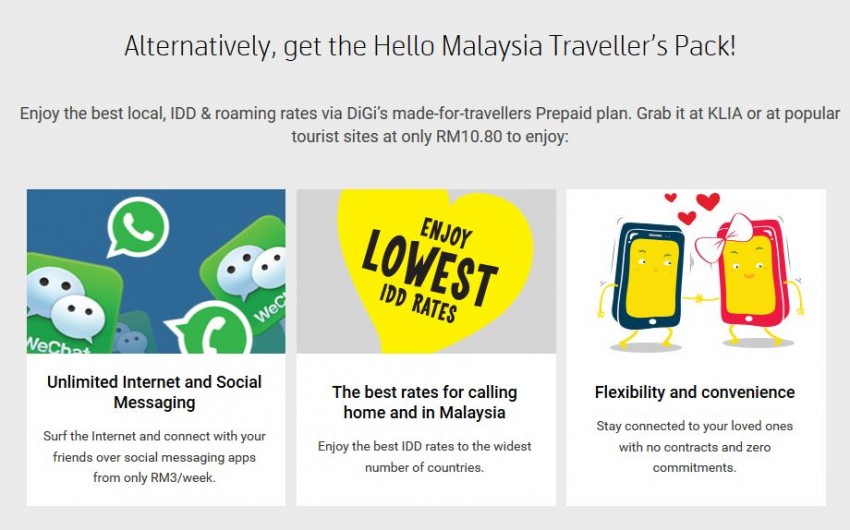 Rates can differ quite a bit between the telcos, which can be rather confusing. For a rather comprehensive listing of the various packages and pricing for the three telcos, see here.
Tip: If you only need to check emails, WhatsApp and messages, you will do fine just paying for as much data as you need, say 1GB. If you're a heavy surfer, then consider instead daily packages that charge you a flat rate for daily, weekly or monthly usage.
Prepaid SIMs can easily be brought from the many kiosks or dedicated stores at airports, shopping malls and commercial zones. While you can only buy the SIMs from these kiosks, you can easily top them up at the nearest convenience store. Look for 7-Elevens or Watsons, Guardian and MyNews outlets.
While there are other lesser-known prepaid brands, it's advisable to stick to the big three as the other companies are MVNOs that piggyback off the other carriers. While they can sometimes offer cheaper data rates, getting support and topping up data is not as convenient as with Maxis, DiGi or Celcom.
Portable Wi-Fi hubs
If you'd rather not swap out your current SIM card, you could use a portable Wi-Fi dongle. Here are a few options for travellers.
Visiondata: Provides a Wi-Fi dongle service that requires an RM200 deposit with a 300MB daily cap. It requires at least three days advance notice to book a dongle but it does at least offer online ordering and will send the dongle over to you, but for a fee. For the privilege, you are charged RM20 a day, still cheaper than hotel Wi-Fi charges.
U Mobile: An MVNO that piggybacks off Maxis' service, it offers prepaid plans with a dongle thrown in. The catch? You can't rent or return the dongle, instead you will pay about RM249 for a standalone dongle and RM135 for a USB device. Not an economical option unless you're planning to stay for at least a month
YES: The priciest of all the providers, a standalone Mi-Fi device costs RM480. You will get one for free if you sign up for a plan but only if you agree to a 24-month commitment and a RM100 activation fee on top of all that. They also have a cheaper USB dongle that goes for RM99 without data, but it's not the best option if you're not carrying around a laptop.
Tip: If you have a smartphone, you might be better off just using your phone as a Wi-Fi hotspot with your prepaid SIM rather than cart around another device.

Articles you may also like:
Low Yat Plaza – Your gadget and IT rescue centre
Bukit Bintang – KL's vibrant shopping strip
Get all the latest travel updates from Zafigo. Follow us on Facebook, Twitter, and Instagram.