The YOLO – You Only Live Once – narrative in the travel sphere is becoming increasingly worrying, especially since the internet is encouraging people to spend all of their life savings on once-in-a-lifetime trips. While we agree everyone should go and see the world, we're not too sure that it's wise to tell someone it's okay to spend all their money on a single trip.
Travel is a great escape from the grey realities of life, but it often ends with us returning home; home to finding a job, bills, family commitments, retirement funds and a lot more on the reality checklist that we have to sort out.
As travel blogger Jayson Concepcion from The Travel Debugger said, "travelling is a fulfilling and enjoying experience, but being broke isn't." In this blogpost, he dropped a truth bomb about why we cannot go completely broke just to travel:
1. Don't travel luxuriously if you can't afford it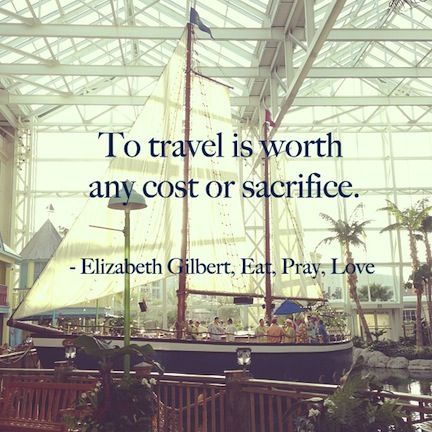 We do not live in a fantasy land where every waking moment of your life is full bliss. You have responsibilities, whether you like it or not, be it in the present or in the future.
Face the challenges instead of staying away from it. I know some people who travel to escape because they don't like their jobs or have love problems or worse (and this is really the worst scenario), they live in poverty! And I don't mean that people who have less money cannot travel (they sure can as long as it is within their budget and plans), but that there are people who travel just to brag, when in reality, they have a truckload of debt to friends, families, and banks.
The solution is really simple. If you cannot afford it, then don't buy it. If you want to afford it, then work hard and smart for it. And you don't have to spend a lot for travel anyways. I suppose you've heard of the term backpacking already, right? Always set a strict budget for your travels.
2. Balance is Key
Yes, you're young and you have to enjoy life to the fullest but you must also think of the other opportunities and experiences you may be missing. Balance your studies, work, family, friends, investments, and businesses alongside your travels and I'm sure you'll be more productive and will learn a lot in life. And besides, too much of everything is bad. Believe me, you'll appreciate traveling more when you miss it.
3. Prepare for the future
How? Start with the easiest. An emergency fund (6 months' worth of your monthly expenses), then life insurance (variable universal life insurance is okay), then mutual funds, then direct investments in the stock market. Or you can start up a small business, start a blog, rent out your space, anything that appreciates in time and can give you income. Great things start from small beginnings. Maybe you won't feel the benefits now, but I'm sure in the future you'll begin to.
4. Have a plan
Looking at your empty bank account and wallet in dismay is heartbreaking. Don't let financial troubles get to you especially if debts are starting to pile up.
Take control of your finances now! If you are going to travel long term, make sure you have a definite plan on how to sustain it and make money even while on the road. Isn't it better if you have a steady stream of income rather than wondering where to get money to pay for your food and bills? Sure, you can enjoy free stuff like couch surfing, house-sitting, and hitch-hiking, but it's still better if you have enough income and money with you.
5. Travel to enjoy
Traveling is meant to be enjoyed. Let's admit it, if you're broke, you can't enjoy traveling that much. You still need money even if you're a super budget backpacker. Plane fares alone and visa fees will already set you back some cash, what more if you're traveling long-term? Not all people have the courage to travel with no or little money. I know some people are doing this and they are really inspiring, but it's not for everyone.
To all the young people out there, go and travel, but be smart about it. If you plan and prepare your finances well, once-in-a-lifetime trips will come more than just once in your lifetime.
Read the full article on The Travel Debugger
H/T: Rappler

Read Next: