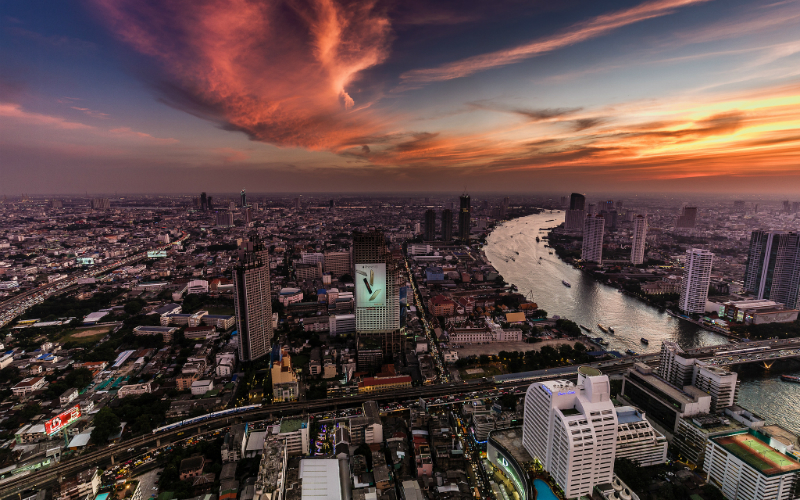 You could spend years in Bangkok and still find new places to discover. Most importantly, sightseeing this vibrant city doesn't have to be a costly affair. In fact, you can explore Bangkok's most famous landmarks within a day and for just USD50 (THB1,760) with our guide – a perfect introduction for first-time tourists and ideal for the business traveller with little time to spare.
8AM: Rise and shine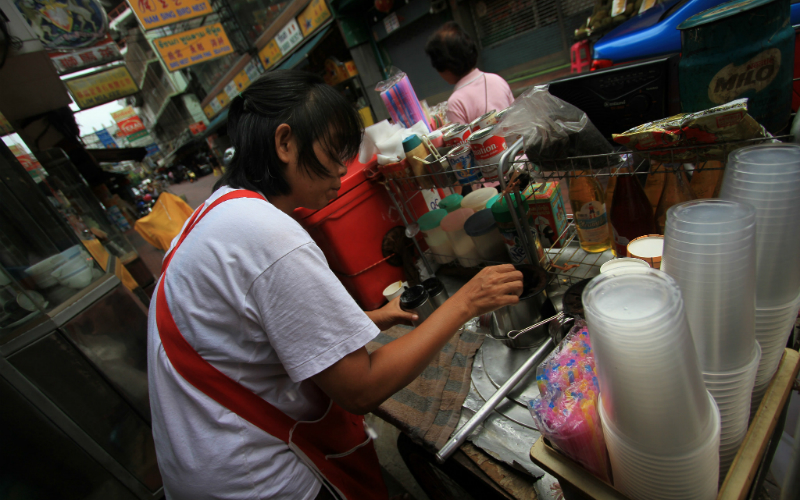 Getting an early start to beat the crowds is worth it, especially if you're heading out on a weekend. If your hotel doesn't include breakfast, grab a Thai iced tea and some fresh fruits from a sidewalk stall on your way to the Bangkok Sky train (BTS). For something more substantial, do as the Thais do and have some moo ping sai khao neao (pork skewer with sticky rice).
Budget counter: THB1,760 – iced tea (THB30) – fruit (THB20) – pork skewer with sticky rice (THB50) = THB1,160 THB left
9AM: Sail to Wat Arun and the Grand Palace
Take the BTS to Saphan Taksin (exit 1) and head straight to the pier to catch a water taxi or a tourist boat. Keep walking past the song taew (the local version of a pick-up truck) and make a left at the end of this short street. You'll see the ticket booth on your right. Ignore the scouts who will attempt to sell you a ride on a private boat; tourists have been scammed into paying hundreds, even thousands, of Baht for these!
The Chao Praya Express Boat Company offers two types of services. You can either take the Express Boat service or the Chao Praya Tourist Boat. The latter offers a day pass for THB150 but there's no reason to get that when a boat ride on the 'express boat' in each direction only costs THB15. Skip the ticket booth and wait for the Chao Praya Tourist Express boat with the orange flag and blue sign. You buy your ticket from a boat employee once you're on the boat.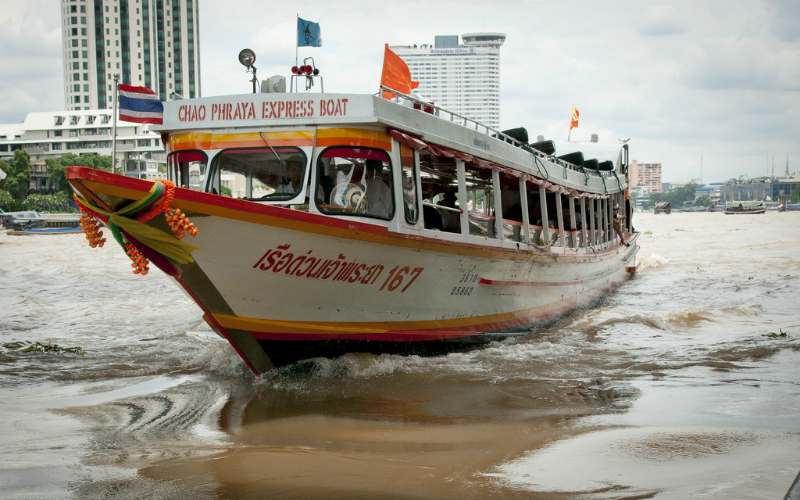 Board the boat and don't worry if you haven't had a chance to grab a map; there will be loud announcements (in English) at Tha Tien Pier, the pier closest to both Wat Arun and the Grand Palace. The trip takes around 15 minutes on the Chao Phraya Tourist Express and 30 minutes on a regular river taxi boat.
Budget counter: THB1,160 – BTS Siam to BTS Saphan Taksin (THB140 for an all-day unlimited rides BTS tourist pass) – Tourist Boat (THB15 THB one way ticket) = THB1,020 left
9.30AM: Visit Wat Pho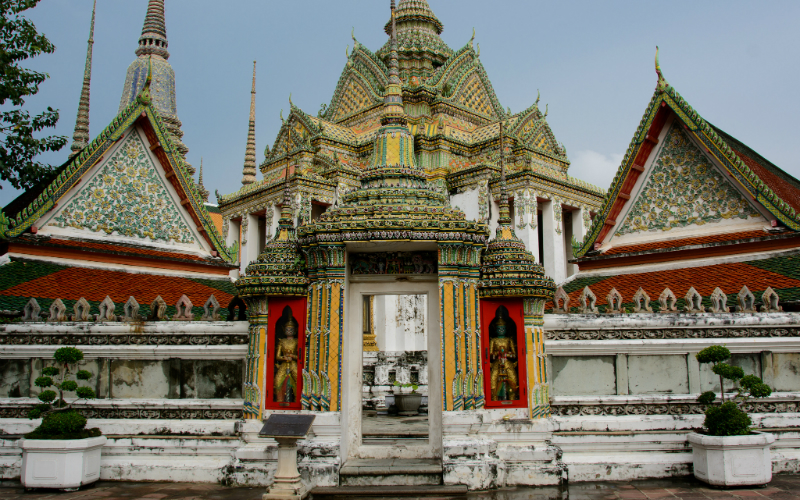 Head to Wat Pho first to enjoy the beautiful temple complex with minimal crowds and see the famous reclining Buddha. Make sure to bring a shawl to cover bare shoulders, and wear pants or a skirt that covers most of your legs.
11.30AM: Grand Palace
Smile and walk past all of the tuk tuk drivers who will attempt to convince you that the distance to the Grand Palace is too long to walk. In 15 minutes, you'll be right outside the main gates and saved yourself THB200. Grab some fresh fruit or chips from the vendors outside the gates if you're hungry, as food is not allowed inside the palace grounds.
Get your entrance ticket that includes access to all public buildings in the compound, including the Temple of the Emerald Buddha. You can easily spend four to five hours here; make sure to take a look (but not a photo) of the royal coronation chair that His Majesty the King has sat in, if you're lucky enough to be around when the room is open.
Budget counter: THB1,020 THB – entrance ticket to Wat Pho (THB100) – walk to Grand Palace (free) = THB820 left
1.30PM: Grab some lunch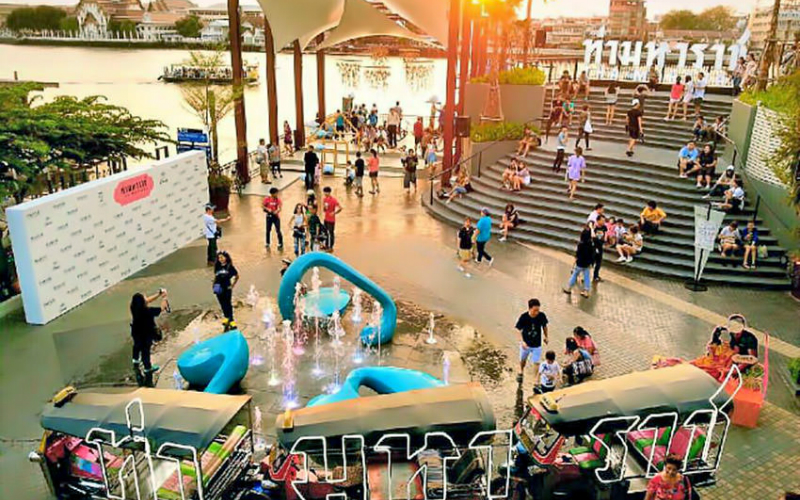 For a budget-friendly lunch, head to the shops and restaurants across the street from the Grand Palace. Sure, you'll pay slightly more for pad thai here than at your hotel neighborhood, but for USD5-6, you can enjoy a tasty and filling lunch. For a meal with a view, check out Tha Maharaj plaza next to the Grand Palace. Those who are feeling less adventurous can tuck into a sandwich at the newly-opened Subway.
Budget counter: THB820 – lunch (THB200) = 620 THB left
2.30PM: Catch the views at Wat Arun (Wat Chaeng)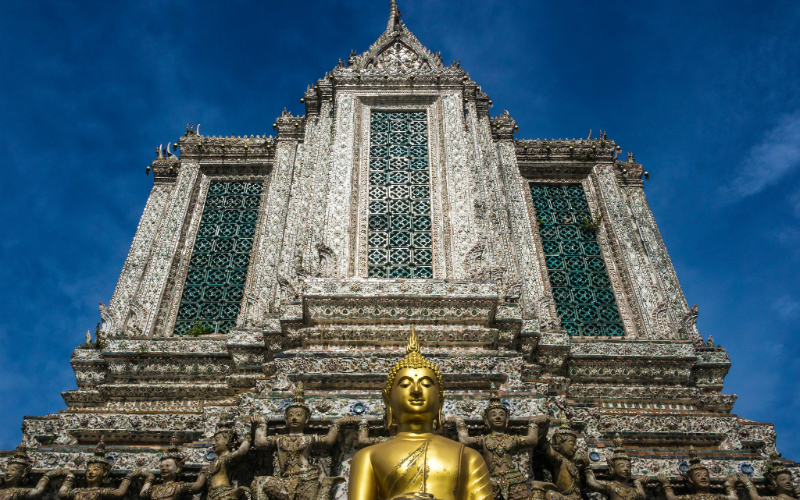 Make your way through the dizzying array of stalls and shops back to the Tha Tien Pier and catch the free small boats that cross the river horizontally to get to Wat Arun. This boat is free and goes back and forth throughout the day.
An entrance ticket at Wat Arun costs THB100 and you can climb a few steps – as long as the temple isn't under construction, which it has been on and off for the past few years. Regardless, the intricate and colorful details are worth seeing, even if you can't reach the top and view the Chao Phraya from above.
Budget counter: THB620 – Wat Arun entrance fee (THB100) = THB520 left
3.30PM: Shop at Wang Lang Market
This large weekend market is popular for its dozens of small and cheap food options, and known for great second-hand clothing deals.
There are a few options for getting from Wat Arun to Wang Lang market: Walk about 20 minutes along Thanon Arun Amarin (the larger street on the other side of Wat Arun) or get a taxi or motorcycle taxi if it's too hot.
If the day has gone long and you're looking for a fun way to spend that last THB500 instead of at the market, cross the river back to Thai Tien pier and check out Amorosa Bar at the Arun Residence. Sit down for a late afternoon snack or cocktail. With stunning sunset views on the fourth floor balcony, it is well worth paying a couple of hundred Baht for beers and cocktails. The pork knuckle salad is recommended but if you can't stomach too much heat, definitely ask for it mai ped because it has little salad and a lot of spice!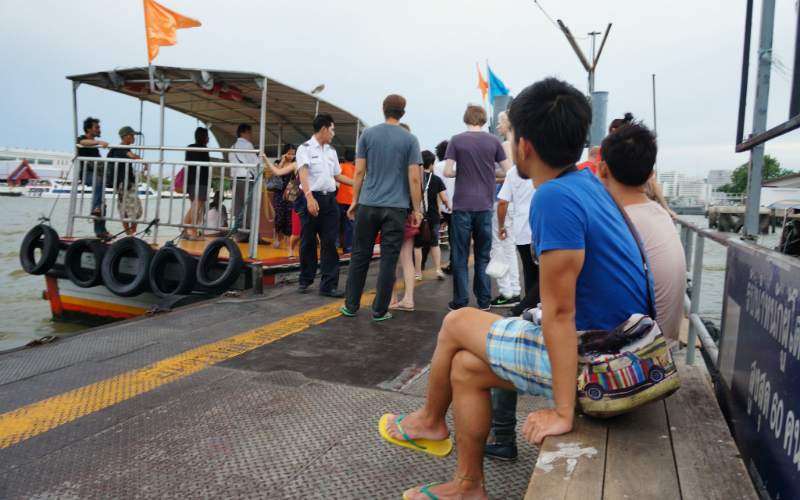 You do want to save your last THB15 for the boat ride back. At Tha Tien pier, get on the ferry that departs for Saphan Thaksin (make sure you're going in the right direction down the river!). After 20 minutes or so, you'll be back where your day began.
That's the best of Bangkok done in a day and for just USD50!

19136, 8227, 7052