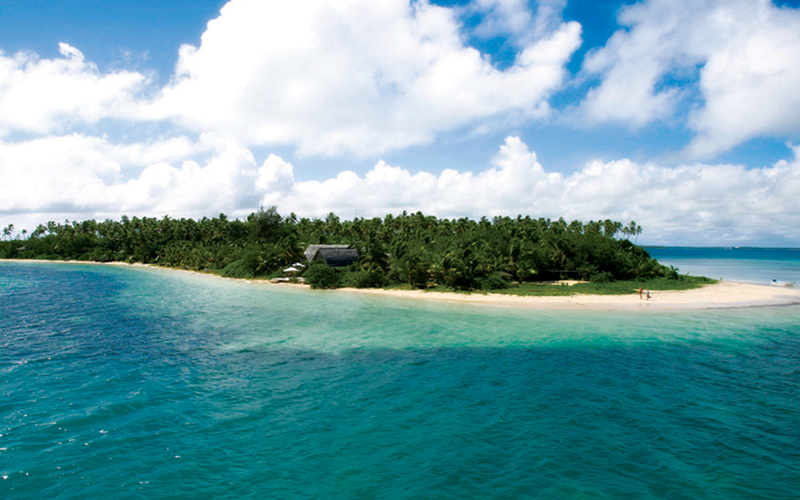 We all crave travelling, the unbeatable feeling we get when discovering fascinating landscapes and exotic cultures. But sometimes, we get a little jaded as tourists – seeing a country's immovable poverty, or how nature is being strangled to become an attraction. The country goes into an endless cycle of breaking its back to please tourists.
We see how tourism has changed the country (for the worse) and wonder whether we're helping the country bloom or making it worse. Last month, Thailand's beautiful Ko Tachai had to be permanently shut down. The reason? Overcrowding from tourism was destroying the island.
So how do we avoid the guilt of travelling? Travel ethically. Ethical travel is not only how you travel (how big is your carbon footprint?), but also the country you choose to visit.
Travelling to a country means you're supporting how the country runs itself – how they treat their citizens, how they treat the environment, and their role on a global scale. This being said: choose a country that strives to develop positively and sustainably.
To start you off, we've composed a list of the 10 most ethical destinations of 2016 with the help of this article from Alternet. The countries were selected by non-profit advocacy group Ethical Traveler based on their human rights protection, social welfare, animal welfare, and environmental protection.
Our list talks about what the country stands for and how they're becoming more sustainable and developed. For your wanderlust-needs, we've also included attractions you could enjoy.
1. Cabo Verde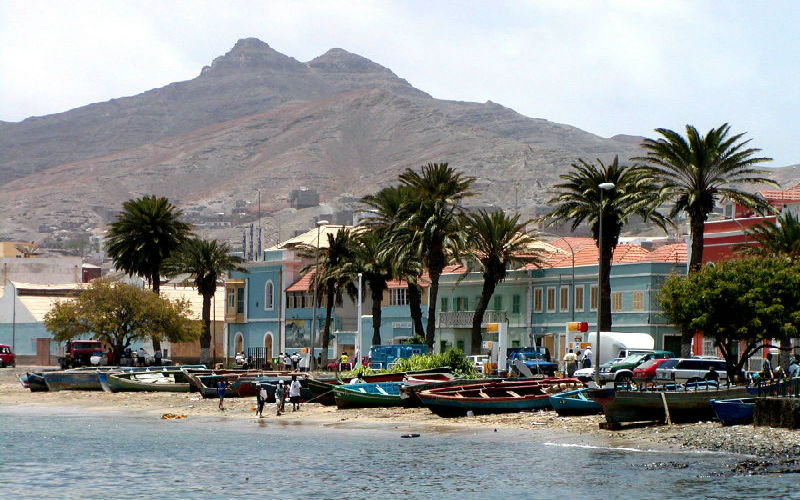 One of the most developed and democratic country in Africa, Cabo Verde is made up of an archipelago of 10 volcanic islands at the coast of Western Africa.
Cabo Verde is also a leader in human rights. According to Washington-based NGO Freedom House, they achieved a perfect score in civil and political rights. Since 2013, they've been organising annual gay pride week. They also strive for gender equality, evident by an increasing number of woman in leadership positions. Cabo Verde has the second best education system in Africa, after South Africa. Primary school education is mandatory and free for children between the ages of 6 and 14.
What to see: There are lots of water sports and beaches, such as the Praia de Santa Maria. Carbo Verde is a famous surfing destination and is also known for wavesailing and kiteboarding. You can watch turtles hatch on the beach or hike a volcano – Pico Do Fogo.
2. Dominica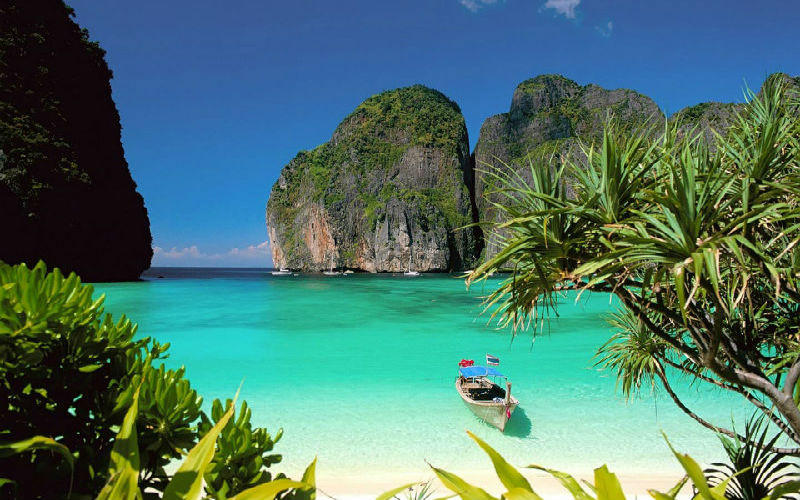 Animals lovers have many reasons to go to Dominica. Not only does this Caribbean island have the endangered Sisserou parrot, it is one of the few Caribbean nations that are actively against the whaling industry. The Dominica primary school curriculum aims to teach students to respect and care for whales and other marine life. High literacy rate of 94%, an exporter of clean energy and free healthcare for citizens are amongst a list of impressive reasons why Dominica is worth your time.
What to see: Dominica is known for its rich history of music; it is a fusion of Haitian, African, Afro-Cuban and European traditions. There are also many things for outdoorsy people, including the Trafalgar Falls and a hike to Boiling Lake. For something more peaceful, take a slow and silent boat trip along the shady mangrove-lined Indian River.
3. Grenada
The Caribbean island of Grenada takes strong action on climate change and on conserving its coral reef by constructing coral nurseries. It has achieved the second highest score on Freedom House's annual report on civil and political rights, and is making progress on LGBT rights.
Companies in Grenada are working to be more eco-friendly. For example, the Grenada Chocolate Company is a pioneer in organic cocoa cultivation and aims to empower cocoa farmers to earn a living wage. The company uses solar energy to power its tree-to-bar factory. To get its products onto shelves around the world, the company uses carbon-neutral, wind-powered Fair Transport.
What to see: You can snorkel or dive down to the Underwater Sculptures. Visit the Grand Etang National Park, place a bet on crab racing in Grand Anse Beach, or buy spices at Market Square. In line with its focus on ecotourism, there are kayaking tours focusing on conservation in Grenada.
4. Micronesia (Federated States)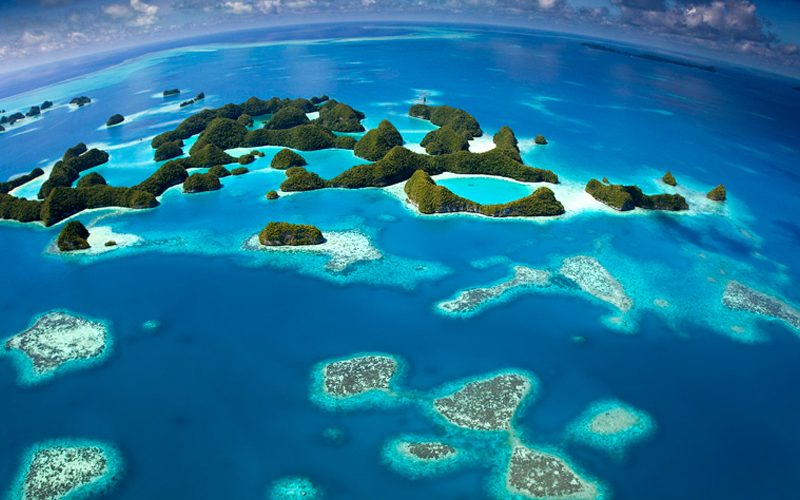 If you're looking for somewhere more remote and less touristy, Micronesia is an option. It's a country made up of four states – Yap, Chuuk, Pohnpei and Kosrae – and is scattered across the Western Pacific Ocean. The location of the country has hindered its tourism, but the country could use the economic boost from tourism.
Micronesia aims to reduce its reliance on fossil fuel and increase its share of renewable energy to at least 30 percent by 2020. In 2014, the island of Kosrae announced its first conservation easement (a law that removes all development rights) to protect a portion of a rare freshwater swamp forest in the Yela Valley. This valley contains the world's largest stand of ka trees. The tree is a highly-prized for its timber, medicinal value and edible nuts.
What to see: Check out the nation's history by visiting Stone Money, the nation's ancient currency that is transferred by chanting. There are also breathtaking hiking trails in forests and mountains. Do a bit of sustainable "catch-and-release" fishing and explore the mangroves of Yap Island on a kayak.
5. Mongolia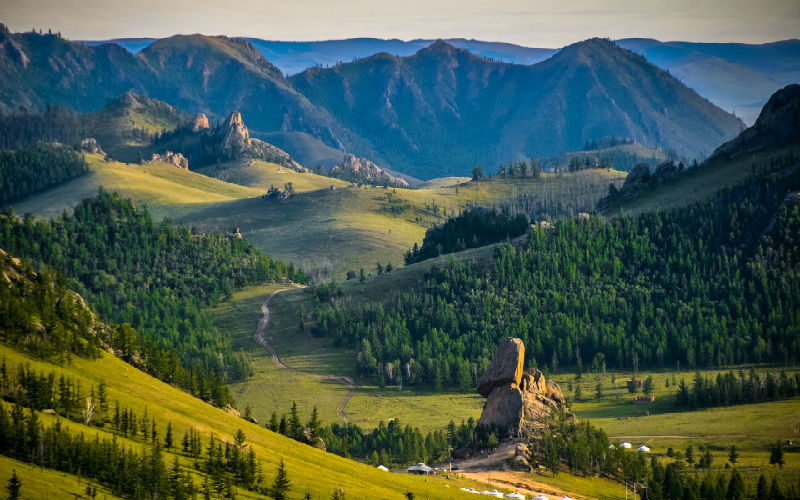 In 2015, Mongolia became one of three countries to make the highest progress in the Environmental Performance Index (EPI). This index, maintained by NASA's Socioeconomic Data and Applications Center, measures the country's focus on protecting ecosystems and human health. One of the indicator Mongolia scored highly in is the use and availability of solar energy. 500,000 Mongolians, including 70% of their herders, uses solar-powered electricity.
In terms of conservation, the nation has set aside 15% of its land to protect. This land includes UNESCO World Biosphere Reserve's Mongol Daguur, a steppe and wetland region. Khustain Nuruu National Park, the home of several endangered species including the Tarragon marmot and the great bustard, is protected as well. Partnered with the UK Government and the Zoological Society of London, Mongolia aims to enforce laws to stem the wildlife trade.
What to see: The attractions in Mongolia cater to a lot of difference interests. There're religious sites, museum and galleries to visit for those who like culture. For those who want an adventure, there is climbing with ice axes on the Tavan Bogd, the highest mountain in Mongolia. Plan your trip to coincide with the exciting Ӧlgi Eagle Festival for eagle-hunters.
6. Panama
Panama has achieved the second highest score environmental protection score after Tonga in this list. With deforestation being a threat, Panama is carrying out intensive reforestation projects that incentivise local farmers to practice sustainable farming. Panama has new national animal welfare laws that ban dogfighting, greyhound racing, hare coursing and bullfighting. They also regulate the use of performing animals in circuses.
On the human rights front, the Central American country has ratified all six international conventions concerning child labour as well. The low employment rate is low; only 5% of the workforce are unemployed. This has lead to it being ranked at number 7 on the Happy Planet Index, which indicates the healthy wellbeing, high life expectancy and small ecological footprint.
What to see: Go on early-morning dives near Portobelo Bay and Drake Island. You can enjoy dinner with a show about Panama folklore complete with traditional acoustic tunes. There are also eco-canal tours to Gatun Lake and Monkey Island. Take a tour around Anton Valley, a volcanic village and impressive waterfall.
7. Samoa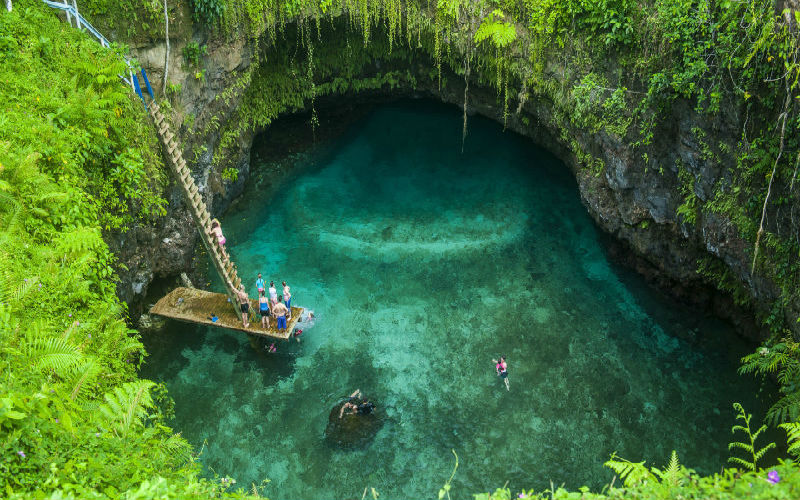 A sovereign state in Polynesia, Samoa is located in the South Pacific Ocean. The nation is pushing for strong actions on climate change. Last year, it launched new solar plants to achieve its goal of being 100 percent powered by sustainable energy by 2017. Samoa is the home of the Samoan Woodhen and Mao, two endangered birds. In 2010, the country gazetted protected areas that cover 5% of the land. The government is working to increase that percentage to 15.
Samoa has a bad past with domestic violence, but the country is taking a step forward with human rights and has increased its protection for women, people with disabilities, and prisoners. They launched a "State of Human Rights" report, highlighting the need for better safeguards for children.
What to see: You can swim at To Sua Ocean Trench, which is a natural swimming pool on the volcanic island. If you're a strong enough swimmer, swim through the tunnel to reach the ocean. Visit the Samoa Cultural Village to learn about their history, walk the Falealupo Canopy, or swim with turtles at the Palolo Deep Marine Reserve.
8. Tonga
Tonga scores the highest in the environmental protection in this list. In 2014, the country banned all fishing activities within the reef on Fafa Island, just north of the capital of Nuku'alofa, to stop overfishing and destructive fishing practices. Tonga has a year 2020 goal to harness 50% of its energy from renewable resources. Solar arrays are currently being built on nine Tongan islands.
The Freedom House gave the South Pacific island the second highest score on its annual civil and political rights report. However, Tonga is one of the seven countries that did not ratify the United Nation's Convention for the Elimination of All Forms of Discrimination Against Women. This action shows the troubling cultural belief that woman have a certain status they hold in society. The country is slowly making progress in this area, starting with the Pacific Human Rights on Sexual Orientation and Gender Identification Conference held last year.
What to see: There's plenty to explore in Tonga. You can see Mapu'a 'a Vaea Blowholes, which are blasts of water created by sea caves, swim at Anahulu Cave's underground swimming pool or explore the multitude of beaches. The country's main attraction, however, is humpback whale watching and swimming.
9. Tuvalu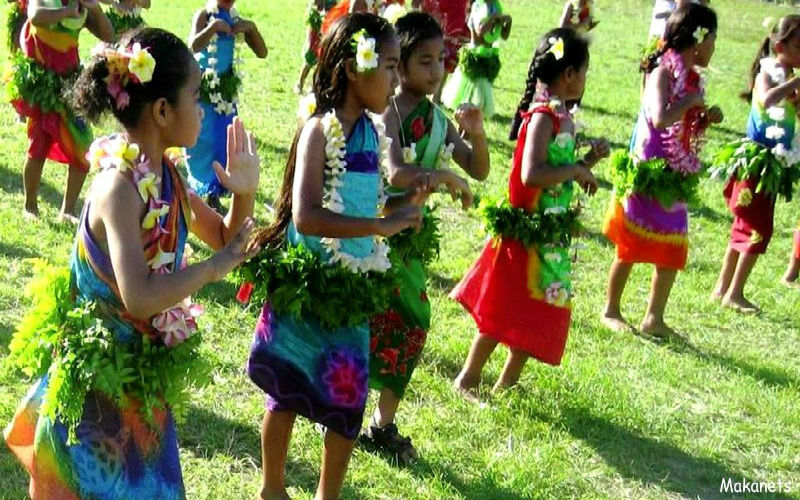 Located in the South Pacific Ocean, Tuvalu is under threat from rising sea levels. They are so incredibly low-lying that there's a fear they will be one day be submerged. Just to be safe, plan to visit Tuvalu soon.
In 2012, the nation developed a National Water Resource Policy to improve access to safe drinking water and sanitation. The government partnered with South Pacific Applied Geoscience Commission to implement composting toilets and to improve the treatment of sewage sludge from septic tanks. To combat overfishing due to rising population, the government created the Funafuti Conservation Area to maintain sustainable fish stocks in Funafuti lagoon. Freedom House gave Tuvalu the second highest score on its annual report on civil and political rights.
What to see: Check out the Funafuti Marine Conservation Area, where you can admire sea creatures and wildlife. Learn to play Kilikiti, the local version of cricket, and te ano, a traditional ball game similar volleyball. One of the best things you can do is to rent a motorbike and ride around the island. Better yet, go to a Tuvaluan Sunday Church service and enjoy a traditional family lunch of fresh fish, coconut appe, and breadfruit load called 'Tonai'.
10. Uruguay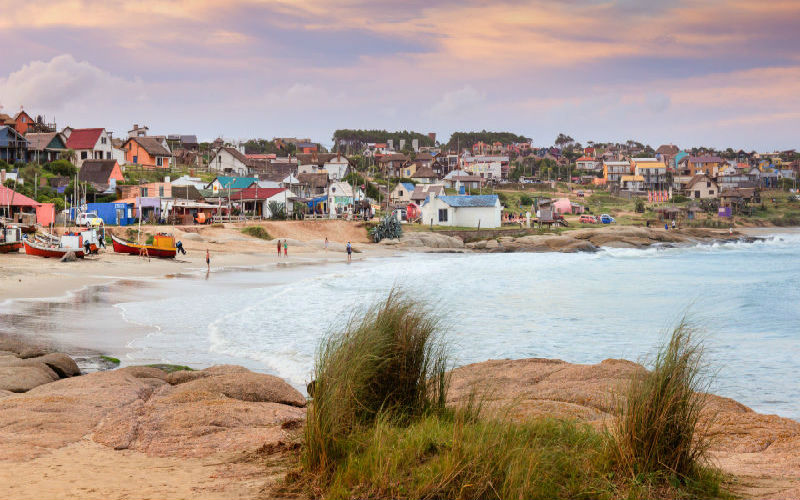 Uruguay is the top green energy performer in this list. In 2015, South American country supplied 90% of its electricity from renewable sources. It also has the world's first fully sustainable airport. Uruguay scores highest on the United Nations Development Program's Human Development Index out of all the countries in this list. In Latin America, Uruguay is ranked first in democracy, peace, lack of corruption, quality of living and e-government.The nation contributes more troops to the United Nations than any other country.
To stop drug trafficking, Uruguay made the growing of marijuana legal. Private citizens are allowed to cultivate up to six plants in their house and can form private grow clubs to produce more. The law treats cannabis use much like alcohol consumption – regulating the nation's $40 million-a-year marijuana industry, decriminalizing use, and giving treatment options to the most serious abusers.
What to see: Uruguay is often ignored by travellers as there's a misconception that there's nothing to do there. This is false; you can go tango dancing, eat asado (barbeque) or celebrate the longest Carnaval of South America, which lasts for 40 days. In Motevideo, you can celebrate the Desfile de las Llamadas, an all-night long parade accompanied by the drumming of an Uruguay instrument called the Candombe. There's plenty for nature lovers, for you can surf and hike in Punta del Diablo or see sea lions in the wild at Cabo Polonia.
For more, read the full article from Aternet here.

Read next:
Get all the latest travel stories from Zafigo. Follow us on Facebook and Twitter.