On the dot of 9AM, the blue Toyota Innova HBB818 pulls up at the kerb in KL Sentral. As the driver rolls down the car window, several heads turn. The driver's floral blue scarf stands out among the moustached faces and hairy elbows poking out of the other taxi windows. Shrugging good-naturedly, Noremey Abdul Ghani tells me, "This reaction is common even though our numbers are growing. Many of my customers tell me I'm the first female cab driver they meet in Malaysia."
It first occurred to Noremey that she could make a living behind the wheel when she was – aptly enough – sitting in a cab. Noremey, the holder of an honours degree in accountancy, worked in an oil and gas company whose perks included a daily travel allowance to commute between her home and office. Though well-compensated in her job, she was bored by the monotony. Trading stories during those hour-long journeys, her cabbie's lifestyle, with the time flexibility and chance to meet people from all ways of life, looked increasingly attractive. Besides, the income wasn't too bad too – the fare for a return trip between her home and office was a cool RM200.
To make sure she knew what she was getting into, she spoke to more people and did online research. One day, she chanced upon taxidriversmind.blogspot.my, a blog written by a taxi driver. Rich in industry information and insider tips, one particular post jumped out at her: "Pemandu sebagai usahawan teksi" (Driver as taxi entrepreneur). It was just the nudge that Noremey, who had always yearned to run her own business, needed.
She leases her Toyota Innova from a taxi operator (In Malaysia, the government grants permits to taxi operators rather than individual drivers), with the option of converting it to private ownership in 5 ½ years. The strategic-minded Noremey picked an MPV because the bigger space for passengers and baggage would enable her to ferry whole families instead of individuals, and in turn increase her revenue.
Staying safe on the roads
Like it or not, female taxi drivers are more vulnerable to the threat of assault than their male counterparts. Noremey had a close brush early on in her career when she picked up four male foreign workers at the airport who wanted to go to a rural part of Selangor that she was unfamiliar with. "Although I was uneasy, I had no choice but to accept them as you can't turn down clients at the airport," she explains. As she realised she was heading into a remote estate and night was falling, she grew increasingly unnerved and "got a little hysterical." In an ironic twist, she warned them "not to try anything funny or my husband (who's also a taxi driver) will come after you!" Though nothing untoward happened to her, the wakeup call reminded her of the potential dangers of her profession. "We are letting all types into our vehicle, and some of them are bound to be undesirables. It's a numbers game."
2 ways Noremey mitigates the risks:
1. She pays a commitment fee to hotels for the right to pick up customers at their doorsteps. One reason was to have a stream of income while building up her own customer base; another was safety. The chances of getting quality passengers, she reasons, is higher than, say, those off a random taxi stand.
2. She focuses on business travellers who make bookings directly, through hotels and smartphone booking apps such as Grab (previously known as MyTeksi). "Taxi hailing apps have really revolutionised the taxi industry by making work life safer for women drivers. In the past, the only way we could earn a living was by cruising popular places in town or pick up random passengers from taxi stands. You can share essential information with friends or family." The result: Safer public transport for both passenger and driver.
Your guide to the city
Traditionally, taxi drivers are celebrated for knowing backlanes, shortcuts and hidden gems like the back of their hand. In the age of Waze and Google Maps, is that still necessary?
3 ways she plays tour guide to her customers:
1. You don't have to be a walking map, Noremey says, but time-crunched corporate clients appreciate the fact she can readily recite a list of mini-itineraries customised to their time and interest. "If a customer tells me he likes culture, I recommend museums and art galleries. If they have only a few hours to kill, I suggest a half-day itinerary. If they have a full day, I suggest a city tour, or a day trip to destinations beyond the city centre such as Putrajaya, Batu Caves, Melaka or Genting Highlands."
2. Sometimes, she is invited to join customers on their activities. She doesn't decline, but adheres to one golden rule: She never walks beside her customers, always behind them. "A customer is still a customer. As someone in the service industry, you should respect your customer's personal space, yet remain approachable and friendly."
3. Making small talk with customers isn't just about breaking an awkward silence in a long cab journey. Thanks to a traveller who asked to be dropped at Bangsar LRT, Noremey found out that it was the designated meeting point for a street food tour conducted by Food Tour Malaysia, which gives travellers the opportunity to experience the city through the eyes of a local and sample authentic delicacies. "21st-century travellers are street-smart, highly educated and occasionally know more about a destination than a local!"
A woman's touch
Approaching her career with the mindset of an entrepreneur, Noremey is constantly asking herself: What can I do to make the customers more comfortable?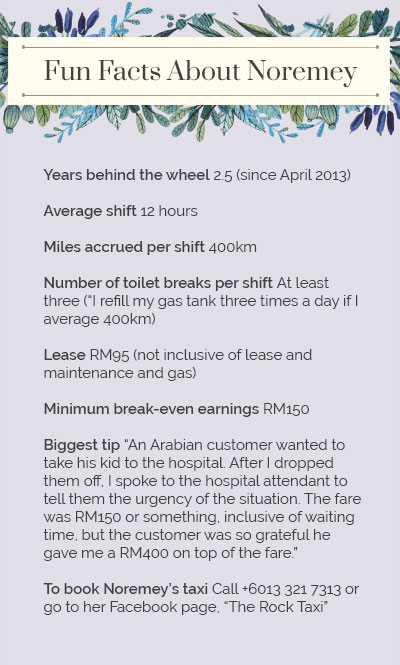 She sees herself as someone who helps many customers with their transportation needs, not just someone who chauffeurs them from point A to point B. "It's all about soft marketing and being sensitive to your customer's needs. These little touches keep your customers forming back. That's really important for me, because a big chunk of my revenue comes from repeat business from business travellers."
4 practices to win over customers and keep them coming back:
1. For long-haul journeys, Noremey ensures she has a mineral water bottle to offer thirsty passengers. Smartphone battery gone flat? No problem; she has a spare power bank and car charger. On request, she also rents baby car seats to cater for families with young children. These thoughtful niceties don't cost a bomb, but go a long way in winning customers.
2. Good observation skills are also important to retain repeat customers. For example, she is extra attentive when accepting payment from Japanese tourists because they have a tendency to mix up local currencies. "I once got RM180 when the fare was only RM18!"
3. She noticed that business travellers, who form the bulk of her customer base, are extremely sensitive to smells. "This can be easily remedied by investing in an air freshener. I also do not allow smoking in my car!"
4. Her car is also scrupulously clean. To ensure her car is in tiptop condition, Noremey sends her car for servicing every three weeks and organises a tyre change every six months. "Since it's my own car, I'm extra motivated to take good care of it," she grins.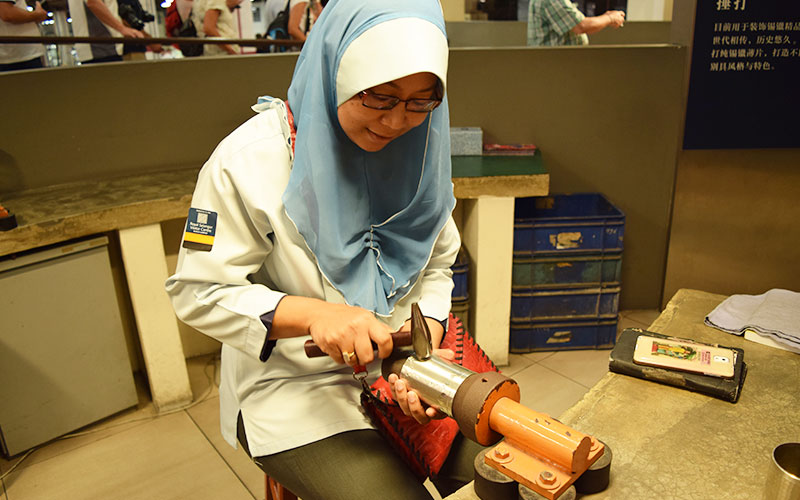 Female-powered future
Female participation in the taxi industry is increasing, particularly in metropolitan cities like Kuala Lumpur. Noremey foresees companies making a bigger effort to recruit women taxi drivers, especially with more solo women travellers on the rise. Citing KTM's pink coach for ladies as an example, she points out that there is a unique market for women taxi drivers as discerning customers are willing pay for differentiated services. Even male customers prefer lady drivers – a common complaint about male cabbies is their tendency to show off their driving skills. They weave in and out of lanes and take back routes to destinations. "I care too much about my customers' lives to engage in driving acrobatics!"
Personally, she loves the freedom, confidence and financial security the job brings. "I even thought of becoming the first millionaire taxi driver. You might think I'm bongok (crazy), but if I succeed, I can be a positive role model for other women taxi drivers."
To book Noremey's taxi Call +6013 321 7313 or go to her Facebook page

More from Zafigo
Taking taxis in Kuala Lumpur: Tips to staying safe
How to deal with inappropriate drivers in a foreign country
Get all the latest travel updates from Zafigo. Follow us:
[button url="https://www.facebook.com/zafigo" size="small" value="Facebook" color="#94288e"]  [button url="https://twitter.com/ZafigoAsia" size="small" value=" Twitter " color="#89c44c"]  [button url="https://instagram.com/zafigoasia" size="small" value="Instagram" color="#14afa9″]