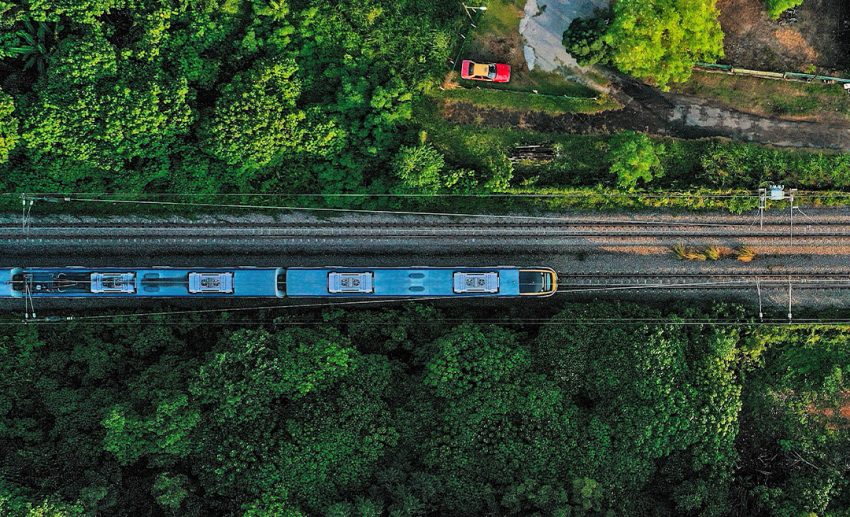 "My heart is warm with the friends I make,
And better friends I'll not be knowing,
Yet there isn't a train I wouldn't take,
No matter where it's going."
With rising standards of living, have railway journeys become passé? Just like Edna St Vincent Millay's sentiment in the aforementioned quote, I beg to disagree. Since their advent, trains have come a long way. While initially, their purpose was limited to transportation of troops or goods, their role these days is not so utilitarian. From being a prop in a rom-com facilitating a hero's journey to his beloved, to providing a sanctum for solo women travellers on their path to self-actualisation, a train is a multiverse in itself.
Whether you were born in Malaysia or it's your adopted country, hopping on a train for a day or two will let you see this amazing country in a whole new way. While Hogwarts may not be on the itinerary, who knows, you still might meet the Ron to your Harry on one such serendipitous train ride!
KL Sentral to Ipoh

If the road not taken is usually your jam, we bet this'll be the perfect destination for you or your squad of fellow women travellers. Despite being a byword for charming tourist destinations, this route will take you to one of Malaysia's most celebrated destinations – Ipoh.
If we as women are to live our stories, we need to write them first, and this train ride can be a great place to start! The KL Sentral to Ipoh train route ensures high-speed and comfortable travel; courtesy of electrified double tracks and modern coaches. There are three types of ticket ranges available: ETS Platinum, ETS Gold, and ETS Silver. Regardless of your budget, rest assured you'll reach Ipoh in about three hours, so take your pick and book right away!
For the art connoisseur brigade, dropping by Funtasy House Trick Art after reaching Ipoh is a must. In case you're spending a weekend, know that Ipoh is a heaven for foodies, and that there are some amazing places to visit.
KL Sentral to Padang Besar

Usually, Padang Besar in Perlis is just another pit stop for those heading to Hat Yai. But if you don't want to venture into another country with a raging pandemic limiting mobility and exacerbating travel anxieties, take a day trip to Padang Besar. It's a four- to five-hour journey, and to suit your budget, you can choose either ETS Platinum or ETS Gold tickets.
The picturesque countryside with its lush green paddy fields will teleport you to the era of the Romantics. While Padang Besar has charms of its own, the train ride bears testimony to what Ursula K Le Guin said, "It is good to have an end to journey toward; but it is the journey that matters, in the end."
Fancy resorts are great, but for women travellers seeking an authentic Malaysian experience, leverage your bargaining skills or try delish delicacies at Padang Besar's shopping havens like Padang Waremart and Complex Arked Niaga.
Tanjung Aru to Papar

(Flickr)
If you think basking at Tanjung Aru Beach is the zenith of your Malaysian explorations, wait till you reach Papar in Sabah. It's the perfect weekend getaway for women travellers whose day jobs turn them into weary laptop warriors on weekdays. Travel back in time – and that too without a time machine – by opting for a colonial steam train excursion.
On Wednesdays and Saturdays, this British Vulcan steam locomotive takes you from the Tanjung Aru Station to the rice bowl of Sabah, also known as Papar, through striking plantations and jungles. The ride enables you to leave modern contraptions behind and catch a glimpse of the South China Sea on your way to Papar. Passing through the traditional trading village of Kinarut and Kawang will leave you amazed at how much tenderness the Earth has set aside for us.
If jungle trekking, camping, and cave tours quadruple your serotonin levels, Kawang abounds with opportunities. The Lok Kawi Wildlife Park, located on Penampand-Papar old road, is ideal for women travellers wishing to indulge the philozoic or nemophilic sides of their personalities.
Beaufort to Tenom
For locals or those who've been in Malaysia for some time, the name Tenom speaks for itself. The train ride from Beaufort to Tenom in Sabah, lasting approximately three to four hours, will give you a true taste of Malaysia. You'll feel like you're part of a commercial promoting the plethora of beauties of our planet. Malaysia is, after all, one of the most biodiverse countries in the world.
Placid yet impetuous at times, the Padas river and tiny villages with their churches and orchards are a sight to behold. If you're a poet/writer, I highly recommend carrying a notebook, as who knows, the marvels of the fast-disappearing landscape might incite your furor scribendi! Perhaps you can even turn the trip into a writer's retreat.
Tenom's Sabah Agriculture Park with its array of rare tropical fruit trees and Yit Foh Coffee Factory & Park will make you realise that perhaps paradise isn't lost after all. Just head to the Sabah State Railway Department site for more on how to explore this stunning region by train.
Keeping safe
Since women's safety is an issue of grave concern, we often balk at the idea of solo female travel or a gang of women travellers going out in the world unaccompanied by a man. While the outside world can be unkind, we can't ignore how travel enables women to become au courant and fully embody their individuality. Boarding a train, even if just for a day or two, is a need, rather than a luxury. How else will we be besotted with ourselves? And if we don't learn to revel in our own company, how will we ever find joy in that of others?