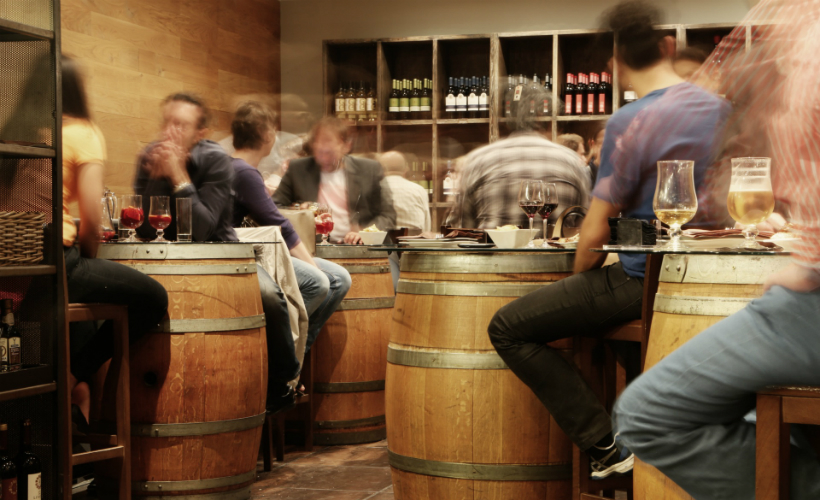 England's Lincolnshire County Council has launched a campaign against sexual violence and abuse that not only raises the awareness of the issue, but also gives women a discreet yet effective way to escape dates when they feel unsafe.
Bars and other social areas in Lincolnshire put up this poster in the women's toilets offering them help to get out of dates that they are uncomfortable with.
The poster advises women to listen to their intuition and take action if they feel something is not right. It reads: "Are you on a date that isn't working out? Do you feel like you're not in a safe situation? Is your Tinder of POF (Plenty of Fish) date not who they said they were on their profile? Do you feel like you're not in a safe situation? Does it all feel a bit weird?".
According to the poster that is supported by the Lincolnshire Rape Crisis, women can go to the bar and ask to speak to "Angela".
Angela is a code word alerting the staff that they are unsafe and in need of help. Upon hearing the code word, the staff would look out for the woman's safety. If needed, they will even call a taxi for her to get home safely "without too much fuss".
Twitter user IZ @iizzzzzi saw the poster in the toilet and tweeted a photo of it, exclaiming that it "should be a thing everywhere not just Lincolnshire". The campaign has won praises with calls for it to be spread further.
"The 'Ask for Angela' posters are part of our wider #NoMore campaign which aims to promote a culture change in relation to sexual violence and abuse, promote services in Lincolnshire and empower victims to make a decision on whether to report incidents," Hayley Child, Substance Misuse and Sexual Violence & Abuse Strategy Coordinator for Lincolnshire County Council, told The Independent.
"Sexual abuse and violence is a national issue and all councils have a responsibility to tackle abuse. This was Lincolnshire Community Safety Partnership's first awareness raising campaign on this issue."
The campaign is compelling as it provides women a safe exit without causing a scene.
According to a 2015 survey by Cosmopolitan, one in three women in the UK has been sexually harassed at work. Out of that number, only 29% of women reported the harassment. 71% of cases went unreported.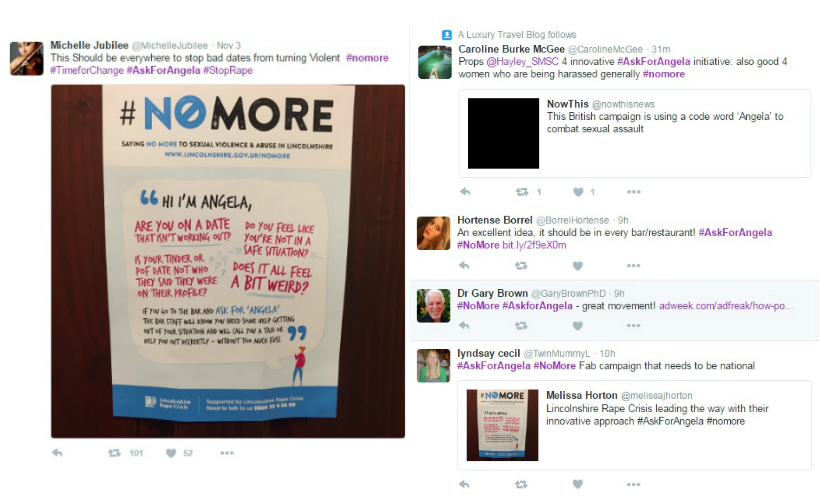 Sexual harassment cases often go unreported because women fear the stigma of widespread victim-blaming. On top of that, women are afraid that taking action may cause the harasser to retaliate. However, the biggest reason of why women don't report is because guilt, fear, shame and confusion can be paralysing. More often that not, women simply do not want anyone to know that they have become a victim.
The 'Ask for Angela' campaign effectively addresses these fears and empowers women to take action all while maintaining discretion.
For solo women travellers, exploring a city's nightlife is often a tricky situation as the combination of loud music, crowds, dark nights and alcohol makes them vulnerable targets. As a result, some skip experiencing that part of a city and stay put in their hotels at night.
Knowing that there is an 'Angela' ready to help them if needed would give women travellers more confidence and freedom to explore a new location whether by day or by night.
This ingenious campaign is one that needs to be implemented in bars, clubs, restaurants and malls around the world.
H/T: AdWeek

Read Next: