This October, explore how you can seamlessly integrate your compassion for Breast Cancer Awareness Month and your love for self-care or perhaps indulgence. We highlight some campaigns that have committed themselves to making a difference while creating meaningful change in the fight against breast cancer.
Here's what you can do in support of pink October:
Have a Pink Afternoon Tea at the Shangri-La KL's Lobby Lounge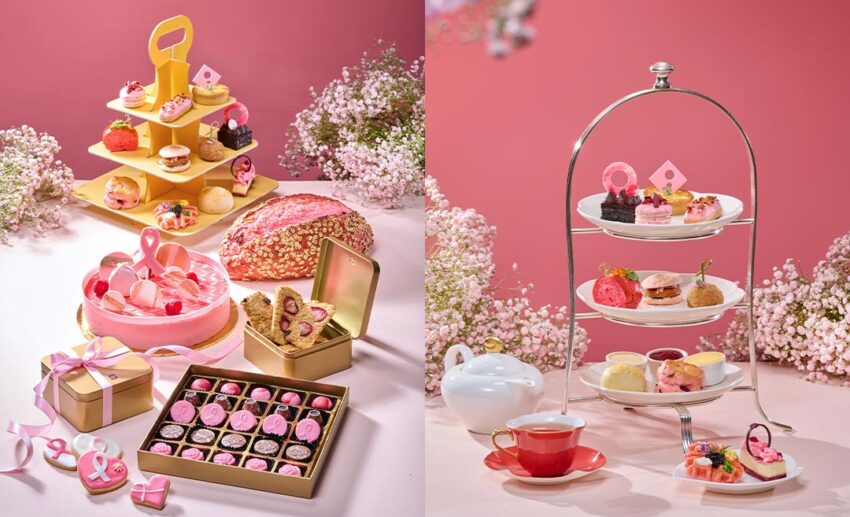 For a symphony of flavours that will tantalise your palate, book yourself a special Pink Afternoon Tea at the hotel's Lobby Lounge. Begin with some smoked salmon on beetroot-infused cheese baguette, a sumptuous waffle with Avruga caviar, and crispy mushroom and beetroot arancini balls.
Then, move on to the sweet side with delectable raspberry eclairs; rich cheesecake bars; tarts with pineapple, coconut, and lemon; luscious chocolate cakes with apricot infusions; and traditional macaroons with a tinge of pink.
Two types of scones are available for your picking — classic and pink cranberry, which gives a lovely sharpness to counteract the richness of the jam and clotted cream served on the side. Finally, top it all off with a glass of Chandon Garden Spritz if you so desire.
Available every day in October from 3pm to 6pm with a starting price of RM148 or RM248 for a set that includes a glass of Chandon Garden Spritz. To reserve this teatime special, call +603 2074 3900 or email dining.kl@shangri-la.com.
Grab some pink treats for the family at Lemon Garden 2Go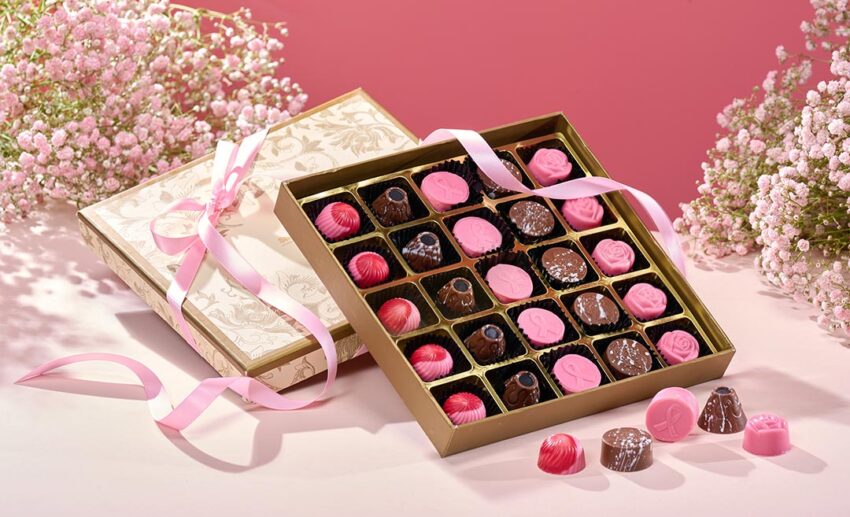 A special selection of pink treats only available in October are up for grabs at Lemon Garden 2Go. These delectable treats, which include pastries, chocolates, and more, are the ideal way to show your loved ones how much you care.
Dried Strawberry Oatmeal Bars, Pink Designer and Shortbread Cookies, Pink Flamingo Marble Cheesecake, Vegan Chocolate Tablets, and a variety of pralines in a gift box are among the items available for purchase.
Prices start at RM18, and these goodies available for delivery and take-out throughout October 2023. To make an online order, visit their website. Five percent from every purchase of the Afternoon Tea set and Pink Goodies will be donated to the Breast Cancer Welfare Association Malaysia (BCWA).
Join the Pink Charity Walk & get a complimentary breast examination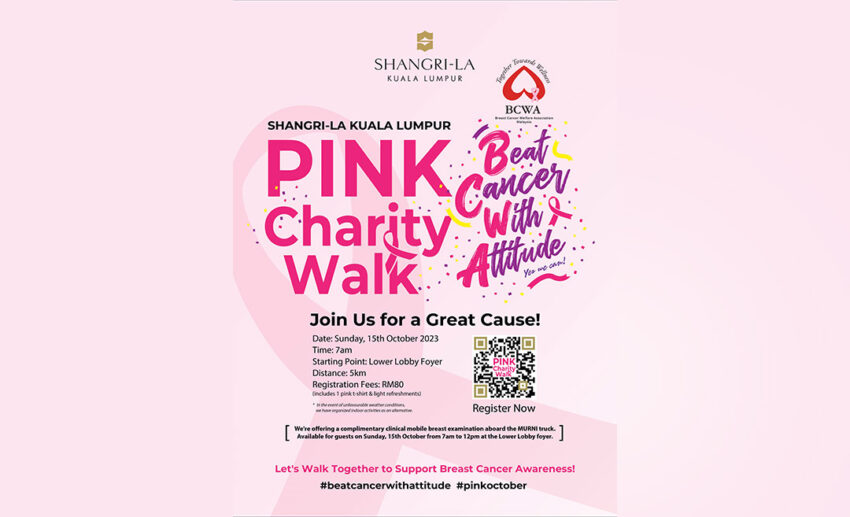 Shangri-La Kuala Lumpur is taking its commitment to breast cancer awareness a step further through a Pink Charity Walk. On Sunday, 15 October 2023 from 7am to 9am, join in for a breezy five-kilometre stroll at a fee of RM80 per participant. All revenues from the walk will be donated to BCWA!
Participants are also welcome to take advantage of the complimentary clinical mobile breast examination aboard the MURNI truck, at the Lower Lobby Foyer. This helpful service will be accessible from 7am to 12pm on the day of the charity walk.
Register for the Pink Charity Walk here, or email slkl-pr@shangri-la.com for more information.
Get a free breast check at Breastfeed with Simran
Breastfeed with Simran, in partnership with Dr. Erma A. Thani, a medical officer in General Surgery at KKM, will be offering free breast examinations on the 28th of October.
Dr. Erma and the committed team of lactation consultants at Breastfeed with Simran hope to emphasize the value of early breast cancer detection and breast health through this campaign. They aim to empower women by encouraging regular self-exams, aiding in the early detection of any breast tissue abnormalities.
To arrange for your free breast check, drop them a WhatsApp message at +6011 1150 0850. The first 40 participants get to bring home surprise goodie bags!
Address: 4a, Jalan Telawi, Bangsar, 51900 Kuala Lumpur, Wilayah Persekutuan Kuala Lumpur
Boost your wardrobe with merchandise from the Melpowering Pink Campaign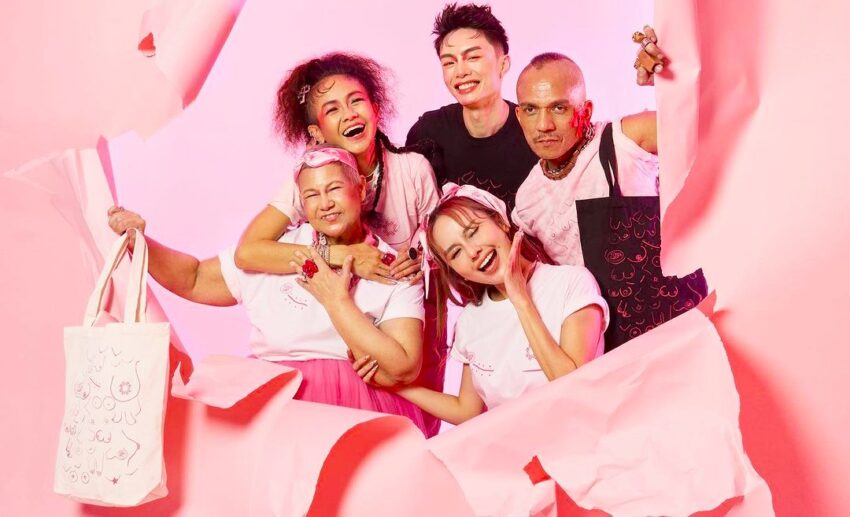 To boost breast cancer awareness, prominent Malaysian fashion designer Melinda Looi together with the Kuan Sisters, have released a range of breast cancer awareness merchandise. A portion of the proceeds from the purchase of these tote bags, T-shirts, twilly scarves, and brooches will be going to Cancer Research Malaysia.
These items are available for purchase on Melinda Looi's official website throughout October. Both the Kuan Sisters, Jestinna and Christinna Kuan will be touring local universities and colleges, using their influence to raise awareness among college students about breast cancer.
You'll also find pink-themed items from Love 18 Chocolates, Bloop, Relax, Tea Bird Tea, Satay Sumo, and Candle Pit Stop at the Melinda Looi Concept Store in Eslite Starhill, with a portion of the earnings going to Cancer Research Malaysia.
Support Estée Lauder in their quest for a breast cancer-free world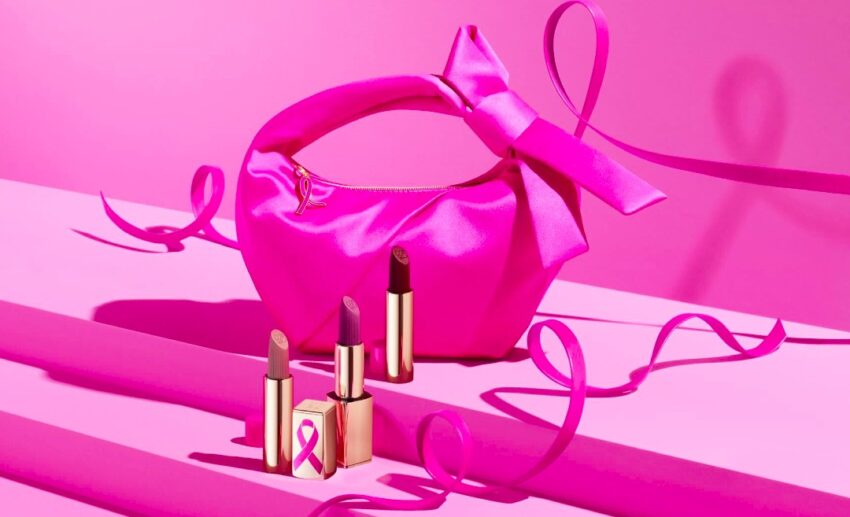 The Estée Lauder Companies (ELC) have been a long-standing supporter of women in STEM (science, technology, engineering, and mathematics) and breast cancer awareness.
To make cancer patients' treatments more accessible, ELC is collaborating with Sime Darby Automobile, to fund Build-Your-Dream electric vehicles (EVs). Crucial breast cancer tests can be delivered by these EVs, enabling medical professionals to reach rural areas of cities with poor access to healthcare, and transport patients from remote locations to hospitals.
Shop the Limited Edition Pink Ribbon Advanced Night Repair Serum and Empowered in Pink Pure Color Lipstick Collection available at Estée Lauder free-standing stores, online, and on Lazada. All proceeds from the limited edition Pink Ribbon collection will support ELC's Breast Cancer Campaign mission. Direct donations to the cause can be made here.
Buy a goodies-filled gift box for a loved one from Signature Market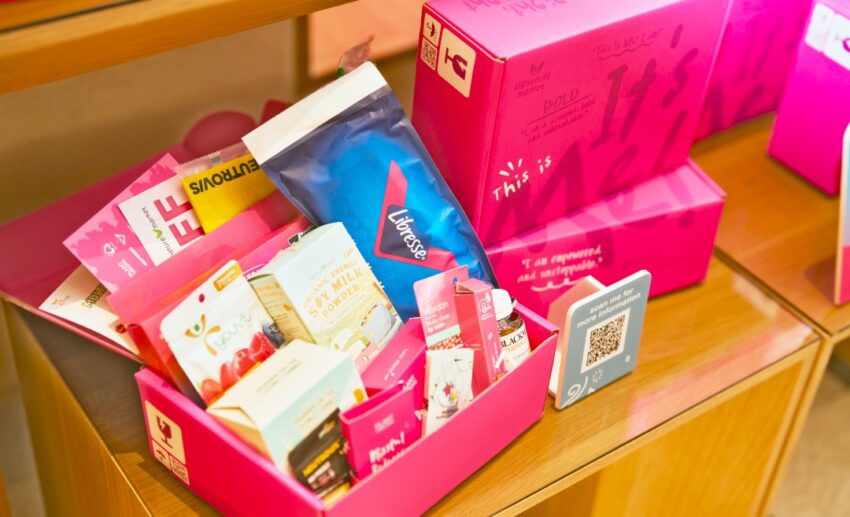 Signature Market, a brand known for its commitment to quality and well-being, has orchestrated a collaboration of 10 remarkable brands, creating a gift box that not only delights but also helps in the fight against breast cancer.
'It's ME' is emblazoned on every gift box; this statement goes beyond simple affirmations of self-acceptance and empowerment, it also emphasises the importance of women crafting their own stories.
Each IT'S ME gift box costs RM49.90 and can be purchased online, through Signature Market's official website, Lazada, and Shopee, or at their Design Village Penang location and the Signature Market flagship Experience Store in IOI Putrajaya. A portion of the sales proceeds from the gift boxes will be donated to the Breast Cancer Welfare Association Malaysia.
Editor's note: This article was originally published on 6 October 2023 and has been updated to include more things you can do in support of Breast Cancer Awareness Month.