Everyone thinks they're immune to cancer until they, a family member, or a friend gets it. Having to deal with a cancer diagnosis and treatment is difficult enough, but the frightening aspect is that many people with cancer go for a long time without realising they have the disease.
The rising number of reported cases in Malaysia highlights the severity of this problem. It is projected that by 2030, a total of 66,000 new cases of cancer will be detected in Malaysia, up from an estimated 49,000 in 2020.
Sunway Medical Centre Velocity (SMCV) is taking advantage of this breast health awareness month to shine some light on breast cancer and also ovarian cancer, which is notoriously difficult to identify at an early stage. By doing so, SMCV intends to help women better understand their breast and gynaecological health, allowing them to more quickly rule out any health issues and get the treatment they need at an earlier stage for a higher chance of recovery.
Keeping abreast of changes in your body and female health education
Sadly, there are a number of women-specific diseases we need to be mindful of, and breast cancer is jus tone of them. According to Dr Suziah Mokhtar, a Consultant Breast, Endocrine, and General Surgeon at SMCV, 1 in 27 women will develop breast cancer in their lifetime. This risk rises if the woman has a first-degree relative (mother, sister, daughter) or many relatives who have had breast or ovarian cancer.
According to Dr Wong Yen Shi, a Consultant Obstetrician and Gynecologist at SMCV, only about 20% of ovarian cancers are discovered at an early stage because no screening or test has been established to check for early treatment. Currently, transvaginal scans and the CA 125 tumour marker test are utilised to diagnose it, although they have their drawbacks.
Fortunately, breast cancer survival rates can be improved with early diagnosis.
Mammograms, the most popular breast cancer screening test for women over 40, have helped to reduce breast cancer fatalities by over 20%. Women who are younger can have ultrasound screening, and those who have a higher chance of developing breast cancer should start thinking about it from age 30. Surgery, chemotherapy, radiation, endocrine therapy, and targeted therapy are just some of the options for tailored treatment plans.
Here are some things to be mindful off on a day-to-day.
Breast cancer signs and symptoms
Lumps in Breasts (instructions below)
Nipple abnormalities
Breast pain
Lumps in the armpit (usually mistaken as a normal lymph node)
Skin changes (usually mistaken for eczema or allergy)
Coughing or shortness of breath
Jaundice, ascites
Persistent headaches
Ovarian cancer signs and symptoms
Bloating
Abdominal discomfort
Urinary frequency
Constipation
Feeling full quickly
Weight loss
Fatigue and back pain
How to perform a self-breast examination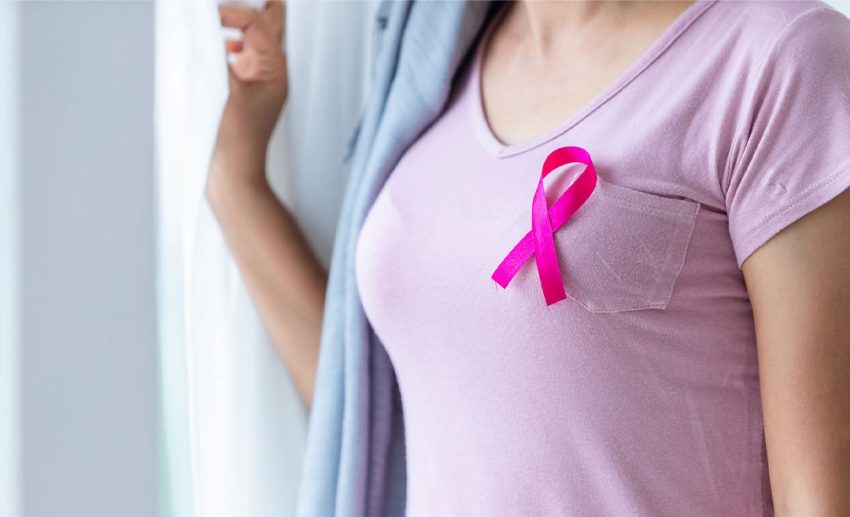 the fact of the matter is that we only go for medical screenings once a year on average. So, during those times you're not seeing your doctor, it's important to know how to correctly check your own breasts for lumps. Do this once or twice a month at least to be better aware of your body and also of what's 'normal' and not.
Step 1 (visual inspection): Stand in front of the mirror without your shirt or bra on. First, put your arms down by your side, second, raise your arms high overhead, and finally, put your hands on your hips and press firmly to make your chest muscles flex. While engaging in these activities, keep an eye out for alterations to your breast size, breast shape, skin dimpling, or nipple abnormalities.
Step 2 (manual inspection while standing up): When you're standing still, use your right hand to feel around your left axilla and breast, then your left hand to do the same for your right side. Feel for lumps or other breast changes by pressing on the area and moving your three middle fingers in small, circular motions. Squeeze the nipple lightly to feel for any discharge.
Step 3 (manual inspection while lying down): While lying down, repeat Step 2.
Throughout Breast Cancer Awareness Month this October, SMCV is providing breast cancer screening and other female health screening packages, free mammography screenings for eligible patients, giveaways, and a partnership with a female-centred brand for a community engagement event in hopes that this will stimulate greater conversation amongst women and offer them with the opportunity to learn more about their health.
Any questions can be directed to [email protected] or +603 9772 9191. Visit their website for more information.
*All images courtesy of Sunway Medical Centre Velocity.