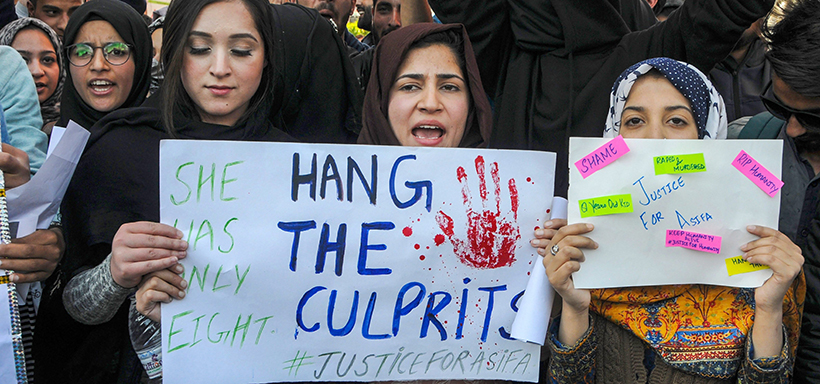 India has been in a state of shock and outrage over the last few days as details, one more horrific than the other, have emerged regarding the #Kathua case where eight-year-old Asifa Bano was brutally sexually assaulted and subsequently murdered by a group of eight men. The crime has been further complicated for religious and political reasons.
Zafigo shares the utter despair that thousands in India have felt and expressed, and unite with those around the world in asking for justice for the victim and safety for all. We urge women travellers to maintain caution, avoid areas of conflict and keep vigilant no matter where they may be.
There has been widespread criticism and fury at the Prime Minister's silence on the issue which promoted him to make a statement at last; the statement is itself under scrutiny for meaning too little and coming too late. International media has come down hard with these questions, echoing the wave of frustration spreading across the citizens of India. The New York Times has called this a crisis for PM Modi and has raised questions regarding his position in the upcoming 2019 elections.
Meanwhile, silent marches, midnight vigils and protests in solidarity with the victim have sprung up through the country. Protestors have also shown an outpouring of support for the #Unnao rape victim and the political indemnity protecting the accused.
While this issue was heating up in the country, there have been reports of a gang-rape of a nine-year-old girl in Surat, Gujarat over the same weekend. An article by the Business Standard rounds up some of these cases and states that registered rape cases in India have almost doubled in recent years.
While abhorrent crimes such as these can happen anywhere and these particular incidents have taken place in smaller towns of India that are not normally tourist-heavy, they are symptomatic of the issue of crimes against women in the country.
Currently, this is the zeitgeist of the nation and we hope it results in affirmative action. Any part of India that you visit right now is likely to be protesting in some way, shape or form. Most of these have been peaceful, but there have been reports of women being touched inappropriately. Security by police is unfortunately not adequate always and not necessarily sympathetic to protestors. Therefore:
Make sure you have company if you're passing through or attending any solidarity meets.
As always, please ensure your mobile phone is charged and you have access to data so you can book a ride via Uber or Ola. Mobile networks tend to get jammed when large crowds gather, so try to get away to a less crowded area if needed.
Moreover, stay vigilant no matter where you are. The Kathua incident allegedly occurred in an isolated temple.
Get all the latest travel stories from Zafigo. Follow us on Facebook, Twitter, and Instagram.