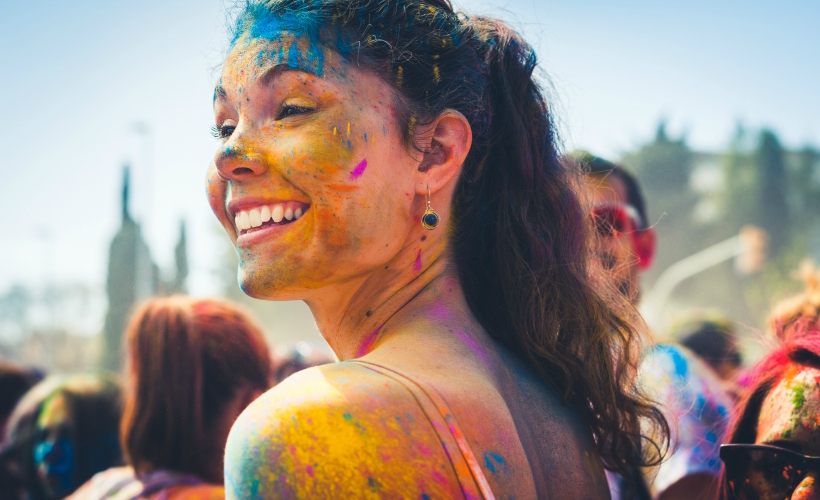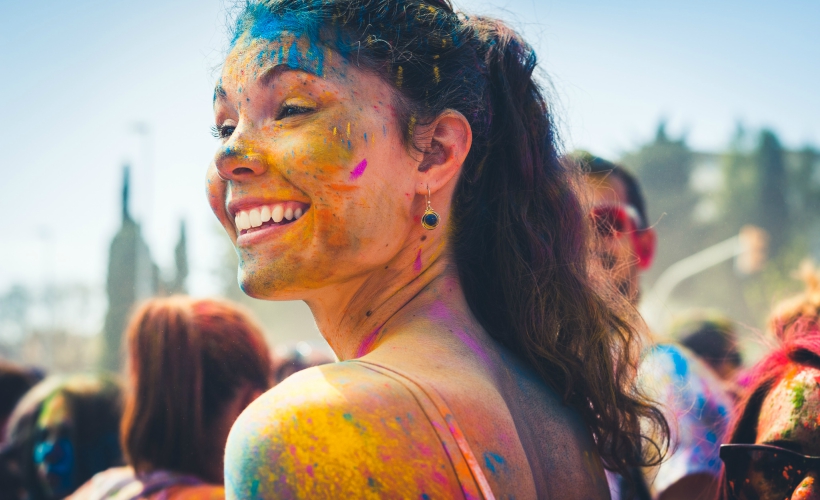 This article was updated on February 22, 2018 to reflect recently received information.
Long before it became trendy across the world, Holi has been one of India's favourite festivals. Dictated by the lunar calendar, it falls on the 2nd of March in 2018, marking the end of a successful harvest season and bidding adieu to cold winter days. Before things get messy, here are a few things you need to know about this colourful celebration.
The legend behind Holi
Fun and games aside, Holi has a beautiful meaning and message. According to legend, the evil king Hiranyakashyap possessed powers that made him practically invincible and therefore arrogant; he forced everyone to worship him as a God. When his son Prahlada didn't comply, he hatched a plan with Holika, Prahlada's aunt, to kill him. She manipulated him into sitting on a pyre with her so that he would burn to death, while she remained safe because of a magical cloak that protected her from the flames.
But the cloak flew off her and wrapped itself around Prahlada. Holika died in the fire while Prahlada lived, signifying the triumph of good over evil, which is what the festival celebrates.
What does colour have to do with it?
The coloured powders (known as gulaal) are symbolic of ashes from the fire. Modern iterations may be traditional in its practices, but they're not quite so religious anymore! Nowadays, people celebrate by lighting a bonfire and playing with gulaal, either dry or mixed with water. It is common to take to the streets dressed in the oldest clothes your wardrobe holds and shower neighbours, friends, and family with the colours and water, using water guns or pichkaaris. The colours represent the vibrancy of life, meant to be shared with all those around us. Think of it as a large game that combines tag with hide and seek!
Watch out for the water balloons!
While water is meant to only wash away the colour, as with everything in India, people get carried away! You'll find children running about with water-filled balloons, ready to launch them on to friends and often thrown on unsuspecting passers-by, which can unfortunately lead to injury at times. This begins a few days before Holi, so if you're travelling in India around this time, keep an eye out – especially in public transport and especially when you see a horde of giggling kids nearby.
What should you wear?
Whether or not you partake in the powder throwing and water splashing, during Holi, your clothes are bound to turn a few different shades. It's best to stick with dark colours to prevent transparency, or wear an additional top underneath if you're planning to go with a lighter shade for the outer layer. You should also pick worn-out clothes that you'd be okay to throw away or relegate to nightwear afterwards. You may also want to get a wide hairband to protect as much of your hair as possible.
Should you accessorise?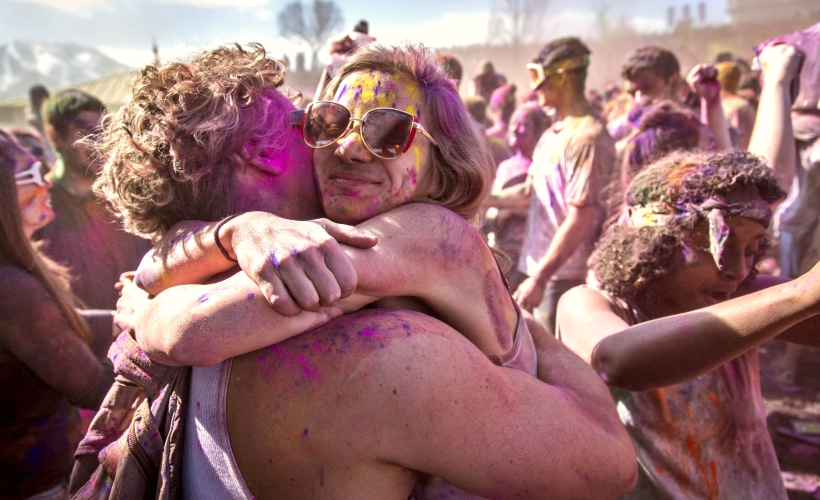 Go as sparse as possible; leave jewellery and watches at home, lest colour creeps into its crevices and needs rigorous washing. Seasoned festival goers know to have a waterproof bag to wrap their phones and some cash in, which can be tucked into a pocket, leaving the hands free. Sunglasses are good to prevent the powders from getting close to your eyes but pick a pair that you don't care too much about.
How should you arm yourself?
Some of the powders can be hard to get off the skin, or may cause irritation. To avoid any of the hassle, it's prudent to apply a thin layer of oil to any exposed parts of the skin as well as the hair before you head out. Moisturisers and leave-in hair conditioner work too. Don't forget your nails – give them a lick of polish to protect them from permanent colours.
Tip Look into organic coloured powders that are crafted from natural substances such as turmeric and beetroot, which won't do any harm to your skin. You get all of the colours but none of the chemicals! You can buy them from stores such as  I Say Organic.
The Must -Eat Foods
What's a festival without traditional food and beverages? Different regions in the country have a variety of preferences. Gujiya often tops the list, a medium-sized, moon-shaped dumpling made of flour and stuffed with khoya (made from thickened milk) and dried fruits. Samosas are also popular, and perfect for quick one-handed eating.
Stay safe from strangers
Holi celebrations are something of a contact 'sport', and some people use the festivities as an excuse for inappropriate touching. The best way to rule out this is to only play among people you know. Organise a private Holi party or if you're attending an official ticketed event, stay close to your friends. Also, note that applying colours to the face and arms is normal, but not other parts of the body.
Getting around
It's not too difficult to find public transport, such as autos, during Holi, but it does leave you exposed to the elements and potentially more colour 'attacks'! It's best to book a ride – the usual services like Ola and Uber should be operating as usual – but spread some newspapers on the seat to avoid staining the upholstery.
Don't Forget the Drinks
The drinks to sample during Holi are thandai and bhaang. The former is a sort of milkshake, made with almonds and melon, fennel and sunflower seeds. Its more famous cousin is bhaang, which is essentially the same but includes an edible form of cannabis or similar opiates. Is that legal? Good question. It's one of those things that the entire country seems to agree to ignore, in the name of festivity and its characteristic mellow sort of high. It's good for getting into the spirit of things if consumed slowly and in moderation. A little goes a long way; its full effect typically isn't felt until a couple of hours after consumption!
All in all, Holi is an colourful and fun insight into India's zest and culture. Let your hair down (or tie it up!) and enjoy.
Note Holi is also celebrated by Hindus in various countries including Nepal, Sri Lanka, Pakistan, Philippines, and Malaysia. In Kuala Lumpur, the biggest gathering takes place at the Shree Lakshmi Narayan temple in Jalan Ipoh. In 2016, they made it to the Malaysia Book of Records for the Largest Holi Festival in Malaysia, with over 6,000 participants from more than 25 countries. This year, they promise 1,500kg worth of colourful fun and a line-up of live performances. For more information, visit their event page here.
Get all the latest travel stories from Zafigo. Follow us on Facebook and Twitter.