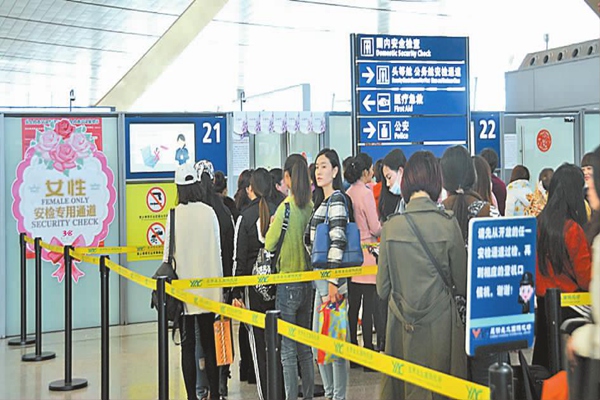 Airports in China have introduced women-only security lines. These new female-designated checkpoints were put in place in order to protect the privacy of women travellers by eliminating contact with male staff, thus allowing them to travel more comfortably.
According to The New York Times, female officers will man the lines, which were discovered to be successful after a three-month-long trial at Beijing Capital International Airport. The checkpoints can be identified by bright pink signs written in English and Mandarin.
Local women seem to have no objection to this 'special' treatment. One woman going through security check in Beijing said, "we feel more comfortable when our coats and suitcases are checked by female security inspectors. I think this seems like a VIP service for women."
The service is also expected to help speed up security checks by 10% compared to regular lines. The rationale behind this is that there will be fewer women to slow down the line with bags filled with make-up items and liquids that need to be inspected. Officials were quoted saying in an article by China's People's Online Daily,"female passengers often put many cosmetics into suitcases and need to open their luggage for a check."
Other than Beijing, the new security lines have begun operating at airports in Kunming and Wuhan as well.

Read next:
| | | |
| --- | --- | --- |
| | | |
| Singapore Airlines Finally Hires Women To Fly Its Planes, Why Now? | Sorry Uber, This Woman-Only Rideshare App Is What We've Been Waiting For | Brunei's First All-Female Pilot Crew Shows Saudi Arabia What Women Can Do |
Get all the latest travel stories from Zafigo. Follow us on Facebook and Twitter.