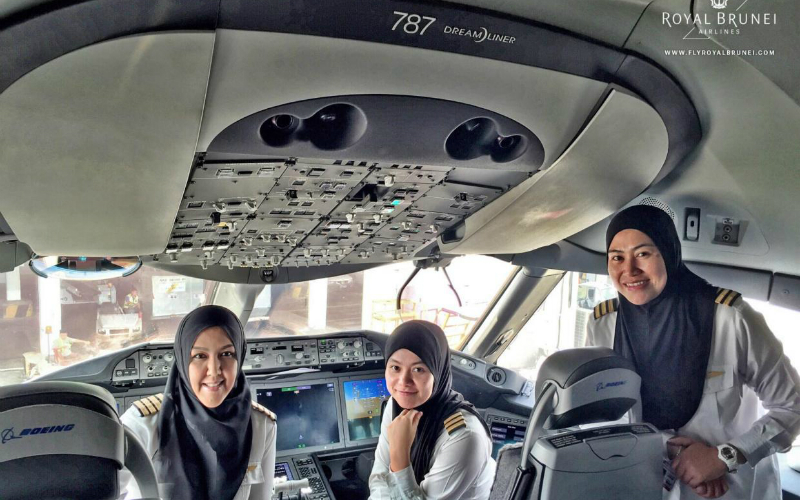 Three female Royal Brunei Airlines pilots, the first ever all-female crew for the airline, have flown from Bandar Seri Begawan, Brunei to Jeddah, Saudi Arabia.
Coinciding with Brunei's National Day last month, the crew operated a Boeing 787 Dreamliner and touched down on 23 February in the Gulf kingdom, where women still face restrictions on driving.
"As a woman, a Bruneian woman, it is such a great achievement," said Captain Sharifah Czarena Surainy Syed Hashim. "It's really showing the younger generation or the girls especially that whatever they dream of, they can achieve it."
Not too long ago, Captain Czarena became the first female captain of a flag carrier in Southeast Asia when she was presented with her captain's epaulettes.
On this flight with Captain Czarena were SFO DK Nadiah Pg Khashiem and SFO Sariana Nordin.
According to the International Society of Women Airline Pilots (ISA), female pilots worldwide account for just over three percent of the overall number of pilots. The number of female pilots stands at 4,000 out of about 130,00, according to a report in The Telegraph.
Royal Brunei Airlines is committed to getting more women into the industry as it currently offers an Engineering Apprentice programme to both males and females.

Get all the latest travel stories from Zafigo. Follow us:
[button url="https://www.facebook.com/zafigo" size="small" value="Facebook" color="#94288e"]  [button url="https://twitter.com/ZafigoAsia" size="small" value=" Twitter " color="#89c44c"]  [button url="https://instagram.com/zafigoasia" size="small" value="Instagram" color="#14afa9″]  [button url="https://plus.google.com/b/116137150742909931560/116137150742909931560″ size="small" value="Google +" color="#5d5d5f"]